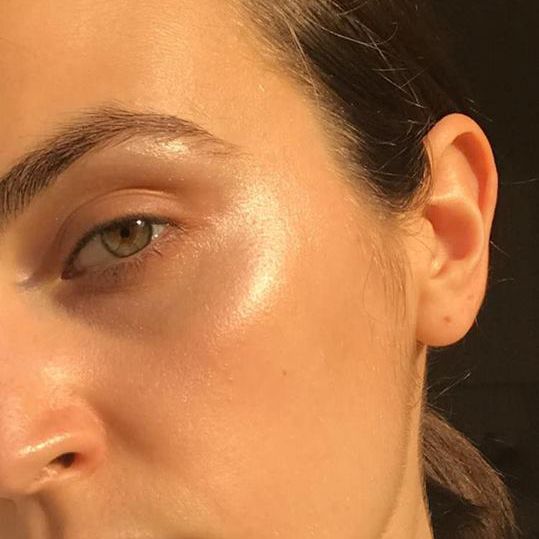 See the light.
Photo: Rio Viera-Newton
I am unapologetically addicted to highlighter, especially in fall and winter months when my skin is duller than usual. I've mentioned this before, but it bears repeating: I practically face-plant into my highlighters when I'm doing my makeup and stand by that application technique. When I'm able to control myself, I've found that the best way to utilize highlighter is to treat it like an enhancer — on my cheekbones (to make them look higher), brow bones (to make them look sharper), and cupid's bow (to make my lips look slightly fuller).
With a lot of makeup tricks, like contouring or creating bold brows, the stakes are high (a bad contour is a really, really bad contour), and mastering the craft can feel incredibly daunting. Highlighter, on the other hand, is subtle — which makes it pretty difficult to make a tragic mistake as you're walking out the door to work. So if you're not yet in the highlighter game (crazy), let me help you jump in by walking you through the products currently in my makeup bag.
This was the first highlighter I ever truly loved. Instead of straightforward shimmer, this highlighter provides a sort of subtle, opal-y pigment, so it's super pretty for both day and night looks. If you're new to the highlighter game and you're looking for something you can play around with — a highlighter that can be subtle or beaming, depending on how much you put on — then this is definitely worth purchasing. This is a really reliable highlighter that I throw in my bag for touch-ups if I know I'll be going out after work.
A beauty peer of mine deeply judged me for having not tried this, and now I understand why. If you're into the dewy look and don't mind a subtle shimmer, this highlighter is an absolute must-have. Integrating a dewier, glossier highlighter during the fall can sometimes be a challenge, as no one really has naturally wet-looking skin when it's cold out, but anytime there's a little bit of sun out, I throw this on (my shade is Glow). This is a great daytime highlighter — it's subtle but does a great job of adding a little bit of extra radiance and shine to your skin. This highlighter is my newest obsession, and I actually can't believe I once lived without it.
A less dewy but still creamy highlighter option would be this one from Glossier — I've written about it before. When it comes to daytime makeup, this product is one of my go-tos and certainly one of my most-used "natural" highlighters. Kind of like a Ben & Jerry's core ice cream, this highlighter has a moisturizing center in the middle of the pigment, which provides a hydrated but not totally dewy effect.
Another incredible daytime highlighter recommended by one of my trusted peers, this highlighter pot from RMS has recently become a real favorite of mine. Not too intense and super easy to apply, this highlighter provides my skin with a perfectly glowy but not too shimmery appearance. I use this for both daytime and nighttime looks — it's super buildable, so depending on your application, can appear either subtle or beaming.
This isn't a traditional highlighter, but I felt it was worth mentioning. If you want an all-over highlight, rather than just a lift on the high points of the face, this priming product from Charlotte Tilbury is, frankly, out of this world. I love applying this all over right after I've moisturized, and then spot concealing or applying my foundation over it. It cr