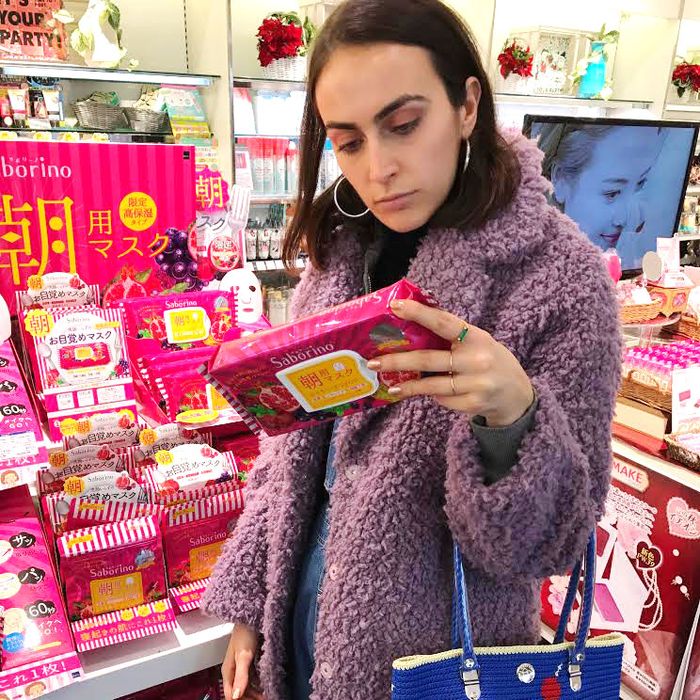 Photo: Courtesy of the writer
My sister and her boyfriend (now husband) take an annual vacation to Tokyo, their favorite city in the world. For the last three years, I've attached myself to this trip, so I could discover Japanese beauty trends and binge-eat sushi. While my sister was, as always, happy to have me tag along, I think she started to second-guess the invitation when I took two hours scanning the beauty section of Don Quijote, the biggest discount store in Japan. Ignoring her irritation paid off, however: The loot I acquired by scouring beauty sections of boutiques, department stores, and pharmacies made me want to sprint back to America halfway through the trip to tell the world (or the Strategist readers, anyway) what I'd found. Beauty shopping in a different part of the world can be particularly tricky — the language barrier makes it tough to gauge exactly what you're looking at and how it should be used. To defeat this obstacle, I did my research before I left — collecting information from Japanese-American bloggers, YouTubers, and Instagrammers on what new products might be worth picking up and testing out. Still, on the trip, I'd occasionally pick up an unfamiliar product, assess (sort of) what it was from the drawings on the package, literally leave dust behind me running as fast as I could to the hotel to try it, and end up in love.
Thanks to the very patient women at oo35mm, I tend to know a little bit more about Korean beauty products than I do about their Japanese counterparts. In the last month, I've found that the two categories are really quite different. Whereas Korean products tend to use a lot of ingredients and prioritize glowy, dewy skin, Japanese cosmetics stand by a more minimalist philosophy, both in steps and ingredients, and set out to achieve more of a soft, matte, velvety complexion. But my feeling is, while yes, Japanese and Korean cosmetics have notably different effects on the skin, they're both incredible, and I can't recommend using one routine over the other.
A lot of the skin-care and makeup products I bought and used consistently in Japan have already made a noticeable difference in the "airbrushed" appearance of my complexion — and I plan on continuing to incorporate more Japanese products into my daily routine beyond my pre-trip favorites (Tatcha and SK-II). I learned a lot and figured it would be rude not to share it with you.
When an employee at the beauty department store noticed I was scanning the cleanser section, she practically dragged me over to the Rafra Balm Orange. This balm cleanser is a cult favorite for Japanese-beauty consumers, and has actually been around for 11 years. When you initially apply it to your skin, the balm will heat up as you massage your face. Once you add water, it will emulsify, and melt off any makeup and dirt on your face. To be perfectly honest, it's not amazing when it comes to taking off mascara or any difficult-to-wipe-off products, but it left my skin looking really nice and glowy the next morning.
I understand that some people are blessed in that they can travel freely without bodily backlash, but my skin wants to kill me when I'm battling time changes and long-haul flights. So, as she's wont to do, my skin tried to test me when I was in Tokyo. I didn't have any cystic spots, thank god, but I did break out in a cluster of annoying blemishes all around my chin while I was there. This maaaask! Like Leaders, Mediheal is another science-based brand that prioritizes tested dermatological responses. This mask saved my skin during my trip. It recommends leaving it on for 10 to 20 minutes, but I wore it for about 30 to 40 minutes, and the results were incredible. This will definitely help heal any blemish-related redness and inflammation.
I fell for these powder pods during my first trip to Japan a few years ago. Free of any artificial colors or fragrances, this probably compares best to Tatcha's Polishing Powder, but definitely a bit rougher and more exfoliating. They work really well — giving you a nice, gentle, clean feel, but without drying you out. The best part, though, is the packaging. Since the powder is distributed in tiny little pods, they're potentially the most travel-friendly cleanser I've ever laid my eyes on — seriously trumping my beloved Neogen Green Tea Cleanser stick. These are amazing for throwing in purses or makeup bags. For a girl on the go, this is a must-try.
My sister and I are both psychotically obsessed with this serum. Most tea-tree serums are really potent, so I use them by just dabbing a bit onto a trouble area if I'm struggling with a particularly pesky blemish. This, however, not only helps with blemishes but aids in retexturizing and general smoothing out of the skin. I'm not joking when I say I bought about four of these to take home. This serum in conjunction with the above tea-tree mask will flatten out just about anything. A must-try!
I've written about these before, but it felt important to pick up a box of them while I was at a department store in Tokyo. These are actually Taiwanese, but they're super popular in Japan. This mask is amazing for hydrating and healing any skin issues you may be having. Aloe is one of my favorite substitutes for snail and gives just as powerful results.
I hadn't heard of these masks before, but I picked them up because I've historically liked the effects rice milk has had on my skin. I wasn't disappointed! This mask is great for deep hydration and brightening — definitely used this on the long-haul flight home from Tokyo!
What would a trip with me be without a bizarre eczema breakout? Like an idiot, since my eczema had been doing so well in NYC, I forgot to bring my beloved eczema treatments and creams abroad. Obviously, this made my life hell. I wouldn't say this is a Holy Grail for fighting eczema, but when it comes to general hydration and smoothing, this cream did a lovely job, and made me feel way less uncomfortable.
As I've mentioned before, I swear by adding some warmth on my eyelids to make myself look more awake and alert in the mornings. Kim Kardashian (and every makeup artist ever) will tell you to add the same bronzer you've used on your cheekbones on your eyelids, and this gives you both warmth and cohesiveness to your look. Obviously, I immediately incorporated this trick into my every makeup routine after I found this out. However, after picking up this eye-shadow palette in Tokyo that provides five different shades of brown eye shadow, I realized that each different shade provides me with an entirely different "warm" look, and that the bronzer trick had actually been limiting me. I've used this mini-palette every day since the day I got it. I thought I lost it the other day and had a full breakdown. If you, too, love brown eye shadows, definitely give this a go.
I've heard so many people rave about this mascara, including fellow Strategist writer Risa Needleman, I decided to give it a try. The big perk of this, for any other ladies out there who are addicted to giving themselves panda eyes every time they wear mascara, is this stuff does not budge. Seriously — it stays on all day without flaking down your face. The only thing that's frustrating about this is the removal process, which I wouldn't say is easy. Instead of using a wet wipe or micellar water, I had to invest in some proper eye-makeup remover. Though this was annoying, I'll admit it is worth it for the results. Finally, I can wear mascara and not be ugly.