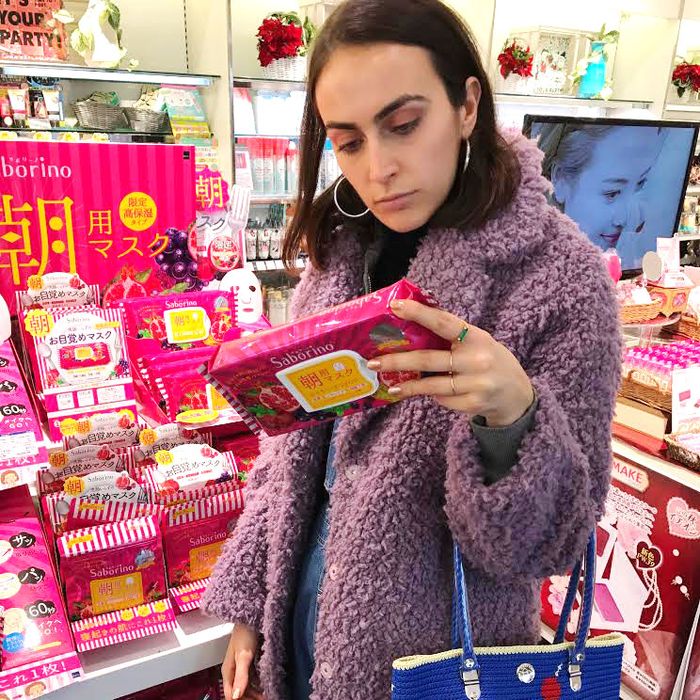 Photo: Courtesy of the writer
My sister and her boyfriend (now husband) take an annual vacation to Tokyo, their favorite city in the world. For the last three years, I've attached myself to this trip, so I could discover Japanese beauty trends and binge-eat sushi. While my sister was, as always, happy to have me tag along, I think she started to second-guess the invitation when I took two hours scanning the beauty section of Don Quijote, the biggest discount store in Japan. Ignoring her irritation paid off, however: The loot I acquired by scouring beauty sections of boutiques, department stores, and pharmacies made me want to sprint back to America halfway through the trip to tell the world (or the Strategist readers, anyway) what I'd found. Beauty shopping in a different part of the world can be particularly tricky — the language barrier makes it tough to gauge exactly what you're looking at and how it should be used. To defeat this obstacle, I did my research before I left — collecting information from Japanese-American bloggers, YouTubers, and Instagrammers on what new products might be worth picking up and testing out. Still, on the trip, I'd occasionally pick up an unfamiliar product, assess (sort of) what it was from the drawings on the package, literally leave dust behind me running as fast as I could to the hotel to try it, and end up in love.
Thanks to the very patient women at oo35mm, I tend to know a little bit more about Korean beauty products than I do about their Japanese counterparts. In the last month, I've found that the two categories are really quite different. Whereas Korean products tend to use a lot of ingredients and prioritize glowy, dewy skin, Japanese cosmetics stand by a more minimalist philosophy, both in steps and ingredients, and set out to achieve more of a soft, matte, velvety complexion. But my feeling is, while yes, Japanese and Korean cosmetics have notably different effects on the skin, they're both incredible, and I can't recommend using one routine over the other.
A lot of the skin-care and makeup products I bought and used consistently in Japan have already made a noticeable difference in the "airbrushed" appearance of my complexion — and I plan on continuing to incorporate more Japanese products into my daily routine beyond my pre-trip favorites (Tatcha and SK-II). I learned a lot and figured it would be rude not to share it with you.
When an employee at the beauty department store noticed I was scanning the cleanser section, she practically dragged me over to the Rafra Balm Orange. This balm cleanser is a cult favorite for Japanese-beauty consumers, and has actually been around for 11 years. When you initially apply it to your skin, the balm will heat up as you massage your face. Once you add water, it will emulsify, and melt off any makeup and dirt on your face. To be perfectly honest, it's not amazing when it comes to taking off mascara or any difficult-to-wipe-off products, but it left my skin looking really nice and glowy the next morning.