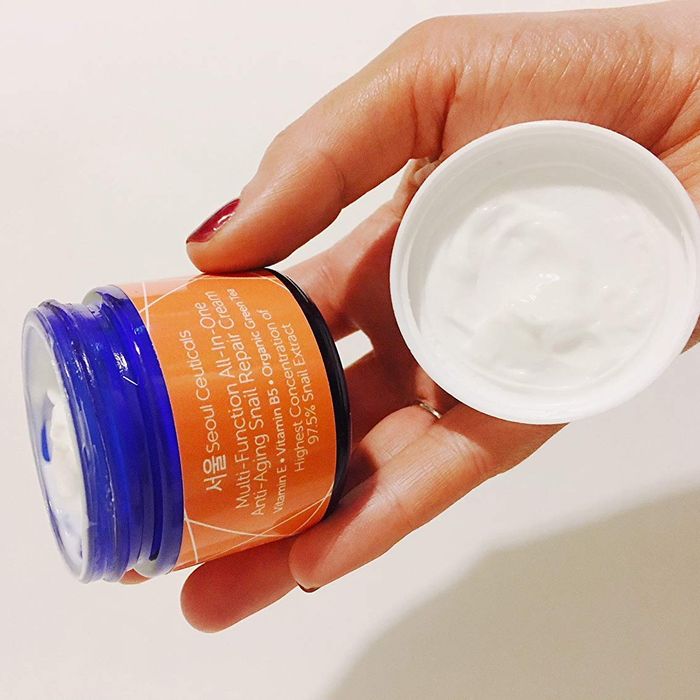 Photo: Courtesy of the retailer.
Here at the Strategist, we like to think of ourselves as crazy (in the good way) about the stuff we buy, but as much as we'd like to, we can't try everything. Which is why we have People's Choice, in which we find the best-reviewed products and single out the most convincing ones. (You can learn more about our rating system and how we pick each item here.)
And while we've written about lots of Korean beauty products — including the best vegan K-beauty products, the blogger-approved Korean skin care, and Korean spa mitts for baby smooth skin — here, we've rounded up the best Korean beauty products as praised by the most enthusiastic reviewers on Amazon.
Best-rated Korean beauty product
This carbonated clay mask is from the same makers of the Milky Piggy Hell-Pore Clean Up Mask, also known as "the most painful mask." They both have powerful pore clearing powers, but users say this one is far more gentle — but it's no less effective at banishing blackheads on different skin types. One reviewer, who says she struggles with dry skin and hormonal acne, writes, "I've been buying this mask for a little over a year now and can verify that it is totally worth the hype … I tried many more-expensive masks, but I also have very sensitive skin and previous products either left me itchy and irritated or had no effect. This mask has completely cured all of my skin problems." Another shopper says, "I use this two-to-three times a week because I have extremely oily skin … This stuff cleans deep into the pores."
Reviewers love the bubbly texture of the mask — which one says "feels like spongy Jell-O" — and found it left their skin feeling refreshed. "First? It's weird. Second. It's awesome," writes one. "I use this every few days to keep the dead skin from building up on my face — even with washing, I get a lot of clogged pores, and my skin is very dry to begin with. This smooths out my texture a bit and takes off the dead layers." And reviewers agree that the price is right, like one who says, "It's really well priced and absolutely cleared up my dark and huge pores."
Best-rated (less expensive) Korean beauty product
"Do not underestimate the product [because of the] price," says one shopper. "It works better than any other pricey products." Plenty of reviewers agree, writing, "It's a big container, and the price is amazing compared to other products I've tried," "The container it comes in is massive for the price, and you really don't need much of it so a little goes a long way," and "Soothes and refreshes skin at a bargain price!" It worked especially well for those with acne: "I have struggled with acne for a long time and have tried everything from Accutane to Proactiv to Rodan + Fields," says one user. "This works wonders. It keeps my face and skin clear and acne free." And one reviewer even calls it a "miracle gel," adding, "It helps my skin to stay hydrated, especially during summer. It will keep your pores tight, and it is very refreshing … it has improved my skin and removed whiteheads and blackheads on my face. I'm glad I found this product."
Best Korean-beauty gel cleanser
"I cannot describe the goodness that is this gel cleanser. It cleans without stripping my skin to the point of super, super clean and leaves my skin feeling refreshed," writes one reviewer, adding, "I have noticed my acne breakouts becoming milder, and my skin is glowing after using this cleanser for about three months." Another reviewer, who says she has been using this cleanser daily for close to two years, agrees that this low pH cleanser "thoroughly cleans without that stripped-tight feeling. Hubby helped himself to my bottle in the shower, and he immediately converted to it." It's also approved by our beauty columnist Rio Viera-Newton, who included it in her original Google doc. She explains it supposed to provide your skin with the perfect amount of pH, and that the tea in it is good for your complexion, but her favorite part about it is "the way the foaminess feels when I wake up."
Best Korean-beauty foam cleanser
Shoppers with oily skin particularly like this cleanser. "If you have VERY oily skin, and I mean oil-slick-style, this is a dream product," writes one. Another says, "It is wonderful for people with extremely oily skin. It does not dry out the skin, but for me what it does is help control how much or how quickly my face will get oily again." Those with acne say this wash helped clear up breakouts. "I've had really bad acne since I was in my teens," one reviewer says. "I would get it on my jaw, chin, and T-zone. It was pretty severe acne, and since I started using this, it cleared my skin up. I only get breakouts every once in a while, and they aren't even that bad anymore." Another writes, "This face wash changed my life … My acne reduced so much because of this, plus my acne spots have been fading away … Thank God for this product. I recommend this a million times. You'll not regret it."
Best Korean-beauty cleansing balm
Shoppers love that this three-in-one cleansing balm melted away even tough-to-erase makeup. "This one is by far the best cleanser I have ever used," writes one reviewer. "I always use thick waterproof mascara, and this cleanser COMPLETELY removes it." Another says, "I absolutely love it and feel stupid for not getting it sooner! Since using this stuff, I wash my face every night because it's EASY, not messy, and literally takes less than five minutes." And even though the balm deeply cleans skin, reviewers found it was very gentle and nonirritating. "This product does what it says it's supposed to, and that's to remove every little bit of makeup from your face. The best part is it does this without going Rambo on your skin," writes one user. "This cleansing balm is gentle, soothing, and moisturizing. I have sensitive skin and a lot of products are too harsh, so this might be an item that those with sensitivity issues may want to try."
Best Korean-beauty double-cleansing duo
Those looking for a double-cleansing duo found this pair from the Face Shop got the job done. "IT WORKS," writes one reviewer. "I have been using this combination of products (along with toner, essence, ampoule, and serum) for about four days now and my skin has never looked so good. I have not broken out, and I have not seen a single dry flake. Would buy this again and again." Another says, "Love this combo for a double cleanse. Oil cleanser feels nice and silky." For those who haven't tried double cleansing but want to, one shopper thinks these products would be a good place to start. "I have been looking into double cleansing for a while and bought this product since I heard it was good for beginners," writes this recommender. "I was not disappointed! This product has been amazing. My skin is so much brighter and gives me the glow I've been looking for. My acne scars are less noticeable, and my skin tone is more even."
Best Korean-beauty snail mucin moisturizer
There's lots of benefits to using snail mucin in a skin-care routine, thanks to glycoproteins, hyaluronic acid, and glycolic acid, which help seal in moisture and make skin look dewey and glowy. And this mucin-packed moisturizer, which also tops our list of best-rated snail mucin skin-care products, is beloved by many reviewers because it helps solve a number of skin-care problems. "If there was only one product that I could purchase for my skin for the rest of my life, it would be this cream," one reviewer says. "A couple of weeks after I started using this cream, I started getting compliments on my skin. It hydrates for a more youthful appearance, soothes my sensitive skin (removes redness), and helps with achieving the coveted 'glass skin' that has created a fixation with K-beauty." Reviewers even note its good for eczema, rosacea, and under-eye bags. Dozens have noticed an improvement in their wrinkles. "It has helped make a noticeable difference in the fine lines across my forehead and around the corners of my eyes," one writes, while another says "A lot of the lines on my face, particularly the ones around my mouth, have virtually disappeared."
Best Korean-beauty vitamin C serum
"Best vitamin C serum ever," writes one reviewer, who like many of this product's five star reviewers (and our readers who made this a Strategist best-seller), loves what it has done for their dark spots and hyperpigmentation. " My skin is brighter, looks smoother, looks more supple and youthful," writes one. "People keep telling me how amazing my skin looks and several people have described my face as glowy." Another reviewer who admits to having "nice 25 year old skin apart from hyperpigmentation and acne scars from teen years" says this is a must have. Many reviewers also compare this serum to department store brands like Skinceuticals and Drunk Elephant because of the results they see. Another bonus of this formula, according to one reviewer, is that it is safe enough to use on its own. "There's no need to cocktail anything with this serum, which sinks in nicely while cushioned with hyaluronic acid. Nice citrusy smell, too, but not overpowering."
Best Korean-beauty hyaluronic acid serum
Hyaluronic acid gets its seal of approval from skin-care obsessives for deeply hydrating the skin and increasing the skin's overall water content. But in addition to adding moisture to your skin, more than one-fifth of reviewers say this hyaluronic acid serum has done wonders for shrinking their pores. "I am on day three and am already noticing a decrease in the appearance of my pores," one writes. Another who didn't even know their pores were a "big deal" before using this says "this product has completely cleared out and minimized my pores." Reviewers are also impressed by the way this serum seems to fix a number of other issues. One reviewer who unfortunately seems to have every major skin care problem says this serum has helped: "I have really bad redness on my face. Especially around my nose and eyes. I have dark circles under my eyes. I have bad pores. I have really sensitive skin. As well as dry and oily skin. After using this at night for a month, I have gotten amazing results. My skin has cleared up and looks good!" One thing reviewers warn is that the serum goes on sticky, but many agree with this user who says "it quickly absorbs into the skin."
Best Korean-beauty sheet masks
There are no shortage of Korean face masks to choose from on Amazon, but this brand (and this particular set) is by far the best-rated. More than 2,600 reviewers give this set of sheet masks five stars, and hundreds of reviewers say these make their skin more hydrated. One reviewer whose skin was so dry and flaky they "literally 'snow' everywhere" uses these nightly and says "my face started to clear up in a couple of days." In addition to increased hydration, reviewers say these have worked on a variety of other skin-care woes. "Not only did I get bright and glowing skin, but most of my acne went away in literally one use," one writes, while another suffering from acne scars says after two months "I've seen SIGNIFICANT reduction in my scars they are almost completely gone." Many also agree with this user who says "My favorite part about this product is the price." At less than $0.70 a mask, many call this a good deal.
Best Korean-beauty snail mucin face mask
Shoppers say although this mask was a little slimy because of the snail jelly, it left their skin "rejuvenated," hydrated, and moisturized. "Holy-grail skin-care product for me," writes one reviewer. "One of the few skin-care items I will continue to repurchase any time I run out of. 100 percent recommend." Another claims, "They make such a difference compared to most masks. Not only do they leave my skin feeling soft, they truly do hydrate the skin to the point where my fine lines nearly disappear." It's a hit among those with sensitive skin, too. "I'm super-picky about my face masks because I have super dry and sensitive, eczema-prone skin," writes one shopper. "This mask doesn't sting my face, and it's insanely moisturizing. I bought this set like three times already. I like it a lot." Another says, "Have supersensitive eyes, and this product doesn't bother me at all … Beyond happy."
Best Korean-beauty overnight mask
Reviewers who put this mask on before going to sleep say they woke up with healthy, glow-y skin. "It makes my skin so supple and bouncy that by the morning, I can't stop squishing my cheeks because they're so soft," says one. Another shopper, who says she used to have severe acne and now has discoloration and scars, writes, "I've used this for a couple weeks now, and I see a difference. I feel like it has helped my scars, because my skin is so hydrated and plump. I'm in love with this stuff." Shoppers say that despite its being an overnight mask, it absorbed quickly enough for them not to worry about staining their pillows. "I love this overnight mask so much that I use it every night at the end of my skin-care routine. It makes my skin bright and glow-y and less red," says one. "It also spreads extremely easily and dries decently quickly — at least I never worry about it getting on my pillow." Others saw a decrease in redness after using it. "My face is noticeably calmer and less red the mornings after using this product," writes one satisfied customer.
Best Korean-beauty exfoliator
Those with sensitive skin who still want to slough off dead and dry bits highly praise this exfoliating mask. "I have very dry, very sensitive skin, and this mask is one of the only products I can find that doesn't burn it. It leaves it smooth, soft, and bright," writes one shopper. "This is perhaps the best mask I've ever used, and once it's gone I'll definitely be ordering more." Another reviewer says, "This mask is unreal … rub it into the skin, then let it sit for ten minutes. Wash off and your skin will literally feel like the supple dream skin you pray for." And one shopper, who writes about having tried many scrubs in the past, describes this one as providing particularly long-lasting results: "It kept my skin exfoliated for two weeks without any dry skin peeking through. It left my skin feeling refreshed and baby smooth."
Best Korean-beauty peel
"I literally never leave reviews, but after struggling with my skin for 20 years, I felt others might be able to relate," begins one reviewer who quickly fell in love with this peeling gel that exfoliates dead skin. "I used this product twice, and I already notice a difference in the tone and texture of my skin." Says another, "My skin tends to flake on my chin and around my nose. This peels away the dead skin and smooths the area without drying my skin." A third mentions that using this as a supplementary product is transformative for skin so dry that lotion can't penetrate it. "Even lotion wouldn't keep my skin from drying and flaking," this shopper writes. "This product is the solution." Reviewers love how smooth it left their skin. "It smells amazing, is easy to wash off, and makes my face feel SO SMOOTH after rinsing. I love it because it feels like an exfoliator, peel, wash, and brightening serum in one," writes one. Another says, "It's gentle and completely nonabrasive, yet it practically dissolves the dead, rough skin from my face, leaving it so smooth."
Best Korean-beauty pimple patch
If you've visited the Strategist before you're probably familiar with these COSRX pimple patches already: They've appeared on our bestsellers list 28 times and come highly recommended by Rio. But they're also beloved by hundreds of five-star reviewers on Amazon. "These little dots of magic work some kind of voodoo to remove those big, erupting volcano pimples, or tiny little extremely painful ones, and the dreaded blind pimple that looks likes a skittle was shoved under the skin," one customer writes. Reviewers are particularly impressed by how fast these patches work. After only two hours one says, "Not only could I see the progress through the patches, but my skin was alleviated of pain, redness, and my skin had flattened." Not only is the patch virtually unnoticeable, according to reviewers, but one even says it helps prevent scarring too. They write, "I feel like if I put the patch on right away that the blemish doesn't get that big and it seems to heal more quickly without leaving a dark mark."
The Strategist is designed to surface the most useful, expert recommendations for things to buy across the vast e-commerce landscape. Some of our latest conquests include the best women's jeans, rolling luggage, pillows for side sleepers, ultra-flattering pants, and bath towels. We update links when possible, but note that deals can expire and all prices are subject to change.
Every editorial product is independently selected. If you buy something through our links, New York may earn an affiliate commission.