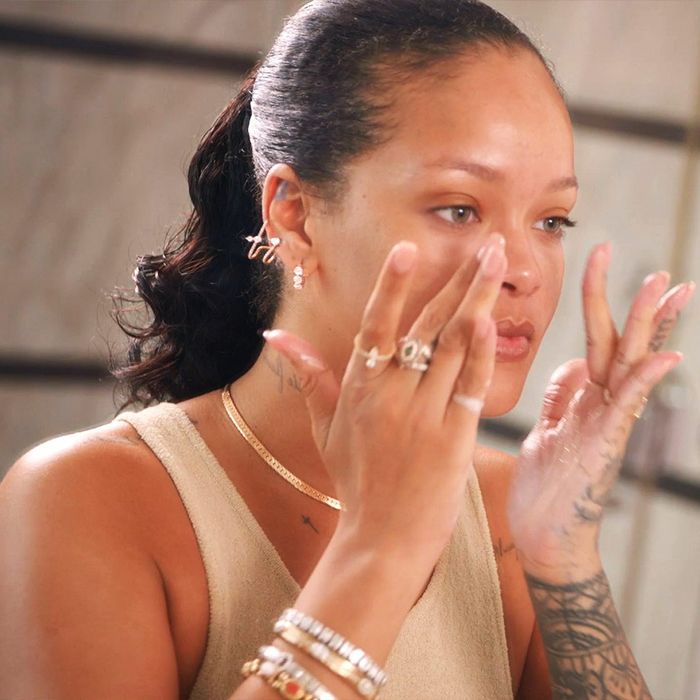 When considering how to incorporate Black-owned businesses into one's life long term, I can think of few better ways than beauty. If you love a beauty product, it will likely be something you purchase over and over again. So, below: products from Black-owned businesses for every step in your skin-care routine as recommended by myself and beauty writers, editors, and enthusiasts: from a cleansing oil with plankton extract that helps with hyperpigmentation to Fenty's Fat Water — a toner-serum hybrid that does everything from shrink pores to brighten skin.
Cleansing oil
If you're someone who double cleanses already, or have considered starting (now is a good time — the sweat accumulated from wearing masks all day means there is that much more to wash off at night), you'll need a good oil cleanser. This mild cleansing oil from luxury beauty brand Epara is a great option. It uses ingredients like licorice root extract and plankton extract to help with brightening and hyperpigmentation, and also incorporates ylang ylang oil to soothe — a perfect first step for your routine.
Cleanser
Naomi Elizée, an associate market editor at Vogue and the host of the podcast So What Do You Do Again? swears by this cleanser from epi.logic skin care, which uses ingredients like rosehip oil, vitamins A, C, and E, to simultaneously cleanse and soothe the skin. "I love this calming cleanser for when I need to refresh my skin," she says.
Founded by esthetician and formulator Lesley Thornton, Klur is known for its thoughtful formulations and sustainable packaging. One of their most popular products is Gentle Matter, a non-foaming cleanser that uses antioxidants like white and green tea and gentle resurfacing ingredients like papaya extract to cleanse without stripping the skin.
Gisele Smith, who works in public relations at Black-owned hair-care brand Sienna Naturals, likes the Super Smoothie cleanser from Rosen skin care, which contains active fruit powders like lemon, strawberry and raspberry, which help to clear and tone the skin. "The texture of this cleanser is incredible," says Smith. "I have tried a lot of cleansers in the attempt to pinpoint one that really felt like it was making a difference for my skin, and this one by Rosen is my current favorite," she says, adding that it left her skin glowy after just one use. It also helped to fade some older hyperpigmentation marks, said Smith, and does so without stripping the skin. She did note, however, that the cleanser is fragranced (albeit naturally), which is something to keep in mind if you're sensitive to scent.
Toners
This toner, delivered in mist form, is a favorite of Vogue beauty assistant Akili King. "I'm obsessed," she says of the spray, which she uses during her skin-care routine and during the day as a way to refresh her skin. Chamomile is the toner's main ingredient, and in addition to soothing the skin it helps to neutralize free radicals, which can cause premature aging.
"Of all three products in this collection this one deserves all the flowers," says Smith of Fat Water, a pore-refining toner-serum hybrid that brightens, smoothes, and helps to fade dark spots without stripping skin. "This product provides instant glow," she says. "It has a unique texture, because it's a sort of combination essence and toner, but that's why I love it. It takes the best parts of both steps, and is incredibly effective."
Serum
We've written about the Hyper Skin vitamin C serum before, a powerful but gentle product that uses ingredients like vitamin E, turmeric, and bearberry to address hyperpigmentation, dark marks, and acne scars that also helps to prevent future outbreaks. Its sheer, weightless texture also makes it easy to layer under the rest of your skin care. Elizeé counts the serum among her must-haves — she says she uses it in both the morning, and in the evening before she moisturizes. "Hyper Skin really changed the game with its vitamin C formula," she says. "It packs a huge punch, and is half the price of other serums." Brown Girl Hands founder Hannah Harris is also a fan, saying that while it's not a quick fix for her dark marks, over time, it majorly helps to brighten skin and keep it clear.
Moisturizers
Photo: retailer
"I always felt like when I used a face mist I was just spraying glorified water onto my face — I didn't feel like it was making a difference in my skin," says Smith, "Face Dew from Rosen changed that for me." Unlike most other mists, this one's meant to replace your moisturizer. It contains oils like rosehip and castor, which help to moisturize while ingredients like rosewater refresh and hydrate the skin. "You can actually feel the effects of the oil with each spray, without the weight and oily look most face oils provide," she says, "my face feels like it's actually moisturized after I use it." Rio is also a fan, noting that it's "nourishing enough to lock in moisture, but light enough to let skin breathe."
I'm a massive Buttah fan and have been since the brand's launch a few years ago. Their facial shea butter is ultra-smooth and makes my skin feel moisturized and glowy but not greasy. It's the first time I've encountered that with a shea butter designed for the face, and, as such, this product has become a staple in my winter skin-care routine. Once the temperature drops, I begin using it nightly — it helps to keep my dry, flaky skin under control.
Facial oils