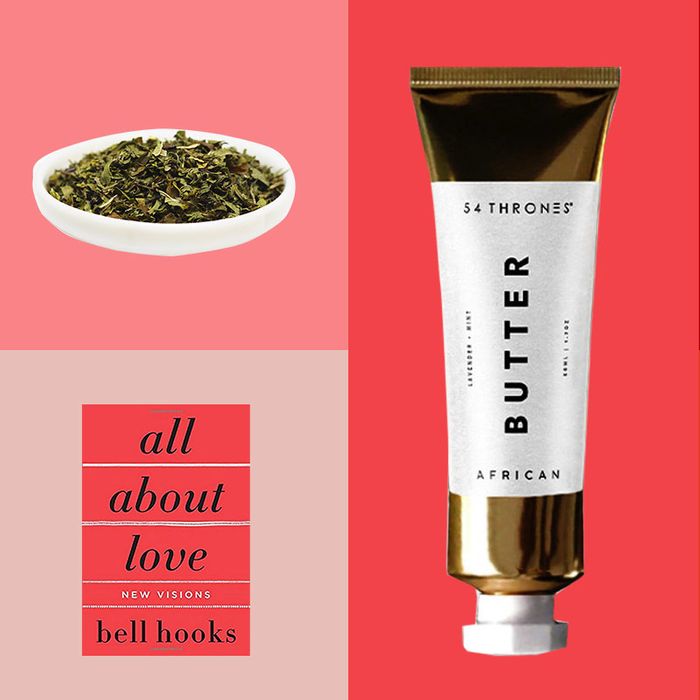 I don't think I'm alone in saying my stress and anxiety have been at all-time highs of late. Which is why, now more than ever, I try to make time for myself to practice self-care. Growing up, my mother always instilled in me the importance of slowing down and leaning into mental, physical, and spiritual care. For me, that means setting aside time each and every day for self-nourishing routines, whether that's reading an affirming book to raise my spirits, taking a few extra minutes to let my hair or skin absorb a restorative mask or oil, exercising in the morning to prepare my body for the day ahead, or just putting on some makeup to feel pretty. As a Black woman, practicing this type of self-love is even more essential because I'm part of a society that constantly strives to make people like me feel lesser than.
As I've written before, I use my website SelectedByElisa.com to support Black creatives and businesses by curating their offerings for Shop Melanated, an e-commerce platform I created to spotlight favorite things I've discovered over my lifetime of investing (a.k.a. spending) my dollars in my community. Here, I've pulled together ten beauty products, classes, books, and other things I use to nourish and pamper my body and mind, all of which come from Black creators or Black-owned businesses.
For a very long time, I fought all doctors (and my mother) about taking vitamins. But I've recently been dealing with some fatigue issues, so I succumbed to my mother's persistence and started taking these daily multivitamins from Movita, which a friend recommended to me. They're formulated to address the unique health needs of women's bodies, including breast and reproductive health, bone density, heart health, digestion, energy and metabolism, immune function, stress reduction, and more. Since I started taking one every morning, I've noticed a positive difference in my energy level, which is one reason I've stuck with the habit. Only after using these did I learn that Motiva is Black-owned; its founder, Tonya Lewis Lee, created the company after working for the U.S. Department of Health and Human Services.
I have long loved yoga for both its physical and mental benefits. Heal Haus is a studio in Clinton Hill that offers its classes online for pretty reasonable rates; you can pay $10 per class, or buy an unlimited membership to all its programs — which include meditation sessions — for $30 a month. My favorite are its morning Rise and Flow yoga classes, which I find ready my body for the day ahead and give me a boost of endorphins that puts my mind in a good space. What's more, Heal Haus founders Darian Hall and Elisa Shankle have worked to make all of their classes accessible for different skill levels by creating a curriculum that allows for pose modifications during lessons, so both truly novice and advanced students can get the most out of them.
After a workout, I will always try to fit in a long, relaxing shower whenever I can. This time spent rejuvenating my body is as important as the time I spend exercising it. During those showers, at least once a week, I will make time for this deep-conditioning mask from Briogeo. (The Strategist's own Rio Viera-Newton is also a big fan of it.) Founded by Nancy Twine, Briogeo makes naturally based products that are no fuss and, based on my use, consistently result in healthier hair. I have been wearing my short natural hair a lot recently, and the mask leaves it feeling stronger and looking shinier after every use. I wash my hair, leave it on for ten minutes or so as I go about the rest of my routine, and then just rinse it out.
On nights when my head is really going through it, I love to use this oil by Frigg as an overnight treatment to further nourish my scalp. It's become especially handy since I left New York City and moved back to L.A., where I'm dealing with much drier air. I apply a few drops to my scalp and massage it in before putting on my silk Grace Eleyae cap — the same one beloved by Gabrielle Union and Strategist writer Tembe Denton-Hurst — to lock in the moisture. The product's formula contains CBD, an ingredient that many brands promise will reduce anxiety and also soothe physical pain. While I can't speak to its effectiveness in other products, I will say the Frigg oil's formula is instantly soothing on my scalp and leaves it feeling less dry after each use. I have also noticed that it reduces itchiness and other scalp discomfort that I can often experience. Do-good shoppers should know that Frigg founder Kimberly Dillon promises to use a portion of each purchase to support mental-health organizations.
54 Thrones founder Christina Funke Tegbe named her company as a nod to Africa's 54 countries. She works with individuals and entities across that continent to source the ingredients in her products, which include this shea butter that has become a staple in my daily routine. Its formula contains an extensive list of oils, including avocado and sweet almond oil, as well as Ghanaian baobab and Egyptian jojoba oils. While you might think those oils would make it fragrant, the butter is actually unscented (making it great for more sensitive skin). You can use it all over your body, but I really like it as a hand cream — something that's earned new importance in my self-care regimen, given all the handwashing we've all been doing.