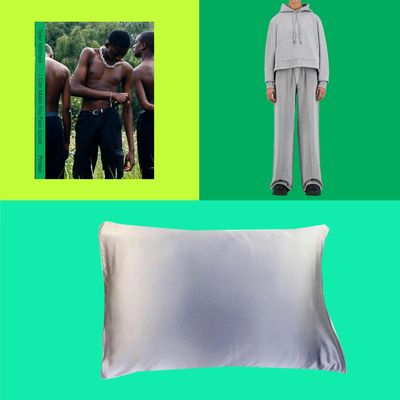 Photo-Illustration: retailers
Growing up, my parents, Magic and Cookie Johnson, always reminded me of the importance of supporting Black-owned businesses and Black creators: As consumers, doing so is our obligation to create generational wealth for our community. Attending New York City's Fashion Institute of Technology, where I graduated from in 2018, made me even more aware of how the fashion-and-beauty industry continually profits off of Black culture and creativity yet more than often leaves its sources of inspiration with zero credit. Now, as a Black entrepreneur who is creating and designing a forthcoming line of eyewear, I feel even more compelled to support Black- and minority-owned businesses and Black designers and creators. So I recently launched SelectedByElisa.com, a platform that aims to amplify Black achievements in fashion and beauty with advocacy and beyond.
While working on my website, I looked at other successful "lifestyle" or "influencer" sites with curated e-commerce pages and couldn't help but notice how so many of them included little to no products from BIPOC-owned businesses. That's why, in developing Selected by Elisa's e-commerce page, which I call Shop Melanated, I aimed to create a space that not only includes us but remains committed to featuring products designed by, and sometimes exclusively for, Black people. From one-of-a-kind denim by up-and-coming fashion designers (and former classmates of mine), to vitamin C serum developed specifically for melanin-rich skin, to a coffee-table book featuring the images of a celebrated young Black photographer, the 16 products below are some of the favorite things I've featured in an attempt to get more people to shop melanated.
Clothing and accessories
There are few things that bring me more joy than a cozy yet stylish matching sweatsuit (especially for travel). This, from Daily Paper, is exactly that. While a little on the pricey side for a sweatshirt and sweatpants, I think they're worth the investment because together they make for an easy, wearable moment, and each is stylish enough to wear separately with other things from your closet. The pants' flare leg cut makes them great to pair with some heels or a pointed-toe, heeled bootie. And the hoodie's cropped, oversized silhouette means it can go right over a Spandex bodysuit or denim shorts while I run around town. Created by Hussein Suleiman, Jefferson Osei, and Abderrahmane Trabsini, Daily Paper is an Amsterdam-based men's and women's clothing brand that began as a blog about their shared admiration for music, art, fashion, and culture.
A big inspiration for my forthcoming sunglass line are the beautiful twins Corianna and Brianna Dotson and their eyewear line Coco and Breezy, which has been around for more than a decade. There aren't many Black designers in the eyewear industry; these two started from scratch and built a truly special brand from the ground up. I had the privilege of interning for them while at college, and I learned a ton about eyewear design and what it's like to be a Black woman in the fashion industry. In my opinion, you can't beat the detail and quality of their products, which include regular eyewear in addition to sunglasses. When it comes to the latter, my favorite style is the Avatar. I love a good aviator shape, and these manage to look absolutely original while still giving off that classic look.
Photo: Stella & Haas on Instagram
I came across Stella and Haas while doing research for brands to feature on my website. Based in Utah, Stella and Haas is owned by Jenni Kaufusi, who creates pieces that I like to call "layering jewelry." I have hoops in all different sizes — thin, thick, mini, medium, large, you name it, and the same goes with bracelets and necklaces. As someone who is fascinated with (maybe obsessed with) astrology, the brand's Old English Zodiac necklace is a favorite of mine and the type of thing you could easily layer. I love to integrate personal details into what I wear when I can.
My fellow FIT grad Nia Thomas's line is undeniably special. Sold on her own website and on Cafe Forgot's recently launched e-commerce site, her collection includes light and airy lucite rings, knit bathing suits, breezy dresses, and separates cut from bright, patterned textiles that she says allow you to "proudly wear your heritage on your sleeve." Her garments are made with recycled or reclaimed materials — and recently she channeled this spirit of sustainability to create reusable cotton face masks made of leftover fabric scraps in her Brooklyn studio, which I think is an incredible way to introduce what's now a required accessory into her collection.
With many of us still spending lots of our time at home due to the ongoing pandemic, loungewear is now the basis of any wardrobe — including one for working from home. That's why Local European's tanks are absolutely essential pieces to me. Local European is owned/designed by Alexandra Bunch, a beautiful brown-skinned girl who says her collection is made for the "elegant street girl." My favorite pieces are the Rio tanks because they contour to your natural curves. (Even if you do not necessarily have curves, like me, I find the tanks still give a sort of an illusion of them.) Plus, they can really be worn for anything — you can throw one on for a Zoom call or with some denim shorts to run errands. The tanks, which are also available in white, are just one of the brand's easy basics: Local European also sells slip dresses, corsets, and tote bags. Like Nia Thomas's garments, Local European's are made in small batches with recycled fabrics to reduce waste. This small-batch production, though, means they can go fast: Right now, the tanks and most other items I mentioned are in limited stock, so if you see one in your size, I would scoop it up.
While Samaria Smith happens to be my closest best friend, I swear that is not the reason I adore her denim line. For her collection, Samaria handpicks vintage pairs of Levi's and then intricately embellishes, distresses, and refashions them into one-of-a-kind pieces herself. This summer, she extended her line to include shorts, and they are it! I am particularly into the longer, Bermuda-style Tali shorts, which would work well with socks and sneakers, a strappy heel, or even a pair of mules. Sam launched her brand less than a year ago, and it has been truly inspiring to see her success. She has a skilled eye and is able to see what works for many different women, which is reflected in her denim.
Makeup, skin care, and hair care
I started following KNC Beauty founder Kristen Noel Crawley on Instagram years ago because I love her unique style and the way she effortlessly put looks together. KNC Beauty has really taken off over the last few years thanks to the popularity of its all-natural, collagen-infused lip mask, but I personally am a bigger fan of their eye masks. These days, self-care has never been more necessary, and if you are like me and all of your stress, anxiety, and lack of sleep shows up under your eyes, these will be a literal lifesaver — or at least a face-saver. Infused with retinol, they leave my undereyes looking hydrated, smooth, depuffed, and bright. Their formula contains other powerful ingredients such as hyaluronic acid, collagen, aloe, and vitamin A, and, importantly, is free of parabens, sulfates, artificial dyes, and fragrances.
These days, sunscreen has never been more necessary — even if you're not spending hours outside this summer, doctors have said that it can help protect against exposure to rays emanating from that computer screen you're staring at for hours a day. But all Black women know how annoying the white cast left by lots of sunscreens can be. That's basically what led Shontay Lundy to launch Black Girl Sunscreen back in 2016: She founded the brand as a solution for Black women struggling to find sun protection without the white cast and as a way to encourage women of color to embrace SPF. It's now sold in Target stores nationwide, and this past May it secured a million-dollar investment from a private female investor. Made by women of color for people of color, I can confirm that it never leaves a white cast when I use it. Not only does the broad-spectrum sunscreen help to prevent damage caused by both UVA and UVB rays, its formula — which includes natural ingredients like avocado, jojoba, and sunflower oil — doubles as a moisturizer. Another good thing to know: This product dries clear, so it blends seamlessly with makeup.
Another reason I like to wear sunscreen is because I'm prone to hyperpigmentation and dark spots. While sunscreen can help prevent those, in the event they do develop, I turn to this vitamin C serum to treat them. Buttah Skin was created by Dorian Renaud, whose flawless skin I have long admired. I apply this to my face and any other areas with dark spots every morning before topping the skin with moisturizer. In addition to its namesake brightening ingredient, this serum's formula includes collagen-boosting vitamin A, oil-balancing ferulic acid, and hydrating glycerin and hyaluronic acid. It not only helps to give me a smoother, more even complexion, but also hydrates and revitalizes, leaving my skin feeling softer and looking more nourished.
All Black women know that our hair comes in different textures, which means some products just don't work for everyone. But I am convinced that Baby Tress's Edge Styler has universal appeal. If you're tired of using a brush that's too large, the back of a comb, or even your old toothbrush (as I've done many a time), this is the best thing for getting your edges slicked and refined. The double-headed tool has a comb to separate and smooth on one side, and a brush with natural boar bristles to swoop and shape on the other. At the opposite end, it has a pointed tip for the finishing details. The product is the brainchild of the women at Mama Tress, a creative agency that dedicates much of its work to hair. The minority-owned Mama Tress was co-founded by Hannah Choi and Stella Wang and counts Black women Molayo Morakinyo, a brand strategist, and Shannon Kennard, a creative director, among its team. (Choi and Kennard were among those who worked to develop the Edge Styler.) In using the tool, you can truly see the thought that went into creating it. Plus, it comes in five other colors in addition to this pleasing lilac.
I have searched high and low to find the perfect setting powder to set my under-eye concealer and contour. To me, finding the right shade and color is more important than finding the right human being to have a relationship with. As a brown girl, my beauty products should not give my skin that "ashy" or gray look — it's that simple. And nothing is more frustrating than taking a photo and seeing that harsh yellow highlight some products can leave on skin below the eyes. This setting powder from Rihanna's Fenty Beauty line does such a phenomenal job at matching all shades of skin color (it comes in seven shades other than "Honey") and leaves no trace of that yellow highlight. The powder is extremely light and easy to blend, plus it smells delicious! Basically, it leaves my skin looking like porcelain and makes me feel like I just walked off the set of a photo shoot.
Photo: retailer
I wouldn't necessarily call myself a gloss girl, but Pat McGrath nailed it with this one. My go-to shade is Flesh Altral — which the brand calls a rose with gold shimmer — but with 32 tints to choose from, there is definitely something for everyone. (The shade shown, Nude Negligee, is described as a pale nude beige.) My favorite thing about this gloss is that I can mix it with any matte lipstick of my choice — I prefer a matte lip, but the gloss gives it that extra touch. Those who want to go even subtler can just swipe it on to instantly freshen up their face. It's definitely pricey for a gloss, but I think it's worth the investment because in addition to looking good, it's never sticky. Anyone who has had hair stick to their lips knows how important this is.
Home décor
Like many people, I am a firm believer in sleeping on silk because it protects both your skin and hair. The Los Angeles–based Silked was founded by Phoenix Gonzalez and Sandra McCurdy in 2018, and the cool thing about its pillow sleeves is that they have an "open-ended" design — there are slits on each side, which means you can easily slip them over pillows of almost any size, and even ones in cases (which is why I like to travel with one, because I can just throw it right on top of any pillow). Like Nia Thomas, Silked has also started to use its fabric to create reusable face masks, many of which come in bright colors and patterns.
Maggie Holladay's New York City–based furniture and design shop Claude Home stocks such a gorgeous collection of both new and vintage pieces. Holladay's personal style — which she's described as masculine, tailored, and modern — is reflected in her curatorial eye (if you don't want to take my word for it, just take one scroll of the shop's immaculate Instagram account). My apartment's décor combines a mix of different aesthetics, which is why her point of view really speaks to me and will likely resonate with other vintage-lovers, too. In addition to larger items like couches, Claude stocks less expensive accents like this White Wooden Sculpture by artist Chandler McLellan, which to me feels modern, abstract, minimalist, and even a bit mid-century — in other words, ideal for any eclectically decorated space.
As someone who fills her home with photography books, I was ecstatic when Tyler Mitchell announced he will be releasing his first published monograph this year. For those who don't know, in 2018, Mitchell made history as the first Black photographer to shoot a cover of American Vogue, which featured Beyoncé's on the magazine's September issue. I have been a follower of his art for the past few years and was absolutely devastated when I wasn't able to see his exhibition at the International Center of Photography in New York before the pandemic forced the museum to close. With this, it's almost like I got to see his show in person. Mitchell's images depict young Black people with such intimacy and beauty, and the book's theme of a "distinctive vision of a Black utopia" could not be more necessary right now, when Black self-love, joy, and hope is essential. It's now available for preorder and will ship once released on August 25.
The Strategist is designed to surface the most useful, expert recommendations for things to buy across the vast e-commerce landscape. Some of our latest conquests include the best acne treatments, rolling luggage, pillows for side sleepers, natural anxiety remedies, and bath towels. We update links when possible, but note that deals can expire and all prices are subject to change.