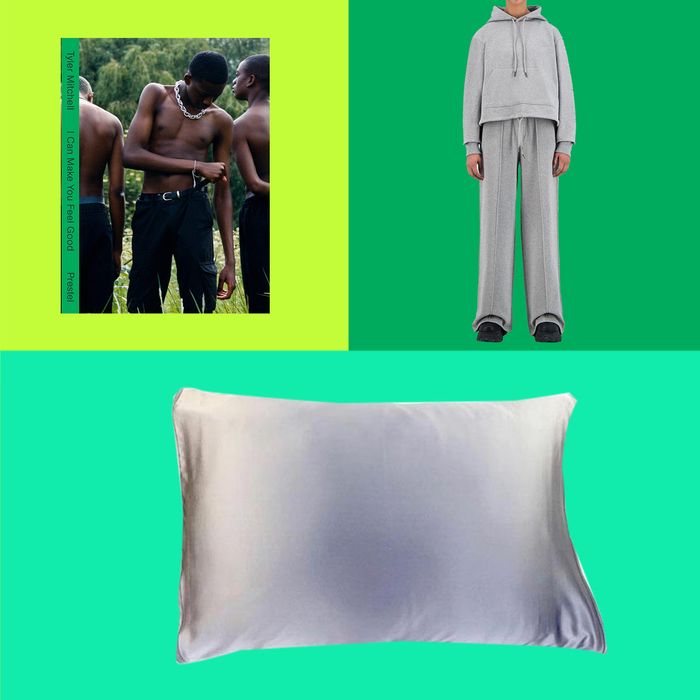 Photo-Illustration: retailers
Growing up, my parents, Magic and Cookie Johnson, always reminded me of the importance of supporting Black-owned businesses and Black creators: As consumers, doing so is our obligation to create generational wealth for our community. Attending New York City's Fashion Institute of Technology, where I graduated from in 2018, made me even more aware of how the fashion-and-beauty industry continually profits off of Black culture and creativity yet more than often leaves its sources of inspiration with zero credit. Now, as a Black entrepreneur who is creating and designing a forthcoming line of eyewear, I feel even more compelled to support Black- and minority-owned businesses and Black designers and creators. So I recently launched SelectedByElisa.com, a platform that aims to amplify Black achievements in fashion and beauty with advocacy and beyond.
While working on my website, I looked at other successful "lifestyle" or "influencer" sites with curated e-commerce pages and couldn't help but notice how so many of them included little to no products from BIPOC-owned businesses. That's why, in developing Selected by Elisa's e-commerce page, which I call Shop Melanated, I aimed to create a space that not only includes us but remains committed to featuring products designed by, and sometimes exclusively for, Black people. From one-of-a-kind denim by up-and-coming fashion designers (and former classmates of mine), to vitamin C serum developed specifically for melanin-rich skin, to a coffee-table book featuring the images of a celebrated young Black photographer, the 16 products below are some of the favorite things I've featured in an attempt to get more people to shop melanated.
Clothing and accessories
There are few things that bring me more joy than a cozy yet stylish matching sweatsuit (especially for travel). This, from Daily Paper, is exactly that. While a little on the pricey side for a sweatshirt and sweatpants, I think they're worth the investment because together they make for an easy, wearable moment, and each is stylish enough to wear separately with other things from your closet. The pants' flare leg cut makes them great to pair with some heels or a pointed-toe, heeled bootie. And the hoodie's cropped, oversized silhouette means it can go right over a Spandex bodysuit or denim shorts while I run around town. Created by Hussein Suleiman, Jefferson Osei, and Abderrahmane Trabsini, Daily Paper is an Amsterdam-based men's and women's clothing brand that began as a blog about their shared admiration for music, art, fashion, and culture.
A big inspiration for my forthcoming sunglass line are the beautiful twins Corianna and Brianna Dotson and their eyewear line Coco and Breezy, which has been around for more than a decade. There aren't many Black designers in the eyewear industry; these two started from scratch and built a truly special brand from the ground up. I had the privilege of interning for them while at college, and I learned a ton about eyewear design and what it's like to be a Black woman in the fashion industry. In my opinion, you can't beat the detail and quality of their products, which include regular eyewear in addition to sunglasses. When it comes to the latter, my favorite style is the Avatar. I love a good aviator shape, and these manage to look absolutely original while still giving off that classic look.
Photo: Stella & Haas on Instagram
I came across Stella and Haas while doing research for brands to feature on my website. Based in Utah, Stella and Haas is owned by Jenni Kaufusi, who creates pieces that I like to call "layering jewelry." I have hoops in all different sizes — thin, thick, mini, medium, large, you name it, and the same goes with bracelets and necklaces. As someone who is fascinated with (maybe obsessed with) astrology, the brand's Old English Zodiac necklace is a favorite of mine and the type of thing you could easily layer. I love to integrate personal details into what I wear when I can.
My fellow FIT grad Nia Thomas's line is undeniably special. Sold on her own website and on Cafe Forgot's recently launched e-commerce site, her collection includes light and airy lucite rings, knit bathing suits, breezy dresses, and separates cut from bright, patterned textiles that she says allow you to "proudly wear your heritage on your sleeve." Her garments are made with recycled or reclaimed materials — and recently she channeled this spirit of sustainability to create reusable cotton face masks made of leftover fabric scraps in her Brooklyn studio, which I think is an incredible way to introduce what's now a required accessory into her collection.