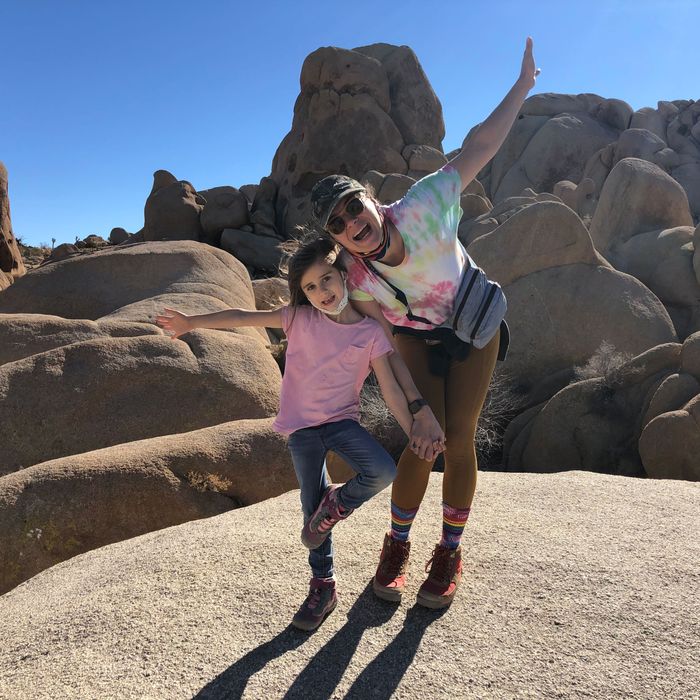 Photo: Courtesy of Ivy Pochoda
Every month, Strategist editors share their hauls, jibber-jabbering about their favorite purchases of the previous four weeks. To get that same personality and taste insight (via receipts), we occasionally invite interesting friends of the Strategist to run down their own buys. For this installment of "Guest Strategist Haul," novelist and writer Ivy Pochoda tells us what she bought in January.
With a bleak four months ahead — and exhortations NOT TO LEAVE THE HOUSE! NOT TO TALK TO PEOPLE! NO MATTER WHAT! — I found myself re-upping on pandemic essentials, thinking that this is never going to end (and that I wore some stuff so much in the past months it's starting to look beat). Like everyone else on Instagram, I tie-dyed a few sweatshirts over the summer; unlike the rest of Instagram, I wore those sweatshirts nearly every day until the hood fell off one. I knew I needed better sweatshirts. Enter Uniqlo's pullover long-sleeved hoodie, the new reigning champion of my stay-at-home style. I bought four (!) to replace that sad hoodless hoodie. It has admittedly been only a month or so, but they seem very hood-stable, and the color selection is groovy enough to wean this late adopter off her tie-dye habit.
Everlane's Trainer sneakers make me feel sporty but not exercise-y. They are as dressed up as I ever get. I bought two pairs, and I'm worried they are being discontinued because they are deeply on sale and sizes and colors are limited.
The truth is, I rarely wear my Everlane sneakers — but I need to own them to feel human. What I actually have been wearing are Crocs. I "discovered" them only last June, but ever since, my Birkenstocks have felt too constricting. When things recently got a little chilly in L.A., I went in on this lined pair that is now the beginning, middle, and end of my winter shoe collection.
In my house, hot sauce is a major food group. From Calabrian chili paste to my homemade fermented Fatalii-pepper blend, my fridge overflows with the spicy stuff. My butcher introduced me to Zab's, a local L.A. brand that does for the datil pepper what Tabasco did for the tabasco: elevate it to something addictive and essential. Call it adult ketchup and put it on everything (including ketchup itself).