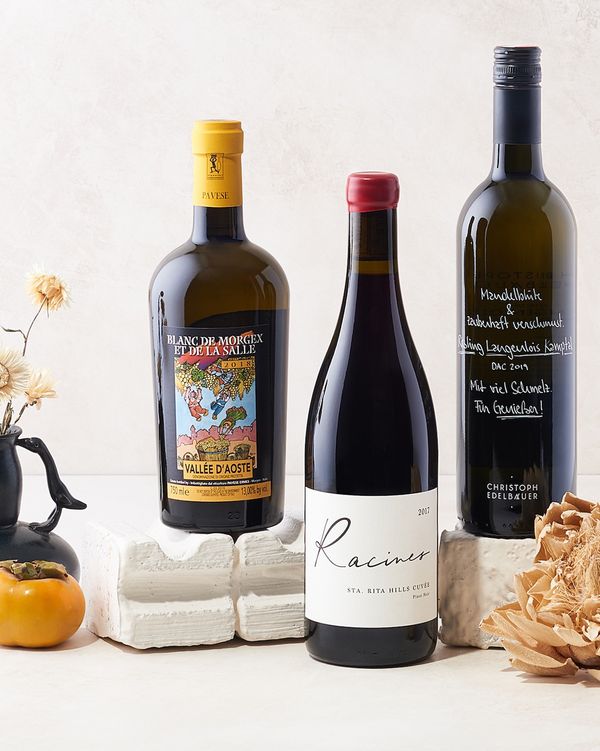 Wine subscriptions are a great way to expand your palate and discover producers and varieties you've never tried before, curated to your taste. They also make a thoughtful gift that keeps on giving. That said, with so many subscription services out there, it can be hard to know where to begin and how to avoid the bogus ones that sommelier Ian Bishop, the portfolio manager at Flavors of Italy, says are "full of mass-produced or private-label wine that is, frankly, inferior in quality." Wine subscriptions also tend to focus on providing customer service and education to their customers that can be less intimidating than walking into a shop.
While all of the subscriptions below have easy-to-navigate sites, as well as plenty of information about the specific wines they offer, there are a few with truly exceptional service that we've called out below, including one that even lets you text a somm directly with questions.
To find wine subscriptions that are worth your money, I asked Bishop and 11 other experts about the ones they trust. Below are their 14 favorites, which include a wine subscription for just about every wine drinker, whether it's the wine newbie, the sparkling-wine enthusiast, or the nerd who geeks out over the slight variations in every vintage.
Since first writing this post, I've been lucky enough to try several of the subscriptions on this list myself, so I also included a few of my personal favorites, including two that are ideal for the natural-wine and canned-wine apologists out there (guilty as charged). A note that while these subscriptions all ship nationwide, laws surrounding wine shipping vary state by state, so availability will be subject to your location.
Best overall | Best (less expensive) | Best if you like variety | Best (less expensive) if you like variety | Best natural wine | Best less expensive natural wine | Best woman-owned | Best for wine nerds | Best sparkling wine | Best Champagne | Most customizable | Best for folks who are (or want to be) in the know | Best for folks who love dining out | Best canned wine
What we're looking for
Type of wine: This may seem obvious, but deciding the type of wine you'd like your subscription to consist of is the first step. Typically, subscriptions will offer all red, all white, or a mixed option. If you can't stand Chardonnay, then an all-red subscription is for you. If red wine always gives you a headache, then opt for all white wines. And if you're looking to expand your palate, a mixed option gives you plenty of variety to explore.
Number of bottles: The next thing that differentiates wine subscriptions is the number of bottles you can expect to receive in a shipment. If you are the type who likes to savor your wine slowly one glass at a time, you should opt for smaller shipments (typically around three or four bottles). If you tend to drink your wine by the bottle or like to host dinner parties, then I suggest choosing a subscription that offers half- or full-case shipments.
Frequency of delivery: Many wine subscriptions are monthly, but there are also subscriptions on this list that offer quarterly, annual, biannual, and triannual shipments, as well. Taken into account with the number of bottles per shipment, the frequency of deliveries is another deciding factor that comes down to how much (and how often) you drink.
Best overall wine subscription


Red or mixed | Four or six bottles | Monthly  
If you're looking for a way to ease into the world of wine, SommSelect is a great option. SommSelect is curated by master sommelier Ian Cauble, whom you may recognize from Netflix's documentary Somm. Both Luke Sullivan, formerly the head sommelier at Soho-based Gran Tivoli, and Bishop recommended SommSelect, telling us that it consistently delivers. (That praise, Bishop adds, comes from someone who has had the luxury — and curse — of tasting an "obscene amount of wine.") Each delivery (subscriptions start at $99 a month for four bottles) is themed, he explains, which means one might have wines that highlight a specific growing region, while another might include wines that explore a grape variety. "If you want to cultivate some basic wine knowledge, this service ticks all boxes," adds Sullivan.
In addition to their standard four- and six-bottle options, they also have a monthly club called the Blind Six that I was able to test out myself. The six numbered bottles arrive wrapped in black tissue paper so you can have the blind-tasting experience popular at wineries right at home. The wine is also accompanied with notebooks, instructions, and detailed tasting notes written by Cauble himself. Not only is it just plain fun, but I found that it really helped me train my palate when I was fairly new to drinking wine and helped me further identify the types of wines I like best.
Best (less expensive) wine subscription
Red, white, or mixed | Three bottles | Monthly 
Winc was founded in 2012 to make wine more accessible and easier to enjoy, according to Susan Kostrzewa, former editor-in-chief of Wine Enthusiast magazine. Via its monthly wine club, which starts at $39 a month for three bottles, Winc offers hundreds of unique wines that "range from classic blends to obscure, single-vineyard fringe projects," she says. When you join, you take a short quiz that asks questions like how you take your coffee and whether you prefer salty, citrusy, or earthy flavors, so your monthly subscription can be personalized to your palate. Every month, you can rate the wines you receive, so your subscription will be more tailored to your tastes over time. And once you're a member, you can add individual bottles from Winc's virtual cellar (many of which are under $20) to your order, in addition to the three in your monthly box. While Winc doesn't have all the bells and whistles of some of these other boxes, I do think it's a good option if you're on a budget. Winc is a favorite among our readers, as well; it's been a sitewide best seller twice.
Best wine subscription if you like variety


Photo: retailer
Mixed | 12 bottles | Monthly 
If you consume a healthy amount of wine every month and want to support a New York City–based shop, Astor Wines and Spirits's "Top 12" monthly subscription is a really good option, says Karen Lin, the executive general manager and sommelier at Tsukimi in the East Village. For $175 a month, they'll send monthly shipments containing 12 bottles of their newest discoveries, which works out to a little more than $14 a bottle — less than you'd pay in any store.
Best (less expensive) wine subscription if you like variety
Photo: retailer
Mixed | 12 or 24 bottles| Biannual 
There are "great" selections to be tasted through Viticole's wine club, according to Bishop, who notes their selections aren't relegated to just wine. While shipments mostly contain red and white wine, they can also come with ciders, meads, botanical infusions, sake, and multi-fruit ferments. There are two tiers to membership: Viticole's standard wine club costs either $99 or $198 per month, depending on if you want one or two 12-bottle cases, one in the spring and one in the fall. Part of what you're paying for with this club is exclusivity. Viticole's founder, master sommelier Brian McClintic, works very closely with organic producers from around the world to create custom bottles only available to club members, according to Bishop, so you can be sure you're getting something special.
Best natural-wine subscription
Photo: retailer
Red, white, or mixed | Three, six, or 12 bottles | Monthly, bimonthly, or quarterly 
Whatever buzzword you want to use — natural, low-intervention, low-sulfite, biodynamic, organic — to describe the category, Primal Wine Club can't really be beat in curating it. Its club's offerings include monthly shipments of three, six, or 12 bottles — of white, red, or mixed — starting at $85 per month. After Bishop recommended it for this story, I was gifted a mixed, three-month subscription for my birthday, and every single bottle was stellar. Overall, the wines were interesting but still reliable crowd-pleasers. Plus, it now also sells a selection of tinned fish from Spain and Portugal on its site. Sardines and a glass of orange wine? What's not to like.
Best less expensive natural-wine subscription
Photo: retailer
Mixed | Three bottles | Monthly 
For $79 a month, Brooklyn-based Leon & Son Wine & Spirits' — one of the city's best wine shops — Leon Circle subscription will get you three bottles of "restaurant-quality," natural-leaning wines, according to Kirk Sutherland, the former wine director at Roberta's and Blanca and current maker of Erde Wines. He adds that founder Chris Leon's mission is not only to expose customers to new wines, but also to educate them, which is why the subscription includes easy-to-understand note cards that tell you more about what you're drinking and how to order and buy wines like it. Plus, you'll be supporting a beloved small business.
Best woman-owned wine subscription
Photo: retailer
Red or mixed | Six or 12 bottles | Biannual 
Sommelier and writer Belinda Chang told us about the subscription club at Matthiasson, which she describes as a small, woman-owned, family-run winery known for pioneering sustainability and natural wine before those things became trendy. The wine club offers shipments of six or 12 "delicious, tough-to-get wines" twice a year, in October and April, starting at $335 a shipment (that's 10 percent off what the bottles would cost at full price). And for an extra $48, you can get some of the vineyard's homemade jam — which Chang calls the best she's ever tasted — as part of your subscription (the jam delivery occurs once a year in early December, according to the company, which doesn't say how many jars it sends).
Best wine subscription for wine nerds


Mixed | Six or 12 bottles | Biannual 
For those who already have an impressive wine fridge at home and want to dig even deeper into new varieties, Jordan Salcito, the CEO of Ramona who formerly worked as the sommelier at Eleven Madison Park and Momofuku, loves author and sommelier Raj Parr's wine club. Its offerings include twice-yearly shipments of six wines as well as twice-yearly shipments of 12 varieties that let you experiment a bit more. While it is pricey, Parr shares his cell-phone number with club members and encourages members to text him with any questions they may have about the world of wine.
Best sparkling-wine subscription
Sparkling | Two bottles | Monthly  
For sparkling-wine aficionados, Chang — who has "a serious sparkling-wine and Champagne habit" — suggests Sonoma-based Iron Horse Vineyards's subscription service. While "they make a full range of still wines that are wonderful," she is obsessed with the sparkling-wine-only options it offers via its various subscriptions. Those options include the Winemakers' Choice Club, which will send you two bottles of sparkling wine every month for $110; the 2 Bottle Club, which will send you two bottles of sparkling wine every other month for about $120 a shipment; and Chang's favorite, the Corral Club, which costs the most at around $210 per shipment, but sends five shipments containing four to five bottles a year, plus an additional holiday shipment.