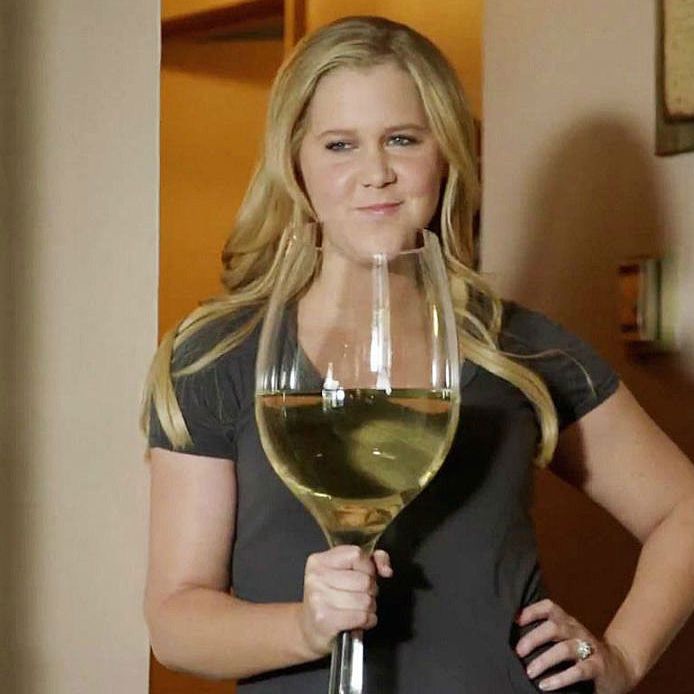 Photo: Courtesy of Comedy Central
Now that we've entered the 11th hour of holiday gifting, taking a chance on shipping may be a risky move — Christmas shipping deadlines for lots of retailers have long passed. But if you don't want to go the gift-card route and you have an avid wine drinker on your list, one way you can ensure that they'll always have something to sip (and have something under the tree) is by gifting them a wine subscription. Print one of these subscriptions out, wrap it in a box, and you've got a thoughtful gift that'll keep on giving to your loved one for months to come.
But with so many wine subscriptions out there, it can be hard to know where to begin and how to avoid the bogus ones that sommelier Ian Bishop, the portfolio manager at Flavors of Italy, says are "full of mass-produced or private-label wine that is, frankly, inferior in quality." To find wine subscriptions that are worth your money, we asked Bishop and eight other experts — including sommeliers and culinary editors — about the ones they trust. Below are their 17 favorites, which include a wine subscription for just about every wine drinker, from the natural-wine apologist to the sparkling-wine enthusiast to the nerd who geeks out over the slight variations in every bottle. A note that while these subscriptions all ship nationwide, laws surrounding wine shipping vary state by state, so availability will be subject to your location.
Best overall wine subscription


"If you're looking for an easy entry into the wine-subscription world, or want to cultivate some basic wine knowledge, this service ticks all boxes," says Luke Sullivan, the head sommelier at Soho–based Gran Tivoli. SommSelect is curated by master sommelier Ian Cauble, whom you may recognize from Netflix's documentary Somm. Each delivery (subscriptions start at $99 a month for four bottles) is themed, he explains, which means one might have wines that highlight a specific growing region, while another might include wines that explore a grape variety. Bishop also likes SommSelect, telling us that it consistently delivers (praise, he adds, that comes from someone who has had the luxury — and curse — of tasting an "obscene amount of wine").
Best (less-expensive) wine subscription


Winc was founded in 2012 to make wine more accessible and easier to enjoy, according to Susan Kostrzewa, the editor-in-chief of Wine Enthusiast magazine. Via its monthly wine club, which starts at $39 a month for three bottles, Winc offers hundreds of unique wines that "range from classic blends to obscure, single-vineyard fringe projects," she adds. When you join, you take a short quiz that asks questions like how you take your coffee and whether you prefer salty, citrusy, or earthy flavors, so your monthly subscription can be personalized to your palette. Every month, you can rate the wines you receive, so your subscription can be tailored to your tastes over time. And once you're a member, you can add individual bottles from Winc's virtual cellar (many of which are under $20) to your order, in addition to the three in your monthly box.
Best wine subscription if you like variety


Photo: retailer
If you consume a healthy amount of wine every month and want to support a New York City–based shop, Astor Wines and Spirits's "Top 12" monthly subscription is a really good option, says Karen Lin, the executive general manager and sommelier at Tsukimi in the East Village. For $150 a month, they'll send monthly shipments containing 12 bottles of their newest discoveries, which works out to a little more than $12 bucks a bottle — less than you'd pay for the same bottles in any store.
Best natural-wine subscription


Photo: retailer
"Low-intervention, natural, low or no sulfites — whatever your vernacular, Primal Wine curates an excellent selection of wines you most likely aren't familiar with," promises Bishop. Its club's offerings include monthly shipments of 3, 6, or 12 bottles — of white, red, or mixed — starting at $85 per month. Right now, Primal Wine is also offering new subscribers a free bottle for their first month, plus free shipping.
Best less-expensive natural-wine subscription


Photo: retailer
"Natural wine may be on restaurant menus all over New York, but it can be hard to find a subscription service sans sulfur due to the usually small production of these wines," explains Sullivan. He suggests this monthly wine subscription from the small, boutique wine store Vanderbilt Wine Merchants in Prospect Heights, which specializes in natural wine. For $75, you get four bottles per month, so it's "a great value," he says, adding "there are no hidden subscription traps — you can cancel or take a hiatus anytime."
Best Spain–focused wine subscription
Photo: retailer
If Spanish wine is your thing, Bishop suggests a subscription from importer José Pastor, who focuses on growers from Spain. Wine subscriptions from importers are a less traditional route, but he says they can be "great if you are fairly familiar with an importer and trust their palate." Pastor, an importer Bishop trusts, offers 6- or 12-bottle subscriptions, for $199 and $399 per shipment; they ship three times a year, in January, May, and October. The service also previews each included wine with a detailed information sheet in each shipment.
Best Pacific Northwest–focused wine subscription
Photo: retailer
Kostrzewa says those who prefer wine made in Washington, Oregon, and California's Sonoma Valley, should check out the subscription from WOW Sonoma, which offers monthly shipments of three bottles from those areas for $92 a month. In addition to being made in the U.S., all the wines in WOW Sonoma's subscription come from women-owned wineries, and you can choose between a recurring subscription or a one-time order.
Best wine subscription if you also like cider


Photo: retailer
There "are great selections to be had" through Viticole's wine club, according to Bishop, who notes those selections aren't relegated to just wine. While shipments mostly contain red and white wine, they can also come with a few ciders, he says. There are two tiers to membership: Viticole's standard wine club costs $99 per month and ships out two 12-bottle cases a year, one in the spring and one in the fall. For $198 per month, its Wine Club 2.0 ships four 12-bottle cases a year, two in the spring and two in the fall. If you've done the math and think around $50 a bottle is pricey, know that part of what you're paying for is exclusivity. Viticole's founder, master sommelier Brian McClintic, works very closely with organic producers from around the world to create custom bottles only available to club members, according to Bishop, so you can be sure you're getting something special.
Best wine subscription if you also like jam


Photo: retailer
Sommelier and writer Belinda Chang told us about the subscription club at Matthiasson, which she describes as a small, woman-owned, family-run winery known for pioneering sustainability and natural wine before those things became trendy. The wine club offers shipments of 6 or 12 "delicious, tough-to-get wines" twice a year, in October and April, starting at $315 a shipment. And for an extra $48, you can get some of the vineyard's homemade jam — which Chang calls the best she's ever tasted — as part of your subscription (the jam delivery occurs once a year, in early December, according to the company, which doesn't say how many jars it sends).
Best wine subscription for wine nerds


Photo: retailer
For $75 a month, Brooklyn–based shop Leon & Son Wine & Spirits's Leon Circle subscription will get you three bottles of "restaurant-quality" wines, according to Kirk Sutherland, the wine director at Robertas and Blanca. He adds that founder Chris Leon's mission is not only to expose customers to new wines, but also educate them, which is why the subscription includes easy-to-understand note cards that tell you more about what you're drinking and how to order and buy wines like it.
Best (slightly) less-expensive wine subscription for wine nerds


The Grand Tour, a monthly subscription from master sommelier Dustin Wilson's Verve Wine, features four bottles from a particular region or category, "along with tasting notes and other materials to help you learn about each wine," says Lin. (It costs more upfront, but the cost-per-bottle for this is $24, while the cost-per-bottle for the Leon Circle subscription is $25.) Typically you'll get two white wines and two red wines, but shipments can occasionally include a rosé or sparkling option. And once you're a member, you're eligible for a 10-percent discount on other bottles from Verve Wine, whether you buy them in-store at their New York City or San Francisco locations, or online.
Best wine subscription if you like to ask questions


Jordan Salcito, the CEO of Ramona who formerly worked as the sommelier at Eleven Madison Park and Momofuku, loves author and sommelier Raj Parr's wine club. Its offerings include twice-yearly shipments of six wines as well as twice-yearly shipments of 12 varieties that let you experiment a bit more — she has ordered both in the past, including one subscription to gift to her parents. Parr shares his cell-phone number with club members and encourages members to text him with any questions they may have about the world of wine.
Best sparkling-wine subscription


For sparkling-wine aficionados, Chang — who has "a serious sparkling wine and Champagne habit" — suggests Sonoma–based Iron Horse Vineyards's subscription service. While "they make a full range of still wines that are wonderful," she is obsessed with the sparkling wine-only options it offers via its various subscriptions. Those options include the Winemakers' Choice Club, which will send you two bottles of sparkling wine every month for $110; the 2 Bottle Club, which will send you two bottles of sparkling wine every other month for about $120 a shipment; and Chang's favorite, the Corral Club, which costs the most at around $210 per shipment, but sends five shipments containing four to five bottles a year, plus an additional holiday shipment.
Best Champagne subscription


Photo: retailer
Kostrzewa says that those who like bubbles, but specifically Champagne, should turn to Fatcork. Founded in 2010 by Bryan and Abby Maletis, Fatcork is focused on small, family producers, she explains, noting that members benefit from the Seattle–based couple's expertise and direct-to-consumer, import and distribution business. Because "it's Champagne," Kostrzewa cautions, "it's not going to be cheap." But should you have the budget, options include three-, four-, or six-bottle shipments that are sent quarterly and curated around a tasting theme.
Best pét-nat subscription


Surlie Collections is "a brand-spankin'-new subscription service dedicated solely to pét-nat and created by a triumvirate of badass femmes whose love affair with the all-natural suds turned into a full-fledged subscription-service company," says Vanessa Price, co-author of Big Macs & Burgundy. Pét-nat, short for pétillant naturel, translates to "natural sparkling" wine. "Producers take an unfinished or mid-fermentation wine and bottle it, letting the first fermentation finish in the bottle you drink it from," Price explains. "Not only are they yummy tasting, they are truly Instagram worthy, coming in a rainbow of shades from electric purple to sunshine yellow to deeply hued magenta." For $114, Surlie will ship four bottles to your door once each quarter, along with approachable tasting guides. Members also gain access "to virtual events and a chance to connect with others in the Surlie community," adds Price. And if you're pét-nat curious (but don't want to commit to a subscription), the service also offer à la carte collections "curated for different palates, seasons, and price points."
Best wine subscription for customizing shipments


"Splash Wines Club offers a unique wine subscription that allows members to choose from a wide range of high-quality, competitively priced wines," says Kostrzewa, adding that the selection ranges from classic vintages to offbeat choices to creative new releases. Where Splash excels is in subscription options, which include monthly, every other month, or quarterly shipments, and tiered pricing. Its cheapest option would be to receive six bottles a quarter for $59 a shipment; but if you want more deliveries, you can also opt to pay $59 for monthly or every other month shipments, too. If you pay $79 a shipment, those deliveries (whether every month, other month, or quarter) will include 15 bottles. If you pay an extra $10 on top of either of those options, you get access to higher-quality wines from its "vineyard collection." And if you pay an extra $39 (for 6-bottle subscriptions) or $70 (for 15-bottle subscriptions), you get access to the highest-quality bottles from its "cellar collection."
Best wine subscription for folks who miss restaurants
Our friends over at Eater are as obsessive about food and drink as we are about shopping. That's a big reason why we think anyone who likes wine should consider their recently launched subscription, which is basically the mail-order version of a trusted restaurant sommelier asking you to try their new favorite bottles each month. (November's box, for instance, was curated by Zwann Grays, the beverage director at Brooklyn's Olmsted and Maison Yaki.) "Every month we choose a n