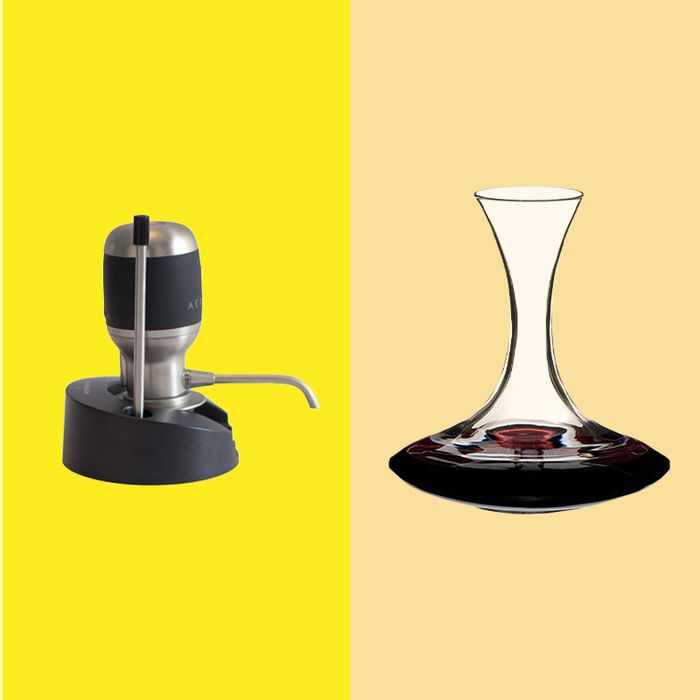 Photo-Illustration: The Strategist; Photos: Retailers
I used to think that wine decanters were mostly for show — just pretty containers fabulous hosts bring out to make a table look fancy for company. But they can actually change your entire drinking experience. "In order to enjoy wine to the fullest, we must be able to smell the variety of aromas that each wine presents. When you let the wine breathe — by mixing it with air — you are facilitating this process," says Nicolás Andrés Martianhes, a sommelier at Balvanera in New York City. That's where decanters come in handy. They serve two main functions: "Decanters expose younger wines to oxygen and separate older wines from sediment that has formed in the bottle over time. Decanting helps wake up the wine, making it smell better, and therefore making it taste better," explains Elyse Lovenworth, lead sommelier at Sommsation. It usually takes 30 to 40 minutes to decant, but wines that are over ten years old typically need to sit for over an hour.
Another way to make sure your wine is properly oxygenated is to use an aerator, which pushes air into a wine bottle while you pour. It does the same things as a decanter in a faster, more forceful way. While the speediness is appealing, most of the experts included in this story recommended a traditional oxidation method. "The best universal tool for aerating all types of wines is a decanter, but for bold, young wines that need a ton of oxygen, an aerator or a decanter will do the job," says Trevor Durling, head winemaker and general manager of Beaulieu Vineyard.
To spare you the pain of scrolling through a gazillion options, 11 wine pros agreed to share their favorite decanters and aerators. Whether you're looking for an affordable everyday option or a fancy piece to add to your barware collection, there is something here to upgrade your at-home wine game.
Although most decanters resemble a laboratory flask, there are some creative variations out there that are more design focused. For most people, the classic shape is more practical because it's easier to store, handle, and maintain. "To open up young wines, look for a larger decanter with a wide base. They provide lots of surface space for air to penetrate the wine. If you're decanting older wine for sediment, choose something taller and skinnier so that the wine doesn't oxidize quickly," says Molly Austad, sommelier at Bludorn. With aerators, there are designs that you have to hold while you pour and others that attach directly to a wine bottle. We've included both types in this roundup.
Most of the decanter picks that landed on our list are made from fine crystal glass. Crystal looks great and is sturdy (but not clunky). It also comes highly recommended by all-things-wine experts. With careful maintenance, fine crystal will serve you well for a long time. Aerators, on the other hand, are made from a few different materials. The aerator you choose will come down to preference for other factors like how the aerator functions rather than the material it's made from. But we've still noted aerator material in this story.
Hand washing is always the safest bet when dealing with delicate glass or gadgets, but a number of decanters can be cleaned safely in the dishwasher. Hand washing a decanter is fairly laborious, so we've given extra "points" to dishwasher-safe options here. Aerators are generally a hand-wash affair, but we found a dishwasher-safe option too.
Best overall wine decanter
Design: Classic | Material: Crystal glass | Cleaning method: Hand wash only 
This sophisticated decanter was deemed the best by our experts. "Riedel is a name that I trust for its glass quality and ease of use. I like this decanter because of its classic, elegant look. There is nothing over-the-top about it," says Taylor Bianco, winemaker at Marimar Estate Winery. The iconic design also won praise from Sarita Cheaves, wine-media producer and co-host of the Swirl Suite podcast. As she puts it: "It's so pretty it can serve as a centerpiece." Trevor Durling, head winemaker and general manager of Beaulieu Vineyard, considers it the gold standard. "This is the classic shape I think of when I think of decanting," he says. At nearly 200 bucks, this handmade decanter is more practical for wine enthusiasts who'll keep it in heavy rotation versus occasional drinkers. It's an investment, but the Ultra's sturdy base, proven durability, and industry praise make it worth it for frequent wine drinkers.
Best less expensive wine decanter
Design: Classic | Quality: Crystal glass | Cleaning method: Dishwasher safe 
There is a slew of decanters with the same timeless design as the Riedel Ultra, but this less expensive version stands out because it performs just as well. That's key because while aesthetics matter, the best decanters also need to hold up over time. The quality of this one impressed Cheaves, who calls the vessel "professional grade" and "durable." Another reason to snap it up: The slanted opening makes it easier to pour. "This decanter is ideal for beginners because it has an asymmetrical spout that helps prevent spillage," says Martianhes. That's perfect for those who tend to get a little clumsy after a glass or two. For chicness and functionality minus the sticker shock, this is a clear winner.
Best budget-friendly wine decanter
Shape: Classic | Material: Crystal glass | Cleaning method: Dishwasher safe
The founder of JoyJolt felt so strongly about the need for affordable glassware that he created a whole company to deliver exactly that. Everything it makes — including this wallet-friendly decanter — is backed by a lifetime warranty. With the Lancia, you're getting a resilient product for less, plus the warm and fuzzy feeling that comes from supporting a family-owned business based in New York. If you want a relatively cheap decanter, you won't find a more trustworthy option than this. "It gets the job done, and it's under $25 dollars for real glass," says Austad. And at this price there's no guilt about only using it occasionally.
Best splurge-worthy wine decanter
Design: Modern| Material: Crystal glass | Cleaning method: Dishwasher safe
Created as a tribute to Riedel's 250th anniversary and handmade by artisans, this decanter got the stamp of approval from more experts than any other high-end piece. Although it's meant to be seen and admired, it's not overly elaborate, and it doesn't take up as much space as some of the other fancy decanters I spotted on the market. "The Riedel Amadeo is certainly a splurge, but it is a collector's piece that beautifully aerates wine. It can be a standout in an entertaining space, and it elevates any experience," says Durling. Although this decanter looks like a "work of art," Austad says "pouring from it is easy. It will absolutely impress your guests." Gabriel Maldonado, beverage director and general manager at the Wesley, admits that the Amadeo is "pricey" but thinks it's totally worth it. "It's beautiful if you have the space," he says. Sommelier Olivia Noren says this decanter is the "most impressive" one she's ever used. "Minimalist curvature and maximalist impact — this is the Ferrari of decanters," says Noren. Her only callout: it's a bit more difficult to clean (unless you have a dishwasher). "I recommend purchasing a decanter cleaning brush and cleaning beads, and filling it with water and dropping in an efferent tablet once every few months to keep it shiny," she advises.
Best wine decanter set
Shape: Classic | Material: Crystal glass | Cleaning method: Hand wash recommended 
Speaking of accessories, André Hueston Mack, sommelier, winemaker, and founder of Rye & Sons, loves this set because it comes with a range of helpful tools to make caring for the decanter a lot easier. "It's a great value because it has it all, from cleaning beads to a mold-preventing drying stand," he says. This set also trumps the competition because it's designed for speedy, double aeration. The clever stopper allows you to pour your wine into the decanter and then pour it back into the bottle, which shaves off significant time from the decanting process.
Best wine decanter with a stopper
Design: Classic with stopper | Material: Recycled glass Cleaning method: Hand wash only
A stopper isn't a must, but if you want to store unfinished wine in a decanter, it's nice to have a way to block the opening (to avoid overoxidizing) when you're done. The unique beauty of this one, and the fact that the artisans who make it benefit from each sale, earned it the top spot in this category. "This decanter has a wide base so it's good for oxygen, but it also comes with a sustainably sourced wood stopper to keep unwanted oxygen out. Another thing I love about this decanter is that it's made from recycled glass that has been melted down and then handblown into its current shape," says Austad. Cheaves also gives this decanter her stamp of approval. "The Guatemalan caro caro wood gives it an elegant look with an eco-friendly purpose," she says.
Best overall aerator
Design: Hand-held | Material: Resin Cleaning method: Dishwasher safe 
For wine drinkers who would rather use a gadget than wait patiently for a natural decanting process, this is the aerator our panel says is the best on the market. The Vinturi is the only aerator out there that's made with food-grade and alcohol-safe resin, and it's still a favorite 16 years after it first launched. "This is an award-winning aerator for a reason. You can taste the difference immediately after aerating with it," says Cheaves. Martianhes likes that it's foolproof. "The Vinturi is easy to use and it includes a filter screen to keep away any small particles of cork from falling into the wine," he says. Even Lovenworth, who calls herself a "purist," had to give the Vinturi its props. "To me, the best aerator is still a decanter. However, Vinturi is easy, effective, and reasonably priced."
Best budget-friendly aerator
Design: Attachable spout | Material: Acrylic | Cleaning method: Hand wash only
As an impatient person, I'm sold on the quickness of this foolproof aerator — it preps wine in just 30 seconds. Reach for it on a weeknight when you want to take the edge off a busy day fast. "It's extremely easy. It attaches directly to the bottle and the design reduces any risk of accidents and stains," says Martianhes. It's also travel friendly.
Best electric aerator
Design: Attachable with tap | Material: Stainless steel and plastic | Cleaning method: Hand wash only 
This is your best bet if you want to go the battery-powered route. "This is one of the few electric aerators I have seen that actually works," says Maldonado. It's faster than a manual aerator: Just secure it on top of your wine bottle and press a button. "The Aervana infuses air under pressure while the wine passes through, giving the equivalence of a one-hour decanted wine in a few seconds," says Martianhes. Cheaves agrees that it's "very convenient" and Durling says it's "hours faster than a decanter." If you're skeptical of the Aervana's price tag, the major benefits are that it aerates much faster and thoroughly than a funnel-style device. And it allows sediment to remain in the bottle (much like a decanter). Plus it's durable: "I've never had one break," says Kristin Courville, wine director at Ernesto's.
• Molly Austad, sommelier at Bludorn
• Taylor Bianco, winemaker at Marimar Estate Winery
• Sarita Cheaves, wine-media producer and co-host of the Swirl Suite podcast
• Kristin Courville, wine director at Ernesto's
• Trevor Durling, head winemaker and general manager of Beaulieu Vineyard
• Elyse Lovenworth, lead sommelier at Sommsation
• André Hueston Mack, sommelier, winemaker, and founder of Rye & Sons
• Gabriel Maldonado, beverage director and general manager at The Wesley
• Nicolás Andrés Martianhes, sommelier at Balvanera
• Cedric Nicaise, former wine director of Eleven Madison Park and current partner at the Noortwyck
• Olivia Noren, sommelier and account development specialist at Breakthru Beverage
The Strategist is designed to surface the most useful, expert recommendations for things to buy across the vast e-commerce landscape. Some of our latest conquests include the best dining room decor items, coffee makers, knife sets, Japanese coffee brewer, charcoal water filter, and drinking glasses for water and more. We update links when possible, but note that deals can expire and all prices are subject to change.
Every editorial product is independently selected. If you buy something through our links, New York may earn an affiliate commission.