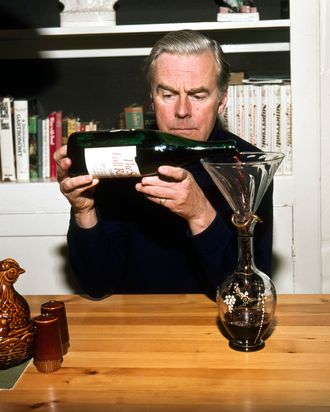 Photo: George Wilkes Archive/Getty Images
Here at the Strategist, we like to think of ourselves as crazy (in the good way) about the stuff we buy, but as much as we'd like to, we can't try everything. Which is why we have People's Choice in which we find the best-reviewed products and single out the most convincing ones. (You can learn more about our rating system and how we pick each item here.)
And while we've written about lots of wine-related things — including the best wine stoppers, the best wine books, and the best gifts for wine lovers — here we've rounded up the best wine decanters, as praised by the most enthusiastic reviewers on Amazon.
Best-rated wine aerator
Almost 80 percent of reviewers gave this aerator five stars, and praised its ability to turn any wine — from cheap to expensive — into an even better-tasting bottle of wine. "This turned a bottle of two buck chuck into a really nice Chardonnay," says one reviewer. "So I tried it on a better bottle of wine I usually keep on hand. Wow! I didn't think that $20 wine could get better but it did," they write. "Box wine? Improved! Really good bottles? Improved." It even converted those who were skeptical about wine decanters and aerators. One writes, "As somebody who recently 'got into' wine, I was a big skeptic about this product. It seemed gimmicky but the reviews were glowing … It's simple, easy to take on and off, easy to clean and DEFINITELY makes a difference." Another says, "I never understood the point of aerating wine, but this tool makes a difference … [I] poured two glasses of wine, one with aeration and one without, swapped the cups around so I didn't know which was which, and after tasting both there was a clear difference in the quality."
Best-rated (less expensive) wine decanter
Many reviewers found that this aerator worked as well as, if not better than, their more expensive decanters. "I have used this type of aerator for at least five or more years and absolutely swear by it," says one. "I have numerous types of aerators and this one is by far the easiest to use and clean, not to mention the least expensive." Another says, "So many wine aerators are either way too expensive or do not work properly. Some leak, some pour too slowly and some are too expensive. This little gem works great and the price is right." And it's even a favorite of one reviewer who does wine demos in wineries: "These wine aerators are FABULOUS" they write. "I don't always have time to let a bottle of wine breathe properly before a demo starts. They greatly enhance the flavor and it makes all the difference in the world. My sales numbers increased greatly. And you can't beat the price!"
And now for some micro-picks of every type of wine aerator or decanter you might be looking for.
Best wine decanter set
Lots of reviewers gave this decanter set high praise for its "beautiful" carafe and drying stand that one describes as "the key to preventing mold issues." "It's beautiful," says one. "I think the bottle is a really nice shape and appealing to the eye. It comes with the decanter, cleaning brush, aerator drying stand, and a hard cover wine book." Shoppers gave this set as a gift for birthdays, engagements, and housewarmings, and all agreed that it's "a perfect gift for wine lovers." Even a sommelier, who says "decanters are part of my lifestyle," is a fan, writing, "I was very pleased to find this great decanter set at such a reasonable price and great quality. The set comes packaged well, equipped with everything you need from storing to holding and cleaning. I love the portability of it, as well as the easiness pouring wise." They also note it's suitable for many different types of wine, and reiterate the value as a gift: "I love decanting my red wines in here but find it decants my orange and older white wines very well. Overall it's a top choice, and makes a great gift for any wine lover in your life!"
Best glass wine decanter
The wide-bottom shape and high quality of this hand-blown wine decanter was a selling point for shoppers. "I went to a wine boot camp class a few weeks ago and was blown away by the difference decanting does for a wine," writes one. "We were told that we should get a decanter with a wide bottom. I saw this decanter and it was just what I wanted. It's beautiful and works well. LOVE it." Another says, "Very well crafted, crystal clear, evenly blown glass. Definitely not thin where you feel like it's easily breakable, but not so thick as to be heavy or unwieldy."
Best wine decanter with stopper
Several reviewers called this carafe "elegant," and many particularly loved the oak stopper. One writes that it "gives it a nice rustic look, while still looking elegant enough for a dinner party." And the stopper isn't all looks — shoppers found it to be very practical, too. One says, "Aesthetically pleasing and super functional! Love the wooden ball stopper to protect the wine from bugs and the elements especially when using outdoors for summer." Another shopper, who uses this for guest water in their office, says "I like having a stopper to keep out dust and bugs."
Best wine decanter with drying stand
Reviewers raved about the drying stand that comes with this decanter — one calls it "the best part" of the decanter, and says that it "Made it very easy to wash and dry so that no water was left in the bottom. We're already thinking of how we can use the drying stand for other items like flower vases." Other shoppers call the stand "sturdy" and say that it eliminates the worry of your upside-down drying decanter tipping over. "My wife broke our other one trying to balance it against the wall to dry. The stand solved this issue," says one. Another writes, "Genuis! Why all decanters aren't sold with a drying stand I will never understand."
Best crystal decanter with stopper
"Nice quality and not a bad price," says one reviewer. "Looks sparkling and gorgeous in my curio cabinet. I would buy another for sure." Several other shoppers agreed, praising the weight of the crystal and calling it a "beautiful" and "stunning" addition to their bars. And a surprising number of reviewers use this to hold mouthwash instead of wine. "I bought this for my restroom. Using it to hold mouthwash," says one. "It looks beautiful and regal." Another says, "I was looking for a decanter for my big bottle of mouthwash (just don't like plastic packaging) and didn't want to spend a lot of money for that purpose. It looks beautiful in my bathroom."
Best small wine aerator