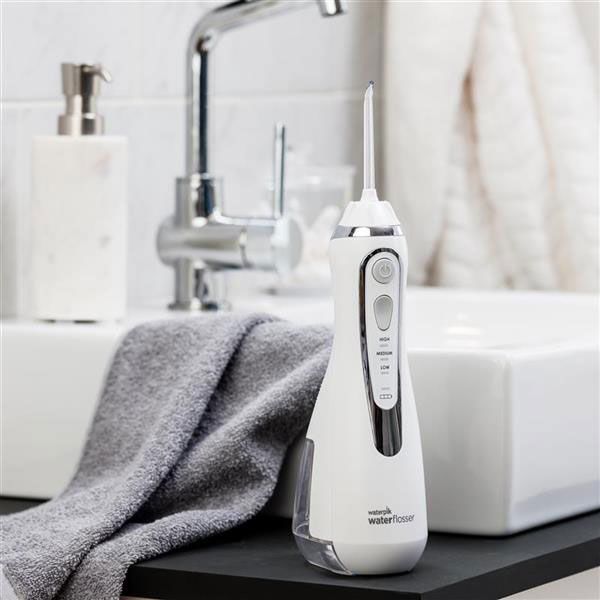 A few years ago, after watching an episode of Queer Eye in which grooming expert Jonathan Van Ness gives a lazy man named Remington a water pick, I wondered whether (like Remington) buying one would motivate me to develop better interdental cleaning habits. Emboldened by JVN, I typed "water pick" into Google. A quick search took me to a long and overwhelming Amazon list. Instead of giving up, confused, I decided to close the tab and call a bunch of dental professionals, including my own dentist. After getting their recommendations, I decided that a cordless Waterpik was the best fit for my lifestyle and my limited bathroom counter space. I'm stil using it, but I started to wonder if it's still the best tool for the job, or if there are newer, better versions of my Waterpik out there. So I reached out to more dentists to see if our past research holds up.
Everyone we talked to agrees that, ideally, you should use traditional floss followed by a water pick to remove food particles from between your teeth and prevent cavities. However, most of them acknowledge that the best tool with which to do that cleaning is really the one you know you'll use correctly and most often — whether that's dental floss, one of those little interdental brushes, a water pick, or all of the above. "Because so many people have a difficult time flossing properly, using a water flosser with the ADA Seal of Acceptance has been proven to be as effective, if not more effective, than traditional flossing at removing plaque between teeth," explains Dr. Jill Lasky of Lasky Pediatric Dental in Studio City, California. "Many just put the floss between their teeth instead of making the recommended C-shape with the floss to ensure it properly contacts all surfaces of the teeth. Water flossers are less technique-sensitive." And much harder to screw up.
When it comes to the proper water-pick technique, Dr. Samantha Rawdin puts it this way: "With a water pick, you want to close your lips slightly around the tip of it and lean over the sink so water doesn't go everywhere. Then you'll want to direct the tip of the water flosser down toward the gums and go in a scalloped motion along the gum line of each tooth on both the inside and outside — and accept that it's going to be a little messy during the learning curve." The first time I used my cordless Waterpik, I wasn't expecting the sheer force of the spray. Nor did I realize how frothy the mix of mouthwash and water would get when pressurized. I ended up basically power-washing the bathroom mirror with a mix of Colgate mouthwash, water, and my own spit. But after some almost daily practice I've become markedly less messy. Below, the seven best water picks to try right now, according to Rawdin and a bunch of other dentists and dental hygienists we spoke with.
Best overall water pick
Of the 27 dentists and dental hygienists we talked to, 22 say that they prefer the Waterpik brand because of its longevity in the market. "They are the holy grail of water picks and flossers, and I recommend their product to all my patients," says Brooklyn-based dentist Dr. Elliot Eskenazi. "This brand is to water flossers what Kleenex is to tissues." According to AsktheDentist.com founder Dr. Mark Burhenne, "The company stands behind its products better than other brands with unrecognizable names." Dr. Dimitri Mantazis of Hove Dental Clinic appreciates the brand's wide array of models, "from basic to more advanced to cordless." Dr. Moses A. Belgrade says he's been using a Waterpik since dental school "43 years ago." And Dr. Mojgan Fajiram says that Waterpik models are a proven "way to aid in removing food and bacteria."
When it came to traditional water picks, five of our sources preferred the Waterpik Aquarius, which comes with ten different pressure settings — an important feature according to most of the folks we talked to. Because gum sensitivity and the spaces between people's teeth can vary so much, having a lot of options ensures that you can personalize the pressure to your individual mouth. Dr. Siama Muhammad of Brooklyn Oak Dental Care recommends water picks like this to patients who don't have good flossing habits. "Sometimes if you get a gadget, it can help," she explains, while emphasizing that "we do still recommend flossing, though, because floss will still give you that snap between the contacts of your teeth. I like the Waterpik Aquarius, and I prefer the corded version because it's more powerful." Dr. Pia Lieb (founder of Cosmetic Dentistry Center NYC), Dr. Memari Masoud, Dr. Adam Silevitch (a partner at Pediatric Dentists NYC), Dr. Allison Rifkin (of Rifkin Dental), and Dr. Irina Sinensky (of Dental House) also recommend the Waterpik Aquarius to their patients. Sinensky explains why it edges out a lot of others on the market: "It offers water-control buttons on the handle, 90-second run time, ten pressure settings, seven different tips, 360-degree rotation of the tip, and a significantly large water tank." Lieb is most impressed with the strength of the Aquarius. "It has the strongest engine on the market," she says, explaining that "you want really strong water power to push as much food and debris off of the tooth structure as possible." While there are smaller portable models (we've listed some below), Eskenazi prefers countertop models, like the Aquarius, because they're "more powerful and easy to navigate."
Best two-in-one water flosser electric toothbrush
Nine of the experts we talked to recommend the Waterpik Sonic-Fusion because it combines brushing and water flossing in one appliance, has a built-in timer that notifies you when you're done, and features adjustable water-pressure controls for sensitive teeth. Dr. Jacqueline Fulop-Goodling, an orthodontist at New York's Dr. Smiles, says, "This product switches from brushing to flossing to both, and it removes the harmful bacteria and debris deep between teeth and below the gum line that traditional brushing and dental floss can't reach." Dr. Paul Sussman, a co-founder of the Center for Cosmetic & General Dentistry in Rochester, says that he uses the Sonic-Fusion exclusively and recommends it to all of his patients and relatives. Sussman compares the combination brush and water flosser to a power-washer for your mouth, saying, "The toothbrush breaks away plaque and bacteria that have attached themselves to your teeth, and the Waterpik flushes out all of the debris." He adds that "mouthwash can be used instead of water to deliver more direct therapy to the gum tissue," and "this water flosser is also very effective in cleaning around dental implants and fixed implant bridges and dentures."
Dr. Elisa Mello of NYC Smile Design uses the Sonic-Fusion as well and tells us it's one of the best ways to keep your teeth clean in between dentist appointments — which might be longer than usual if you've been putting off your visit due to the pandemic. Dr. Lewis Chen, co-founder and managing partner of Beam Street, also recommends this device because it "helps reduce plaque buildup, reduce bleeding, and improve hygiene." Rawdin calls the Sonic-Fusion "brilliant" and says "the reason this particular product is so appealing is the two-in-one aspect. You don't need to reach for an additional tool." That said, she does advise focusing on each of its two functions separately, beginning with brushing, since you need to brush for a full two minutes, and the water flosser will only deliver a continuous spray of water for about 60 seconds.
Best cordless water pick
Five of the dentist and hygienists we consulted recommend the Waterpik cordless water flosser for people with limited space or those who might want to use it in the shower to minimize the potential mess. Dr. Inna Chern of New York General Dentistry says that she has been "heavily" recommending water picks to her patients and has seen a "massive improvement in stains and between-teeth plaque buildup." She specifically recommends the Waterpik Cordless water flosser (the one I use) to teens with braces, elderly people, and people who don't have room for a bulkier countertop model. She also uses this water pick at home, along with her husband and 12-year-old daughter. "I tend to recommend Waterpik's cordless model. I like it because we have limited bathroom-counter space and it easily goes into our medicine cabinet. It is much easier and more efficient than flossing. This model and all Waterpik brand flossers are excellent for braces, whether conventional or clear aligners. And for people with dexterity issues, it's a very easy-to-hold model, lightweight (under a pound), and versatile." Lieb says that for such a small appliance, the Waterpik cordless water flosser has "a good amount of power" — up to 75 psi. And Dr. Greg Grobmyer, a certified D.D.S., says "Its battery life is one of the best on the market, and the design is great."
Best travel-friendly water picks
Five of the experts we talked to called out the Philips Sonicare AirFloss. Dr. Youngmo Kang of Concierge Dental Design in New York agrees that the Waterpik brand is a great choice, but when it comes to more portable options, he says, "Philips, which makes the Sonicare toothbrush, also makes a water pick called the AirFloss. It's easy to use and take with you. You could even bring it in the shower with you." Dr. Sinensky also mentioned the Sonicare AirFloss for its slim profile and portability, made possible thanks to its using half the liquid of a normal water pick. "Its mechanism is different, as it shoots out air and water particles only when activated by a button. This makes it less messy but more challenging to be thorough," she says. Dr. Stephanie Dumanian of Park Lex 60 Dental says that while other water flossers may be "bulky and 'unsexy,' this wireless option is sleek, easy to use, and doesn't leave your favorite pajamas drowning in drool." Dr. Masoud, who is mostly pro–water flossers because of the way they benefit gums by providing a gentle massaging action, also recommends the AirFloss because of its bursts of water and air, calling it a "perfect size for traveling." As Dr. Dumanian points out, you can also fill the built-in water reservoir with mouthwash "for extra freshness."
In addition to the AirFloss, Dr. Dumanian recommends this compact travel model that also features a built-in water reservoir. "You can charge it via USB, which allows for easy traveling," she says. "The five nozzles allow for flexible usage in hard-to-reach areas and for a more targeted approach." It has five pressure settings, so you can adjust the intensity around more sensitive areas and, like the AirFloss, it's waterproof, so you can use it in the shower.
Best professional-grade water pick
Both Jona Trottier, a dental hygienist in New Ashford, Massachusetts, and Dr. Daniel Balaze, a dentist practicing in South Orange County, California, recommend the HydroFloss HydroMagnetic Oral Irrigator because it reverses the polarity of ions in the water, which can help inhibit bacteria and plaque from adhering to teeth. It also features a pulsating water flow that massages gums and loosens debris. Trottier says she can always tell if patients have been slacking at home: "When you're sitting every single day for eight hours digging in someone's gums, you kinda know what people are doing or not doing. There are so many people that just can't floss between their teeth for a variety of reasons (like dexterity problems). But all kinds of people feel a huge benefit from this water pick because they get these big pieces of debris and food particles coming off."
Best water pick for kids and adults with sensitive gums
Six different dentists recommend this bright-green water flosser for kids because of its gentleness — there is always the danger (especially for children) of using a water pick at too high an intensity, which can be damaging to young and sensitive gum tissue. Dr. Alexandra Brennan of Children's Dental Associates in New London, Connecticut, says she likes Waterpik's water flosser for kids because it's designed with a lower-intensity dial, so users of any age "don't end up injuring their [gum] tissue at all." She also notes that the Waterpik for kids comes in fun colors, and with a handful of different stickers, so you can decorate it. "They make it kid-friendly in hopes that kids and teens will actually use it. And for braces, it includes different adapters like a special brush to help clean around the brackets." Grobmyer, who is a parent, says that water flossers can be especially useful for children with braces, or who are fussy about brushing their teeth, saying, "water flossers can make this tedious activity more appealing and engaging for kids and teens."
The Strategist is designed to surface the most useful, expert recommendations for things to buy across the vast e-commerce landscape. Some of our latest conquests include the best women's jeans, rolling luggage, pillows for side sleepers, ultra-flattering pants, and bath towels. We update links when possible, but note that deals can expire and all prices are subject to change.
Every editorial product is independently selected. If you buy something through our links, New York may earn an affiliate commission.