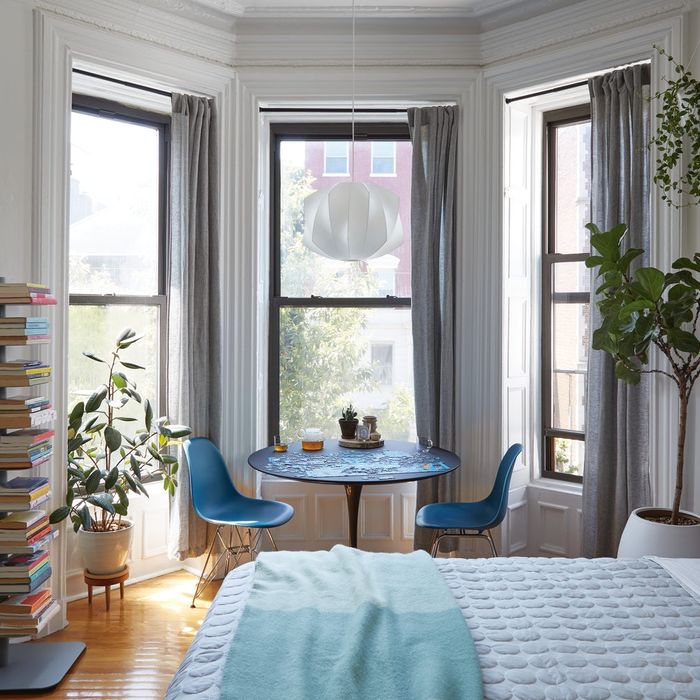 Tiny apartments are the running joke of New York City real estate. If you live in one, you know that every little square foot counts. So making it a functional, yet still open space does require some creativity. Don't have a closet? Find a slim clothing rack. Have a tiny kitchen? Maximize your shelf space. And so on. To find some inspiration for creating order within the confines of a small living area, we talked to some of the people who would know best: Laura Cattano, a professional organizer in New York City who lives in a 335-square-foot alcove studio; Mecca James-Williams, a stylist and the proud renter of @itsapt4; interior designer Lisa Gilmore; Jamie Hord, the founder of organizing company Horderly; Jessica Shaw, the director of interior design at The Turett Collaborative; and Emmett Shine, the creative director of Pattern Brands, which studies what type of products are attracting millennial consumers.
Cattano's philosophy on small spaces is all about living better with less. "Anyone with a small space should start by thinking about what activities they want their space to support first and then set things up accordingly." For her, that meant making sure she had sufficient desk space, a sitting area, and a queen-size bed, and then working around that. "I wanted everything to feel spacious and still allow me to do what I need to do. That should be the basis of any space, but especially for a small apartment where you want things to be multifunctional and have purpose." Below, our five experts' favorite small-apartment ideas for sprucing up a cramped space, along with some Strategist-approved products based on their wisdom.
Small-apartment ideas for the entryway
Cattano says that having an effective entryway is crucial to preventing oversize items from taking up precious space in your living area. "Having a couple of hooks or a coat rack is helpful for a few reasons," she told us. "Even if you have a coat closet, most people (especially in the city), don't have room in their closet for guest coats. And it's great to have a spot to drop your coat and bag instead of tossing it on a chair." She adds, "I've never had a client complain about the additional hooks I've added."
For a slightly more upscale look, Cattano recommends this stylish solid brass option that she says looks good whether something's hanging from it or not.
For a cheap (but expensive-looking) metallic hook, Cattano also likes this affordable option from CB2, which comes in a similar brushed-brass finish.
Keys and mail are other things that can clutter a space (and get lost) if you don't have a place for them in your entry. For that, Cattano loves using one of these narrow floating shelves (they're 4.25-inches deep), which she says are "simple, clean, and don't take up floor space." She adds that you can hang a couple of them — for example, a lower shelf for the mail and an upper for a basket with your keys. They start at $30 for a two-foot-long shelf, but come in three-foot ($50) and four-foot ($60) lengths too.
Small-apartment ideas for the living room
Unless it's a studio, an apartment's living room (or living area) is usually the next largest space after a bedroom. Sometimes, of course, a living room can be bigger than a bedroom — which is why it can also quickly become the dumping ground you use to make your bedroom clean. Both Cattano and James-Williams told us they've added additional shelving in every room in their house to create more storage space, and Cattano recommends this shelf set from West Elm. The two-foot shelf is $35, or get a three-foot one for $10 more. At the same link, you'll also find different brackets for the shelves, starting at $28.