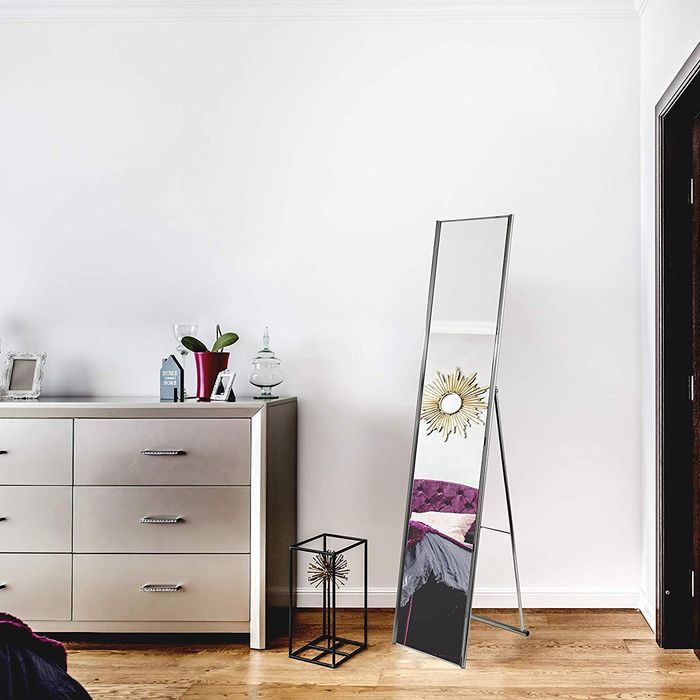 Photo: Courtesy of the retailer.
Here at the Strategist, we like to think of ourselves as crazy (in the good way) about the stuff we buy, but as much as we'd like to, we can't try everything. Which is why we have People's Choice in which we find the best-reviewed products and single out the most convincing ones. (You can learn more about our rating system and how we pick each item here.)
And while we've written about many mirrors before — including mirrors for your entryway, one writer's favorite illuminating mirror, and the best light up mirrors — here we've rounded up the best full-length mirrors, as praised by the most enthusiastic reviewers on Amazon.
Best-rated full-length mirror
Reviewers bought this mirror because it has not only a full-length mirror but also jewelry storage, a wall and door mount, and LED lights on the inside. "Seldom do I buy something that checks every box of what I was trying to accomplish. This product does that," writes one. "I had my jewelry in a drawer in various boxes and trays. It was very difficult to find what I wanted easily and quickly. I also didn't have a mirror where I could see from head to toe to make sure I was 'presentable' before going out. The cabinet holds tons of jewelry and the mirror is perfect. This is a great space saving device while at the same time giving easy access to all my jewelry." Another fawned over the LED lights on the inside of this jewelry-cabinet-slash-mirror, writing, "I love, love, love this jewelry cabinet. It is perfect in every way. There is a ton of space for all sorts of various styles of jewelry, and the LED lights in the top are super helpful to light up the inside." The size of the mirror worried some, as one writes, "In the pictures of the product I thought it looked too small to really be a 'full-length' mirror, but it definitely gives you a full-length view." Another concurs, adding, "In photo this looks like it sits too high on door to serve as full length, but the hooks can be set at two different heights so it works great."
Best-rated (less expensive) full-length mirror
"I bought this for my wife after looking in stores and flea markets for months," writes one reviewer, who had been on the hunt for a cheap but nice-looking floor-length mirror. "This was cheaper than anything I was able to find and honestly looks better than most of the options out there. You can expect it to look good and to last a long time. Ours has survived a few moves and a couple of years now." Customers also lauded the tilt feature, with one explaining, "This mirror provides an accurate reflection regardless of the angle. It will accommodate any height. My husband is 6'4" and was able to get full view by tilting back a little. Much better than my fun house wall mirror." Lots were even blown away by the easy assembly process, most saying it took them between five to twenty minutes, like this reviewer, "I bought this mirror and I did not unpack it for 2 months, believing that it was going to be a big undertaking to assemble. I couldn't have been more wrong. It was so easy to put together, about 20 minutes and no tools. The mirror is worth every penny. It's beautiful and looks way more expensive than it actually cost."
A

n

d

n

o

w

f

o

r

s

o

m

e

m

i

c

r

o

-

p

i

c

k

s

f

o

r

e

v

e

r

y

t

y

p

e

o

f

f

u

l

l

-

l

e

n

g

t

h

m

i

r

r

o

r

y

o

u

m

i

g

h

t

b

e

l

o

o

k

i

n

g

f

o

r

.
Best full-length mirror with cabinet
This space-saving mirror is a favorite among reviewers living in tight spaces. "My bathroom has no medicine cabinet, just a mirror and is pretty small, so storage is a huge deal. This fits so much stuff," explains one reviwer, who adds, "It really is amazing and it does not impede any operation of the door. I can't fully explain how much I recommend this. I'm about to order the mirror version for my bedroom for colognes and little knick knacks to declutter the countertops." Another reviewer, who describes this mirror as "freaking awesome," has purchased several more with plans to expand: , "I'm ordering 2 more tonight: 1 with the chalkboard for my pantry and the other with the mirror for my bedroom door. Hubby wants one for the garage. So far 4 ordered, at least 4 more will be ordered in the future, for a total of 8!" A few felt the magnet keeping the door closed was too strong, making it difficult to open, but one reviewer provides a quick solution, explaining, "Applying a piece of masking tape over one of the magnets has completely solved the problem, and I actually like that the Cabidor now opens off the door much more easily (and still stays shut just fine too)."
Best wooden free-standing floor mirror
"I just bought a house and wanted a full-length mirror for the corner of my new bedroom. I was a little bit skeptical about the product because it is priced so affordable, but it's such a great mirror," writes one satisfied reviewer of this standing, full-length mirror. Others felt for the price, the mirror looked luxe, and many also felt they could easily assemble it, like this reviewer writes, "The mirror was very easy to assemble and to adjust the angle. It was sturdier than I expected for the price. The wood was very solid and the white paint job was done well. Compared to the price of other mirrors I looked at, this one was a good buy." Others overall appreciated how sturdy the mirror is, one writes, "It doesn't take up a lot of space and looks nice. Not too feminine either, which is good for my hubby. The quality is good, and it feels like sturdy wood. It can be tilted at an angle and tightened to no longer move."
Best full-length standing mirror for kids' rooms