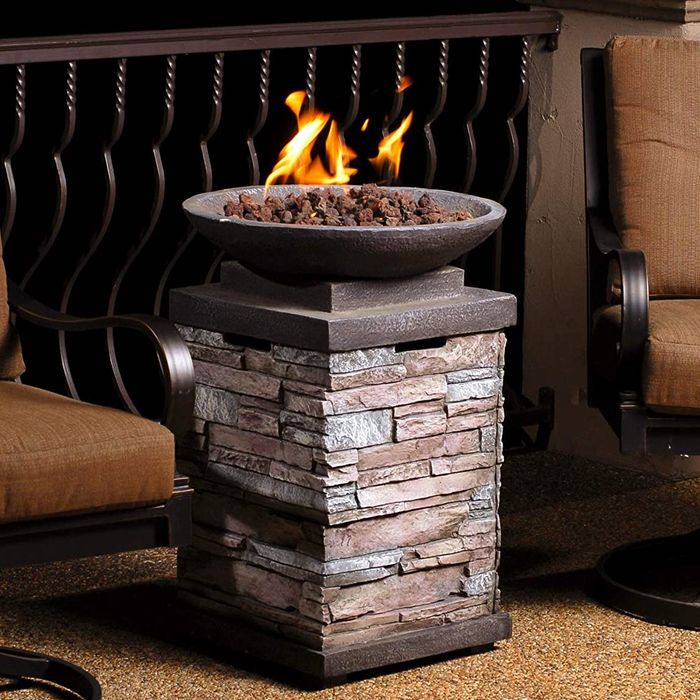 Photo: Fire Sense / Amazon
Whether you're upgrading your backyard or planning a camping trip, a good (and good-looking) firepit can make your time outdoors much more comfortable. To help find the right one for you and your budget, we've rounded up the best firepits, as praised by the most enthusiastic Amazon reviewers. And if you're looking for other ways to keep warm when the sun goes down, we also have roundups on the best outdoor heaters and propane heaters, and even a guide to the best ways to keep warm outside.
Related Articles: Best Outdoor Heaters | Best Camping Candle | The Tech-Bro Version of the Classic Firepit
Best-rated firepit
Despite its humble appearance, nearly 10,000 reviewers give this firepit five stars for its durability and warmth. "We used this for the first time this last weekend camping at about 11,500 feet of elevation in the mountains and were SO PLEASED with it! The heat output was really good," writes one customer who lives in Colorado and says this "sturdy, well-designed" firepit kept her warm in below-freezing temperatures. Another customer, whose more expensive propane firepit broke after a year, says that this one is longer-lasting and provides more warmth because of its low stature and lava rocks: "This fire sits lower to the ground so the heat has a chance to radiate out before it rises resulting in a much warmer fire. Once you get this fire hot, the heat from the rocks radiates out and you can turn the propane down and still have a warm fire."
And although this firepit is designed with portability in mind — and reviewers have taken it everywhere from the beach to the mountains — over 100 customers say it's become a permanent fixture in their home. "It's completely changed the feeling of our patio at night," begins one such customer, who describes this firepit as "absolutely gorgeous at night and VERY romantic," adding that he especially appreciates that it doesn't "smell like campfire, [and] the flame is very predictable." A couple of reviewers even say it's been indispensable during quarantine. "You need this if you have a patio or deck and want to extend your outside time," says one customer who used this to keep a group of friends warm during a socially distant happy hour in his driveway. "It has kept us sane through all the lockdowns too, making my backyard feel even more cozy," adds another.
Best-rated (less expensive) firepit
"I was not expecting a well-made product for the price. I was wrong," writes one reviewer who says this less expensive firepit is "large enough for a good-size campfire with eight people around it." Besides the high quality for the price, many of its almost 1,000 five-star reviewers appreciate its thoughtful design. "It folds up nicely inside a nylon bag that holds everything," says one shopper. "The legs fold out and lock for a sturdy feel." That portability makes it a particularly good firepit for campgrounds, according to another reviewer. "A lot of the campgrounds I find myself at require aboveground fires, so a simple fire ring won't work," they write. "This is the perfect aboveground firepit for people who take small vehicles out camping."
Best portable firepit
Although lots of the other firepits on this list are portable, including the one above, this one is particularly easy to move around, weighing in at just eight pounds. "It sets up in minutes and it is super-easy to use. When we were done, we dumped the coals out and the screen was cool in minutes and back in its bag in no time," says one customer, who took this tailgating on a below-freezing day and says they would have been "miserable" without it. Dozens of other reviewers describe the process of using this firepit as "easy," including one who says it is "easy to set up, clean up and put away. Makes VERY quick, hot fires and holds a lot of wood weight." Despite its lightweight, portable design, other customers agree that this firepit is durable. One says it served as a source of heat for warmth and for cooking multiple meals on a three-day camping trip, and another, who takes it with them in their RV, writes that it easily holds over 50 pounds of oak wood. "I've been using this thing for about six months, having several bonfires a week," adds another customer who also vouches for its durability. "The thing really does setup in like 30 seconds and cools off in probably 90. Fire burns brighter and faster than in-ground pits."
Best firepit with automatic-ignition
This Outland firepit is similar to its best-rated pick, but it comes with an auto-ignition feature. One reviewer with an aversion to starting propane fires — "The 'POOF' always scared me," they explain — bought this and says they're "SOOOO glad … It is currently on my covered porch. I can have a fire while it is raining outside, YAY!" Another describes the auto-ignition as "magic" and adds that even though it's propane-fueled, "the fire is just as warm and relaxing to watch as a 'real' campfire." A third reviewer, who bought this for her motorhome, says the auto-ignition is the "best feature," since it means "no matches necessary — that is the only way to go."
Best propane firepit table
Because this firepit table runs on propane also, all you have to do to turn it on is press the ignition button. And even with a propane connection and full table design, it's still easy to set up, according to many of its almost 1,400 five-star reviewers. One self-described "mechanically incompetent" reviewer says it's "user-friendly and easy-peezy [sic]," adding, "We didn't want to have to get logs and wood to burn, didn't want all the flying ashes and sparks, but wanted some warmth and coziness from an outdoor flame. This absolutely fills the bill." Another reviewer reports that it "definitely puts out a ton of heat" and "adds elegance to any outdoor space" and that if it gets too toasty, it's also "easy to control the flame setting." Plenty of others call out how nice it looks, including a reviewer whose wife "now asks if we can sit out on the veranda with the fire table lit, even if it's not chilly out, because the table adds such ambiance."
Best wood-burning firepit table
"It's brought spring earlier and extended fall. Not by changing the seasons you fool! The heat, it's the heat," begins one five-star reviewer who has used this firepit table in their backyard for two years. "The metal base conveniently keeps rapidly oxidizing wood from falling on your feet. Slate tile gives a touch of class to your otherwise trash back yard and a rim upon which to rest your rum," they add. Reviewers agree that this firepit table not only extends the amount of time they can spend outside, but also elevates the look of their backyards. "Many a s'more and singing and storytelling has already been had around it," says one customer who used the table throughout the summer, adding, "it's very sturdy, with a beautiful mosaic design." Since it weighs 50 pounds, several dozen other customers describe this table as "sturdy," including one parent who has "a roasting party with the kids" twice a month thanks to this table. "Also, I appreciate the adjustable legs for uneven surfaces," she says, pointing to the stabilizing-feet feature that many other customers appreciate, too.
Best extra-deep wood-burning firepit
"I wanted a firepit that could actually hold a decent sized fire, but also didn't break the bank," starts one five-star reviewer. "This exceeded my expectations … You could make a small bonfire!" Dozens of other reviewers are impressed by the extra-deep size of this Pleasant Hearth firepit, which one says allows it to "fit several substantial [firewood] pieces no problem." Reviewers also had good things to say about its open-grate design at the bottom, which "makes it easy to get oxygen to the fire and start it from scratch," according to another reviewer. The open bottom also allows "for the heat to be enjoyed on our feet," says one reviewer, who appreciates "the joy of spending a summer evening sitting around the fire with a few beers and friends… This one is perfect for everything we wanted it to do."
Best firepit column
Dozens of five-star reviews include photos of this firepit column with their testimonies, just to show off how nice it looks. "This Firebowl looks beautiful and works like a charm," begins one of those reviewers. "They give out a lot of heat, so we can now sit outdoors for longer, and the kids love them for roasting s'mores!" Another customer says that during the summer months, she displays this on her patio "just for show, and during the cold months, we enjoy it not only for the aesthetics but also for the heat. We have four chairs around it; it gives the space such warmth." Others similarly say the column is as practical as it is beautiful, including one reviewer who has used theirs for two years and describes it as "durable" and another who found it "super-easy to assemble, even had encouraging instructions for connecting the propane."
Best easy-to-assemble firepit
Over 50 reviewers mention how easy this firepit is to put together, including one who says that "assembly was a breeze — my husband and I had it together in about ten minutes." (They also say it "fits great with our four lounge chairs" on their small patio.) Another reviewer says it was "so easy to assemble that I didn't have to call for help," adding that "the design is basic yet elegant [and] looks fabulous on my patio!" A third reviewer recommends it for anyone who lives in a smaller urban space since it's "not too big, very lightweight, and easy to move." Assembly took them just 15 minutes, and they now report that their firepit has been "​​perfect for roasting marshmallows and hot dogs!"
Best smokeless firepit
This firepit releases a lot less smoke than most other models thanks to a double-walled construction that circulates air better and allows the wood to burn without smoke escaping. "My wife loves the glow and warmth of a fire in the fireplace inside during the winter, but in summer she is nowhere near a firepit because of the smoke," writes a five-star reviewer. "This fixed that completely!" Another reviewer, who was gifted this for Father's Day, calls it the "best firepit I've ever had" since it's "large and smokeless, comes with a stand, spark guard, and cover that I would have had to pay even more [for] with another company … I cannot say enough good things about this." And a third reviewer was pleased to find that this Dragonfire model was less expensive than other smokeless firepits but "does the same thing!" After sitting around their firepit "for several hours," they say there was "not one hint of smoke on us when done. If you're on the fence, buy this sucker. You won't be disappointed!"
The Strategist is designed to surface the most useful, expert recommendations for things to buy across the vast e-commerce landscape. Some of our latest conquests include the best acne treatments, rolling luggage, pillows for side sleepers, natural anxiety remedies, and bath towels. We update links when possible, but note that deals can expire and all prices are subject to change.
Every editorial product is independently selected. If you buy something through our links, New York may earn an affiliate commission.