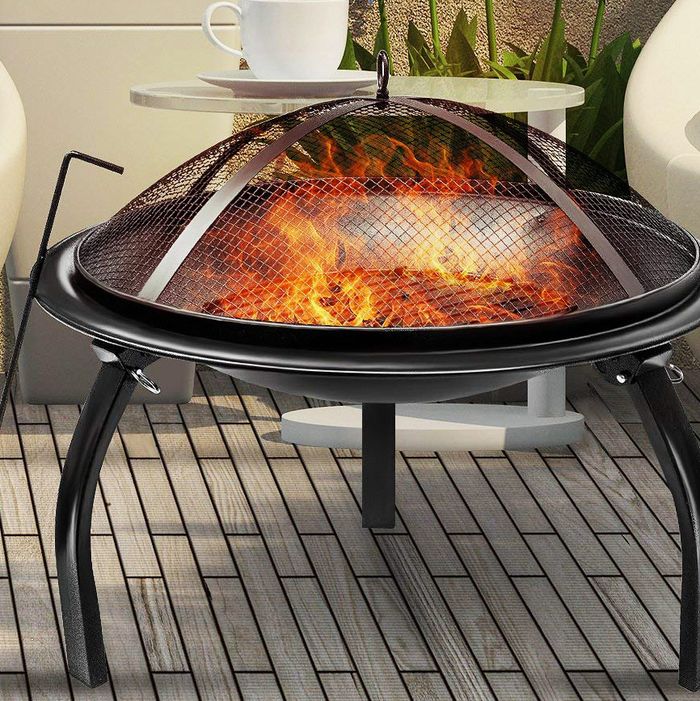 Here at the Strategist, we like to think of ourselves as crazy (in the good way) about the stuff we buy, but as much as we'd like to, we can't try everything. Which is why we have People's Choice, in which we find the best-reviewed products and single out the most convincing ones. (You can learn more about our rating system and how we pick each item here.)
And while we've written about lots of backyard and patio goods — including the best furniture for small outdoor spaces, the best backyard pools, and the best porch swings — here we've rounded up the best firepits, as praised by the most enthusiastic reviewers on Amazon.
Best-rated firepit
75 percent of reviewers gave this firepit five-stars, and many raved about its looks, calling it, "absolutely beautiful," "easy to put together," "sturdy," but still "easy to lift." "My favorite purchase I've made in a really long time," says one, adding, "So many family memories will be made with this!" Shoppers liked that they could easily move the firepit around their patios, and one says, "It sits high enough that it doesn't stain my patio flagstone" and notes that the ring around the edge of the pit is good for "moving, or for putting your feet on." Others praised the design, as well. "The cut-outs in the sides allow for good airflow which made the fire much easier to light and they keep it burning cleaner," says one. Another reviewer writes, "It has nice cut-outs (sun, moon, and stars — not too kitschy). Did I mention I've been using it constantly for four years?" And for those who want to use their firepit to the fullest, this one comes with the right tools. "There is a poker included and a grill as well, for those who enjoy a more rustic form of outdoor cooking," one shopper notes.
Best-rated (less expensive) firepit
"I was not expecting a well-made product for the price. I was wrong," says one reviewer, who says this Fire Sense firepit is "large enough for a good sized camp fire with eight people around it." Many other shoppers agreed, with one calling it a "fantastic firepit" at a "reasonable price." Besides the low price, reviewers also appreciated that this firepit was foldable. "It folds up nicely inside a nylon bag that holds everything," says one shopper. "The legs fold out and lock for a sturdy feel." Another calls it a "great portable option." And speaking of portability, one shopper points out that this is a particularly good firepit for campgrounds. "A lot of the campgrounds I find myself at require above ground fires, so a simple fire ring won't work," they write. "This is the perfect above ground firepit for people who take small vehicles out camping."
And now for some micro-picks for every type of firepit you might be looking for.
Best easy-to-assemble firepit
Almost fifty reviewers said this firepit was easy to put together, with one writing that the assembly consists of "pretty much just attaching the legs and pegs," and another saying, "It took literally six minutes to 'assemble' the whole firepit (i.e. put on the legs and the rests for the cover)." And even though it can be quickly assembled, several reviewers describe this firepit as"sturdy" and "well-built." Shoppers also praised the looks of this one. "This firepit is gorgeous," says one. "I expect to continue to enjoy it for many years to come." And many reviewers mentioned how much fun they've had roasting marshmallows with this pit. "My grandkids love sitting by the firepit roasting marshmallows while we take turns looking at the stars with our telescope," says one shopper. Another writes, "Great for relaxing with the family, friends, and roasting marshmallows."
Best firepit with cover
While a few of the firepits on this list come with covers, this one in particular received lots of positive reviews specifically about the cover. "It is a form fitting cover that actually looks pretty darn sexy on the firepit when it is not in use," writes one reviewer, adding, "Plus, it cinches at the bottom for a tight fit that will keep the rain and snow out, which will help this thing last a LONG time without rust." Other shoppers praised the looks of the cover, as well, and one writes that it is "Very elegant looking," and that they've received "lots of compliments" on the firepit. However, this cover also helps to keep this firepit outside, without damage. "The cover is a good quality and has held up to rain and sun so far without any issue," they write.
Best propane firepit
"Definitely sturdy, heavy duty, and well worth the price," writes one shopper. Many reviewers agreed, and one says, "Best Firepit ever! After purchasing several other firepits … that deteriorate within the first year; we found this one. It is very heavy-duty. Burns hot and even." Shoppers also liked the size of this one. "A standard size round BBQ grill fits inside if you want to cook over wood-fire coals," one person comments. "We have cooked hotdogs on it successfully." And others like the stars and moon cut-out patterns on the sides. "I love the size and shape (larger than other firepits I have seen- deeper too, almost like a cauldron) you can actually have a decent fire in this!" says one reviewer. "The moon and star design on the side is very nice, and I think maybe it is to help with air flow as well. Looks very cool at night with fire glowing through."