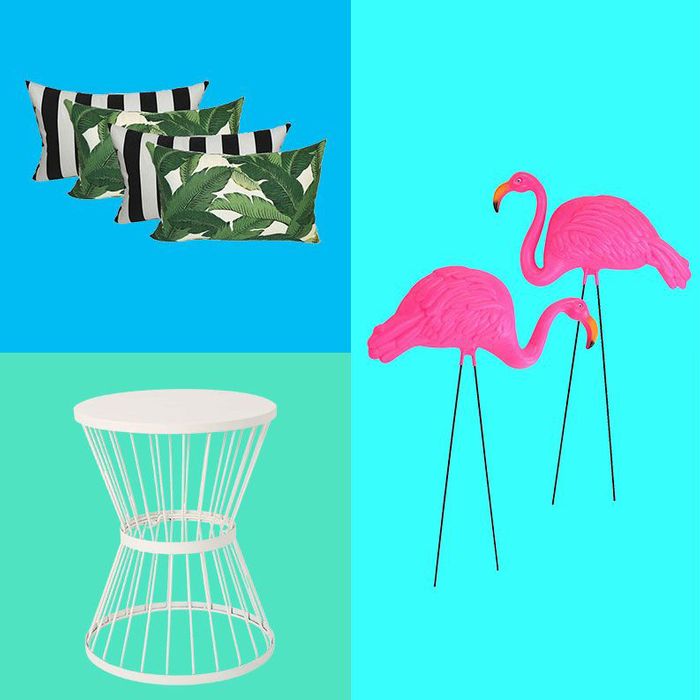 Accessorize your patio, rooftop, or terrace.
Photo: Courtesy of retailer
After a long, cold winter, the growing signs of spring really feel more like a gift than ever before. If you're lucky to have a bit of outdoor space, your patio, terrace, or even fire escape can be a respite from days spent cooped up inside. Sprucing it up with the right décor can make it even more comfortable — and a refresh doesn't have to cost a lot, if you know where to look. To help in that regard, we've rounded up 36 pieces of affordable — but still good-looking — furniture and other things that'll zhuzh up any outdoor area (and if you like this stuff, check out our recommendations for similar cheap but expensive-looking things for your bathroom, bedroom, living room, and kitchen). While all of the things on this list are available on Amazon, we've found a few of them elsewhere, too, for those who like to shop around.
First things first: If your patio doesn't have them, you'll definitely need a couple of chairs and a table. And even if it does, maybe it's time for something new, like this simple bistro set (in a soothing periwinkle) that will instantly transport you to the terrace of a European café, for a lot less than the cost of a plane ticket.
For a little more money, you can get this durable, all-weather acacia set that's just as portable as the one above but has a more rustic look.
If you don't have a lot of space (or a huge budget) for a grill, this portable one should do the trick.
You can't go wrong with a classic lawn chair (and this one is available in tons more colors, too).
Even kids deserve their own umbrella chaise.
This elegant tray would be excellent for serving dinner (or drinks) al fresco, even if just for one or two.
Speaking of dining alfresco, this set of Mediterranean-blue dishes made of melamine (a.k.a. plastic) would be an affordable, basically indestructible, and appropriately festive option to have on hand for any outdoor meal.
The perfect, shatter-proof pitcher for pouring lemonade …
… and some glasses to go with it. If you want to use them for something a bit stronger than lemonade, the handy set will spare you from bringing your usual bartending gear outside: Each is stamped with a recipe for a classic cocktail (Bloody Mary, Mojito, Salty Dog, Whiskey Fix), so you'll never over-serve.
This weather-resistant bar cart could also be used to display your favorite tchotchkes, candles, or other outdoor accessories.
A pair of pink flamingos to turn your daily playdates with Fido into a full-on garden party.
We love the Ceramics Teacher Energy of this colorful wind chime made of capiz shells. It's the sort of eye-catching décor that can instantly liven up a space.
If you want to make even more of a statement with your wind chime, consider this one made of tiny hummingbirds that — get this — automatically light up (and change color) at night. It's powered by an LED solar panel and can last up to eight hours on a full charge, so the light show can go all night long.
If you prefer real birds, this delightful farmhouse-shaped feeder is sure to attract some feathered friends. Looking at its rather intricate design, nobody will be able to tell you paid just $19.
If your outdoor space is not a green space, a palm tree is an easy way to make it feel more like an exotic hideaway.