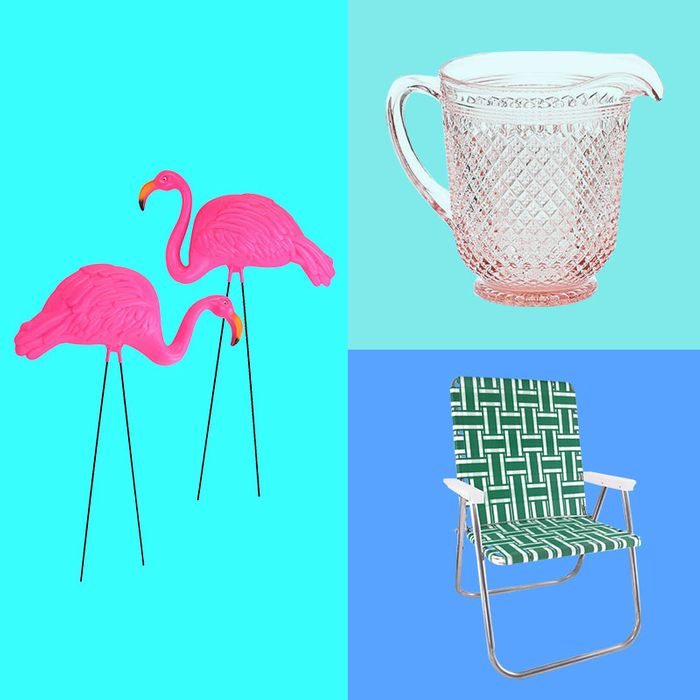 Accessorize your patio, rooftop, or terrace.
Photo: Courtesy of retailer
While warmer temperatures and longer days would, under normal circumstances, usher in outdoor-entertaining season, that prospect is sadly on hold for the foreseeable future. But if you're lucky to have a bit of outdoor space, your patio, terrace, or even fire escape can be a respite from days spent cooped up inside. Anyone lucky enough to have outdoor space knows that sprucing it up with the right décor can make it even more comfortable — and doesn't have to cost a lot, if you know where to look. To help in that regard, we've rounded up 34 pieces of affordable — but still good-looking — furniture and other things that'll zhuzh up any outdoor area (and if you like this stuff, check out our recommendations for similar cheap but expensive-looking things for your bathroom, bedroom, living room, and kitchen). While all of the things on this list are available on Amazon, we've found a few of them elsewhere, too, for those who like to shop around.
If you don't have a lot of space (or a huge budget) for a grill, this portable BBQ suitcase should do the trick.
You can't go wrong with a classic lawn chair (and this one is available in tons more colors, too).
Even kids deserve their own umbrella chaise.
This sunshine-yellow set of two chairs and table will instantly pull together (and brighten) a smaller outdoor space.
A cheery acrylic tray that would be excellent for serving dinner al fresco, even if just for one or two (it would pop, in the best way, on top of that yellow bistro set).
Speaking of dining alfresco, this set of Mediterranean-blue dishes made of melamine (a.k.a. plastic) would be an affordable, basically indestructible, and appropriately festive option to have on hand for any outdoor meal.
The perfect pitcher for pouring lemonade …
… and some glasses to go with it. This handy set will spare you from bringing your usual bartending gear outside, and each is stamped with a recipe for a classic cocktail (Whiskey Ginger, Planters Punch, White Russian, and Nelson Special), so you'll never overserve.
This weather-resistant bar cart could also be used to display your favorite tchotchkes, candles, or other outdoor accessories.
A pair of pink flamingos to turn your daily playdates with Fido into a full-on garden party.
If birds aren't your thing, this technicolor fish wind chime is another fun way to liven up a space.
And if birds are your thing (but you prefer real to fake), this delightful farmhouse-shaped feeder is sure to attract some feathered friends.
If your outdoor space is not a green space, a palm tree is an easy way to make it feel more like an exotic hideaway.
Those who don't have room for a whole tree should consider this durable planter, which would make a great home for a smaller plant. Plus, it's design-y enough to go from outside to inside when cool weather returns.
If the idea of keeping a plant alive is too much, consider this faux bougainvillea hanging basket that would enliven any porch.
A modern-looking lounge chair that seems ideal for catching some rays (or Z's) on a patio.
Throw these pillows — two printed with Tommy Bahama palms and two that are striped — on any outdoor chair to make it feel more like one at a tropical resort.
An interesting-looking side table (for your laptop or a drink) with an open design that won't dominate your space. In white, it will match pretty much any aesthetic.
This three-wick candle keeps mosquitos away for up to 75 hours and looks far more expensive than it is thanks to its marbled vessel.
It won't deter mosquitos, but this funky little LED pineapple light will add just the right amount of kitsch.
All you need is a sturdy place to hang it, and voilà: An instant hammock (perhaps the only outdoor seating more appealing than a rocking chair).
But if you want a rocking chair, you can't go wrong with a classic model like this one from Novogratz, which is weather-resistant and also comes in a sunshine yellow that matches the bistro table and chairs we like.
One of the most functional coolers we've seen, this adorably retro model has wheels for easy mobility, a shelf for extra storage, and a built-in bottle opener.
Another functional cooler that doubles as a seat (it's ideal if your rooftop is too many floors above your fridge).