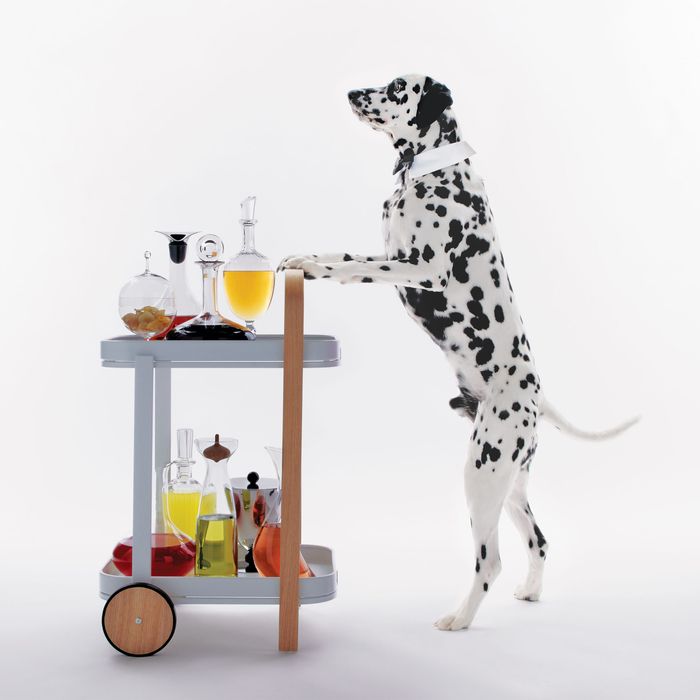 With many furniture purchases, the conventional wisdom is to err on the side of neutrality, but bar carts are a chance to get weird. "It's like your little home bar, so you should have fun with it," says Lilli Sherman, the founder of the creative studio Oma Loves Fun. You can go for a teak mid-century trolley, a space-age laminate cart, or something completely out of left field: The experts we spoke to mentioned alternatives like wardrobes, dressers, vintage trolleys, bathtubs, record cabinets, and the top of a piano ("I have an abundance of alcohol and a 2-year-old who would reach for anything," says Amass distiller Morgan McLachlan).
Despite the consensus that anything can be a bar cart if you commit to it, some items will work better for your needs than others. We've spoken to a dozen designers, party experts, authors, liquor-store owners, and distillers about their favorites.
Bar carts house some of the most jostle-prone items in your home: cocktail glasses, long utensils, and half-empty bottles, everything from petite Champagne flutes to heavy handles of whiskey. "A lip is always practical," says designer Liz Lipkin. "Especially for a family with kids." Tiers of different heights are also useful for ensuring that everything is stored securely. "Functionally, I think the biggest thing with the bar cart is that, if there's shelving, it actually fits the bottles," says McLachlan, especially bottles that are over a foot tall, a criterion we made sure that every option on this list meets. We're looking for a design with tiers and lips that are the right size to keep your items secure but not so tall that smaller items get lost.
What you keep on your bar cart will change often, so we're favoring bar carts that are flexible enough to accommodate a range of supplies. If you're planning to house glasses, shakers, and bar spoons on your cart as well as larger bottles, you may find compartments, closed storage, or shorter tiers useful. We're avoiding accoutrements that are so specialized they may become limiting or obsolete, and we're also favoring carts that can serve another purpose if your needs change. "I'm always trying to think, Could this thing do double duty as anything else?" says Katherine Lewin, the owner of the Brooklyn party-supply store Big Night. "If we can integrate the bar cart into the rest of our lives, that's definitely the way to do it."
There's a wide range of materials used in bar carts — glass, chrome, mirror, wood, brass, plastic, and more. Our experts recommend balancing aesthetics and the functional requirements of a spill-prone piece of furniture. "I like teak, for example, but it stains, and alcohol will ruin wood in general," says McLachlan. "The most important thing is that the material's wipeable," says Chloe Pollack-Robbins, partner and head designer at Curious Yellow. You can protect a wooden bar cart with trays or choose a cart with stain-resistant, easy-to-clean metal or glass shelves.
A bar cart tends to be an accessory to your existing furniture, so it's a good idea to start by determining how much space you have to spare and how a design will fit within your existing layout. A large, open living room may have space for a lavishly proportioned trolley, but if you're limited to a corner or a few feet of space between a table and a wall, a more compact option is best. This also applies to design: Transparent materials like acrylic or glass have a lighter visual footprint for a small space; if you hate clutter, an option with closed storage will allow you to curate what to display and what to hide. "A less busy cart makes me more excited. I want to see less," says Joshua Bloom, the owner of Duke's Liquor Box. He recommends keeping a few favorite items on top with items you use less frequently stowed away.
Best overall
Tiers: Two tiers | Material: Steel, wood | Size: 31.4 inches (height) by 20.8 inches (length) by 17.2 inches (width)
Umbra's Bellwood bar cart is a solid, good-looking, and affordable option, with lots of small design and quality-of-life features that make it our best-in-class pick. Lipkin describes it as "practical and stylish," with a silhouette that "would look great in a minimalist home; I like how clean and graphic it is," mentioning that it reminds her of the design classic Alvar Aalto tea trolley. It also has rubber-lined wheels for easier rolling and two trays that can be removed for cleaning.
Best bargain bar cart
Tiers: Three tiers with adjustable middle tier | Material: Steel | Size: 25⅝ inches (height) by 15 inches (length) by 11 inches (width)
Vanessa Dina, author of The Art of the Bar Cart, uses both a vintage bar cart and this inexpensive Ikea trolley, which is also our best-in-class kitchen utility cart. The Råskog is "doing the most in small-space kitchens across New York City," says Brittany Nims, associate director of e-commerce partnerships and business development at Vox Media. Unlike other kitchen carts, each tier has a lip, which keeps bottles in place. "It's so good," Dina says. "It's mobile, so you can drag it around into any room." She also likes that it's durable and easy to clean, a useful feature to avoid stains and simplify cleaning up spills.
Best industrial bar cart
Tiers: Three tiers | Material: Metal | Size: 39.88 inches (height) by 30 inches (length) by 13.88 inches (width)
Lewin bought this library cart about a week before her dinner-party-essentials store opened while searching for a piece in a specific shade of green and highly recommends it. It's sturdy and high-capacity enough for retail use — on one tier, she crammed ten bottles of aperitif and a dozen coupe glasses — and the design qualities that make a good library cart are also ideal for drinkware. "The shelves are slightly angled to prevent books from sliding off, and for things like glassware or expensive bottles of booze, it's actually genius," she says.
Best bar cart for extra-small spaces
Tiers: Three tiers | Material: Steel, wood | Size: 31.7 inches (height) by 5.1 inches (width) by 13.88 inches (length)
If you're working with extremely limited space but still want a rolling bar to display your bottles and drinkware, this compact Yamazaki trolley, another one of our favorite kitchen carts, fits our specs for a good bar cart: sturdy and wipeable material, multiple tiers, and a shelf taller than a foot. Plus it's versatile enough that it can be used as a more mundane utility cart if your setup changes. Heidi Lee of the home-organization service Prune + Pare says, "It's great for small living."
Best mid-century bar cart
Photo: Retailer
Tiers: Two tiers | Material: Eucalyptus wood and engineered wood with an acacia-wood veneer, brass-finished hardware | Size: 32 inches (height) by 32.4 inches (length) by 19.9 inches (width)
Pollack-Robbins and Anna Cappelen of Curious Yellow Design love this brass-trimmed wood bar cart from West Elm, which they describe as a "beautiful, warm classic material" that looks "chic but not too glossy," a throwback to the 1950s and '60s, "when it was okay to have a stiff cocktail during work." Sherman also mentioned it as a good dupe for a cart she inherited from her grandmother, which she used as a dessert trolley for a Café Sabarsky–themed dinner.
Best rattan bar cart
Photo: Retailer
Tiers: Two tiers | Material: Rattan and plywood | Size: 32 inches (height) by 35 inches (length) by 18 inches (width)
According to interior designer Tavia Forbes, designers are gravitating toward "warm woods and warm materials, like rattan, mixed in with metals." She likes this "easy, airy" reeded bar cart from CB2. Like many bar carts, the Feliz has tiny wheels that aren't super-functional, Forbes notes, but the bottom shelf has tall, basketlike sides so that bottle of Krug you've been saving won't go flying.
Best modular bar cart
Photo: Retailer
Tiers: Modular tiers, up to 15 inches high | Material: Plastic | Size: Variable height; 16.5-inch diameter or 15-inch square
Sara Duffy, a principal at Stonehill Taylor who led the 2019 renovation of the space-age TWA Hotel, recommends Kartell's modular storage tower as a bar cart that doesn't look like a bar cart. It comes in a variety of sizes, shapes, and hues: a stack "could be square, it could be circular, it could be a bright color," she says. "You could have a couple beautiful glasses on top, and you can cover all the booze below." You can add wheels if you want the tower to roll, and sections can be added or removed as your needs change. Duffy mentions that the system is designed by a woman — industrial designer and architect Anna Castelli Ferrieri, who co-founded Kartell — "which is also very cool." To fit taller bottles, we recommend including at least one 15-inch-high larger module in your stack, which both 2Modern and Bi Rite have in stock in both circular and square shapes.
Best bar cart to roll around
Tiers: Two tiers | Material: Oak or ash | Size: 32 inches (height) by 34 inches (length) by 16 inches (width)
"I just love it because it's so playful," Lipkin says of Design House Stockholm's Exit Trolley. "It almost looks like a cross between a child's toy and a grocery cart." Unlike some carts with smaller, less functional wheels, "you really could move this one around," she says. Her experience with Design House Stockholm "is that their stuff is really, really well made, and made to last … If you're looking for a true cart, this would be a great option."
Best bar cabinet
Photo: Retailer
Tiers: Three shelves, adjustable heights | Material: Engineered wood, iron | Size: 35 inches (height) by 36 inches (length) by 17.5 inches (width)
A few of our experts favor bar cabinets or credenzas over rolling carts: "I like having a door you can close," says Sherman, which facilitates rotating what bottles are on display and allows you to hide both nearly empty leftovers and the precious things "you want to keep safe and make sure none of your friends accidentally open." She uses this console from West Elm, which she says has plenty of storage. Lewin prefers cabinets, too: She uses a vintage credenza with bottles, tablecloths, and napkins stowed away inside and Lucite trays on top that "contain and organize" her barware.
Best indoor/outdoor bar cart
Photo: Retailer
Tiers: Two tiers | Material: Teak, aluminum | Size: 30 inches (height) by 29.5 inches (length) by 18.75 inches (width)
If you're hoping to wheel a bar cart out onto a patio in warm weather, Sheena Murphy and Tor Sauder of Nune Design Studio recommend this trolley from the Danish outdoor-furniture company Skagerak. Its wood and powder-coated steel construction looks at home both indoors and out, and "the design is a perfect marriage of both modern and industrial," they say.
Best bar cart for mixing a drink
Tiers: One folding shelf | Material: Polyurethane, steel | Size: 27.2 inches (height) by 39.4 to 7.9 inches (length) by 21.25 inches (width)
A few of our experts mentioned the impractical fact that most bar carts aren't large enough to allow you to mix a drink on the cart itself — but this steel-frame Kartell trolley is the exception. It folds out to a nearly 40-inch table, useful for parties and events, and although "it honestly looks like a vintage hospital gurney," Forbes says, the industrial vibe isn't necessarily a drawback. "It's really cool — both utilitarian and unexpected."
Best splurge bar cart
Photo: Retailer
Tiers: Two tiers | Material: Wood, glass | Size: 30 inches (height) by 36 inches (length) by 16 inches (width)
Lipkin and designer Ariadne Molina-Barnett, who worked on the Brooklyn cocktail bar Dick & Jane's, both love the handmade Chris Earl Home bar cart, which Lipkin calls an "heirloom piece." Every detail is "so well thought out — I love that there's a mini-well that keeps your favorite bottles close at hand and a place for a bar towel," she says. Molina-Barnett appreciates that the finish can be customized. "Deep green is my personal favorite, but you can lacquer it in any Pantone color," she says.
Best vintage bar cart
Tiers: Two tiers | Material: Wood, brass, glass | Size: 25 inches (height) by 32 inches (length) by 20 inches (width)
Architect Daniel Frisch uses a vintage mid-century bar cart by Italian designer Cesare Lacca in his home. "They're very delicate in form," he says, but his has held up well over the years. "You can tell that they're made by a craftsman because you don't punch that out of a factory." There are dozens for sale on vintage furniture sites like 1stdibs and Chairish (filter by region for lower shipping costs). "I think he's the best bar cart designer," Frisch says.
Best Bauhaus bar cart
Photo: Retailer
Tiers: Two tiers | Material: Chrome-plated steel; pressurized laminate, lacquered MDF, or wood veneer | Size: 31.5 inches (height) by 40 inches (length) by 20 inches (width)
"The bar cart is always a little precarious because you have a lot of bottles on it, and you might be drinking," says Oliver Haslegrave, the founder of Home Studios. He posits that this three-wheeled cart, designed in 1928 by Bauhaus designer Marcel Breuer, offers more stability. "When you have four wheels that are all fixed, it's hard to navigate; you kind of have to push and pull," he says — but the Breuer cart's sole front wheel is on a caster, which "makes the cart much more functional in terms of mobility." Haslegrave loves the cart's "whimsical" design: Despite its tubular Bauhaus aesthetic, the smaller front wheel "gives a playful quality and a scale that really attracted me to it."
Some bar accessories to put on your cart
Our experts
• Joshua Bloom, owner of Duke's Liquor Box
• Anna Cappelen, founding partner and head designer at Curious Yellow
• Vanessa Dina, author of The Art of the Bar Cart
• Sara Duffy, principal at Stonehill Taylor
• Oliver Haselgrave, founder of Home Studios
• Tavia Forbes, principal at Forbes Masters
• Daniel Frisch, principal architect of Daniel Frisch Architecture
• Heidi Lee, founder of Prune + Pare
• Katherine Lewin, owner of Big Night
• Liz Lipkin, interior designer
• Morgan McLachlan, founder and distiller of Amass
• Ariadne Molina-Barnett, interior-design shopper and stylist
• Sheena Murphy, founder of Nune Design Studio
• Brittany Nims, associate director of e-commerce partnerships and business development at Vox Media
• Chloe Pollack-Robbins, partner and head designer at Curious Yellow
• Tor Sauder, partner at Nune Design Studio
• Lilli Sherman, founder of Oma Loves Fun
Additional reporting by Dominique Pariso
The Strategist is designed to surface the most useful, expert recommendations for things to buy across the vast e-commerce landscape. Some of our latest conquests include the best acne treatments, rolling luggage, pillows for side sleepers, natural anxiety remedies, and bath towels. We update links when possible, but note that deals can expire and all prices are subject to change.
Every editorial product is independently selected. If you buy something through our links, New York may earn an affiliate commission.