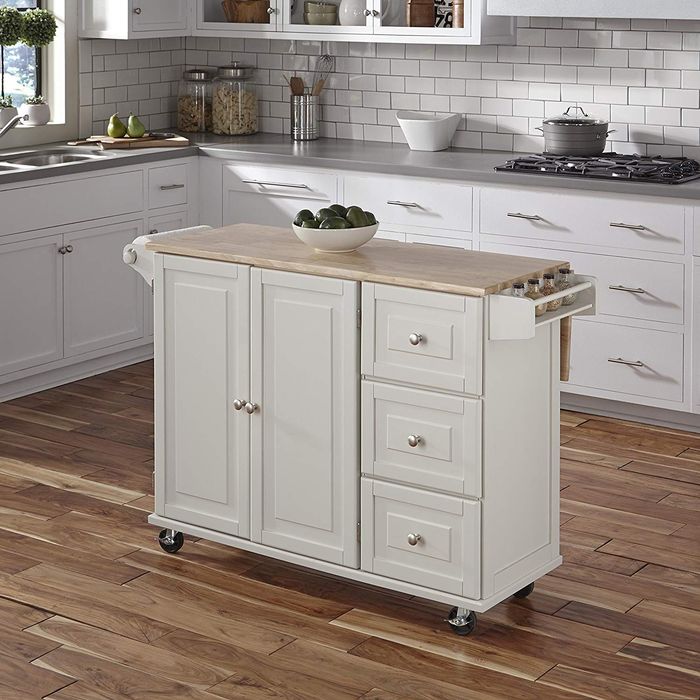 Here at the Strategist, we like to think of ourselves as crazy (in the good way) about the stuff we buy, but as much as we'd like to, we can't try everything. Which is why we have People's Choice, in which we find the best-reviewed products and single out the most convincing ones. (You can learn more about our rating system and how we pick each item here.)
And while we've written about lots of kitchen storage ideas — including cheap, but expensive-looking, kitchen accents and the best bar carts — here we've rounded up the best butcher-block islands and kitchen carts, as praised by the most enthusiastic reviewers on Amazon.
Best-rated (and least expensive) kitchen cart
There are three main selling points for this kitchen cart according to reviewers: ease of set-up, adjustable shelves and a removable countertop. "This couldn't be more perfect than if I had designed it myself," one reviewer writes, noting that this ended their search for both extra storage and prep space. "What was great about this cart is that you can adjust the shelves to suit your needs," another satisfied user writes, adding they were able to adjust the shelves perfectly for their InstaPot. The butcher block top can also be moved, which is a hit among reviewers, with one saying "I do like the versatility of being able to remove the cutting board on top to clean it." This narrow cart is great for small spaces, so many reviewers have been able to use this no matter how small their kitchen is. "I live in an RV and so I have a tiny space to operate in, this cart is an extension for my kitchen counter and works perfectly to give me extra storage and prep area," one user writes, adding it is "easy to put together, heavy duty wooden top, locking wheels, I love it!"
And now for some micro-picks for every type of kitchen cart you might be looking for. 
Best microwave cart
Many reviewers are shocked by just how much stuff this cart can hold. "This is so much more than I expected," one writes. "It is extremely sturdy and holds a great deal." Another says they have their "air fryer, KitchenAid mixer, waffle iron and 3 tall food containers all on this cart." In addition to the storage underneath, users find the top of this cart to be very sturdy, and attractive, so much so, one reviewer doesn't even want to use it. "The cutting board is very heavy duty — I don't actually cut directly onto the board because it so beautiful," they say. In addition to use in the kitchen, many users have found use for this all over the house. "I bought it as a laundry cart that would hold a hamper, wheel in and out of the closet, and serve as an ironing board."
Best kitchen cart with cabinet storage
One reviewer, who calls this a "fantastic kitchen island, writes, "Well made all wood construction, not too difficult to put together, even for a couple of old codgers like ourselves. It holds quite a few pots and pans as well as a coffee maker and a tea kettle." In addition to offering plenty of storage space, reviewers also love that it is concealed behind cabinets. "This cart is perfect for my small convection/toaster oven, and has storage behind the cabinet doors for anything I don't want out," one writes. Another says, "I am still trying to figure out the best way to organize my pots, pans, etc., but this is great at concealing that attempt." One notes that the bottom cabinet is big enough to fit tall items, and that the drawer is also roomy. "It holds a silverware divider on one side with plenty of room left over on the other.. for spatulas, knives, 'odds and ends,' etc."
Best granite-top kitchen cart
Dozens of reviews note how heavy the granite top of this kitchen cart is, but many just chalk that up to the "high-quality" materials that went into making it. "All the hardware is made really smart, and seems to be built to last," one review said. The top also makes it "beautiful and perfect for preparing food," according to one reviewer. "I keep this next to the fridge and when it's time to prepare food I roll it right out and get to work," another writes. Half of users love the addition of the wine rack and wire basket, but others note that they removed both for more storage space. "I removed the basket — now my KitchenAid mixer fits like a charm, clearing off the counter top when I'm not baking."
Best easy-to-assemble kitchen cart
More than 70 percent of reviewers give this cart a five-star rating, and many of them agree that this cart is easy to put together. "I am almost 80 and I can put them together by myself in less than 5 minutes, no screwdriver needed," one writes. Another says, "It is the easiest set up I have ever encountered! All you have to do is take it out of the box, unfold and secure per the instructions and screw the wheels on the bottom. Done." Once those simple steps are completed, reviewers also love that this works in their small spaces. One who has a "tiny apartment with even tinier kitchen" says this is "just big enough to provide a decent workspace without overwhelming my tiny apartment." One also says its foldaway feature makes it "so compact and a real space saver."
Best kitchen island
"My kitchen looks like a new kitchen," one reviewer says after purchasing this island. "I now have a large work space where I can actually do some proper cooking. It is sturdy and it looks great." Another says they "use it daily for chopping up veggies and preparing meals in my very small kitchen, and it has been extremely useful. In fact, this unit alone has made my kitchen actually a good place to be!" Not only has the hardwood top been proven useful to reviewers but they love the shelf storage as well. "I like that there is two Shelves for storage," one says, adding, "They are decent height — can fit a cookie sheet on its side easily." Another says they've pretty much been able to fit their entire kitchen on it: "Shelves easily hold a heavy Vitamix, Crockpot, portable icemaker, and cast iron wok, leaving my countertops and oven free and clear."
Best rolling kitchen island
As one user puts it the assembly process of this kitchen cart is "an act of faith and a bit of frustration," but over 60 percent of reviewers still give this a five-star rating. "The work was worth the finished product, a gorgeous piece of kitchen furniture with detailing, rewarding of my perseverance," one user writes, adding, "The drawers slide open and shut smoothly on coasters, the doors pull shut by magnets." This one says it provides ample storage space: "IT IS A PERFECT addition to my kitchen, I'mable to hide my Crockpotss and other items inside, I am able to use this for extra counter space as i don't have much…Now I have a place to roll out dough, i have counter space for my canning, and it's moveable."
It's easy peasy to move around in any direction," adds another reviewer, speaking to this kitchen cart's wheels. More than it moving around easily reviewers are impressed by how well it stays in place when the wheels are locked. "The front casters keep the cabinet stationary enough for counter work while permitting motion when necessary."
Best drop-leaf kitchen cart