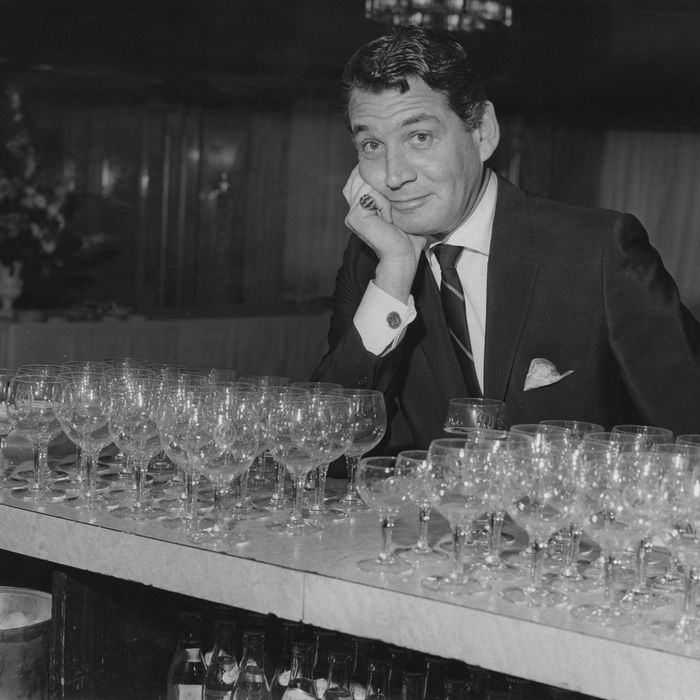 Photo: Kent Gavin/Getty Images
If you've ever tried to stock a bar cart or set up a home bar, you've probably been confused by all of the different types of cocktail glasses, wondering if there's any difference between a highball glass and a Collins glass or figuring out if those V-shaped Martini glasses are actually a reasonable thing to own. The good news is that buying the best cocktail glasses doesn't have to be all that complicated — or expensive. According to owner Matt Piacentini, the team at the Up & Up, his cocktail bar in the West Village, uses just five different types of cocktail glasses to make most of the drinks on their menu. Joaquín Simó, partner at Pouring Ribbons and Tales of the Cocktail's American Bartender of the Year in 2012, makes it even simpler. "You can make 90 percent of drinks in a rocks, a Collins, and a good all-purpose cocktail glass."
That's why here, we're diving deep into only the most versatile cocktail glass types for entertaining and drinking at home, rather than those one-offs like copper mugs for Moscow mules, margarita glasses, or brandy snifters. And to figure out where you should splurge, where you should save, and what types of cocktail glasses you really need at home, I spoke with professional bartenders and boozehounds about their go-to pieces of cocktail glassware, then picked out some of the best cocktail glasses for each category, based on their advice.
Highball Glass and Collins Glass
There is technically a difference between a highball and a Collins glass. "Highball is a tall, skinny glass. A Collins is just a taller glass," Piacentini says. Collins glasses are usually a couple of ounces larger than a highball, but only due to the additional height. But there's really no need to get into the weeds on this one. All three bartenders I spoke with generally agreed that highball and Collins glasses are used pretty interchangeably, so you don't really need to get both for your home.
These tall, chimney-shaped glasses are good for gin-and-tonics, vodka and club sodas, and whiskey and gingers — but also can be repurposed for tiki drinks made with crushed ice. As far as size is concerned, bigger isn't necessarily better. "You don't want a 16-ounce Collins glass because you're going to be hammered after your second Tom Collins," says Simó. "Get about a 12-ounce highball or a Collins glass, and you'll be fine." If you're still unsure, go for the highball. "As a bartender, I would say 90 percent of my drinks were poured in a highball glass," estimates John Sergentakis, regional sales manager for Nolet's Gin.
This is the classic, chimney-shaped highball glass with few frills, from one of the Strategist's favorite glassware brands Bormioli.
At only nine ounces, these highball glasses are on the smaller side, but the square base is a nice detail that differentiates them from the standard, round shape.
A slightly splurgy but chic set of minimalist highball glasses.
The shape of this highball glass is fairly straightforward, but the interest comes from the crackled texture.
These highball glasses have vintage-inspired detailing, but the gray tone makes them feel more modern.
This duo of crystal-like patterned highball glasses look more expensive than they really are.
You could also really splurge on actual crystal highball glasses.
In most modern cocktail bars, the coupe glass has dethroned the V-shaped Martini glass as the go-to cocktail glass, in part because those Martini glasses are "pretty terrible, actually. They spill all over the place. God forbid if you try to swirl anything in one of those," says Piacentini. The coupe glass, on the other hand, is a bit more forgiving and generally smaller, about six ounces, which means you're drinking what Piacentini calls a "civilized" amount of booze. (Though if you want your glassware to be even more forgiving of spills, go for a coupe that's seven or eight ounces, so the drink won't come right up to the top edge.)
These coupe glasses are good for cocktails served "up," meaning it's been shaken or stirred with ice and then served chilled, without ice — like a Martini. The stem means you don't heat up the cocktail with your hand as you sip it. And though you can spend hundreds of dollars on a set of coupe glasses, this probably isn't where you want to be spending the bulk of your glassware budget. "A superexpensive up glass is just going to be really thin and delicate," says Piacentini, meaning it's more likely to break, and these up drinks aren't the ones that you're going to savor.
This set of four coupes costs less than $20 and is an ideal starting point for those looking to get into craft cocktails.
A traditionally styled Champagne coupe, if you're looking for something that's more delicate-looking but still affordable.
These coupes from Bormioli have a slightly more modern look.
This set of six coupe glasses are made of Tritan crystal.
This coupe glass can hold up to ten ounces and is slightly fluted at the stem, rather than a straight U-shape, so it's especially forgiving for the accident-prone.
An even more bell-shaped take on a coupe glass, making it a solid choice for those who are afraid of spills.
This pair of coupe glasses is a bit pricey, but it has some sweet pink glass detailing.
If you want to be ahead of the curve in terms of bartending trends, get a few Nick and Nora glasses. They're starting to become as common in craft cocktail bars as coupes. "Nick and Noras are the more bell-shaped, in between a coupe glass and a very small wine glass," says Piacentini. "In a perfect world, I love Nick and Nora glasses for stirred up drinks and coupe glasses for shaken up drinks," because the smaller Nick and Nora glasses fit three to four ounces of liquid perfectly. Though if you are looking to keep your glassware to a minimum, there's nothing you would serve in a Nick and Nora glass that you couldn't also serve in a nice coupe. Nick and Noras are also generally a little bit more specialized and therefore harder to source.
This set of six Nick and Nora glasses comes from Cocktail Kingdom, a go-to shop for glassware and bar kits among professional bartenders.
If you just want a couple of Nick and Nora glasses, the ones from Crate & Barrel are the right size and are fairly affordable.
A single rocks glass is "going to be for anything neat, any spirit on the rocks," explains Piacentini, though you could also use it for stirred, chilled, spirituous cocktails served "down," meaning it's served chilled, but in a glass without a stem. One such example is a Negroni, points out Sergentakis, made with gin, sweet vermouth, and Campari. Piacentini also prefers these rocks glasses to snifters for brandy, since you're able to more easily smell the aromas.
The ideal single rocks glass is "somewhere between eight and ten ounces," says Simó. "That's enough where you could put a decent-size chunk of ice in there if you like making the fancy ice." And if you're going to splash out on one part of your glassware setup, make it the rocks glasses. "Those are the glasses where you're most likely to have the drink that'll take you the longest to drink," says Piacentini. "You don't sit back in a comfy leather chair with an up drink and sit there for 45 minutes with it, but you will if it's something nice and stirred on a big piece of ice. It'll last for that long." So it's worthwhile to splurge on a heavy-bottomed rocks glass that feels balanced and good in your hand.
An affordable entry point for those who aren't quite sure that they like drinking bourbon or whiskey neat, without sacrificing quality, heft, or style.
Same goes for this set of four single rocks glasses, though with a more crystal-like design.
This six-ounce single rocks glass is made of crystal and has a solid pewter base, meaning it's not going anywhere.
These heavy, lead-free crystal tumblers with wedge cuts will turn sipping on your neat Scotch into an event.
Double Rocks Glass


A double rocks glass, also sometimes called a double Old Fashioned, should only be about two ounces bigger than a single rocks glass, not twice the size. And though you could serve a neat pour of whiskey in a double rocks glass, it's going to look a little sad and out of proportion. Instead, you want to use a double rocks glass for cocktails with ice. "We would do a julep in those, crushed ice all the way. Just when you need a little more room or you've got a drink, like an Old Fashioned or a Manhattan on the rocks," says Piacentini. You could also put margaritas in these glasses, instead of getting a dedicated margarita glass. That's why, if you're only going to get one type of rocks glass, the double rocks glass is generally more versatile — as long as you know there are plenty of cases where you'll never fill it to the very top.
A no-frills set of double Old Fashioned glasses for $10.
The diamond detailing on these glasses make them look more expensive than they really are.
The ridges give these glasses from Libbey a vintage feel.
Crystal-cut glassware at an affordable price.
These more bell-shaped glasses look like wine glasses, but that also means it'll be easier to smell the aromas from your drink.
If you're looking for a simple set of double Old Fashioned glasses without a heavy bottom.