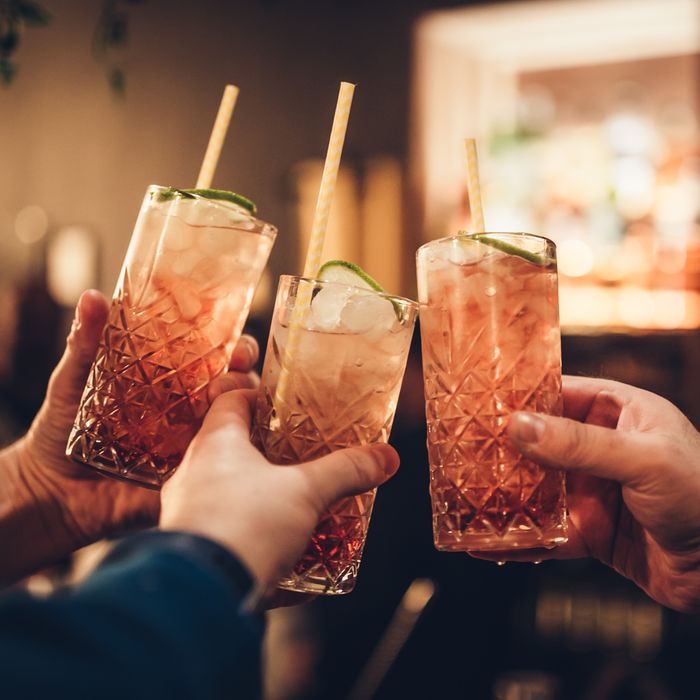 Photo: getty/Getty Images/EyeEm
The world of cocktail glassware is vast, and if you've ever tried to set up a home bar or stock a bar cart, you've probably run into a few questions. Is there any difference between a highball and a collins glass? Are those V-shaped martini glasses actually a reasonable thing to own? What size coupe do you need? The good news is that buying cocktail glasses doesn't have to be all that complicated — or expensive. According to Matt Piacentini, owner of the Up & Up, a cocktail bar in the West Village, his team uses just five different types of cocktail glasses to make most of the drinks on its menu. Joaquín Simó, partner at Pouring Ribbons and Tales of the Cocktail's American Bartender of the Year in 2012, makes it even simpler. "You can make 90 percent of drinks in a rocks, a collins, and a good all-purpose cocktail glass."
Regardless of what you make in them, the right cocktail glasses for you are a matter of taste. "Especially during the pandemic, people really started thinking about their barware and how it fits into their home, their personal taste, and vibe," says Matt Landes, founder of Cocktail Academy. "For example, we might not use smoked glassware at a restaurant bar, because patrons can't see the drink, but at home, that could fit right in with your aesthetic." The first rule of thumb, says David Fudge, co-founder of nonalcoholic-spirit brand Aplós, is picking something you would actually enjoy drinking out of, because "it's all about elevating the whole experience. For me, when you're drinking out of an antique crystal glass, there's something about the drink that's more special, and it does taste better."
To help you find your own perfect matches, we took a deep dive into cocktail glassware, speaking with 12 professional bartenders and boozehounds about their go-to pieces of cocktail glassware.
Coupe glasses
The most-recommended cocktail glass was the coupe glass, especially for someone who likes to get creative with the drinks they make at home. In most modern cocktail bars, the coupe has dethroned the V-shaped martini glass as the go-to. It holds about six ounces, which means you're drinking what Piacentini calls a "civilized" amount of booze. (Though if you want your glassware to be more forgiving of spills, go for a coupe that's seven or eight ounces so the drink won't come right up to the top edge.) Kimberly Hunter, CEO and founder of Potent Pours, appreciates the wider rim because that "means lots of garnish. It's versatile, too — I can sip Champagne without fear of losing my bubbles."
Coupe glasses are good for cocktails served "up," meaning they've been shaken or stirred with ice and then served chilled, without ice — like a martini — or even "frozé," as Supergay Spirits co-founder Aaron Thorp suggests. The stem means you don't heat up the cocktail with your hand as you sip it. And though you can spend hundreds of dollars on a set of coupe glasses, this probably isn't where you want to be spending the bulk of your glassware budget. "A superexpensive coupe glass is just going to be really thin and delicate," says Piacentini, meaning it's more likely to break.
While these are called champagne glasses (and you can certainly use them for that), Landes thinks they're the ultimate vessel for learning how to make proper cocktails served up at home. "If you're trying to hone in on your skills, size is important," he says. "It's an indicator that you've portioned out the right amount of everything." You can buy single glasses on Amazon, but if you want to go in on a case of 36 with friends, the price goes down to $4 a glass.
Hunter recommends these speakeasy-style, budget-friendly coupe glasses that she says her "clients adore." They're eight ounces, so they'll be great for those wary of spills or who want more room for garnish.
Thorp prefers a classic set to the fancy or trendy options out there. This one gets the job done, and because it comes in a six-pack for only $40, you're not breaking the bank.
Evie Negri-Albert, best known on TikTok and Instagram as Drinks by Evie, prefers something a little more upscale to the traditional coupe glass. These have a delicate but slightly dramatic shape, so if you're looking for something Instagram friendly (or to impress guests), these might be the best choice for you.
Negri-Albert also recommends these textured glasses. They're ten ounces, which is four ounces above most expert recommendations, so you'll have plenty of room for garnish — and peace of mind that you probably won't spill easily.
If you do, however, want to splurge, consider these showstoppers. Jessica Manley, the other co-founder of Aplós, is of the mind-set that you should be excited by the glassware you use, and she's drawn to the spunky, colored glasses Sir/Madam creates. These have a nice vintage vibe to them, and in unique colors like "moon glow," "menthe," and "salmon," they double as kitchen décor. And not only are they made of a sturdy glass, but they're even dishwasher safe.
Tiffanie Barriere, founder of the Drinking Coach, calls these glasses "some of the best cocktail coupes I've seen in my entire life." The six-piece set comes in blue, pink, or green and is handblown in Poland — which explains the price tag. If you'd like to spend a little less, these colored coupes from West Elm might be a good alternative.
Traditional martini glasses
For his part, Landes thinks the V-shaped classic martini glasses are due for a comeback. "They fell out of vogue, as things do," he says, "but it's so funny that people claim they're hard to drink out of. If anything, they're easier. The drink pours right into your mouth with the smallest of an angle change."
Single rocks glasses
A single rocks glass is "going to be for anything neat, any spirit on the rocks," explains Piacentini, though you could also use it for stirred, chilled, spirituous cocktails served "down," meaning they're served chilled but in a glass without a stem. One such example is a Negroni, points out John Sergentakis — the regional sales manager for Nolet's Gin — made with gin, sweet vermouth, and Campari. Piacentini also prefers these rocks glasses to snifters for brandy, since you're able to more easily smell the aromas.
The ideal single rocks glass is "somewhere between eight and ten ounces," says Simó. "That's enough where you could put a decent-size chunk of ice in there if you like making the fancy ice." And if you're going to splash out on one part of your glassware setup, make it the rocks glasses. "Those are the glasses where you're most likely to have the drink that'll take you the longest to drink," says Piacentini. "You don't sit back in a comfy leather chair with an up drink and sit there for 45 minutes with it, but you will if it's something nice and stirred on a big piece of ice. It'll last for that long." So it's worthwhile to splurge on a heavy-bottomed rocks glass that feels balanced and good in your hand.
Even though our experts think that rocks glasses are completely worth spending your money on, it never hurts to explore a budget option. "I'm not afraid to say that Ikea does it right," says Barriere. "They're consistent, and you're not so angry when you break one — you just go get some more, and it's fine. I love that." This is a ten-ounce glass, so it's on the larger side for single rocks glasses. And the ridges make it look a bit more special than just a regular glass. "People will say, 'Oh, I really like that glass,'" and I'll say, 'Ikea,' and they'll be very impressed," Barriere adds.
Barriere raved about its coupe glasses but notes that the company has other options, like wine glasses with and without stems and these rocks glasses. This sophisticated set is inspired by vintage glassware, and thanks to the high-quality glass, they're sure to last.
Negri-Albert agrees that rocks glasses are "extremely important for some of the most classic cocktails," and if she's going to spend the money on new glasses, she heads to Nude Glass. She's particularly fond of this ridged option, but if you'd like something a little more plain (and less expensive), the brand has lovely options for that, too.
Double rocks glasses
A double rocks glass, also sometimes called a double old-fashioned, should only be about two ounces bigger than a single rocks glass, not twice the size. Jake Ireland, CEO and founder of bourbon brand Off Hours, keeps this style of glass on his own bar, noting it works for "any way you take your bourbon — neat, on the rocks, or in a cocktail." Because of the larger size, it's a touch more versatile than the single rocks glass, since it can fit more. "We would do a julep in those — crushed ice all the way. Just when you need a little more room, or you've got a drink like an old-fashioned or a Manhattan on the rocks," says Piacentini. You could also put margaritas in these glasses instead of getting a dedicated margarita glass. That's why, if you're only going to get one type of rocks glass, the double rocks glass is generally more versatile.
Ireland calls this CB2 set "affordable and modern yet classic at the same time." The glasses come in a set of eight, so you'll have plenty for post-pandemic dinner parties. And even though they are on the inexpensive side, Ireland promises they're still high quality.
If you're tight on space, these CB2 glasses, which come recommended by Negri-Albert, can be stacked up, so they'll take up less room on your bar or bar cart. And while they're convenient, they're still nice-looking and mature.
Hunter says she's "literally drooling over just about all" of the glasses at CB2, but she's particularly drawn to this one, because the wide mouth of this glass gives "room for garnishing the top of the glass." If you're feeling fancy, she adds, "you can also garnish the outside of the glass for an elevated cocktail look."