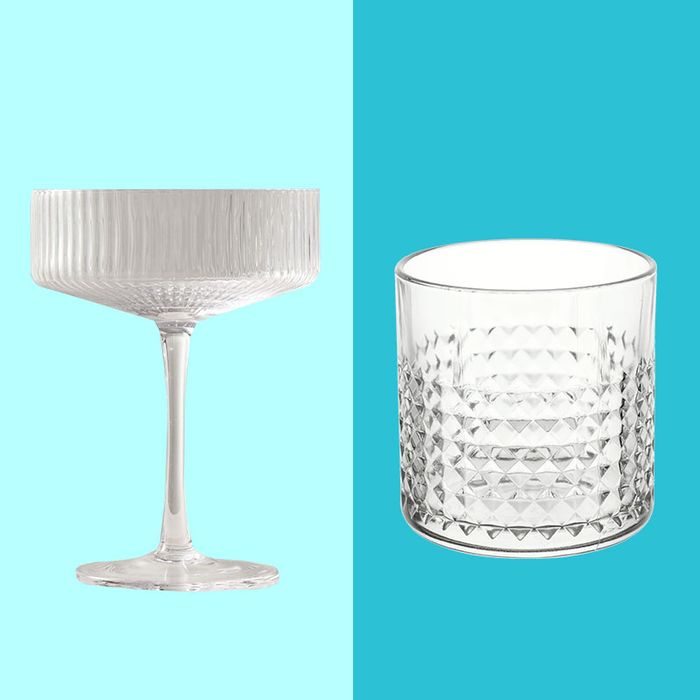 Photo-Illustration: The Strategist; Photos: Retailers
So you're trying to set up a nice home bar (long gone are the days of drinking wine out of mugs), but the process is feeling a bit overwhelming. Is there any difference between a highball and a collins glass? Are those V-shaped martini glasses actually a reasonable thing to own? What size coupe do you need? The good news is that buying cocktail glasses doesn't have to be all that complicated — or expensive. According to Matt Piacentini, owner of the Up & Up, a cocktail bar in the West Village, his team uses just five different types of cocktail glasses to make most of the drinks on its menu. Joaquín Simó, partner at Pouring Ribbons and Tales of the Cocktail's American Bartender of the Year in 2012, makes it even simpler. "You can make 90 percent of drinks in a rocks, a collins, and a good all-purpose cocktail glass."
Regardless of what you make in them, the right cocktail glasses for you are a matter of taste. The first rule of thumb, says David Fudge, co-founder of nonalcoholic-spirit brand Aplós, is picking something you would actually enjoy drinking out of, because "it's all about elevating the whole experience. For me, when you're drinking out of an antique crystal glass, there's something about the drink that's more special, and it does taste better."
To help you find your own perfect matches, we took a deep dive into cocktail glassware, speaking with more than a dozen professional bartenders and boozehounds about their go-to pieces of cocktail glassware.
Coupe glasses
The most-recommended cocktail glass was the coupe glass, especially for someone who likes to get creative with the drinks they make at home. In most modern cocktail bars, the coupe has dethroned the V-shaped martini glass as the go-to. It holds about six ounces, which means you're drinking what Piacentini calls a "civilized" amount of booze. (Though if you want your glassware to be more forgiving of spills, go for a coupe that's seven or eight ounces so the drink won't come right up to the top edge.) Kimberly Hunter, CEO and founder of Potent Pours, appreciates the wider rim because that "means lots of garnish. It's versatile, too — I can sip Champagne without fear of losing my bubbles."
Coupe glasses are good for cocktails served "up," meaning they've been shaken or stirred with ice and then served chilled, without ice — like a martini — or even "frozé," as Supergay Spirits co-founder Aaron Thorp suggests. The stem means you don't heat up the cocktail with your hand as you sip it. And though you can spend hundreds of dollars on a set of coupe glasses, this probably isn't where you want to be spending the bulk of your glassware budget. "A superexpensive coupe glass is just going to be really thin and delicate," says Piacentini, meaning it's more likely to break.
While these are called champagne glasses (and you can certainly use them for that), Landes thinks they're the ultimate vessel for learning how to make proper cocktails served up at home. "If you're trying to hone in on your skills, size is important," he says. "It's an indicator that you've portioned out the right amount of everything." Right now, they only seem to be available in big sets — but if you go in with friends, it's a great investment.
Hunter recommends these speakeasy-style, budget-friendly coupe glasses that she says her "clients adore." They're eight ounces, so they'll be great for those wary of spills or who want more room for garnish.
Thorp prefers a classic set to the fancy or trendy options out there. This one gets the job done, and because it comes in a six-pack for only $40, you're not breaking the bank.
Evie Negri-Albert, best known on TikTok and Instagram as Drinks by Evie, prefers something a little more upscale to the traditional coupe glass. These have a delicate but slightly dramatic shape, so if you're looking for something Instagram friendly (or to impress guests), these might be the best choice for you.
If you do, however, want to splurge, consider these showstoppers. Jessica Manley, the other co-founder of Aplós, is of the mind-set that you should be excited by the glassware you use, and she's drawn to the spunky, colored glasses Sir/Madam creates. These have a nice vintage vibe to them, and in unique colors like "moon glow," "menthe," and "salmon," they double as kitchen décor. And not only are they made of a sturdy glass, but they're even dishwasher safe.