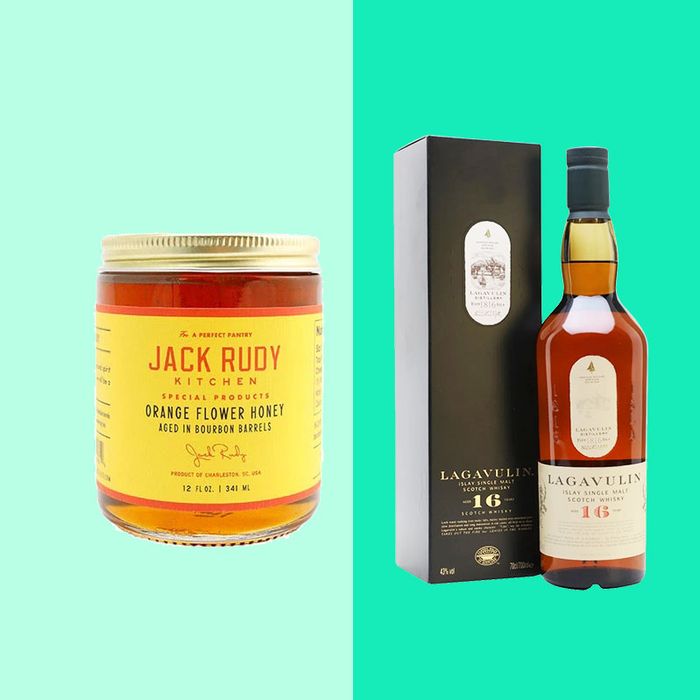 Photo-Illustration: The Strategist; Photos: Retailers
Few liquors have as fervent a following as whiskey — which is how we know you probably have at least one dedicated whiskey drinker in your life. We also know there's a difference between silly bar accessories (no, they really don't need a whiskey stone) and actually useful, thoughtful gifts (maybe they just want a top-notch bottle to add to their collection). We reached out to nine whiskey-makers, bartenders, and drinks experts to find out what they'd recommended giving to a whiskey enthusiast (and what they — whiskey enthusiasts themselves — would like to receive). From ice picks to academic courses, we've sourced a worthy gift for every kind of whiskey drinker, with not a whiskey stone in sight.
Whiskeys and cocktail mixers
The best gift for a whiskey obsessive? Whiskey. Mark Newton and Jason Julier, editors of scotch and whiskey website Malt Review, say a 17-year-old whiskey from Scotland's nearly two-century-old Glenfarclas distillery is pricey, but not too pricey, and fits the taste of just about every whiskey drinker out there. "We really appreciate the sherried charms of the Glenfarclas 17-year-old, which is the sweet spot in terms of age for the distillery," Julier says. "It's a great all-rounder" for around $100.
Photo: retailer
About 5,000 miles west of Scotland, there's some very promising whiskey being produced in Sonoma, California, according to expert Jenna Elie, a.k.a. Whisky a Go Girl. "Maker Adam Spiegel has honed in on a craft to be proud of," she says. "The Cherrywood Rye has unctuous notes of leather, figs, and toasted almonds, with a lovely kick of spice. And the cherrywood smoke brings in a warming tone of pure comfort and joy." Plus, at $50, you can buy a few bottles for the whole gang.
If you want to surprise someone with a terrific (and affordable) whiskey made outside the Bluegrass State, spirits writer Robert Simonson says look to Brooklyn's New York Distillery. This Ragtime Rye is distilled according to the rules of the Bottled-in-Bond Act of 1897, which requires a whiskey to be distilled in its entirety by a single distiller in a single American distillery within the course of a one year. "Not all great rye whiskey comes out of Kentucky," says the Old-Fashioned and A Proper Drink author. "This Brooklyn spirit, using New York State grain, stacks up against the best in the business."
With the end of the year fast approaching, you may be asking yourself what you should gift your boss or your favorite uncle without breaking the bank. Simonson recommends Powers's John's Lane Irish Whiskey, winner in the Best Irish Whiskey category at the 2018 San Francisco World Spirits Competition. "This 12-year-old Irish pot still whiskey is among the most dependably delightful tipples out of Ireland," he says.
Here's a conversation starter: "Hey, everyone, I brought Mayor Pete's favorite whiskey!" Last year the presidential hopeful from Indiana told us that he developed a real taste for whiskey while attending Oxford in the U.K., saying, "There was a student-run bar, and I became the self-appointed whiskey curator." Though, he prefers scotch from the world-famous Lagavulin, for its deep smokiness, the cheaper and "chewy" Talisker will also do.
Or if you'd rather not bring up politics, why not give whiskey from the only president most of us can agree on: George Washington. As historian Alexis Coe points out in her guide to gifts for people who really love George Washington, The Whiskey Rebellion angered the first president so much that he started making his own rye whiskey, which is still produced today at Mount Vernon. "By 1799, he was one of the largest whiskey producers in the country," she says. The white, unaged liquor is so good that it's the official state spirit of Virginia and last year, the first president "took home" a silver medal at the American Craft Spirits Association Awards.
If you're looking to go really big, you can give someone the gift of an entire whiskey cask. "The next big thing is owning your own cask and seeing how it develops," say Julier and Newton of Malt Review. "A lot of distilleries are offering this option, but Raasay distillery in Scotland is the one to watch. Their whiskey displays promise and a variety of cask options should you wish to make the ultimate purchase."
Restaurateur Brooks Reitz has a bit of a self-serving recommendation (though Strategist writer Emma Wartzman is also a fan). His company, Jack Rudy, makes an Old Fashioned cocktail kit with everything you need for the drink (besides the liquor itself). It comes with a bottle of Demerara sugar syrup, a bottle of aromatic bitters, a bottle of bourbon cherries, and a jigger. "It's very giftable," he says, "especially for someone who loves cocktails but isn't a pro yet."