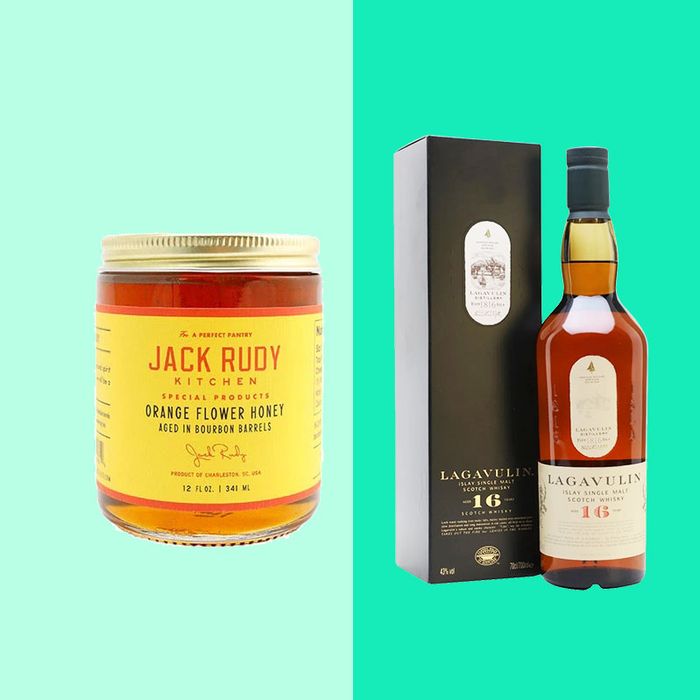 Photo-Illustration: The Strategist; Photos: Retailers
Few liquors have as fervent a following as whiskey — which is how we know you probably have at least one dedicated whiskey drinker in your life. We also know there's a difference between silly bar accessories (no, they really don't need a whiskey stone) and actually useful, thoughtful gifts (maybe they just want a top-notch bottle to add to their collection). We reached out to nine whiskey-makers, bartenders, and drinks experts to find out what they'd recommended giving to a whiskey enthusiast (and what they — whiskey enthusiasts themselves — would like to receive). From ice picks to academic courses, we've sourced a worthy gift for every kind of whiskey drinker, with not a whiskey stone in sight.
Whiskeys and cocktail mixers
The best gift for a whiskey obsessive? Whiskey. Mark Newton and Jason Julier, editors of scotch and whiskey website Malt Review, say a 17-year-old whiskey from Scotland's nearly two-century-old Glenfarclas distillery is pricey, but not too pricey, and fits the taste of just about every whiskey drinker out there. "We really appreciate the sherried charms of the Glenfarclas 17-year-old, which is the sweet spot in terms of age for the distillery," Julier says. "It's a great all-rounder" for around $100.
Photo: retailer
About 5,000 miles west of Scotland, there's some very promising whiskey being produced in Sonoma, California, according to expert Jenna Elie, a.k.a. Whisky a Go Girl. "Maker Adam Spiegel has honed in on a craft to be proud of," she says. "The Cherrywood Rye has unctuous notes of leather, figs, and toasted almonds, with a lovely kick of spice. And the cherrywood smoke brings in a warming tone of pure comfort and joy." Plus, at $50, you can buy a few bottles for the whole gang.
If you want to surprise someone with a terrific (and affordable) whiskey made outside the Bluegrass State, spirits writer Robert Simonson says look to Brooklyn's New York Distillery. This Ragtime Rye is distilled according to the rules of the Bottled-in-Bond Act of 1897, which requires a whiskey to be distilled in its entirety by a single distiller in a single American distillery within the course of a one year. "Not all great rye whiskey comes out of Kentucky," says the Old-Fashioned and A Proper Drink author. "This Brooklyn spirit, using New York State grain, stacks up against the best in the business."
With the end of the year fast approaching, you may be asking yourself what you should gift your boss or your favorite uncle without breaking the bank. Simonson recommends Powers's John's Lane Irish Whiskey, winner in the Best Irish Whiskey category at the 2018 San Francisco World Spirits Competition. "This 12-year-old Irish pot still whiskey is among the most dependably delightful tipples out of Ireland," he says.
Here's a conversation starter: "Hey, everyone, I brought Mayor Pete's favorite whiskey!" Last year the presidential hopeful from Indiana told us that he developed a real taste for whiskey while attending Oxford in the U.K., saying, "There was a student-run bar, and I became the self-appointed whiskey curator." Though, he prefers scotch from the world-famous Lagavulin, for its deep smokiness, the cheaper and "chewy" Talisker will also do.
Or if you'd rather not bring up politics, why not give whiskey from the only president most of us can agree on: George Washington. As historian Alexis Coe points out in her guide to gifts for people who really love George Washington, The Whiskey Rebellion angered the first president so much that he started making his own rye whiskey, which is still produced today at Mount Vernon. "By 1799, he was one of the largest whiskey producers in the country," she says. The white, unaged liquor is so good that it's the official state spirit of Virginia and last year, the first president "took home" a silver medal at the American Craft Spirits Association Awards.
If you're looking to go really big, you can give someone the gift of an entire whiskey cask. "The next big thing is owning your own cask and seeing how it develops," say Julier and Newton of Malt Review. "A lot of distilleries are offering this option, but Raasay distillery in Scotland is the one to watch. Their whiskey displays promise and a variety of cask options should you wish to make the ultimate purchase."
Restaurateur Brooks Reitz has a bit of a self-serving recommendation (though Strategist writer Emma Wartzman is also a fan). His company, Jack Rudy, makes an Old Fashioned cocktail kit with everything you need for the drink (besides the liquor itself). It comes with a bottle of Demerara sugar syrup, a bottle of aromatic bitters, a bottle of bourbon cherries, and a jigger. "It's very giftable," he says, "especially for someone who loves cocktails but isn't a pro yet."
Another pick from the Jack Rudy lineup: this honey that Reitz says is perfect in whiskey-based cocktails. "It's aged in bourbon barrels for 60 days," he explains, "but doesn't exactly taste of bourbon. That process just gives it a very rich profile." He loves it for a hot toddy and a gold rush, a shaken cocktail made with bourbon, honey, and fresh lemon juice. For more expert-recommended honeys, head here.
Glasses and bar accessories
Kimura glasses are to whiskey what Zalto glasses are to wine: The veritable height of sophistication. Ann Soh Woods, founder of Kikori Japanese Whiskey, says the gift of Kimura glasses is one a true whiskey lover won't soon forget. "They're handcrafted by skilled artisans in Tokyo," she says. "In other words, a delicate, graceful vessel."
Photo: retailer
On the far more budget-friendly side, there's the beloved whiskey glasses from Glencairn, which anyone who has attended a whiskey tasting will recognize. "The world of whiskey is littered with glassware," says Julier of Malt Review. "But most of the expensive glasses with lofty claims aren't worth your time or money. We're big fans of the tulip shape for everyday use. They provide solid performance and a robust, practical design."
That said, if you know someone who likes to taste test whiskeys for fun, gift them a pair of Artisan Spirits Glasses from NEAT, the official glass of spirits competitions. "For those who already have a collection of Glencairn glasses, the NEAT glass may be an interesting choice," says SIA Scotch Whiskey founder Carin Luna-Ostaseski. "The large surface area allows for more aromas to appreciate, the curved sides enhance swirling and evaporation, and the shape of the glass removes the feeling of noseburn."
"I think before you can make any drink properly at home, you have to have a jigger," says Reitz. "You're measuring small amounts of very potent ingredients, and even an extra quarter ounce can make a big difference." He loves this pewter one because "it's beautiful, and will last forever."
Editor's note: The jigger is temporarily sold out, but you can enter your email for preorder.
Ice
Coasters are another thoughtful gift for a whiskey-drinker, according to Reitz. "These are a print from Josef Frank, a very prolific designer," he says. "The whole whiskey thing can get a bit masculine, and I like the idea of pairing a drink with something poppy and fun." These particular ones show up-close grids of Manhattan, but there are many others to choose from as well.
Neat whiskey drinkers, look away. "Some people think it's a sin to put ice in your whiskey, but I do not," says Simonson. "If you want a little chill on your dram, go ahead. But you might as well make it look pretty and do a big cube." One of our favorites is the highly rated silicone combo mold from Glacio.
Or if you prefer to make your own custom ice cubes, there's always the mighty, mini ice pick. "We know those pesky freezer ice cubes can dilute your whiskey faster than you can enjoy it," says Soh Woods. "This ice pick has just the right weight in the handle to use with ease and precision." And the fact that these icepicks have been handcrafted in the Niigata prefecture of Japan for more than 50 years makes them even more special.
And what can you use to hold all that beautiful hand-picked ice? Well, a very nice ice bucket. This classic one will look great on your bar cart.
Books and experiences
Photo: retailer
If your favorite whiskey lover still doesn't know what a mash bill is, consider giving them Robin Robinson's exceedingly enjoyable whiskey course in book form. "In ten 'classes' Robin takes us on a journey through the roots of distillation in ancient times and the beginnings of whiskey in the middle ages to Japan, Scotland, Kentucky, and Brooklyn," says Luna-Ostaseski, adding that there are great interviews with some of the best whiskey makers as well as profiles of their distilleries. Plus it has a stamp of approval from Whisky Advocate Magazine, which calls it, "A must-read for aspiring connoisseurs, and a thorough refresher for seasoned whiskey lovers."
Photo: retailer
How about whiskey from our neighbor to the North? According to Simonson, "Canadian whiskey is a big blind spot for most whiskey lovers, who spend most of their time obsessing over Bourbon, Scotch, and Japanese whiskey." Enlighten them with a little help from independent whiskey reviewer, author, and Canadian Whisky Awards founder Davin De Kergommeaux. "He can direct you toward the good stuff," says Simonson.
For less history and more modern information, there's the Malt Whiskey Yearbook, which, as the name suggests, looks back at the most recent year in whiskey news, stories, personalities, and distilleries. The photograph-heavy books also feature exhaustive tasting notes on the most important whiskeys of the year. "It's the essential guide to what's happening in the world of whisk(e)y whether you need to know it or not," says Newton of Malt Review. "It has a timeless quality, plus a shameless plug as the Malt Review is mentioned! It's as essential to any whiskey drinker as glassware."
Photo: retailer
For whiskey lovers who also love to socialize, Elie of Whisky a Go Girl recommends gifting a membership to the largest whiskey society in the world. "The Scotch Malt Whisky Society's one-year membership gives exclusive access to the most exceptional single-cask whiskey in the world, not available in stores or sold to the public," she says. "The club offers not only rare and exclusive whiskey, but also a top-notch personal concierge service to guide members on their whiskey journey."
Photo: retailer/Sasa Ribic
Another option, according to gift-giver extraordinaire Aileen Avery is this slightly pricier membership, which breaks down to roughly $25 per month and comes with a ton of perks. "There's a good chance they're going to be over the low-end stuff," she says. "Every month, they send four to five vials of the latest high-end spirits. Some of them are rare classics, some are original creations by their team. They all come with tasting notes, so you can figure out what it is that you like about this or don't like about that, and they also send you a full-size bottle of one of their spirits every month."
Photo: retailer
And for the experience-starved whiskey lovers among us, there is always the possibility of taking online courses from the Edinburgh Whiskey Academy, which offers both inexpensive seminars (such as "Waking Up Your Whiskey Nose" and "Focus on Flavour") for less than $35 as well as a slightly pricier "Introduction to Whisky Certificate" course for a little over $160. "The curriculum is dedicated to the history, production, and appreciation of Scotland's most renowned export," says Luna-Ostaseski, who completed two in-person diploma courses at the academy. "I found the courses to be intensive, immersive, and industry relevant, but most of all they are fun and engaging. Plus, all courses are certified by the Scottish Qualifications Authority."
The Strategist is designed to surface the most useful, expert recommendations for things to buy across the vast e-commerce landscape. Some of our latest conquests include the best acne treatments, rolling luggage, pillows for side sleepers, natural anxiety remedies, and bath towels. We update links when possible, but note that deals can expire and all prices are subject to change.