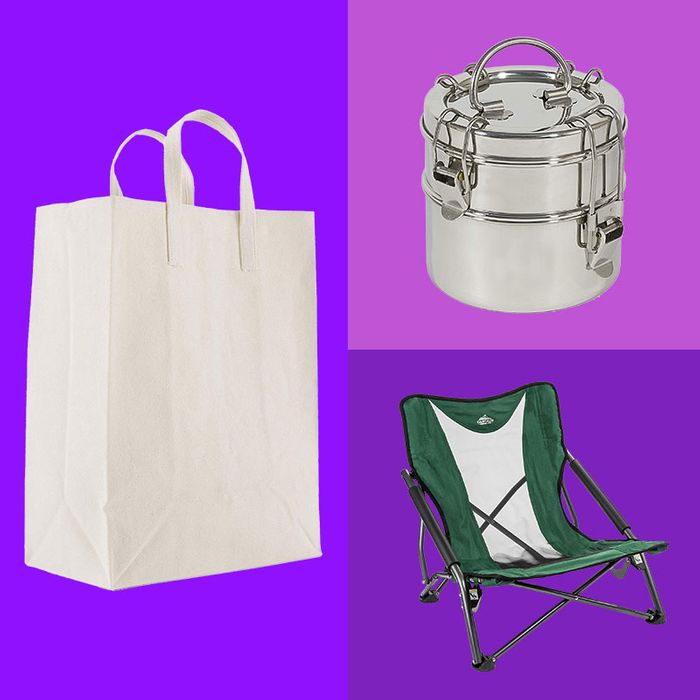 Buying a gift for your boss can be a potential minefield. Spend too much and you risk making them feel uncomfortable. Spend too little and you might as well not get anything at all. The gift should feel familiar — but maybe not too familiar — and at best might even reflect some of their interests outside of work. To make the hunt a little easier, we found gifts for every type of boss there is, from the camping obsessive to the one whose Zoom background is full of plants.
For the boss whose office coffee table needs a boost
Jean-Francois Jaussaud's intimate photographs feature acclaimed French-born artist Louise Bourgeois in her New York City studio. The collection spans the last 11 years of Bourgeois's life, before she died in 2010.
For the eco-conscious boss
Baggus make the perfect gift for just about everyone on your list, and this canvas paper bag is too cool. Impress your boss with your impeccable taste.
For the boss who swims laps
If you know your boss has a pool in their life, gift this pair of swim goggles, which comes recommended by competitive swimmers and swimming coaches alike (they were also a favorite of Strategist readers this month).
For the boss who loves an impromptu brainstorming session
Photo: retailer
It might seem like a gag gift, but this showerproof notepad is no joke: Crime writer Karin Slaughter wrote about how these are her go-to for jotting down plot points when inspiration strikes in the shower. They even come with a pencil inscribed with the saying, "No more great ideas down the drain!"
For the boss who cooks dinner fireside
If your boss is into camping, they probably have the tent, sleeping bag, and backpack covered — so why not give them a camping accessory they probably won't think of themselves? This steel lunch box comes recommended by Scott Briscoe, the founder of WeGotNext, a nonprofit group that seeks to diversify who is using our outdoor spaces. He says it's great for those cooking at the campsite who want something easy (and natureproof) to store leftovers in: "They're light, stackable, and you can put food that you don't finish eating in one and have it later."
For the boss who's addicted to cold brew
Cold brew is expensive. Your boss will thank you for keeping your eye on the bottom line.
For the boss who's more of a tea person
These gorgeous ceramic tea cups are handmade and oh-so wabi-sabi.
For the boss with an antique wood desk
A set of coasters made from real carrara marble are a handsome place for your boss to set cups full of cold brew, tea, or anything else — while protecting the wood surface of their desk.
For the boss who runs hot
If your boss once complained that the office temperature was too high, chances are they'll appreciate a direct blast of cool air from this personal (USB rechargeable) fan. Strategist contributor Alison Freer wrote that the small-but-mighty fan stands up to even the most oppressively hot, 112-degree Palm Springs days.
For the boss with a sweet tooth
You can't really go wrong with chocolate as a gift. But like with all things, there's a spectrum, and this impressive rainbow stack of status chocolate, which includes sea salt milk chocolate caramel and chocolate pecan coconut, is sure to impress.
For the boss who's always saying "think outside the box"
No one uses paper weights anymore, which is why this solar-system half-dome is so delightfully random.
For the boss who likes to picnic in comfort
Sure, sitting on the ground for a picnic is charming for a while — until your legs fall asleep and all you want is a chair. In our last Strategist Haul, senior editor Anthony Rotunno wrote about an extremely comfortable lawn chair that's low enough so that you're "eye level with anyone sitting on a blanket or the ground," and which we think would make an ideal gift for the boss who prefers some elevation while they eat.
For the boss who loves to cook
Ruth Reichl's chronicle of her time as editor-in-chief of Gourmet magazine is a must-read for anyone with even a casual interest in food.
For the boss who loves to snack
We can practically guarantee that any snack-loving boss won't be able to put down this bag of solar-popped, B-vitamin-packed, nutritional-yeast-dusted popcorn.
For the boss who's on a health kick
Convenient and compact, this blender — which K-pop star Jackson Wang uses to make his daily protein drink — will let your boss create the perfect smoothie every time.
For the boss who's always jotting stuff down
A notebook whose pages take the form of a screen that can be wiped down with a wet paper towel and reused endlessly. Your boss can also email their notes to him or herself, too.
For the (low tech) boss who's always jotting stuff down
It might look unassuming, but this elegant, simple, linen clothbound notebook made it into the top five when we exhaustively tested 100 notebooks.
For the fit boss
They'll appreciate some Chris Black–approved resistance bands that can be used for everything from squats to mountain climbers.
For the boss who'd rather be golfing
We get it — something about the back nine and par and a birdie or whatever. Now they can putt in the office.
For the boss whose Zoom background is full of plants
If your boss is an aspiring horticulturist by night, they're sure to be impressed by this pair of pocket shears, which come recommended by the senior curator of orchids at the New York Botanical Garden.
For the boss who's stressed