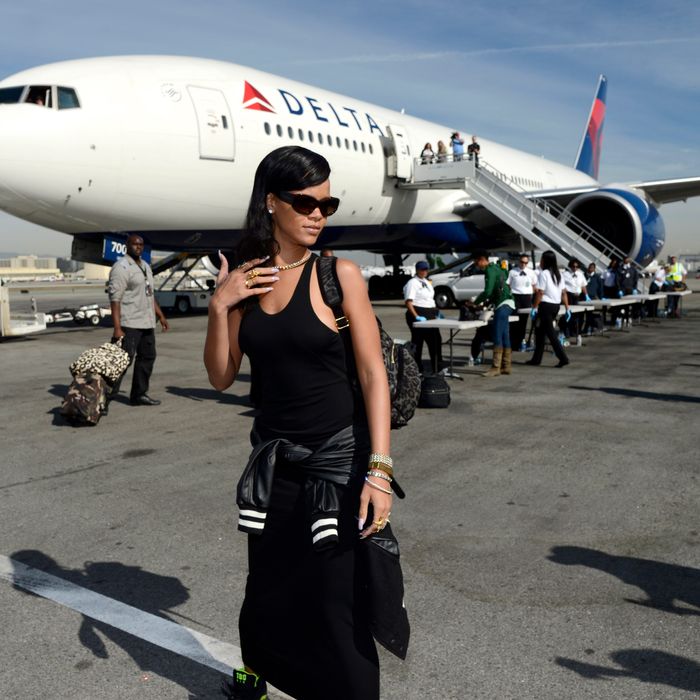 Photo: Kevin Mazur/Getty/WireImage
If you've ever sat in the middle seat during an overnight flight or dragged your carry-on suitcase through a crowded train station, you know how important it is to have the right travel gear. That's why the best travel gifts are also often the most practical, from things that'll make that long flight feel a little less long to stuff that'll make an interminable layover a little more comfortable. If you've already given your globetrotting friend a nicer-than-airline-administered eye mask or a handsome leather passport holder, fear not: the below list features nearly 50 gifts for people who travel recommended by frequent travelers, including expats, flight attendants, travel writers, travel agents, couples who travel together, and one consultant who flies multiple times a week for work. We also added a few of our favorite travel products we've discovered here on the Strategist.
Nikki Helm, who is one of the almost 400 (but maybe more now) flight attendants who own the jumpsuit that many consider their "unofficial uniform," told us this jacket is "super easy to pack" and that she loves how it rolls into "a cute little bag that I can sneak in my carry-on last minute." The jacket has lots of other things a frequent traveler would want in a coat, she adds: "I love it's zip-up pockets, it doesn't wrinkle, and it's really lightweight."
"I'd recommend a Hydro Flask so you can avoid paying the pricey fees for water at the airport and refill anywhere once you get through security," says flight attendant Jennifer Nors. Hydro Flask also happens to be a favorite water bottle of Strategist managing editor Maxine Builder, who says that it "really is as nice a water bottle as everyone says it is."
If you're looking for a stocking stuffer for the frequent flyer on your list, Helms suggests Justin's peanut butter packs. Not only are they great for some "quick protein" in between actual meals, they're also travel-safe: "They maintain quality in any weather, so I don't have to worry about them getting too hot or cold any time," says Helms.
Another thoughtful small gift, according to Helms: Tide's Travel Sink Packets. She explains that, with them, "I don't have to pack so many clothes, leaving more room in my bag for goodies I find on my trips." While laundry detergent might not seem like the most exciting gift, there's no denying that your favorite globetrotter will get a thrill out of freeing up that extra space in their suitcase.
Another gift idea for those who want a more organized suitcase comes to us from travel agent Lisa Murphy Harper, who "loves packing cubes." Her tip: if you're sharing suitcases with family members, buy separate sets of packing cubes in different colors to make it easy to know whose clothes are whose while unpacking. Cookbook author Corky Pollan is another fan of packing cubes, specifically this set from Bagail. "I pack too much, I can never organize myself, and with these, it's so easy to organize and set one size for underwear and bras, and another for tops and blouses, and the other for pants," she told us.
When we talked to cruise-line operators and wildlife photographers about the best things to bring on an Alaskan cruise, they recommended plenty of weather-safe gear that would also be useful for travelers going to less icy climates. Take these all purpose dry sacks, for instance, which travel writer Susan Portnoy, a.k.a. the Insatiable Traveler, suggests for carrying camera lenses while traveling. The sacks are watertight, so we think they'd also make some punchy carrying cases for any larger toiletries you're stowing in your bag.
Another carrying-case option: this one from Beis, which is a favorite of freelance writer and editor Kristin Corpuz. "I love that it's double-sided, so I can separate out my products as needed; and though it's quite small and can easily slide into a backpack or other carry-on, it actually fits a ton." It also has a mirror, which she notes, is a big bonus.
It's always useful to have some TSA-approved size toiletries on hand, and our skin-care hobbyist Buzz Bissinger wrote that this Laneige lip mask is one of the products he packs to make in-air time less miserable. "Yes, I know you should apply it just before you go to bed, but it's sooo velvety and smooth and pampering," he says. "It has a multi-berry scent and contains hyaluronic acid to truly protect the skin." Do your traveling friend a favor by gifting them something that will help combat dry airplane air-induced chapped lips.
On the topic of masks: Founder of All Call Natasha Hoskins, likes these gel-textured face masks from Loops, which are favored by many a celebrity and Instagram influencer. "It's the only face mask I've used that has actually worked to get my skin back to itself after a traveling day," she says.
Although you may not be able to give the gift of a shower immediately upon landing after long-haul flight, you can give some dry shampoo. Our beauty writer Rio Viera-Newton included this in her lis