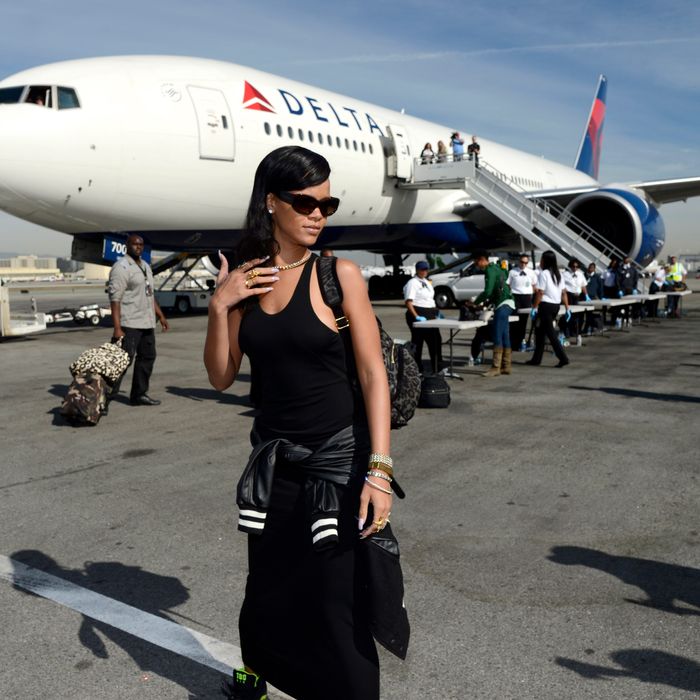 Photo: Kevin Mazur/Getty/WireImage
This month, the CDC deemed travel safe for fully vaccinated people, which means your jet-setting friend will soon get back to all the joys of traveling — and be reminded of the less glamorous moments of sitting in a middle seat during an overnight flight or dragging their carry-on suitcase through a crowded train station. These travel woes can be avoided, however, with the right travel gear. That's why the best travel gifts are also often the most practical, from things that will make that long flight feel a little less long to stuff that will make an interminable layover a little more comfortable. If you have already given your globe-trotting friend a nicer-than-airline-administered eye mask or a handsome leather passport holder, fear not: The below list features more than 50 gifts for people who travel recommended by frequent travelers, including expats, flight attendants, travel writers, travel bloggers, travel agents, couples who travel together, and one consultant who flies multiple times a week for work. We also added a few of our favorite travel products we've discovered here on the Strategist.
In-flight accessories
For those who struggle to find a comfortable sleeping position while cramped in economy class, writer Alyse Whitney tipped us off to this airplane-friendly foot sling called the Sleepy Ride: "The 21-inch-long, 7-inch-wide footrest is made of plush memory foam, but is flat enough to fold up neatly in a little pouch that I tucked into my backpack. The straps are adjustable and hook around the tray table in front of you so that it becomes a foot hammock, rocking gently with the motions of the plane." Not only does it make your seat feel a little more comfortable, it also helps prevent swollen ankles and feet.
"I'd recommend a Hydro Flask so you can avoid paying the pricey fees for water at the airport and refill anywhere once you get through security," says flight attendant Jennifer Nors. Hydro Flask also happens to be a favorite water bottle of Strategist managing editor Maxine Builder, who says that it "really is as nice a water bottle as everyone says it is."
Using a refillable water bottle is also the eco-conscious way to travel, and travel blogger Jessica Ufuoma likes this one. "It eliminates the temptation to indulge in single-use plastics (which are even more convenient while on the go) and allows me to be sustainable and ecofriendly while staying hydrated on my trips," she says. It can keep drinks hot or cold and comes with an infuser for tea or fruit.
Photo: Bobby Doherty/New York Magazine
When former Strategist senior writer Lauren Levy tested travel pillows, she found that this one from Trtl topped the list. "The Trtl pillow is so small that it's essentially a padded scarf, taking up the same amount of space as a couple of magazines," she wrote. "Three interconnected bands hidden inside a hypoallergenic fleece exterior hold your head almost completely upright." Ufuoma likes it too. "This pillow is not only fashionable but a great break from the old-fashioned pillows that look clunky and uncomfortable," she says.
If you're looking for a small travel gift, Nikki Helms — one of the almost 400 (and perhaps more now) flight attendants who own the jumpsuit that many consider their "unofficial uniform" — suggests Justin's peanut-butter packs. Not only are these great for some "quick protein" between actual meals, they're travel safe. "They maintain quality in any weather, so I don't have to worry about them getting too hot or cold at any time," says Helms.
On-the-ground accessories
Another thoughtful small gift, according to Helms: Tide's Travel Sink Packets. She explains that, with them, "I don't have to pack so many clothes, leaving more room in my bag for goodies I find on my trips." While laundry detergent might not seem like the most exciting gift, there's no denying that your favorite globetrotter will get a thrill out of freeing up that extra space in their suitcase.
"Since I'm usually on the road for several months at a time, I typically rent or borrow a sleeping bag so I don't have to lug one around when I'm not hiking," says Anna Mazurek, an Austin-based freelance travel photographer and writer at TravelLikeAnna.com. After enduring a freezing night on Kilimanjaro in a rented sleeping bag and dealing with a bulky one in Torres del Paine, Mazurek says she finally decided it was time to invest in her own sleeping bag for hiking trips. She purchased REI's Joule 21, which is sold out, but this model is very similar.
"I travel to some pretty scary places with awful water," says Chris Bergaust, who has spent more than a decade abroad as an expat. "Surprisingly, most water purifiers don't actually filter everything out. While taking care of bacteria and protozoa are nice, the smaller viruses will quickly ruin your dream vacation. Since this came out, I've been wanting to pick one up, but the high price tag has put me off. Would make for a really great gift (hint, hint)."
In case you're not ready to shell out a few hundred dollars on a water purifier, the LifeStraw is a solid (and much more affordable) alternative. It comes recommended by a former U.S. special forces captain, who recommends it for disaster-preparedness kits and Jeff Jenkins, founder of ChubbyDiaries.com, who likes to bring it wherever he goes. "I can drink almost any water in any city, country, or random pond in the middle of nowhere because of this thing," he says.
Alexandra Brown, the co-author of A Year Off with her husband David, told us about this collapsible infant travel bed, which was first introduced to her and her family "by friends who had been using it for both international travel and camping. This baby tent doubles as a bed and a cozy shelter for outdoor chill-time and napping. It's compact, lightweight, and incredibly versatile — and so much easier to bring with you on trips with your little one than traditional 'pack-'n'-play' travel crib options."
Packing essentials
Another gift idea for those who want a more organized suitcase comes to us from travel agent Lisa Murphy Harper, who "loves packing cubes." Her tip: If you're sharing suitcases with family members, buy separate sets of packing cubes in different colors to make it easy to know whose clothes are whose while unpacking. Cookbook author Corky Pollan is another fan of packing cubes, specifically this set from Bagail. "I pack too much, I can never organize myself, and with these, it's so easy to organize and set one size for underwear and bras, and another for tops and blouses, and the other for pants," she told us.
When we talked to cruise-line operators and wildlife photographers about the best things to bring on an Alaskan cruise, they recommended plenty of weather-safe gear that would also be useful for travelers going to less icy climates. Take these all purpose dry sacks, for instance, which travel writer Susan Portnoy, a.k.a. the Insatiable Traveler, suggests for carrying camera lenses while traveling. The sacks are watertight, so we think they'd also make some punchy carrying cases for any larger toiletries you're stowing in your bag.
Another carrying-case option: this one from Beis, which is a favorite of freelance writer and editor Kristin Corpuz. "I love that it's double-sided, so I can separate out my products as needed; and though it's quite small and can easily slide into a backpack or other carry-on, it actually fits a ton." It also has a mirror, which she notes, is a big bonus.
If you're actually looking for something to turn your Costco-size products into travel-friendly versions, you'll need these. "We all know the struggle of packing our skin care and toiletries with us while traveling," Ufuoma says. "This is why I love these Matador toiletry bottles." You can fill these TSA-approved pouches with your favorite shampoo or face wash so you don't have to go without it on your trip. They hold three ounces, so they work for carry-on travel as well. Ufuoma adds that "their sleek and minimalist designs make for the perfect gift for stylish and savvy travelers."
Toiletries and beauty