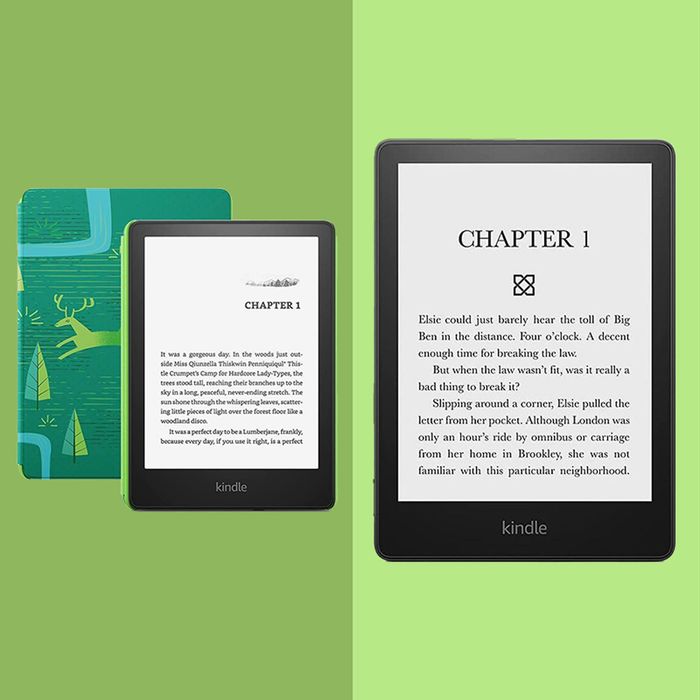 I picked up my first Kindle in college, about ten years ago, and it was the first device that helped me actually finish books. With it, I could carry hundreds of ebooks in my bag while hardly adding any weight, and I could access them all on the go without having to pick one on my way out the door. Beyond that, it made remembering what I read easier, as I could highlight the text inside any ebook — no marking up paper necessary — and it would automatically get saved in a text file I could access from a computer later on. Those two features alone have made the Kindle indispensable in my life, but it's only gotten better with every iteration.
Now, there's more than just one Kindle to choose from, and picking one isn't as easy as figuring out which one holds the most books or has the longest battery life (they can all store thousands of books, and all last weeks on a single charge). Over the last seven years, I've bought, gifted, or tested nearly every Kindle that's come out — both in my personal life and in my career as a tech writer — and found what makes each one worth buying (or passing up). No matter which Kindle you get, it's probably worth spending an extra $20 to remove the special offers (read: ads) that show up on your lock screen. That purchase replaces those ads with the cover of whatever book you're reading, which is significantly nicer to look at (and who needs another ad vying for their attention when you're trying to read?).
A Kindle for everyone
This is the gold standard for e-readers, and it's the one I carry with me most often. Its 6.8-inch display is lit from the sides, like the rest of the Kindle lineup, rather than being backlit like a smartphone or laptop's screen, which can cause more eye strain, and you can adjust the light levels to give the screen a warmer tone for nighttime reading.
The newest Paperwhite's screen is slightly larger than those of previous models, which makes it less portable if you like to travel with a small bag or fanny pack, but it makes reading text easier, and it's still small enough to toss in a tote or backpack. At just under $150, it's pretty pricey for an e-reader, but it gives you a best-in-class reading experience. Like most modern Kindles (aside from the Oasis), the Paperwhite has a USB-C port, so it'll be compatible with the same cables as your iPad or Android phone. It's also waterproof, which makes it easy for me to confidently drop into my bag even on a rainy day. The base model comes with 8 GB of storage (enough to hold about 5,000 ebooks), which is plenty for most people, but if you need more, the Signature Edition comes with a whopping 32 GB, plus support for wireless charging and auto-adjusting brightness.
The biggest caveat is that the larger screen on the latest Paperwhite makes it harder to operate one-handed, even if you have fairly large hands. I often find myself having to readjust my grip to turn the page if I'm reading while sipping a cup of coffee or reading in bed.
A Kindle for on-the-go readers
If you want to save a decent amount of cash, or you prefer a reader with a smaller footprint, the latest base-model Kindle is a great option that doesn't sacrifice much, and it's my favorite to travel with. Its six-inch display is significantly smaller than the one on the Paperwhite, which makes it much easier to stuff into a small bag, or even the front pocket of my most-used backpack. Unlike the Paperwhite, whose base model comes with 8 GB, this Kindle only comes in a 16-GB model, which should be plenty for even the more acquisitive digital hoarders.
As mentioned, that portability does come with some sacrifices, though: This Kindle doesn't have the ability to adjust the color of the screen's light, and it's not waterproof. If you've never used a Kindle Oasis or the most recent Paperwhite, or if you do much of your reading during the day, you probably won't miss the adjustable lighting, and you'll be happy you don't have to grab a different bag every time you want to bring your latest page-turner along with you.
A Kindle for note-takers
Most Kindles are great for reading, but none have excelled at note-taking — until now. The new Kindle Scribe blows up the screen size to 10.2 inches and adds support for a stylus for the first time. With any e-book of a supported file format (books bought through Amazon plus EPUB and PDF files will work just fine), you can drop a sticky note with handwritten text right over any paragraph or sentence. I'm an incredibly forgetful reader, so I've been using this feature to note why I highlighted a particular bit of text, which helps me remember its significance later.
The Scribe has four little rubber feet on the back corners of the device, so it'll stay in place as you scribble notes in your textbook of choice, and there's even a new notebook feature with predesigned templates that lets you organize your thoughts in dedicated notebooks. I haven't found myself using the writing function much (I can't get rid of my beloved notebook, a Strategist recommendation from several years ago), but I'm impressed with how well it works and how many templates Amazon has included. If you're a student looking for a paperlike solution for taking notes without having to lug around a bag of spiral-bound books, the Scribe is an impressive first shot at being a hub for note-taking.
Note that the handwritten notes you take on the Scribe won't be accessible from non-Scribe Kindles, as the other models don't support sticky notes at all.
A Kindle for button mashers
While it hasn't been updated since 2019, Amazon's Kindle Oasis is a worthwhile purchase if you absolutely must have dedicated page-turn buttons, as no other Kindle currently has that feature.
Outside of that, all the best features of the Oasis have made their way to the Kindle Paperwhite, which you can get for a significantly lower price. The Paperwhite has the Oasis's color-adjustable light, waterproof design, and smaller bezels for a better overall look. You'll lose out on the grip built into the back of the Oasis, but without a case, the Oasis is pretty slippery and tough to use anyways, and the Paperwhite's plastic back is easier to hang on to.
A kid-friendly Kindle
In addition to the regular Kindle Paperwhite models, Amazon also offers it in a kid-friendly model that comes without ads, includes a free case, and has parental controls you can disable at any time. If you're going to skip the case, it's best to just grab the regular Paperwhite and avoid having to disable parental controls, but if you plan on grabbing a case anyways, the included one with the Kids edition should suffice, and it'll save you a few bucks.
The Strategist is designed to surface the most useful, expert recommendations for things to buy across the vast e-commerce landscape. Some of our latest conquests include the best acne treatments, rolling luggage, pillows for side sleepers, natural anxiety remedies, and bath towels. We update links when possible, but note that deals can expire and all prices are subject to change.