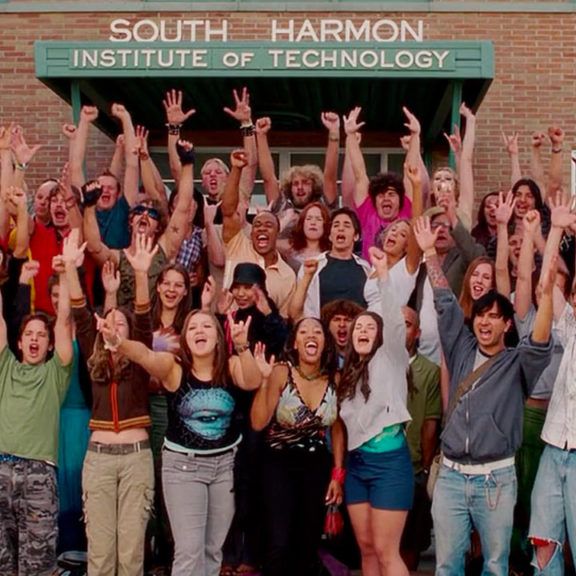 Photo: Universal Pictures
After a year of Zoom school, the college student in your life is probably pretty excited to get out of the house and back on campus. In terms of gifts they'd appreciate, there's a good chance they will be more than grateful just to get a ride back to school. If you want to go the extra mile, however, you can send them off with something extra-special. This year, freshmen and sophomores are in the same boat: Both haven't been to campus yet, so stocking them up with cool dorm décor or practical back-to-school gear might be the way to go. With upperclassmen who already have the essentials, you can get a little more creative. Most college students right now are Gen-Zers — who are known to be more technologically adept and politically progressive than previous generations — so the gifts they'll actually want are likely to be ethically minded and tech-savvy.
To help you find a gift they'll love, we talked to actual college students and recent grads about what's topping their wish lists — including the gear and gadgets they use every day, adultish items that would make their lives a bit easier, and art that's locally made (but sold on Instagram). Here are nearly 40 of the best gifts for the college-aged person on your list, whether it's their first year or their last.
Best tech gifts for college students
If Mom and Dad are feeling generous, a brand-new laptop is likely at the top of their kid's list. This is one of the best options out there for students, thanks to its balance of price and capabilities. Although it doesn't have "all the bells and whistles," it's a very functional computer, Charlie Regan, the CEO of Nerds on Site, told us. "It's a remarkable bargain, and we haven't experienced much in the way of breakdown." At only 2.3 pounds, it's also super-lightweight, so it won't be a problem for them to haul it around from class to class.
If they already have a laptop, a tablet might be a nice complement. For many students, it can even be a replacement. When we asked RAs about dorm-room essentials, they told us iPads are quickly becoming more common in college classrooms. "More and more people now take notes on their laptops or on their iPads with the Apple Pencil," says Sarah Rebarber, a Columbia University RA.
Of the eight students who recommended headphones, five called out AirPods as the ones they have or the ones they want. Ashley Lee, who attended Brown University, says wireless is "useful when working out or doing busy work and chores, because you don't have a cord connecting the headphones to your phone so you can move about more easily." Kira Sommer, a graduate of George Washington University who we spoke to for an article about dorm-room essentials, says, "Please, please, please invest in a good pair of headphones," explaining that students blasting music or video games in shared spaces can cause a big problem. But there's no need to invest too much. Carl Escoffier, a graduate of Leeds University and a new student at Goldsmiths, says "no student wants or needs $500 Beats by Dre to truly enjoy music." What college students want "is to be able to play music from their phone without any faff or cables," he says. "AirPods solve that problem, without being ostentatious or overly pricey." When we spoke to Kim Tang, who worked as an RA at The College of New Jersey, and Sarah Rebarber, who attended Columbia University, for our story on what to pack for college, they both told us that AirPods are the wireless headphones they see most at school. And Pia Mileaf-Patel, another Brown student, says she really wants a pair but would never buy them for herself, which is why she says "they make a great gift."
Four of the students we consulted recommended this affordable and portable Bluetooth speaker. Maxx Grossman, who attended Tufts University, calls it "quality but portable." He says that having a portable speaker is nice because "I often find myself wanting to play music for a party or while hanging out with friends." Both Mileaf-Patel and Escoffier agree that the Flip 4, which is also waterproof, making it able to withstand accidents and spills, would make a great gift. Christel Langué, a graduate of Lehigh University, told us that she can't imagine life without a bluetooth speaker. "They come in handy all the time," she says.
Best low-tech gift for college students
For something more analog, Sam Weinberg, a student who is taking time off from school to do political work — like founding the social media–slash– digital organizing platform Settle for Biden — would appreciate some letter-writing material. "I'm a big fan of sending people handwritten cards, and an ecofriendly way to go about that is to use fountain pens instead of disposable plastic pens," he says, explaining that the pens from Cross are long-lasting (the brand was founded in 1846) and use refillable ink cartridges. Plus, in order to support the USPS amid Donald Trump's ongoing funding blocks, Weinberg recommends gifting stamps — he recently purchased 600, but this sheet of 20 stamps that honors renowned journalist Gwen Ifill is a good starting point.
Best gift that does good for college students
In addition to gifting items that give back to a worthy organization, five of the students whom we spoke to say they'd appreciate a donation in their name. Emily Adler, a rising freshman at Williams College who is also taking a year off to do political work, admits that while the AirPods she received upon graduating high school are a "super helpful" gift, this holiday season she'd rather receive a donation to an organization she's passionate about — including a racial-justice organization like SisterSong, which is focused on reproductive justice for indigenous women and women of color, or a progressive political campaign. "Putting your money where your mouth is seems particularly important now, and even once this election cycle is done there will be more work to do," she says, adding that a donation is a good gift request from someone with more spending power than your average college student. Aditya Bhalla, a rising sophomore at Pomona College who is also working for Settle for Biden, adds that right now donations are also a good way to raise money for "smaller organizations that might not be listed on a Facebook fundraiser, like a mutual-aid fund."
Best bags to give a college student
With students headed back to campus this year, they'll have to actually carry around their books to different classes. This is one of the most popular backpacks on college campuses. It's the perfect size for toting to class, the dining hall, or the library. Barnard graduate Alice Min says it's "smaller but cuter" than the backpack she had in high school, and she still uses it today.
If they've got an internship this semester, the attractive and office-ready Madewell Transport Tote is a favorite among professionals and recent graduates. It's something students will be able to take with them well beyond college. You can even get it personalized with their initials or maybe projected graduation year for a nice touch.
Best beauty gift for college students
Although Glossier's pink bubble packaging is somewhat of a status symbol among young people (and a certain subset of dewy skin-fluencers), Strategist intern and Bowdoin graduate Aisha Rickford says Fenty Beauty carries a bit more clout among her college friends. Though she's not that into makeup, Rickford did "grow up with Rhianna being a very cool Black woman singer," and after buying a pack of Fenty lip glosses with some friends, she found that "her colors are actually really flattering on darker skin tones." Our resident beauty expert, Strategist writer Rio Viera-Newton, agrees that Fenty glosses are particularly flattering, especially this "glowy, sun-kissed" tone.
Best Black-owned business gift for college students
Instead of purchasing a gift from a big corporation, a couple of students say they'd prefer a gift from a Black-owned business. "I think there are a lot of brands more recently that have been capitalizing on an impressive racial-justice statement, when at the end of the day it's not even clear what their labor practices are," explains Adler, who would like mascara from a Black-owned business. We've compiled a (growing) list of 180 Black-owned businesses, ranging from fitness brands to bookstores, and everything in between. If, like Adler, the college student on your list wants mascara, we like this Luv + Co product from Dr. Melodie Ray Davis-Bundrage's beauty brand, which has many natural and cruelty-free products.
Best status water bottles to give to college students