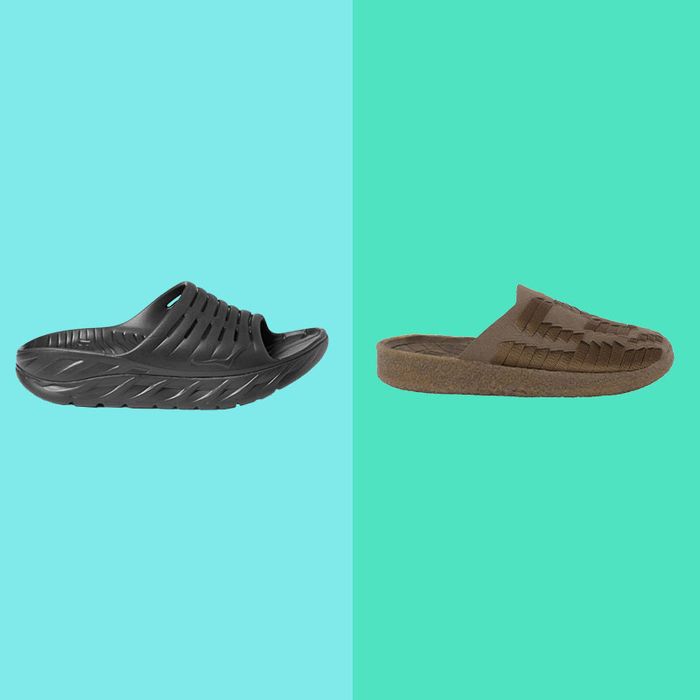 Photo-Illustration: 20th Television
Slippers are somewhat hard to define. They range from cozy shoes you wear to warm your feet at home to slides you throw on while running errands. Because there are so many choices for nearly any occasion, it can be hard to narrow down what exactly you want. So we spoke to stylish men — from designers to stylists to our own writers — and dug through our vast archive of cozy shoe content to find the best pairs out there. Use the links, below, to jump right to the type of slippers you're looking for, or read on to learn more about the criteria we considered as we put together this list.
Best overall | Best less expensive | Best waffle-knit | Best suede | Best waterproof | Best for travel | Best slipper socks | Best wool | Best boot slippers | Best insulated | Best hand-knit | Best luxury | Best less expensive luxury
What we're looking for
Size ranges: We tried our best to include slippers in a range of sizes. Because they don't typically come in standard shoe sizing, we noted all sizing details below, including if they come in unisex, half sizes, or come in wide or narrow options.
Outsole material: When we spoke to podiatrist Dr. Asim Sayed for our story on the best women's slippers, he said shoppers should prioritize support and protection when looking for slippers. He recommends a rubber outsole for extra protection, stability, and control compared to other softer materials, which are "pretty much like big socks." If you plan on wearing slippers outside (even to grab the mail), or if you have neuropathy, a hard protective sole is especially important. "People with neuropathy don't feel a lot of things that someone who doesn't have neuropathy feels," Sayed says. "They could have a Lego in their slipper all day long and they wouldn't even know, which leads to wounds, and that can lead to amputations or worse."
Upper and lining material: This mostly boils down to personal preference, so we included a range of options. There are waterproof slides made with a lightweight material and shearling-lined cold-weather slippers. Sayed did note that anyone who has a bunion should look for slippers with a forgiving lining material (like a breathable mesh) rather than an irritating fabric (like leather).
Design features: As we mentioned, slippers refer to a broad range of footwear — from open-toe sandals to high-ankle booties. This also comes down to preference, so we've noted design features, like whether they have straps, an open back, or an open or closed toe. If you or the person you're shopping for has any Achilles-tendon pain or a Haglund's deformity (an enlargement of the bony section of the heel), Sayed says it's best to stick with an open-back shoe.
Price: Slipper prices are broad, ranging from $20 to a couple hundred dollars, depending on their durability and materials they're made of. We included affordable options as well as worth-it slippers. Every pair is denoted as either $ (under $100), $$ (under $150), or $$$ (over $150).
Best overall men's slippers
Sizes 7 to 14 | Rubber outsole | EVA | Open-toe | $
These Hoka Recovery slides get praise from plenty of cool men, who wear them for everything from lounging around the house to running errands. Timothy Grindle, co-founder of Canoe Club, and Copper Terrones, a sales manager at Canoe Club, both told us they're the most comfortable shoes they've owned, when we sought out stylish slides. Grindle, who just got them to walk his dog at first, calls himself a "full-on believer." He likes that they're "substantial enough to run errands in and are truly like walking on clouds." They're also former Strategist contributor Chris Black's go-to summer house shoe because of the "breathable design." The midsole "keeps the legs and feet loose and relaxed," he notes, making them "great for post-workouts or just shuffling around the house."
Best less expensive men's slippers
Sizes M to XL (Unisex) | Plastic outsole | Cotton blend | Closed-toe with open back | $
Adam Klein, a co-creator of footwear brand Season Three, recommends these affordable slippers from Uniqlo that you could easily stock up on for yourself and houseguests. They're "easy to throw in the washing machine" so they don't "smell after a few wears." Additionally, Klein likes that they're "very comfortable and simple enough to be stylish." They come in four colorways — gray, orange, beige, and navy — with a heathered pattern.
Best waffle-knit men's slippers
Sizes small and large | Plastic outsole | Cotton waffle weave | Closed-toe with open back | $
Homeware brand Hawkins New York makes some of our favorite substantial quilts, stylish cloth napkins, and colorful linen sheets. So we weren't all that surprised that it makes exceptional slippers too. Alex Crane, founder and designer of his eponymous clothing line, tipped us off on the pair. "The waffle slippers are like wearing glorious, springy clouds on your feet," he says, adding that the grippy outsoles actually do what they're supposed to do. He notes that they are machine washable and "come out looking brand-new" after each wash. They're available in a wide range of colorways, including the pictured mustard pair, but only come in small and large sizes.
Best suede men's slippers
Sizes 6 to 17 (regular and narrow widths) | EVA outsole | Suede | Open-toe with two straps | $$
Birkenstock is a go-to cozy shoe brand for countless cool people, including stylist Bryant Simmons, whose favorite is the Arizona suede sandals. After three years of wear, the "suede over time has gotten softer and softer" and they've held up well. ("They aren't soggy or gross yet!" he says.) His preferred colorway is taupe because it looks best with his skin tone and wool or cashmere socks in the winter, but the sandals also come in black.
Best waterproof slippers
Sizes 8 to 13 | EVA outsole | EVA | Open-toe with two straps | $
Here is the waterproof, easy-to-clean version of the above slippers. They're Black's "flip-flop alternative" because they provide "more comfort than a classic espadrille or a pair of simple Havaianas." Octavio Platon Akel, an illustrator and creator of the stylish footwear Instagram page Monsieur Saturday, likes them for their practicality and wears his pair "to do everything around the house."
Best slippers for travel
Sizes 4 to 14 | Rubber outsole | EVA | Open-toe | $
When we spoke to well-seasoned travelers about the best travel shoes, Adidas's classic slides were brought up. Brian Kelly, the founder of travel website The Points Guy, likes them for long-haul flights because they're easy to slip on when he needs to run to the bathroom mid-flight. And, importantly, they're "ultra-comfortable and my ultimate lounging shoes when hanging at a resort or going to the beach."
Best slipper socks
Sizes M to XL | Acrylic, nylon, and wool outer | Rayon blend lining | Closed-toe | $
Last December, Strategist associate editor Louis Cheslaw was gifted these "incredibly warm" hybrid sock slippers from Bombas. He loved them so much that he bought three more pairs to give to others. Because of their construction, they "pack down flat for travel" and are machine washable. What's better is that the "rubber dots on the soles keep you from slipping as you run up and down stairs and from room to room," Cheslaw says.
Best wool slippers
Sizes 6–17.5 | Latex outsole | Wool with shearling lining | Closed-toe with open back | $
Another option from Birkenstock actually comes from our article about the best slippers for women, but the brand makes them in men's sizes too. "I think I finally found my forever pair," kitchen and dining writer Emma Wartzman said after landing on the slippers at the end of last year. Not only are they "super-warm and super-cozy" but they also "provide the classic support I know and love, meaning my feet feel good even after I've been standing in the kitchen cooking for a few hours." Since purchasing them, she has thrown them in the wash once (noting she's not sure if that's recommended), and they've held up well.
Best boot slippers
Sizes 7 to 13 | Rubber outsole | Sheepskin | Closed-toe | $
Sheepskin slippers are an excellent choice for chillier days. Former Strategist writer David Notis swears by these booties from the Maine-based brand Acorn, which he has been buying repeatedly for more than 15 years. Made with a memory foam cushioning, they're more "comfortable and supportive" than other sheepskin slippers, and they "aren't skimpy with the lining." Plus they have an adjustable shearling collar "for when it's really cold."
Best insulated slippers
Sizes XS to XL (Unisex) | Rubber outsole | Teflon coated nylon upper with faux fur lining | Closed-toe with open back | $
For another pair of cold-weather slippers, consider these insulated ones from the Japanese brand Subu. They were first put on our radar when Strategist contributor and comfy shoe aficionada Lauren Adams wrote about them. They "function as effortlessly as a sandal while providing comfort (and warmth) in cooler weather," she noted. Former senior editor Anthony Rotunno was gifted these insulated slippers back in 2020 and also counts himself a fan."The unisex slippers are as cozy and comfy as contributor Lauren Adams says, and I've worn them inside and out," he writes.
Best hand-knit slippers
Sizes S to XL | Leather outsole | Wool uppers, sheepskin lining | Close toe | $$
When we spoke to author Kevin Kwan about the things he can't live without, he told us these hand-knit slippers keep his feet warm through winter in his cold New York prewar apartment. Because of the leather soles, he's able to wear them both indoors and out. His secret for keeping them like new over six years of use? Throwing them in the wash every year: "It tightens the knit and cleans the skin, and they look brand-new again," he says.
Best luxury men's slippers
Sizes 4 to 16 | EVA outsole | Nylon upper | Open toe with velcro straps | $$$
Photographer Malcolm McNeil's preferred slippers are from Japanese brand Suicoke. The Moto Cab was an "easy choice" for McNeil because they're versatile and fashionable. Acknowledging the high price, he "can't skimp on good drip" and says they're "easy to style for casual outfits, comfortable for a calm stroll, and easy enough to throw on for the beach or airport." He prefers them in black, but they also come in a wide range of colors.
Best less expensive luxury men's slippers
Sizes 7 to 13 | Rubber outsole | Microfiber and hemp upper | Closed-toe with open back | $$
Another stylish pair that won't set you back as much also comes recommended by Black as a "suitable Birkenstock Boston replacement." He adds, "A handwoven clog with a murdered-out gum sole, this pair can be dressed up easily but is just as suited for bumming around the house when temps rise." The black pair he suggested are currently out of stock, but we found them in this just-as-neutral olive color and a tan-and-beige combo for a bit more flair.
Some more men's slippers we've written about
Our experts
Alex Crane, founder and designer of Alex Crane
Adam Klein, co-creator of footwear brand Season Three
Timothy Grindle, co-founder of Canoe Club
Copper Terrones, sales manager at Canoe Club
Chris Black, former Strategist contributor
Bryant Simmons, stylist
Octavio Platon Akel, illustrator and creator of Monsieur Saturday
Brian Kelly, founder of The Points Guy
Louis Cheslaw, Strategist associate editor
David Notis, former Strategist writer
Anthony Rotunno, former Strategist senior editor
Lauren Adams, Strategist contributor
Kevin Kwan, author
Malcolm McNeil, photographer
The Strategist is designed to surface the most useful, expert recommendations for things to buy across the vast e-commerce landscape. Some of our latest conquests include the best men's wardrobe basics, white T-shirts for men, jeans for men, white sneakers for men, Chelsea boots, and flattering clothes for men. We update links when possible, but note that deals can expire and all prices are subject to change.
Every editorial product is independently selected. If you buy something through our links, New York may earn an affiliate commission.