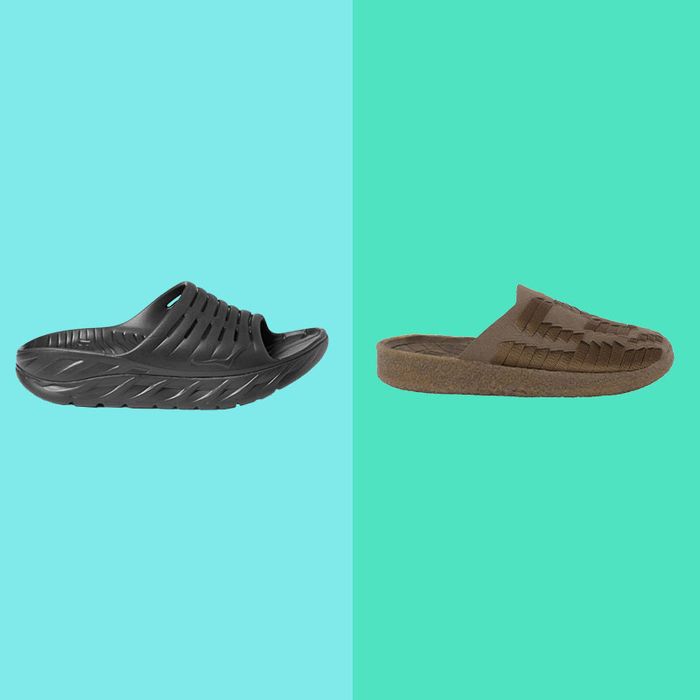 Photo-Illustration: 20th Television
Slippers make up a broad category of footwear that's somewhat hard to define. They range from cozy shoes you wear to warm your feet at home to slides you throw on while running errands. Because there are so many choices for nearly any occasion, it can be hard to narrow down what exactly you want. So we spoke to stylish men — from designers to stylists to our own writers — and dug through our vast archive of cozy shoe content to find the best pairs out there. Use the links, below, to jump right to the type of slippers you're looking for, or read on to learn more about the criteria we considered as we put together this list.
Best overall | Best less expensive | Best waffle-knit | Best suede | Best waterproof | Best for travel | Best slipper socks | Best boot slippers | Best insulated | Best hand-knit | Best luxury | Best less expensive luxury
What we're looking for
Size ranges: We tried our best to include slippers in a range of sizes. Because they don't typically come in standard shoe sizing, we noted all sizing details, below, including if they come in unisex, half sizes, or wide or narrow options.
Material: Depending on where and when you wear your slippers, you'll want to take what they're made of into consideration. To help in your search, we listed the outer and lining materials of each. We included both breathable and more insulated slippers for year-round options.
Design features: As we mentioned, slippers refer to a broad range of footwear — from open-toe sandals to high-ankle booties. This also comes down to preference, so we've noted design features like whether they have straps, an open back, or an open or closed toe.
Price: Slipper prices are broad, ranging from $20 to a couple hundred dollars, depending on their durability and materials they're made of. We included affordable options as well as worth-it slippers. Every pair is denoted as either $ (under $100), $$ (under $150), or $$$ (over $150).
Best overall men's slippers
Sizes 7–14 | EVA | Open toe | $
These Hoka Recovery slides get praise from plenty of cool men, who wear them for everything from lounging around the house to running errands. Timothy Grindle, co-founder of Canoe Club, and Copper Terrones, a sales manager at Canoe Club, both told us they're the most comfortable shoes they've owned, when we sought out stylish slides. Grindle, who just got them to walk his dog at first, calls himself a "full-on believer." He likes that they're "substantial enough to run errands in and are truly like walking on clouds." They're also former Strategist contributor Chris Black's go-to summer house shoe because of the "breathable design." The midsole "keeps the legs and feet loose and relaxed," he notes, making them "great for post-workouts or just shuffling around the house."
Best less expensive men's slippers
Sizes M–XL (unisex) | French terry | Closed toe with open back | $
Adam Klein, a co-creator of footwear brand Season Three, recommends these affordable slippers from Uniqlo that you could easily stock up on for yourself and houseguests. They're "easy to throw in the washing machine" so they don't "smell after a few wears." Additionally, Klein likes that they're "very comfortable and simple enough to be stylish." They come in four colorways — gray, orange, beige, and navy — with a heathered pattern.
Best waffle-knit men's slippers
Sizes small and large | 100% cotton-waffle weave, grippy non-slip outsole | Closed toe with open back | $
Homeware brand Hawkins New York makes some of our favorite substantial quilts, stylish cloth napkins, and colorful linen sheets. So we weren't all that surprised that it makes exceptional slippers too. Alex Crane, founder and designer of his eponymous clothing line, tipped us off on the pair. "The waffle slippers are like wearing glorious, springy clouds on your feet," he says, adding that the grippy outsoles actually do what they're supposed to do. He notes that they are machine washable and "come out looking brand-new" after each wash. They're available in a wide range of colorways, including the pictured mustard pair, but only come in small and large sizes.
Best suede men's slippers