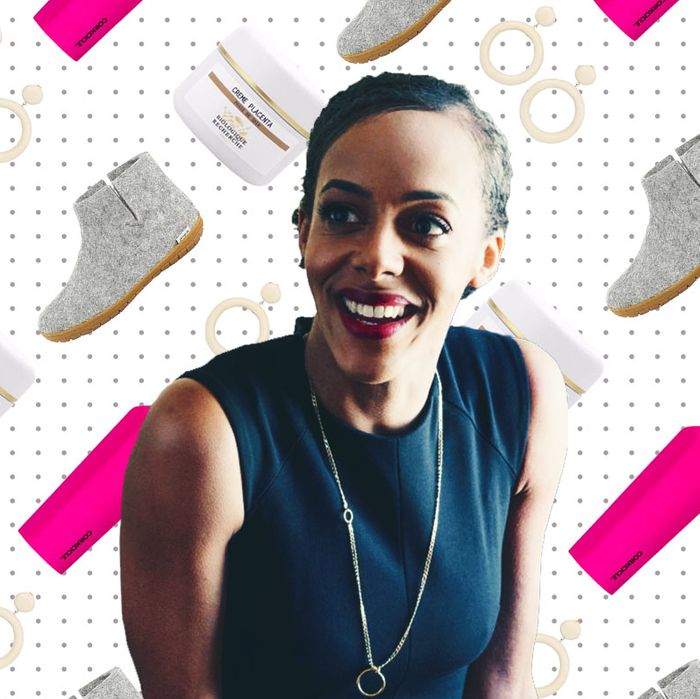 Photo: Courtesy of the subject
If you're like us, you've probably wondered what famous people add to their carts. Not the JAR brooch and Louis XV chair, but the hand sanitizer and the electric toothbrush. We asked Lisa Lucas — the executive director of the National Book Foundation, which announces its 2019 National Book Award winner tonight — about the bookcases, slippers, and subscription bean club she can't live without.
These German boiled-wool high-top slippers are the most comfortable things. They have tread on the bottom, and because I am a grubby person, I regularly wear them outside of my home, like to the bodega — which is disgraceful, but also one of my great joys. I'm basically in for any ugly-but-comfortable shoe trend, and I'm happy to stay with that ugly-but-comfortable shoe trend well beyond the moment where it's acceptable, or cute, or ironic. I'm still down with Uggs, but only the thin ones that zip up on the sides. I'm still down with Crocs — and particularly proud of my fur-lined blue Crocs, which I will also wear out into the world shamelessly. The Glerups are mildly attractive if a little slipper-looking, and the thing about boiled wool is that it keeps your feet really warm. I do a lot of reading at home, and curling up in a chair and having warm feet and a blanket and a good book is really important. I'm constantly trying to life-hack the best way to be the most comfortable while sitting and reading a book.
Catbird makes these beautiful little bracelets that I wear every day. I have three, and all mark special occasions in my life — sometimes sad moments, or moments of growth, or when I got a job, or if there was an achievement, or a loss, or something I got through. I love them and wear them every single day, and haven't taken them off since I put them on my arm. I give them to friends because I think they're pretty and very subtle. I think when all is said and done, most of the people that I love will end up in possession of one of these little bracelets.