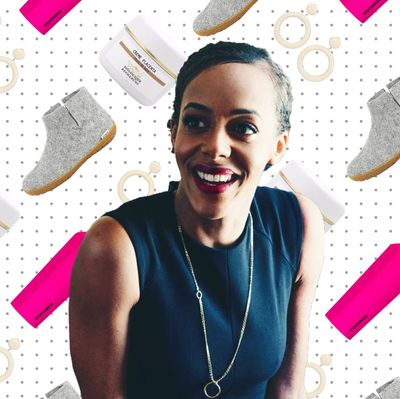 Photo: Courtesy of the subject
If you're like us, you've probably wondered what famous people add to their carts. Not the JAR brooch and Louis XV chair, but the hand sanitizer and the electric toothbrush. We asked Lisa Lucas — the executive director of the National Book Foundation, which announces its 2019 National Book Award winner tonight — about the bookcases, slippers, and subscription bean club she can't live without.
These German boiled-wool high-top slippers are the most comfortable things. They have tread on the bottom, and because I am a grubby person, I regularly wear them outside of my home, like to the bodega — which is disgraceful, but also one of my great joys. I'm basically in for any ugly-but-comfortable shoe trend, and I'm happy to stay with that ugly-but-comfortable shoe trend well beyond the moment where it's acceptable, or cute, or ironic. I'm still down with Uggs, but only the thin ones that zip up on the sides. I'm still down with Crocs — and particularly proud of my fur-lined blue Crocs, which I will also wear out into the world shamelessly. The Glerups are mildly attractive if a little slipper-looking, and the thing about boiled wool is that it keeps your feet really warm. I do a lot of reading at home, and curling up in a chair and having warm feet and a blanket and a good book is really important. I'm constantly trying to life-hack the best way to be the most comfortable while sitting and reading a book.
Catbird makes these beautiful little bracelets that I wear every day. I have three, and all mark special occasions in my life — sometimes sad moments, or moments of growth, or when I got a job, or if there was an achievement, or a loss, or something I got through. I love them and wear them every single day, and haven't taken them off since I put them on my arm. I give them to friends because I think they're pretty and very subtle. I think when all is said and done, most of the people that I love will end up in possession of one of these little bracelets.
I'm on email and my phone all the time, but I edit by hand and I read on paper if it's a longer document. I use notebooks every single day and I feel devoted to the Apica one — I like the paper. I think they're pretty. I take all of my notes in a notebook, so I use these pens. They're nice, but they're also cheap. I lose pens a lot, so it doesn't make sense to have a fancy pen. And it doesn't make sense to have a fancy notebook, because i just trash them. These are both at pretty good price points.
Photo: Courtesy of the retailer
These are the sneakers that I'm most excited about now — I'm really excited to feel like it's 1985 again with the Velcro. A fresh pair of white kicks is one of the things that makes me the most happy in the world, and these are the ones that are making me the happiest at this exact moment in time.
Photo: Retailer
Clip-ons, if you want new ones, are a real journey. I can't wear regular earrings because I stretched my piercing when I was young and you have to have plastic surgery to fix it. So I'm always looking for cool clip-ons that sort of mimic real jewelry. I was in Australia when I found Dinosaur Designs, which does these really cool clip-ons, and then I figured out that there's also a store here in New York. Only a few people make clip-ons — most of my earrings are vintage, some come from family members, or whatever thrift store. Rachel Comey sometimes makes them. There's no middle, unfortunately — it's not like you can go into J.Crew and find a clip-on.
I'm chronically under-hydrated and I'm trying to do better and I'm hoping that hot pink will save me.
Bookshelves are expensive but these things are cheap and cheerful. They look good in everybody's house, and nobody even cares that they're Ikea. Books on a shelf are a beautiful thing. I am not in the custom-bookshelf game at this particular juncture in my life, so I'm just down with the Billy Bookcase. It has done me right from college to present; the style has just been a mainstay in my life. There will be a moment — knock on wood — when I live in a different place and can build some extremely satisfying castle for all of the many, many books that live in my home — but right now they're happy in their Ikea Billy housing.
For being a book person, I would not say that grammar is necessarily my strong suit. I feel like I'm kind of a sloppy writer because I'm often dashing off emails and dashing off tweets. I just think that the English language and grammar are so interesting, and language is so important and valuable. Dreyer's is this lighthearted, accessible way to sort of think about the way we use grammar and why. It's a resource and just a thing to read, which is the cool thing about it, that it's something you can go back to. Dreyer's English was a really happy addition to books that I'm glad to invite into my forever life.
I'm a little obsessive about beauty products, and I feel like the Tula Purifying Face Wash is the perfect cleanser. I use it in the morning and at night. It doesn't dry you out. It's probiotic, which, I don't know if that means anything, but I hope it does and it's done me right for the obsessive period during which I've been devoted to it.
So the deal on this stuff is that it looks like a brown gelatinous mess and it smells like Alpo and it makes your face magic. It's disgusting. A friend of mine was using it, and I was like, How horrible. But you know how sometimes you're like, This is so gross, I want to try it? It was so gross, I tried it — and then I woke up in the morning and was like, I'm good. Unfortunately, I do believe that some kind of animal's placenta does have something to do with the production of the brown Alpo-smelling face cream. And I don't know what this says about me or society at large — all I know is that this stuff is the best, and everybody I've convinced to join me in the horror show has been delighted.
Photo: Retailer
Tanwi Nandini Islam is a novelist, but also has this company called Hi Wildflower that makes perfume and lipstick and nail polish. She's a woman of color and is very thoughtful about cosmetics for women of color. The thing that I love the most that she makes is this dank, sort of sandalwoody, very dramatic perfume. I wear it a lot; I'm not shy about perfume. My grandmother loved perfume. I grew up thinking perfume was the bee's knees. As a near 40-year-old, I think the best compliment in the world is, "You smell good." I'm just insecure enough to constantly be chasing that same compliment for the rest of my life.
There was this moment where I worked briefly at a comic-book shop called Desert Island in Williamsburg, which is where I live and have lived for a long time. It's such a gorgeous store. I was a late adopter to comics, but once I discovered comics and graphic novels it was something that was really, really exciting to me — and Desert Island introduced me to some of the most beautiful illustrators and writers. Gabe, the store owner, did a limited-edition print of some of Adrian Tomine's work, and I fell absolutely, stone-cold in love with this image of a woman in New York on a hot day, presumably lying in front of an air conditioner trying to get cool. It just felt like such a perfect image of New York, and it symbolizes a time in my life and an artist that I adore. Now, it's this thing that I've had for a decade and kind of ignore half the time, but when you stop to look at it, you're like, That is perfect. It's one of the things that, in a fire, I would probably pull off of the wall and take with me, no matter how cumbersome and expensive that may be.
Photo: Retailer
It's this funny weird thing. Four times a year, you get a box of beans — which sounds really stupid, and my house is 100 percent overrun with beans because there's a limit to how many beans you can make, even if you love them. But they're this company out of California that has really fresh good beans, and is also doing a lot of great work to bring back heirloom beans that have fallen out of favor and to really do some interesting work on behalf of food in general. There are a bunch of book people in the Bean Club — a friend of mine, Caroline Casey, who works in books and a bunch of other book lovers on the book-ternet are obsessed. There was actually a New Yorker piece about Rancho Gordo Bean Club, recently. The Bean Club also sends you a special treat, like popping corn or cumin, and it just kind of reminds you to cook. My life is so busy that having this sort of relentless food product that you don't want to waste reminds you to give people sweet, thoughtful gifts — a thing of beans doesn't seem like a nice gift, but people are always happy to get them and it's always fun to see the random things they make with them. I might have stopped cooking had it not been for the Instant Pot and the Rancho Gordo Bean Club.
Right after my father passed away, I needed something to do with myself, and yoga really helped. It intersected with a moment in my life when I traveled quite a lot, and so it was also something I could do while I was away, which felt like a routine. I did not foresee getting obsessed with a specific product in relation to an activity that I wanted to do, but I have no use for any other mat. This one is never slippy — but it's not sticky; texturally, I find it to be a little rougher than other ones, which feels satisfying. I don't know why I'm so specific about colors, but I love that it's green. I feel like my whole life is a very specific palette of largely neutrals and then outrageous colors, like a hot-pink water bottle.
There are 50 books that come to us on the longlist every year for the National Book Awards. Honestly, every book that we recognize and every author that we celebrate becomes a part of my forever consciousness. I've never read one where I'm like, I hate this book. There are ones that I've loved more than others, but they've all taught me something; they've all broadened my life. All of the books matter — longlist, finalist, winner. I haven't finished everything this year, obviously, because no human can actually do all that, but a few that are really meaningful: Jericho Brown's poetry collection called The Tradition is just an absolutely stunning book. He's such a gorgeous mature poet, just beautiful and challenging. Also, from the longlist, I was really excited about Go Ahead in the Rain: Notes to A Tribe Called Quest by Hanif Abdurraqib. It's the first time a hip-hop book has ever been on the list. Also, Susan Choi's Trust Exercise is a book that people have a reaction to, and I love those books — books that people want to have a conversation about. I think it's so nice when this private activity of reading jumps into our everyday conversations, and there are these books that you want to talk about.
The Strategist is designed to surface the most useful, expert recommendations for things to buy across the vast e-commerce landscape. Some of our latest conquests include the best acne treatments, rolling luggage, pillows for side sleepers, natural anxiety remedies, and bath towels. We update links when possible, but note that deals can expire and all prices are subject to change.