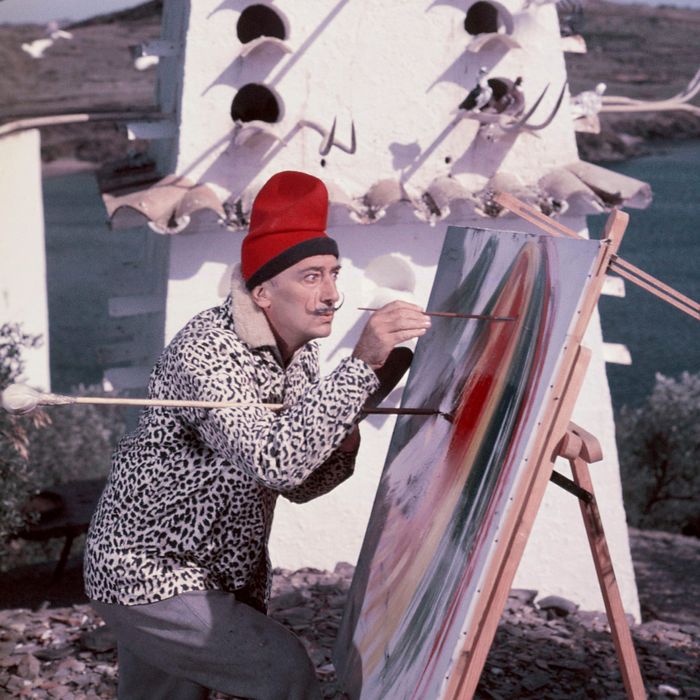 We wouldn't blame you if finding a gift for the artist in your life seems like a tall order. Artists are known for having very good and particular taste, which usually requires a bit more thought than shopping for your L.A.–based aunt who will appreciate a culty back massager or your teen brother who explicitly told you he wants AirPods. And if you want to buy an artist a gift he will actually use, you'll probably have to be pretty familiar with his practice to know what supplies to get. To help keep you from wandering the aisles of Blick deliberating between that $80 tube of Michael Harding lapis lazuli and a Kolinsky sable brush, we reached out to several artists — including painters, photographers, textile designers, and multimedia artists — about what sorts of gifts they'd like to receive. Below, their suggestions, which include something for practically every artist, whether she's hoping for supplies, an activity, shoes, or cannabis-infused snacks to "inspire" her creative process.
Art supplies
Artist Daniele Frazier recommended a gift that she received last year and loved: Teflon-coated scissors. "I love them because not only do they look really beautiful but they're extremely sharp, and the Teflon coating allows you to cut tape, even gummy tape like duct tape, without the scissors getting sticky over time," she says. "Nobody really buys herself fancy scissors, but we all know the gross feeling of a pair of scissors that has been used too often on packing tape, which is what makes these a nice gift." These scissors are made in Japan and built to last, meaning their recipient can hold on to them for a while. "I think giving someone something that will last a lifetime is not only thoughtful but responsible," says Frazier.
"As a photographer, I'm always in need of photo paper to make tests and final prints with," says Elliott Jerome Brown Jr., who names Hahnemühle FineArt Baryta as his favorite. "It comes in a variety of sizes, in both sheets and rolls," he says. If you're confused about what size paper to buy, we suggest looking at the dimensions of recipient's past work as a starting point.
"People always ask me which pens I use, [and I tell them] I've been using Krink for years," says Shantell Martin. "They're really smooth, the quality of their ink is amazing, and you can use them on anything from clothing and leather to walls for larger murals." Krink paint markers also happen to be on the desk of Sant Ambroeus creative director Alireza Niroomand, who likes them in blue and who told us that "when I want to scribble, I have one on me."
Martin also suggested a Baron Fig notebook, a style we're very familiar with after our big test of 100 notebooks. "I think Baron is doing a great job with both quality and a modern approach to the world of creative stationery," she says. "Their journals and notebooks always make me want to plan, create, and succeed." And if you need any further convincing, the Strategist also named Baron Fig notebooks as the best back in 2015, when it was a print-only operation.
"Every artist always has a piece or two that needs to be framed," says Kent Monkman, whose work for the Met was recently featured on Vulture. "Find a good local shop and get them a gift certificate for framing services they wouldn't spend themselves." You could also try ordering through Framebridge, a framing company that we tested and found to be one of the best online framing services out there.
Books
"As an artist, you spend a great deal of your day in isolation, with a lot of time to consider your own thoughts, feelings, and emotions — for me, the unholiest trinity!" says artist Janie Korn. She suggests gifting this guidebook by illustrator Jordan Sondler, which contains advice for navigating loneliness, career, and self-love. "Reading this book has helped me feel mentally healthier and better equipped to create meaningful art," says Korn. "Beyond the self-improvement part, it's a really stunning, visually compelling book that you will want to read in a sitting."
If you want to give your artist friend a gift that delves into the life of an artist of another era, Monkman recommends The Journal of Eugène Delacroix. "Delacroix's personal journal offers an amazing insight into the artist's life and is an incredible resource for any painter," Monkman told us. "In his own words, Delacroix describes his insights on techniques such as color theory and his use of both live models and daguerreotypes as references." He says the journal also offers a "juicy look" into the 19th-century painter's personal life, recounting affairs, opinions of other artists, and what life was like in the 19th-century Parisian artistic scene. "I enjoy the moments where he offers his thoughts on art, like, 'The things that are most real to me are the illusions which I create with my painting. Everything else is quicksand,'" says Monkman.
Monkman also told us about this exhibition catalogue by Sasha Suda and Kirk Nickel, which would make a great gift for Rubens fans and those interested in the Old Masters. "The catalogue contains examples of the beautiful Baroque imagery for which this master is known but is also a good resource for those wanting a more in-depth look at Rubens's practice as an artist," he says. "There are descriptions of the particulars of his studio practice, such as his workshop techniques and collaboration with other artists." Monkman notes that the catalogue also offers insights into the artist's business and shows how Ruben created a brand for himself and branched out commercially. "It's fascinating to compare Rubens's historical precedent to modern artistic practices," he adds.
"Recently I fell in love with the design of American Origami by Andres Gonzalez," says Brown. "At first, it appears to operate like a traditionally bound book, but at some point towards the middle I noticed that each of the pages folds back and out to reveal a different combination of information." Brown notes that the material used for the pages is similar to that of stationery folders and collapses into a pile the way a perforated tax document would. It's a serious gift: "The book itself is a compilation of information on various school shootings, which I learned when looking up the information for the book," Brown says. But for an artist, its appeal might lie in the construction of the book as an object: "It's a fairly thick book, so when I first picked it up, I sought to experience the design and would engage content later," he says.
Trinkets, home goods, and gadgets
"A fun stocking stuffer that I give as a gift all the time are these little nuggets made by my old studio mates Chen Chen and Kai Williams," says ceramicist Helen Levi. "Each one is completely different, and I love integrating a piece of art into the banal everyday." CCKW also makes stylish pens, bottle openers, and candleholders that would all make reasonably priced gifts for a design-minded recipient. You could try the stacked porcelain planter the pair designed that has since been licensed to and manufactured by Areaware — and named the next status planter by us.
Artist, filmmaker, and poet Himali Singh Soin told us that she regularly gives friends compasses and hourglasses as gifts. "The compass is for space, the hourglass is for time," she says. "These are the two fundamental qualities that any artist will encounter along the way." Soin loves these objects because they are "curious in their shape and form" and can be a reminder to artists that time is arbitrary. "Whole worlds may form in the span of one round of sand spilling in an hourglass — sometimes the compass can leave us asunder and in fact the spleen or the stars, our natural navigators, can point us in the right direction," she says. Soin suggests looking for these items at vintage markets (or on Etsy), but there are plenty of affordable ones online, too.
If you want to give them a gift that helps set a creative mood, Korn suggests a lovely scented candle. "Ambience is super important to a productive working environment," she says. "I'm always burning or misting something (stale air equals stale thoughts)." Korn says that lately she's been loving this candle from Burnin' for You, which is technically orange-blossom-and-jasmine-scented, but she says just smells "transportive," and adds, compellingly, "it will make you nostalgic for a sexy life you haven't yet lived."
And if you want to give a candle with a bit more drama, consider taking furniture, object, and interior designer F. Taylor Colantonio's advice. "I like to give friends an extravagant quantity of beeswax candle tapers," he says. "They can keep a house glowing with warmth for months." These tapers, which are made in Athens for the Greek Orthodox Church, are Colantonio's favorites. "They are inexpensive yet special, and above all, useful," he says. "And they give the most seductive scent of honey."
For something more interactive, Martin suggests this portable synthesizer, which will let curious artists noodle around in a new medium. "I love how the team at Teenage Engineering is creating amazing products that are super-modern but also strike some great emotional nostalgia chords," Martin says. "As an artist I love exploring other mediums that I can create my work with and venturing into music has been really fun for me, especially with my OP1."
If your artist friend is a new parent, Korn suggests one of Laura Chautin's custom mobiles. "Baby gifts are hard in general, but for friends with an eye, it can be hazardous," says Korn. "You don't want to buy them something impersonal or, God forbid, aesthetically unpleasing — Laura Chautin's mobiles are unique, playful, and beautiful pieces of art."
Amna Asghar also suggests giving an artist art in the form of something that can be worn or admired every day. Asghar told us that she's had her eye on this hand-painted silk scarf by artist Olivia Wendel. "Wendel has a series of collections — Flora and Fauna being my favorite," she says. "They are vibrant and lush, dense with imagery from edge to edge. A great gift for an artist that can be worn in multiple ways as well as hung on the wall to live with every day." Wendel also makes blankets and pillows, should your artist be more into home goods than scarves.
Fancy provisions
"Artists really need cash or art supplies, but besides that, I recommend Utopia Cannabis's macaroons," says artist and poet Samuel Jablon. The macaroons are non-GMO, vegan, paleo, and gluten-free, and according to Jablon would be a much-appreciated way to help your artist friend chill out before a show. "There's a lot of unknowns preparing for shows that have no guarantees, everything is always on the line, you just have to live off belief and hard work," he says. "It's an amazing life, but these are delicious and a great way to cut through stress."
And if you really want to splurge, take a note from Ebecho Muslimova: "While exposure and ideas are the best gifts you can give to an artist, I would also settle for a bottle of Domaine de la Romanée-Conti la Tâche," she says.
Experiential gifts
Artist Maia Ruth Lee recommends giving the gift of MasterClass: "I love learning new things, especially from the wise and experienced," she says. "As an artist it's easy to get stuck in our own thing, and this type of accessible MasterClass can be inspiring and bring about new ideas." Lee suggests starting with a class from Neil deGrasse Tyson. "He's an incredible genius in his own field, and sheds light onto the mystery of life," she says.