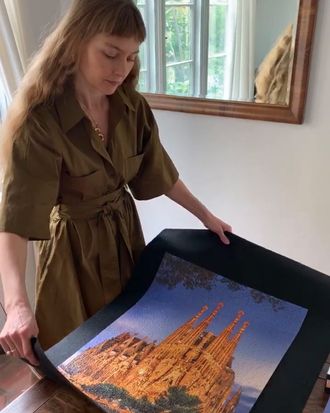 The author, above, before breaking up a completed 1,000-piece Sagrada Familia puzzle.
Photo: Courtesy of Sissy Saint-Marie Chacon
Sissy Saint-Marie Chacon is a Los Angeles–based stylist and newly obsessed puzzler who is also working on a puzzle collaboration with @gelcream.
My puzzling fixation began only a couple of years ago when my husband and I were on vacation in Palm Springs with our best couple friends. One night, after dinner and drinks, we passed a Hobby Lobby on the way back to our Airbnb. I suggested we go in for shits and giggles. While strolling through the jigsaw puzzle section, it seemed like a hilarious idea to pick one up. We chose a Thomas Kinkade Wizard of Oz puzzle which depicted a foursome of friends, just like us. That same weekend our friend brought over his brand new Oculus Rift. We all tried it out but were way more interested in a purely analog pastime where we could still talk and drink and work as a team.
This one-off evening activity became a tradition — we still get together to do puzzles a couple times a year. Yet, for me, it triggered something different: I now do them alone and between styling jobs. It frees me from compulsively looking at my phone, gives me quiet time to listen to audio books, and helps me defrag after a stressful project. Though once I started posting in-progress puzzles to Instagram Stories, word spread and friends started sending them as gifts, but also asking for invites to puzzle night. As I'm nearing completion, I'll start looking for next my fix — anywhere from Amazon to the Met Museum's online gift shop. I've even started swapping puzzles with strangers on Instagram.
My husband doesn't have puzzle fever like I do, but he's happy to let me claim the dining table as my territory for as long as I need. A 100-piecer can be done in about an hour or less, and it takes me maybe two to three days to do a 500-piece one. A 1,000-piece puzzle might take anywhere from one to three weeks depending on the level of difficulty and the amount of time I can dedicate to working on it. We just throw a tablecloth over the work in progress while we eat dinner. Here, are a few of my favorites:
The Art History Classic Worth a Closer Look
I loved being tuned in to all the faces and animals and flora and weird scenes in this painting so much more than viewing it in a book. I really enjoyed working on the left and middle panels which depict Eden and the Garden of Earthly Delights. There were so many surreal organic structures and hybrid plants and animals I'd never seen before. It was less erotic than I remembered thinking it was the first time I saw it in art history class. To be up close and personal with each piece gave me a new interpretation of it as being quite joyous and innocent. Everyone was just having the most wonderful time in Paradise. I'd never noticed Adam pinching God's robe with his toe — that was cute and made me smile. The right panel depicts Hell or Hell on Earth and there's a creature eating people and pooping them out on a toilet throne which was horrid, but also kind of funny. I don't have a religious bone in my body but I do love allegory and science fiction.
The Tough Op-Art-Inspired One
I truly enjoyed the Dusen Dusen one by Areaware. It features random abstract forms of overlapping shapes in only eight colors on a black background. I gave this puzzle to my mom for Christmas and she described it as a "mo fo." So I recommend this one if you like a challenge. Before this I had only done puzzles of familiar works or realistic figures where I could label and sort the pieces (i.e. sky, water, faces) or abstract art with straight lines or larger shapes I could easily orient. The op-art-inspired curved lines and limited colors of the Dusen Dusen puzzle made the pieces less sortable and more difficult to match up, but so satisfying to finish.
The Modernist Stress Reliever
Doing puzzles is already relaxing, but even more so when it's easy on the eyes. This puzzle's soft colors, simple lines, and the fact it's only 500 pieces kick up the chill factor a notch or two. A 500-piece puzzle, which I can finish in a couple days, never takes over the dining table for too long or makes me feel like a jerk for not finishing it quickly. That's why I never start a puzzle during a busy work period. I'm a freelancer and work from home, so I like to do them during the slow times or after I wrap a really stressful job. I also do them between dips in the pool when I'm at our family's vacation home in Hawaii. We have been there so many times I don't feel guilty for staying inside and beating the heat with a puzzle instead of going out and enjoying the island. No scuba diving, zip-lining, or parasailing for me.
The Soft-Focus Cinematic Classic
Since I was initiated into puzzle geekdom by Thomas Kinkade's delightfully trippy depiction of The Wizard of Oz, this one will always be in my heart. Every square inch is just gorgeous and reminds you of one of the most uplifting epic tales of all time.
The Flower-Heavy Tapestry One
Even though the box depicts a misleading crop where you cannot see the true edges of the puzzle — which breaks a sacred covenant of puzzletry, if you ask me — this was still a beautiful one to work on. Tuning into all of the different flowers represented in the tapestry made me tune into all of the different flowers that surround us every day. Normally I wouldn't find beauty in the oleanders planted along the highways, and I'd overlook a scraggly rosebush or a bouquet of carnations, but all plant life began to pop and catch my eye. And I could really appreciate these miraculous blooms in real life.
The Sneakily Hard One That May Take Weeks
I often gift my puzzles to friends who express interest in puzzling, but I haven't had the heart to give this to anyone yet. Someday I'll give it to someone I sort of dislike or a masochist who would really get off on the suffering this one may cause. This is a doozy because about 50 percent of the puzzle is the same color, which wouldn't be so bad if the puzzle shapes were varied. This puzzle was cut with only one shape — all innie-outies. Torture I tell you. And something to watch out for when selecting puzzles. However, in the time it took to complete this one, I did get through about three Audible books I'd been sleeping on.
The Fancy-Feeling Abstract One
Here's a good example an abstract puzzle you can really sink your teeth into. The straightforward shapes and straight lines are relatively simple to align. It also has reflective gold foil for a more fancy, elevated puzzle experience and all-around satisfaction.
The Chill Post-Impressionist One
I recommend Post-Impressionist paintings like this for a kinder gentler puzzle experience. It depicts a lovely scene of a pretty woman dressed in a bright robe in a vividly decorated room, with a huge vase of oversize flowers and fruit in the center. With its larger blocks of clearly defined colors, simple patterns, and solid shapes, you can accomplish this one with total pleasure and ease.
The Heavy-Duty Wooden Heirloom One