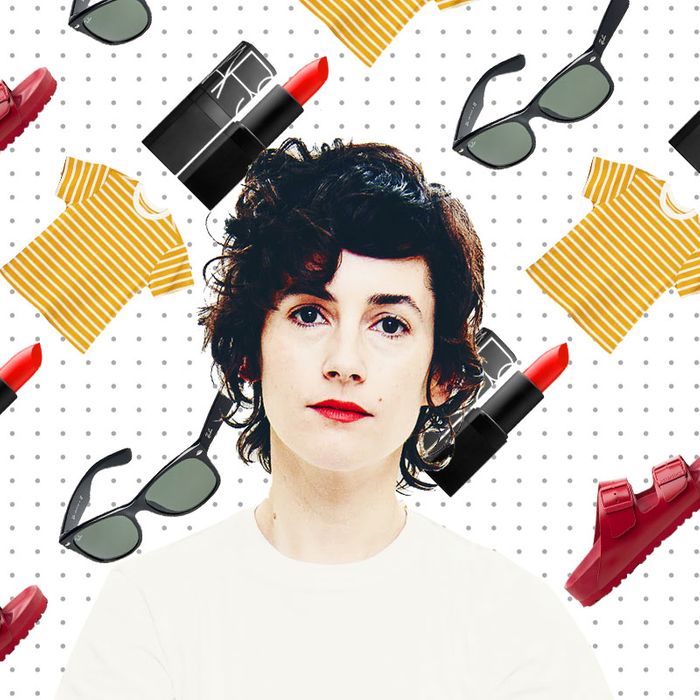 If you're like us, you've probably wondered what famous people add to their carts. Not the JAR brooch and Louis XV chair, but the hand sanitizer and the electric toothbrush. We asked stylist Karla Welch about the jeans, sunscreen, and planner she can't live without.
I get great satisfaction from making my daily lists and checking them off with a pen (I've really been advocating pen to paper; I remember things better than if I just enter them on my phone). I have this planner in pink leather; it's super cute. And I have another one with blank pages that I just write ideas in — getting them out of my brain and onto the paper helps them stay in my brain. It's a convoluted process, but it works.
Photo: Reid, Hilary
I've been wearing Levi's since I was 12 years old, when I stole a pair from my brother, which I still have. [Editor's note: Welch and Levi's have previously collaborated on capsule collections.] When I was a teenager, I definitely sat in the bathtub to get them to fit. There's definitely aging you can do, which I do a bit of; I've throw them into saltwater. But for me it's mostly about wearing them. Wearing them, and wearing them, and wearing them, and wearing them, until I'm like, "Ah, these are perfect!"
Every once in a while I'll buy designer sunglasses, but I'm such a classics person. I wear these all the time: They're cool, never going out of style, and they look good on my face. I have multiple pairs in tortoise and in black, and I just go between them all. I love them. It's just … instant vibes.