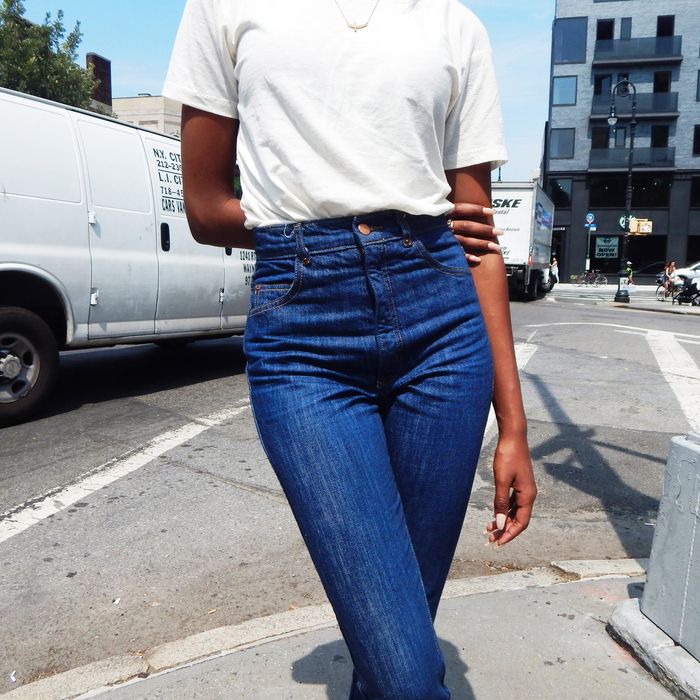 Photo: Courtesy of the retailer.
High-waisted jeans have many advantages: Wearing them accentuates the waistline, elongates the leg, and while sitting, prevents visible butt crack — the bane of any low-rise-jean wearer's existence. However, as flattering as high-waisted jeans can be, they do have some negative side effects, especially when worn while sitting for long periods of time. On top of causing wedgies, they can dig into your waist and put pressure on your bladder, generating all kinds of discomfort. To find the pairs of high-waisted jeans that are simultaneously flattering, easy to sit in, and that work for all different kinds of body types, we reached out to stylish women to find out their favorites.
As we conducted our search for the best pairs of high-rise jeans, there was one pair that we heard about again and again: Levi's Wedgie Straight Jeans. They're a favorite of Bird founder Jennifer Mankins, Joyce Lee, who heads the design team at Madewell, and Dianna Cohen, founder of hair-care line Crown Affair. Despite their name, the jeans don't actually give you a wedgie (at least not in the bad way) — but have the butt-flattering effect of your favorite vintage-shop find. "They're popular because they fit you like you want old 501s to fit. So a perfect straight leg, but with a bit more of a generous/modern cut. And it has a bit of stretch and natural rise that hits right at your belly button, so it's high, but not too high," says Mankins. "High-waisted jeans have become super comfortable now that there is stretch in the fabric — it's amazing how technology has enabled us to innovate with new denim fits without losing an authentic vintage look," says Lee (who is partial to Madewell jeans first, of course). For Cohen, the jeans are a daily staple, even in a time when denim may not be your go-to for pants: "It's the only pair I've worn frequently at home during quarantine— they're almost as comfy as sweatpants, but make you feel more put together if you have a meeting and want to wear actual pants (even if the other participate can't see them)," she says. "They look as great on when they're still-tight and just out of the wash as they do once they're more worn and loosen up through the week."
"It took me 34 years but I finally tracked down the perfect jean," says designer Susan Alexandra. "I'm hesitant to share this because they are oft sold out, but here goes: I present to you the Levi's Dad Jean." Alexandra calls the slightly-retro light-wash, pair a "wardrobe staple" evocative of the best vintage denim. "I had mine nipped in the waist to give them that perfect 'I got these at a flea market in Berlin' look," she says.
Rilka Noel, e-commerce planner at Kith, told us that her high-waisted jeans of choice are from Lee Riders, which can be purchased new at Walmart or vintage on Etsy. "My favorite pairs I've found were thrifted for $30. They fit perfectly because they have some stretch around the hips and booty," she says. [Editor's note: We've included links to both vintage pairs on Etsy and new pairs at Amazon.]
Photo: retailer
Strategist writer Chloe Anello says that when it comes to high-rise jeans, lately she's "really gotten into the straight-leg style." Namely, this pair from sustainable denim line DL1961. "These are really comfortable and mold to your body after a few wears," she says. "They're more tailored than wide-leg or boyfriend, so they look a bit more polished, but still have a lot of give and flexibility to them." The jeans have a vintage-inspired wash, and keeping with the vintage feel, a button fly.
If you're looking for a pair of rigid jeans that will eventually break-in and become perfectly vintage-looking, illustrator Pauline de Roussy de Sales says that Men's Wranglers Classic Cowboy straight leg jeans will "do the trick." The jeans have the same '70s deadstock denim look as former-Strategist senior editor Simone Kitchen's beloved slim-cut Wranglers.
Those looking for a high-rise jean with a skinnier leg might consider this pair, which designer Mary Young says felt like "a match made in heaven" when she put them on. Of the fit, Young, who is on the petite side, says: "The high rise sits perfectly without any gapping at the back and comes in different inseams which is a huge blessing for me, who stands my tallest at 5'2." And though they're on the pricier side, Young swears they're worth the splurge: "I've been wearing them nonstop for three years and they do not show it," she says.
Photo: retailer
Strategist writer Jenna Milliner-Waddell says these "Mile High" Levi's are "super stretchy to the point where you can size down and have enough compression to suck everything in." Plus, they're good quality: "I have owned many pairs of high-waisted jeans," she says, "but none that have lasted as long as these without stretching out."
Photo: retailer
Another pair that might work well for petite women is these from AGOLDE. They come recommended by candy artist Robyn Blair Davidson, who says that she loves them because "they're tight in all the right places and the high waist isn't too too high, which is often a problem since I'm only 5'1". They suck me in in all the right places, plus, they make my butt look good!" Blair also says they're particularly easy to dress up or down.
Photo: retailer
"I've been wearing high-waisted pants since high school and they're tricky things to shop for," says writer Diana McCorry. "Every brand seems to fit differently and some are truly heinous, so once I find a decent fit, I tend to buy in bulk. My current favorites are Levi's 720s. There's enough stretch to avoid that nasty tummy compression, but enough shape to create a great silhouette when you stand up. They're also totally affordable. I have them in three colors." McCorry often feels she has to bargain between comfort in the rear and looseness at the waist. "I'd rather wear a belt than feel like I'm in the trash compactor from Star Wars all day," she says. "The 720s are a little loose in the waist, but not quite enough to necessitate a belt, which is nice."
Photo: 17-12-13 oksanajager PM2 B9 robs
"I won't go out without high-waisted jeans now, and I live in them every day," says Lorna Buford, founder of The Jeans Blog, "I never have to worry about muffin top or builder's butt and I find they elongate my legs, too, so that's a bonus." Buford, who has been in the denim industry for the past 12 years, works from her home office and, as a consequence, is familiar with the pains that can come from sitting in high-waisted jeans. "I look for a [lighter-weight] denim with super-stretch, so it's a lot like wearing leggings, and you feel supported by them instead of suffocated." She recommends the Citizens of Humanity Rocket model. "They're made with four-way stretch which is lightweight and moves with every part of you without stretching out." Buford says thinner fabrics are comfortable for another important reason: "They don't have so much bulky stitching and seams around the crotch."