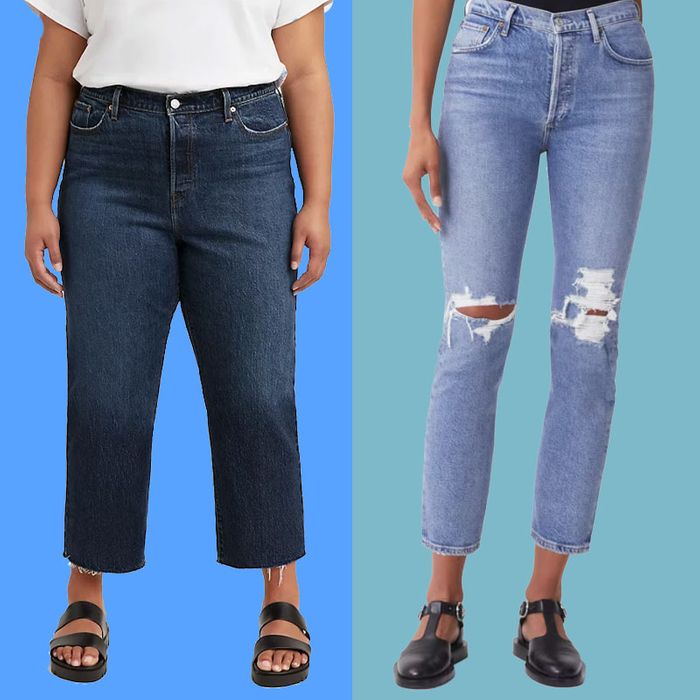 Photo-Illustration: Courtesy of the retailer.
If Bella Hadid's Depop is any indication of what's to come, the low-rise revival is more than just a phase. But as any die-hard high-rise believer knows, there's a reason hip-level waistbands were on the outs for so long. Personal stylist Jessica Cadmus puts it best: It's all "about the derrière with denim, and a high-rise jean most effectively sculpts your peach and accentuates your waist." These jeans do have their downsides, though — wedgies, red midriff marks, and putting pressure on your insides — even when they look fantastic on the outside. To find the high-waisted jeans that don't do the above, we turned to all sorts of stylish women for their favorites. (Hint: Lots of Levis to follow.) Below, you'll find those recommendations — including a few pairs from our archives that were so raved about we couldn't not feature them.
Best overall | Best super high | Best stretchy | Best mom | Best skinny | Best bootcut
Size range: Before harping on the current state of jean sizing, here's helpful advice Strategist writer Erin Schwartz got from Clotilde Testa, owner of Walk the West and a self-described "denim whisperer": Know your exact waist, hip, and rise measurements either through measuring yourself or your current prized pair. (The size you are in one brand may be completely different in another, so this is a more accurate method than taking one of those online fit quizzes.) Inconsistent sizing — or not finding your size at all — can be deflating, so we gave preference to brands that have a wider range, including length. (FYI: We didn't choose "best overall" pick for petites, tall, or plus, as all the pairs have a wide range of sizes and almost all are offered in different lengths.) And another tip on this front from fashion content creator Tilly Macalister-Smith (who actually got it from Flora Fellowes, Net-a-Porter's in-house denim buyer): Check the height of the model in product notes to compare where a pair will hit on you.
Rise: What makes a high-waisted jean high-waisted anyway? As Macalister-Smith tells us, anything that sits at your true waist — above your belly button — is fair game. Cadmus seconds this, saying it's difficult to give a number for the "ideal" rise (which starts at the seam of the crotch and goes to the top of a jean) on a high-rise. But the baseline is around ten inches, Cadmus adds, and many on the market are even higher than that. The rise is usually listed based on the proportions of one size, so while it's useful to know, it can be hard to tell how a pair will look on you. That's why we asked our panel to detail the rise of their picks as much as possible.
Stretch: Purists prefer raw or rigid denim with absolutely no stretch — these jeans will have 100 percent cotton on their tags. "Raw" and "rigid" are usually synonymous, but the former is unwashed and untreated — as soon as anything is done to them, they can't be called raw anymore, Macalister-Smith explains. Stretch supporters, meanwhile, like just a hint of either elastane or spandex, at one to two percent max. "Above that would be extra stretchy," Cadmus says, adding that stretch isn't just about comfort — it's also so that the "jeans snap back after each wear." (With raw denim, she points out, there's a breaking-in period, which can be undone with the wrong wash.) Using these guidelines, we denoted each pick on this list as not stretchy, stretchy, or very stretchy.
Style: High-waisted is an especially broad category —it's not as hyperspecific as mom jeans, for example — and includes just about any style you can think of: flares and their cousins, bootcuts and wide-legs; skinnies and their fraternal twin, the slim; boyfriends and girlfriends. Every cut has its fans and detractors (see the backlash against skinny jeans), which is what makes the perfect pair so subjective. Among our panelists, straight-leg styles were the most popular, but for variety's sake, we attempted to spotlight different cuts to make sure there's something for everyone.
Best overall high-waisted jeans
Sizes 23–39 (plus-sizes here) with 26-, 28-, and 30-inch inseams | 10.85-inch rise | Stretchy | Tapered straight-leg
In our search for the very best of the best high-waisted jeans, there was one pair we heard about over and over again: Levi's Wedgies. The jeans don't give you a wedgie (at least not in the bad way), but they do have a distinctly cheeky effect. They also offer a "natural rise that hits right at your belly button, so it's high, but not too high," explains Bird founder Jennifer Mankins. She adds: These have that old 501s feel, but with a more generous cut. Madewell's head of design, Joyce Lee, seconds this, saying that the slight stretch in the Wedgies makes them more appealing to our modern sensibilities around fit. Hailey Rizzo, the blogger behind Feeling Good As Hail, echoed those sentiments in our guide to mom jeans, in which these were the most recommended pair as well: The Wedgies don't leave you with that unflattering flat look that made mom jeans much mocked.
The Wedgies earned rave reviews, with several stylish women calling them wardrobe staples. Dianna Cohen, founder of hair-care line Crown Affair, frequently wears hers as part of her weekly rotation, saying that "they look as great on when they're still tight and just out of the wash as they do once they're more worn and loosen up." Sara Zucker, director of social media at KORRES, agrees that the Wedgies (which she prefers in the Icon fit) are "shockingly flattering," especially "if you're going to dip your toe in the pool of frump." And Tessa Jennifer of Auralie approves of the length of the Wedgies as a petite person, describing them as "the easiest pair I could perfectly fit into without having to alter the length."
Best super-high high-waisted jeans
Sizes 23–42 (plus-sizes here) with 27- and 29-inch inseams | 12-inch rise | Stretchy | Straight-leg
The title of the "Goldilocks of jeans" is not something the Strategist takes lightly — but these jeans are, as we've learned time after time, pretty much perfect. (There's even something of a cult surrounding them.) Featuring Levi's highest rise yet at 12 inches, the Ribcage's lofty cut has been described as "deliriously high, easily clearing my belly button," by Strategist editor Maxine Builder. They're surprisingly comfortable, too, according to New York deputy editor Alexis Swerdloff, who says these are "stiff without being too constricting," with "just the right amount of flare" at the ankles. And speaking of ankles: Content creator Amy Serrano previously told us that despite her petite frame, these give an effect of "legs for days because of the ultrahigh waist" while "hugging what they need to hug."
Another pair of straight-legs worth snagging: the DL1961 Patti Cropped Straight Leg Jeans. Strategist writer Chloe Anello calls them "more tailored than wide-leg or boyfriend, so they look a bit more polished." Or go with the slouchier version of the straight leg — Strategist writer Dominique swears by Universal Standard, especially its Bae Boyfriend Crop Jeans. These are so stretchy that she recommends sizing down for a more fitted look, but they "definitely have a really high waist."