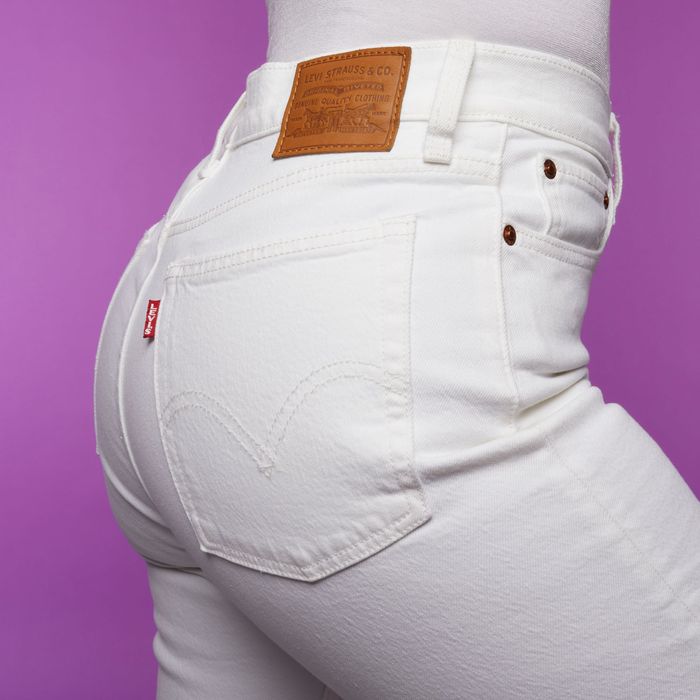 Yeah, sure, low-rise jeans are "back," and beloved (mostly) by the younger crowd — but as the writer responsible for much of our jeans coverage, I have yet to find a denim aficionado who actually recommends them. There's a reason for that, according to personal stylist Jessica Cadmus: It's all "about the derrière with denim, and a high-rise jean most effectively sculpts your peach and accentuates your waist."
High-waisted jeans can have their downsides, though — causing wedgies and red midriff marks, or putting uncomfortable pressure on your insides. So to find the high-waisted jeans that look fantastic and feel great, I asked all sorts of stylish women about their favorites. (Lots of Levis to follow.) I also searched through our archives to find jeans so raved about I couldn't not feature them, including a pair that's been around since the 19th century.
Before harping on the current state of jean sizing, here's helpful advice Strategist writer Erin Schwartz got from Clotilde Testa, owner of Walk the West and a self-described "denim whisperer": Know your exact waist, hip, and rise measurements either through measuring yourself or your current prized pair. (The size you are in one brand may be completely different in another, so this is a more accurate method than taking one of those online fit quizzes.) Inconsistent sizing — or not finding your size at all — can be deflating, so we gave preference to brands that have a wider range, including in length. And another tip on this front from fashion content creator Tilly Macalister-Smith (who actually got it from Flora Fellowes, Net-a-Porter's in-house denim buyer): Check the height of the model in product notes to compare where a pair will hit on you.
What makes a high-waisted jean high-waisted anyway? As Macalister-Smith tells us, anything that sits at your true waist — above your belly button — is fair game. Cadmus seconds this, saying it's difficult to give a number for the "ideal" rise (which starts at the seam of the crotch and goes to the top of a jean). But the baseline for a high-rise is around ten inches, Cadmus adds, and many on the market are even higher than that. The rise is usually listed based on the proportions of one size, so while it's useful to know, it can be hard to tell how a pair will look on you. That's why we asked our panel to detail the rise of their picks as much as possible.
Purists prefer raw or rigid denim with absolutely no stretch — these jeans will have 100 percent cotton on their tags. "Raw" and "rigid" are usually synonymous, but the former is unwashed and untreated — as soon as anything is done to them, they can't be called raw anymore, Macalister-Smith explains. Stretch supporters, meanwhile, like just a hint of either elastane or spandex at 2 percent max. "Above that would be extra stretchy," Cadmus says, adding that stretch isn't just about comfort — it's also so that the "jeans snap back after each wear." (With raw denim, she points out, there's a breaking-in period, which can be undone with the wrong wash.) Using these guidelines, we denoted each pick on this list as not stretchy, stretchy, or very stretchy.
High-waisted is an especially broad category —it's not as specific as mom jeans, for example — and includes just about any style you can think of: flares and their cousins, bootcuts and wide-legs; skinnies and their fraternal twin, the slim; boyfriends and girlfriends. Every cut has its fans and detractors (see the backlash against skinny jeans), which is what makes the perfect pair so subjective. Among our panelists, straight-leg styles were the most popular, but for variety's sake, we attempted to spotlight different cuts to make sure there's something for everyone.
Each recommendation is denoted as either $ (under $100), $$ ($100 to $200), or $$$ (over $200) — keeping in mind that you don't have to overspend to get good jeans.
Best overall high-waisted jeans
Sizes: 23–39 (plus-sizes here) with 26-, 28-, and 30-inch inseams | Rise: 10.85 inches | Stretch: Stretchy | Style: Tapered straight-leg | Price: $
In our search for the very best high-waisted jeans, there was one pair we heard about over and over: Levi's Wedgies. The jeans don't give you a wedgie (at least not in the bad way), but they do have a distinctly cheeky effect. They also offer a "natural rise that hits right at your belly button, so it's high but not too high," explains Bird founder Jennifer Mankins. She adds: These have that old 501s feel, but with a more generous cut. Madewell's head of design, Joyce Lee, is also a fan, saying that the slight stretch in the Wedgies makes them more appealing to our modern sensibilities around fit. Hailey Rizzo, the blogger behind Feeling Good As Hail, echoed those sentiments in our guide to mom jeans, in which these were the most recommended pair as well: The Wedgies don't leave you with that "flat" look that made mom jeans much mocked.
For many of the women we talked to, the Wedgies are a wardrobe staple. Dianna Cohen, founder of hair-care line Crown Affair, wears hers weekly, saying "they look as great on when they're still tight and just out of the wash as they do once they're more worn and loosen up." Sara Zucker, director of social media at KORRES, prefers the Wedgies in the Icon fit and says they are "shockingly flattering," especially "if you're going to dip your toe in the pool of frump." And Tessa Jennifer of Auralie, who is petite, describes them as "the easiest pair I could perfectly fit into without having to alter the length."
Best high-waisted jeans for petites
Sizes: 23–37, with 26.5-, 28.5-, 30.5-, 32.5-inch inseams | Rise: 11 inches | Stretch: Stretchy | Style: Straight-leg | Price: $
You might recognize Abercrombie's 90s Ultra High Rise from our ultimate jeans story and petite-specific jean guide. I've included them here as well since Abercrombie offers them in two different petite lengths: short, designed for anyone five-foot to five-foot-three (in sizes 27 to 37), and extra-short, which is only offered for sizes 23 to 30 and made for those under five feet. (If you're on the taller side, the jeans are also available in a 32.5-inch inseam.) Those options sealed the deal for me, as someone who's five-foot-two and often has a hard time finding petite jeans that are actually petite. The 90s Ultra High Rise also previously received praise from Serrano and photographer Lizbeth Hernandez. Serrano sported them while doing "a round of high kicks with the Radio City Rockettes" if you're curious about their comfort level. And Hernandez describes them as "perfect for my curvy body."
Best high-waisted jeans for tall women
Sizes: 23–33 with 30- and 33-inch inseams | Rise: 10 inches | Stretch: Stretchy | Style: Cropped, kicked-out flare | Price: $$
In updating our guide to the best jeans for tall women, I crowned Madewell as the best bet for those who are five-foot-eight and up. That's because, as former Strategist writer Chloe Anello (who's five-foot-nine) explains, the company makes two tall-specific options, tall and taller, which come with 30- and 32-inch inseams respectively. The only problem is that these jeans tend to sell out quickly. I chose this pair because they are currently in stock in both the tall and taller inseams — just don't dillydally. Former Strategist social-media editor Hannah Starke is another Madewell devotee, explaining that her favorite (now sold out) pair are "the only jeans that fit my body correctly."
Best high-waisted jeans for plus sizes
Sizes: 14W–28W with a 28-inch inseam | Rise: 12.5 inches | Stretch: Stretchy | Cut: Straight-leg | Price: $$
These recently earned the best-in-class blue ribbon in our guide to the best plus-size jeans. They're a version of the Madwell's popular Perfect Vintage jean, with some more room through the hips and thighs. As Sarah Chiwaya, a plus-size-brand consultant, previously explained to us, Madewell's curvy collection is designed for hourglass shapes, with more contoured waistbands and room through the hips. Blogger Casey Brown counts her Perfect Vintages among her favorite pairs. She points out that they aren't "suffocating when I sit," describing them as "a sturdy jean that feels slightly broken in." And the looseness through the top of the jean isn't always easy to find in plus-size straight-leg pairs.
Best super-high high-waisted jeans
Sizes: 23–42 (plus-sizes here) with 27- and 29-inch inseams | Rise: 12 inches | Stretch: Stretchy | Style: Straight-leg | Price: $
The title of the "Goldilocks of jeans" is not something the Strategist takes lightly — but these jeans are pretty much perfect. (There's even something of a cult surrounding them.) Featuring Levi's highest rise at 12 inches, the Ribcage style's lofty cut has been described as "deliriously high, easily clearing my belly button," by Strategist editor Maxine Builder. They're surprisingly comfortable, too, according to New York deputy editor Alexis Swerdloff, who says they are "stiff without being too constricting," with "just the right amount of flare" at the ankles. And speaking of ankles: Content creator Amy Serrano previously told us that despite her petite frame, these give an effect of "legs for days because of the ultrahigh waist" while "hugging what they need to hug."
Best high-waisted straight jeans
Sizes and lengths: 23–34 with a 30- or 32-inch inseam | Rise: 11.125 inches | Stretch: Not stretchy | Style: Straight-leg | Price: $$
Back in 1873, Levi Strauss invented the jeans now known as the 501s. These are as classic as they come. I've heard lots of folks describe the 501s as a standard bearer to judge their other jeans, with many owning vintage versions of the style. You don't have to shop secondhand to get them, though — the company has kept its familiar fitted straight-leg silhouette for more than a century. In comparison to the Wedgies, which have a rise of 10.85 inches, and the Ribcages, with their ultra-high 12-inch rise, the 501s come in at just over 11 inches. So you're getting a "semi-high waist," says musician Aly Michalka. She adds that "the more worn they are, the better they look and feel." Celebrity stylist Karla Welch (who has collaborated with Levi's in the past) stole her first-ever pair of 501s from her brother — and agrees that they only get better with age. I'll note that the 501s topped our list of the very best men's jeans, too — with Drew Westphal, who works in digital marketing, saying, "There's a reason that modern-day denim companies use the fit of the 501 to make their own jeans."
Best high-waisted mom jeans
Sizes: 24–34 with a 26-inch inseam | Rise: 11.5 inches | Stretch: Not stretchy | Style: Cropped straight-leg | Price: $$
Agolde's Rileys are a slight investment (though still under $200), but Agolde jeans are well worth their price tag, according to three of the women we consulted for our guide to mom jeans. The Levi's Wedgies were the most mentioned pair there, but Agolde was the most mentioned brand. These jeans are the gold standard of mom jeans (plus they're a favorite among the petite-content-creator crowd). Stella Blackmon, a filmmaker and former New York Magazine photo editor, wears mom jeans exclusively, but the Rileys are her be-all and end-all. The extremely high 11.5-inch rise — just a half inch under that of the Ribcage — is still comfortable (no small feat, considering that these are also made from a stiffer denim). But the rigid feel helps the jeans keep their shape during the day, Blackmon says. They have a slimmer silhouette than traditional mom jeans, making them au courant rather than outdated. (If you're searching for full-length mom jeans rather than a cropped style like the Rileys, Buzzfeed project manager Chelsea Portner — "a lanky girl with hips and no butt" — previously told us when she saw the Agolde Lanas on a friend, she asked to try them out and then immediately ordered her own.)
Best rigid-denim high-waisted jeans
Sizes: 23–31 with a 29-inch inseam | Rise: 12 inches | Stretch: Not stretchy | Style: Slightly cropped straight-leg | Price: $$
If the words "rigid denim" make you panic, don't — the Cynthias won't take much effort to break in. (Reformation suggests the jeans run a half-size small, so you might consider going up a size.) Strategist managing editor Kelsie Schrader had a "Sisterhood of the Traveling Pants moment" when she first tried out this pair. "Normally, when people call jeans 'comfortable,' I want to ask them how much the brand is paying them to say that, but, truly, these are comfortable," Schrader says. On her five-foot-two frame, these weren't too long, tight, or loose, fitting her legs, thighs, and waist just right. Katie Schmidt, owner and designer of ethical fashion label Passion Lilie, also evangelized for the Cynthias in our mom-jeans guide, explaining that Reformation's denim is usually designed for those who are leggier and these give the illusion of much longer legs.
Best (less-expensive) rigid-denim high waisted jeans
Sizes: 23–34 with 30-, 32-, and 34-inch inseams | Rise: Not listed | Stretch: Not stretchy | Style: Straight-leg
From decade-old Swedish streetwear label Weekday, these jeans feature rigid recycled denim — at around half the price of the Reformation pair above. Weekday doesn't list a specific rise measurement, but since the jeans have a Strategist seal of approval — writer Rachael Griffiths confirms these are indeed as "extra-high" as promised — they earned a place on this list. Until she tried these jeans, Griffiths always had trouble finding high-waisted options that fit her butt and didn't gap at her waist. "They're not tight around the bum, but the bum isn't lost in a sea of fabric," she says. These also run slimmer at the waistline, which means they don't have much give (the jeans don't feature any stretch after all) but are so well fitted that they lie flat on her lower back, solving the gaping problem. "Oh, and you might be thinking, 'Extra-high — these must be a pain to sit down in,' but they're not at all," Griffiths assures.
Best high-waisted skinny jeans
Sizes: 23–40 (plus sizes here) with 28-, 30-, and 32-inch inseams | Rise: 10.25 inches | Stretch: Very stretchy | Style: Skinny | Price: $$
Skinny jeans came second in popularity to straight-leg styles. But of all the pairs we heard about, the Levi's 720s were said to be the Platonic ideal of what skinny jeans should be. These have a super-close-fitting leg — almost jeggings-esque — but are designed with high stretch to make them less snug than the old pair sitting way back in your closet. (These are made from a blend of polyester, sustainable Tencel, and elastane — which is why we ranked them as "very stretchy" rather than just "stretchy.")
Writer Diana McCorry, who owns the 720s in three washes, says they feature "enough stretch to avoid that nasty tummy compression but enough shape to create a great silhouette when you stand up." And while McCorry often feels she has to bargain between comfort in the rear and excessive tightness in the midsection, "the 720s are a little loose in the waist, but not quite enough to necessitate a belt, which is nice." (An honorable mention goes to the Levi's Mile Highs, which are "super stretchy to the point where you can size down and have enough compression to suck everything in," says Strategist associate editor Jenna Milliner-Waddell.)
Best high-waisted flare jeans
Sizes and lengths: 23–34 with a 34-inch inseam | Rise: 10 inches | Stretch: Stretchy | Style: Skinny through thighs, flare from knees | Price: $
The flare on these Frames is "like a cherry but on the bottom," says Cadmus. They are meant to be reminiscent of bell-bottoms, with a decidedly more form-fitting shape through the hips and thighs that widens into a flare at the knees. The cut adds even more interest to their waist-defining ten-inch rise (which is at the lower end of "high," and the lowest on this list) and butt-sculpting shape. Plus, they're comfortable to wear, promises Cadmus. "Actual vintage high-waisted flare jeans sans stretch from the '70s feel constricting," she says. (One such pair she owns requires her to lie in bed and pull the zipper up with a hanger to get them on.) But this jean has the right kind of stretch that makes them keep their structure while you're wearing them.
Best high-waisted wide-leg jean
Sizes: 24–31 with 28.5-inch inseam | Rise: 11.75 inches | Stretch: Stretchy | Style: Wide-leg | Price: $$
Digital content creator Carrie Carrollo introduced me to Australian denim brand Rolla's Sailor Jeans (which she, in turn, discovered at a small store in Cobble Hill called Article&). Carollo, who's five-foot-five, was slightly dubious about whether they would work for her — the ultra-high-waisted, dramatically flared jeans seemed more suited for those who are taller. But these fit perfectly. "The waist-to-hip ratio, for my body type, really works," she says. And the wider wide-leg really does call back to disco-era bell-bottoms: "Paired with a vintage T-shirt, I always feel like they look extra '70s."
Best high-waisted bootcut jean
Sizes: 24–34, with 30-, 32-, 34-, and 36-inch inseams | Rise: 12 inches | Stretch: Stretchy | Style: Bootcut | Price: $
These jeans have the same high rise as the Levi's Ribcage with a bootcut leg. But if you're going for that cowboy-inspired fit, there's nothing better than a pair of Wranglers. Model Georgia May Jagger (who has been the face of the company's heritage campaigns) can't live without this pair, which have "that classic Wrangler look" with a more figure-hugging leg up to the knee and a full-on flare at the bottom. And she should know — she has been wearing Wranglers her entire life, thanks to the deep Wranglers devotion that runs in her family (one of her aunts would even wear them while performing actual rodeos). Strategist senior editor Simone Kitchens has also heard several testimonials from friends about the power of Wranglers.
Some more high-waisted jeans we've written about
• Chloe Anello, former Strategist writer
• Stella Blackmon, filmmaker and former New York Magazine photo editor
• Casey Brown, blogger
• Maxine Builder, Strategist editor
• Jessica Cadmus, personal stylist
• Carrie Carrollo, digital content creator
• Sarah Chiwaya, plus-size-brand consultant
• Dianna Cohen, founder of hair-care line Crown Affair
• Rachael Griffiths, Strategist writer
• Monica Heisey, writer
• Lizbeth Hernandez, photographer
• Georgia May Jagger, model
• Tessa Jennifer, founder of Auralie
• Simone Kitchens, Strategist senior editor
• Joyce Lee, Madewell's head of design
• Tilly Macalister-Smith, fashion content creator
• Jennifer Mankins, Bird founder
• Aly Michalka, musician
• Jenna Milliner-Waddell, Strategist associate editor
• Diana McCorry, writer
• Dominique Pariso, Strategist writer
• Chelsea Portner, Buzzfeed project manager
• Hailey Rizzo, the blogger behind Feeling Good As Hail
• Amy Serrano, content creator
• Katie Schmidt, owner and designer of ethical fashion label Passion Lilie
• Kelsie Schrader, Strategist managing editor
• Erin Schwartz, Strategist writer
• Hannah Starke, former Strategist social-media editor
• Alexis Swerdloff, New York deputy editor
• Clotilde Testa, owner of Walk the West
• Karla Welch, celebrity stylist
• Sara Zucker, director of social media at KORRES
Additional reporting by Angelica Frey and Hilary Reid
The Strategist is designed to surface the most useful, expert recommendations for things to buy across the vast e-commerce landscape. Some of our latest conquests include the best acne treatments, rolling luggage, pillows for side sleepers, natural anxiety remedies, and bath towels. We update links when possible, but note that deals can expire and all prices are subject to change.
Every editorial product is independently selected. If you buy something through our links, New York may earn an affiliate commission.