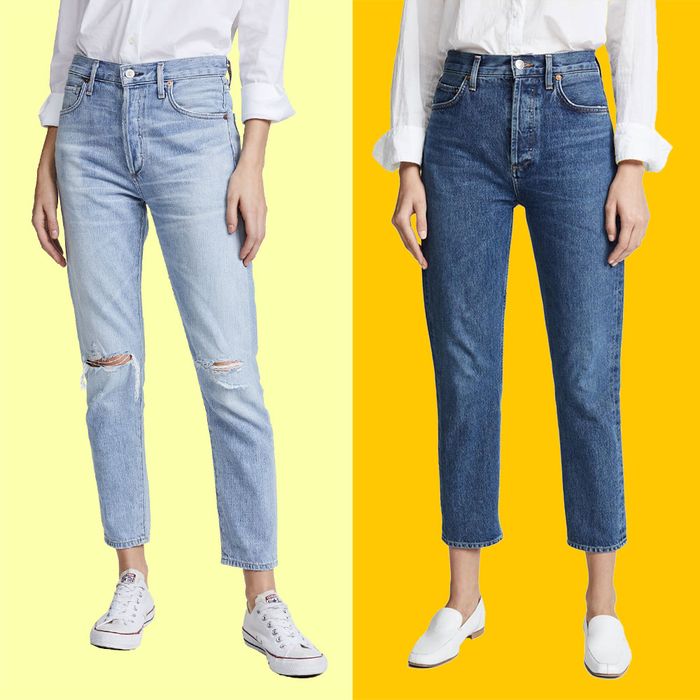 Photo-Illustration: Courtesy of the retailer.
Mom jeans — high-waisted, often lightly colored women's jeans — may have been parodied by SNL, but these days, the denim style isn't a joke at all. "Mom jeans have proven their staying power for the last few seasons. Women have really embraced the higher rise and slightly more relaxed fit," says celebrity stylist Samantha Brown. Most mom jeans also have a tapered leg, and allow some room in the bottom and waist area (very FUPA-forgiving). That's the general blueprint, though there are really all sorts of iterations on mom jeans these days, given their recent rise in popularity. Here, we talked to 11 denim enthusiasts and stylists on the mom jeans they love to wear. And if you're looking for something a touch less specific, we have roundups of regular jeans for women, tall women, and plus-size women to check out, too.
Best under-$100 mom jeans
You can often find a good deal on vintage mom jeans if you scour a thrift store — but newer versions can be had for under $100, too. For a classic shape that you might have come across in the '80s and '90s, it's hard to go wrong with Levi's mom jeans, which two style experts pinpoint as the quintessential, true-to-form mom jean. Piper Gore — a stylist and lifestyle consultant who started her career in the denim industry over 15 years ago — describes the light, summertime wash as "the tried and true originals" and adds that the fit and wash only gets better over time, so you can hang onto it for years. Celebrity stylist Ali Levine — who has lent her fashion expertise to shows like Bravo's Stripped — loves their vintage appeal, too: "They're super cute and easy to throw on with a tee, and get out the door."
Another Levi's alternative to the original mom jean is the brand's slimmer "wedgie straight fit" style, which Levine notes is slightly more modern "while still hitting the right notes for a mom jean." You can find it in more standard straight leg styles or a slightly updated raw hem like this one — which has a hidden button fly, as well. Allie Greenberg, brand director at elevated basics label Richer Poorer, says her uniform is a cropped T-shirt and a pair of these Levi's Wedgies because they're "great for shorties like me." She gets two new washes every season because they're so affordable to re-up on. We also own and can confirm that this is a very suitable for petite frames.
"I don't think people are aware how difficult it is to find mom jeans that fit a curvy girl's body correctly," says curve model Remi Bader. "I almost gave up until I found these" she says, adding that these are the only mom jeans she owns. They come in eight washes and go up to a size 37. Bader recommends sizing up a full size, though, because they run a bit small. But once you find the right size, Bader thinks "the fit is awesome."
Stylist Lindsey Shores also tipped us off to this very affordable pair of jeans from Zara sister brand Bershka, which she says she's been wearing on repeat lately. "My favorite cut of jean that can be easily styled normcore or non-normcore, are high-rise jeans with a solid straight leg or mom fit."
These Urban Outfitters jeans look like they might have cameoed on Full House back in the day, which is precisely the look that Levine appreciates. "I like how casual these are," she says. "They are a fun throwback to the '80s, and I like that you can wear them rolled up or long."
TikTok star Addison Rae told us she lives in these high-waisted mom jeans. "I've been wearing American Eagle jeans probably since middle school," she says. "I really love their stretchy mom jeans because I'm a dancer. I dance so much that I want stuff that's super comfortable." She particularly digs the distressed detailing. "I think rips are always really cute with sneakers or even heels — you can dress them up or dress them down," she explains.
Brown loves Madewell's signature perfect vintage jean because they're cut slim through the leg. "This helps to keep the silhouette flattering and not dumpy," she says. "They also have the perfect amount of stretch so they are not constricting, and don't lose their shape with wear."