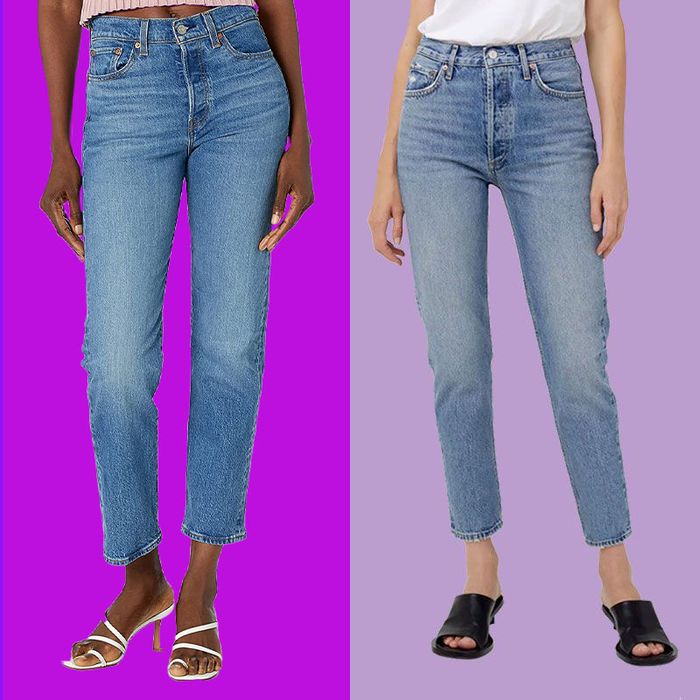 Photo-Illustration: Courtesy of the retailer.
Once a "disgrace to denim," mom jeans are now as beloved as the boyfriend or bootcut. Previous reputation aside, these jeans were actually ahead of their time — most denim brands now have their own rendition. "The overall look is much more sculpted than the ones of the '80s," says stylist Jessica Cadmus. They're meant to be a little cheekier compared to those of the past — in many cases literally (see Everlane's, for example). But the overall blueprint has stayed the same: These jeans have a higher waist, are cut similar to a straight-leg (think of Levi's 501s), and often come in a lighter wash.
There are all sorts of iterations of mom jeans at the moment, which makes finding a pair that actually harkens back to your own mom much harder. (Since I've been on the jeans beat, I've often heard folks talk about the ones their mothers loved — while measuring current contenders against them.) So to help you find the perfect pair, I turned to more than a dozen denim enthusiasts for their favorites. Read on for their recommendations, including a pair that made one Strategist staffer have a "Sisterhood of the Traveling Pants moment."
More often than not, if you read the tag on a pair you picked out, you'll see the words "spandex" or "elastane," which are synonymous with stretch. You don't need a lot of stretch to be comfortable — around 2 percent is plenty, and will ensure that the "jeans snap back after each wear," according to Cadmus, who notes that "above that would be [considered] extra stretchy." For a pair of jeans to be considered "rigid," they should have no stretch, so made from 100 percent cotton. Though it might sound contradictory, rigid jeans will form to your figure over time, which is why denim aficionados find them appealing. In judging the jeans below, I categorized each as either "not stretchy," "stretchy," or "very stretchy."
A curve-accentuating high rise is a mom-jean must; it's probably what gave mom jeans their original (unfair) reputation. You want the rise to reach somewhere near or above the belly button, according to Cadmus. Most high-waisted jeans have a rise of ten or more inches (and many brands will list the rises of different sizes when you search through their sizing charts).
A true straight leg is what makes a mom jean a mom jean. The leg is neither tight nor too relaxed, explains style coach Kim Hancher. And on the subject of length: If you're going classic, a mom jean, according to Hancher, is "just shy of full length" to show off your tennis shoes, the footwear of choice back in the day. I did my best to describe the shape of each pair below so you can compare (and contrast) the different pairs.
There are two schools of thought on the proper shade for mom jeans. Historically, Cadmus tells us, the jeans will be in a light wash without any sort of treatment (so no distressing or fading). But as the style has evolved, many brands have started making deeper blue washes that are not "too light and definitely not dark," Hancher says. It's a matter of preference, so I noted whether each pair below is light, medium, or comes in both.
Each recommendation is denoted as either $, $$, or $$$ for under $100, under $200, or $200 and up, respectively.
Best overall mom jean
Sizes and lengths: Sizes: 23–39 (plus-sizes 16–24 here) with 26-, 28-, and 30-inch inseams | Stretch: Stretchy | Rise: 10.85 inches | Cut: Slightly tapered straight-leg | Wash: Light and medium washes | Price: $
You really can't go wrong with the Strategist-approved Wedgies. By far, they were the single most mentioned jean among our sources. One thing that makes these jeans stand out is their size range — thee come in plus sizes, with 26-, 28-, and 30-inch inseams that will work for petite and tall women alike. Both Allie Greenberg, brand director at Richer Poorer, and Tessa Jennifer of Auralie, who are both petite, appreciate the inseam options. Jennifer calls them "the easiest pair I could perfectly fit into without having to alter the length." Greenberg buys the jeans in two new washes every season.
Three women specifically noted how the Wedgies are a more modern version of the mom jeans they remember. Celebrity stylist Ali Levine compares them to Levi's mom jeans (now sold out), explaining that they're cut in a way that's current but still stays true to the original. "Where they elevate the 'mom' look is through the booty," says style blogger Hailey Rizzo, "whether you're working with one or not." That's a step up from the "long and flat" look of yesteryear's mom jeans, she goes on to explain. "It's shockingly flattering on all body types with a leg that's slightly slimmer than your standard mom jean," says Sara Zucker, director of social media at KORRES and owner of a version in the Icon Fit. "If you're going to dip your toe in the pool of frump, this version is the easiest way."
Best (splurge-worthy) overall mom jean
Sizes and lengths: 23–33 with a 26- and 28-inch inseam | Stretch: Stretchy | Rise: 11.5 inches | Cut: Cropped, slimmer straight-leg |Wash: Light and medium washes | Price: $$
This pair is favored by a self-professed mom-jean fanatic: filmmaker (and former New York photo editor) Stella Blackmon. Blackmon only owns mom jeans, some of which she says fall into "borderline unflattering" territory — but not the Rileys from Agolde, which have a "silhouette that's slimmer than traditional," along with a higher-than-average rise for longer-looking legs and a button fly that's "like an ode to the jeans my mom loved when I was growing up."
The cut is one of Agolde's best sellers, and the company has a whole collection of them in different washes and lengths (26 and 28 inches). Though most pairs are made with a stiffer, thicker, non-stretch denim meant to hold the straight-legged shape, you can choose to get them in a "stretch" version. I tested a pair in a shade called "Divided," which had one percent elastane. I will warn that these jeans are fitted, bordering on tight, when you first step into them. (Blackmon makes sure she chooses a size that lets her tuck in a tee — otherwise it would be difficult to sit down.) But, by the second time I put them on, I felt like they were already beginning to form to my figure. Not to boast, but the Rileys make my butt look unbelievable. I'm about five-foot-two and had to cuff these at the ankle in the 28-inch inseam length; I'll plan to try out the 26-inch inseam for comparison next.
The Rileys have also appeared all over our archives, so even with their higher price tag (depending on the wash, the range is $178 to $208 for a pair) I think they're deserving of the "best overall" title. Agolde is also among the most-mentioned brands I heard about while reporting this guide. Chelsea Portner, a former project manager at BuzzFeed, likes how her Lanas fit her frame "as a lanky girl with hips and no butt." Hancher prefers the Pinch-Waist line for nipping in through the top and being fuller through the thighs.
Best extra-high-rise mom jean
Sizes and lengths: 23–33 (plus-sizes 14–24 here) with 27- and 29-inch inseams | Stretch: Stretchy | Rise: 12 inches | Cut: Slimmer through hip and thigh with a classic straight-leg |Wash: Light and medium washes | Price: $
Levi's Ribcage, the "Goldilocks of jeans," clocks in at what Strategist editor Maxine Builder calls a "deliriously high" 12 inches that "easily [clears] my belly button." It's the highest high-rise the company offers, designed for a leg-lengthening fit. Content creator Amy Serrano (who's on the petite side) backs that up, saying that her "pair gives me legs for days because of the ultrahigh waist. It hugs what it needs to hug." New York deputy editor Alexis Swedloff also praises how "they're stiff without being too constricting" with "just the right amount of flare, and have a worn-in without trying too hard wash." These have been a longtime Strategist favorite (seriously, whenever the Ribcages are on sale, it's our duty to tell our readers about the deal). So it turns out that Builder's long-ago prediction that the pair would become a challenger to the Wedgies came true, as these jeans have gone from cult to classic.
Best rigid-denim mom jean
Sizes and lengths: 24–38 with 28.5- and 32.5-inch inseams  | Stretch: Not stretchy | Rise: 10.5 inches| Cut: Classic straight-leg |Wash: Medium wash | Price: $$$
The Feel Studio was started by stylist Stevie Dance, "a devout Levi's wearer," who modeled the Genuines after old 501s. They come recommended by Strategist senior editor Simone Kitchens, who says that "like vintage jeans, they also have no stretchiness" — but after wearing them a couple of times, "they literally molded onto my body." Dancer Eva Alt agrees, adding they're "like the pair you always hope to find at a vintage store — just without the work." A note: The label suggests these run small — those who like their jeans stretchier might find them even more so — so double check the size chart against your measurements and purchase accordingly.
Best (less expensive) rigid-denim mom jean
Sizes and lengths: 23–31 with a 29-inch inseam | Stretch: Not stretchy | Rise: 12 inches | Cut: Slightly cropped, fuller straight-leg |Wash: Light and medium washes | Price: $$
Reformation jeans usually are made with leggier people in mind, though Katie Schmidt, owner and designer of ethical fashion label Passion Lilie, points out that the Cynthias can give anyone the illusion of longer legs. That's something Strategist editorial coordinator Kelsie Schrader seconds — even though she's five-foot-two, she had a "Sisterhood of the Traveling Pants moment" when she put these on and they weren't too long on her frame, tight through the thighs, or loose at the waist. Schmidt explains that a touch of stretch gives them that vintage mom-jean feel despite being made from Reformation's rigid denim. But that's not to say these are uncomfortable to wear. In fact, Schrader describes the Cynthias as so comfortable she'd be ready to do a bike commute in them. "Normally when people call jeans 'comfortable' I want to ask them how much Levi's is paying them to say that, but truly, these are comfortable," Schrader says.
Best (even less expensive) rigid-denim mom jeans
Sizes and lengths: 23–34 with 30- and 32-inch inseams | Stretch: Not stretchy | Rise: 11.125 inches | Cut: Classic straight-leg |Wash: Light and medium washes | Price: $
The century-old 501s are sort of the gold standard when it comes to jeans — it's the cut that started it all for the denim company. It's also a long-established Strat favorite: the words "these remind me of vintage 501s" are a refrain in our jeans coverage. This "Original Fit" pair features the famous straight leg and a buttoned, rather than the usual zippered, fly. Gabrielle Arruda, a designer-slash-blogger (and Project Runway alum) is a recent convert. "They are the jeans you can actually wear all day," she says, but points out that the darker washes seem to have a "slightly tighter weave, so they don't naturally stretch out as well." These 501s are also a favorite among celebrities we've talked to over the years, including stylist Karla Welch and musicians Aly and AJ Michalka. Welch (who has collaborated with Levi's on occasion) used to break them in by wearing them into the bathtub as a teen — and her advice is to keep "wearing them, and wearing them, and wearing them, and wearing them" until you achieve the perfect fit. AJ Michalka compliments their butt-boosting cut, adding that "Levi's never fails — they just get jeans and always have."
Best vintage-style mom jeans
Sizes and lengths: 23–33 with 26.5-, 28.5-, and 30.5-inch inseams  | Stretch: Not stretchy | Rise: 11 inches | Cut: Tapered straight-leg | Wash: Light and medium washes | Price: $$
If you're searching for something especially reminiscent of the jeans seen on '90s sitcom moms, turn to these from Everlane. "Strangers have stopped me on the street to ask me where I got my pair," says former Strategist audience-development senior manager Mia Leimkuhler (who happens to be a noted Everlaneologist). According to Leimkuhler, the jeans are made from a "sturdier, more rigid denim" compared to the brand's Original Cheeky Jean. I favor the vintage-y, stonewashed quality of the '90s version more, which is why I included them here. But the Original is another acceptable mom jean. Strategist senior writer Liza Corsillo — whose "ultimate denim dream" is to look like Geena Davis or Susan Sarandon in Thelma & Louise — describes the pair as "extremely comfortable and flattering," along with confidence-boosting.
Best mom jean for tall women
Sizes and lengths: 23–31 with 30- and 33-inch inseam (plus 25 inches for petites and 27 inches as the standard) | Stretch: Stretchy | Rise: 11 inches | Cut: Slimmer straight-leg |Wash: Light wash | Price: $$
If you're five-foot-eight or taller, Madewell's "Tall" collection, which topped our guide to the best jeans for tall women, is one of your best bets. There are two options: tall, which includes pairs with (at least) a 30-inch inseam to give those who are five-foot-eight to five-foot-11 enough length to cover their ankles, and taller, designed for those who are over six feet. At five-foot-nine, former Strategist writer Chloe Anello is a loyalist to the line. The problem is that sizes tend to sell out fast. But the brand's signature Perfect Vintage Straight Jean is still in stock in both "tall" and "taller." (You know the drill: Don't dillydally.) Madewell characterizes these jeans as the "'mom jeans' … if your mom was a '90s supermodel," a description stylists Samantha Brown and Sahra Brandt agree with. The vintage-inspired jeans are cut slim though the leg "to keep the silhouette flattering and not dumpy," Brown says. Brandt recommends these jeans to her roster of clients (even ones she hasn't met IRL) since they work on just about anyone. These are also available in an even lighter-washed version.
Best mom jean for petite women
Sizes: 23–37 with 26.5-, 28.5-, 30.5-, and 32.5-inch inseams (extra-long inseam not listed) | Stretch: Stretchy | Rise: None listed | Cut: Classic straight-leg | Wash: Light and medium washes | Price: $
Ever since we first heard about this pair of Abercrombie jeans — first when Strategist writer Arielle Avila asked women who were five-foot-three or shorter about their favorite denim — they've continued racking up praise among the women we've spoken to (see our plus-size and tall-specific jean directories). But since the brand makes two petite-specific lengths to pick from, "extra-short" for those under five feet and "short" for anyone over five feet but under five-foot-three, I thought there was no better option for this title. Beyond the inseams, these are really well fitting. Photographer Lizbeth Hernandez likes the curve-hugging fit, while Serrano praises the pair's cheeky, butt-lifting capabilities.
Best mom jean for plus sizes
Sizes and lengths: 14W–30W with a 31-inch inseam  | Stretch: Stretchy | Rise: None listed | Cut: Slimmer straight-leg | Wash: Light and medium washes | Price: $
This pair from Target's in-house label Ava & Viv was recently featured in our plus-size jean guide with content creator Sydney Scott introducing me to the denim. She's been impressed by the quality of these jeans — especially compared to others with higher price tags — and says they offer a "pretty shockingly great" fit. The jeans are cut on the slimmer side than what would be a traditional straight-leg, which translates to fitting Scott "snuggly everywhere" without squeezing her. (She also notes that straight-leg styles can be difficult to find in plus sizes.) And though the rise isn't listed, the jeans do have a rise that's not too high (so not as stratospheric as, say, the Ribcages) but doesn't gap at her waist.
Some more mom jeans we've written about
• Eva Alt, dancer
• Chloe Anello, former Strategist writer
• Gabrielle Arruda, designer and blogger
• Stella Blackmon, filmmaker
• Sahra Brandt, stylist
• Samantha Brown, stylist
• Strategist editor Maxine Builder
• Jessica Cadmus, stylist
• Lauren Chan, founder of Henning
• Piper Gore, stylist
• Allie Greenberg, brand director at Richer Poorer
• Kim Hancher, style coach
• Monica Heisey, Strategist U.K. contributor
• Tessa Jennifer, founder of Auralie
• Simone Kitchens, Strategist senior editor
• Ali Levine, celebrity stylist
• Aly and AJ Michalka, musicians
• Chelsea Portner, a former project manager at BuzzFeed
• Hailey Rizzo, style blogger
• Katie Schmidt, designer of ethical fashion label Passion Lilie
• Kelsie Schrader, Strategist editorial coordinator
• Sydney Scott, content creator
• Karla Welch, stylist
• Sara Zucker, director of social media at KORRES
Additional reporting by Lori Keong and Chloe Anello
The Strategist is designed to surface the most useful, expert recommendations for things to buy across the vast e-commerce landscape. Some of our latest conquests include the best acne treatments, rolling luggage, pillows for side sleepers, natural anxiety remedies, and bath towels. We update links when possible, but note that deals can expire and all prices are subject to change.