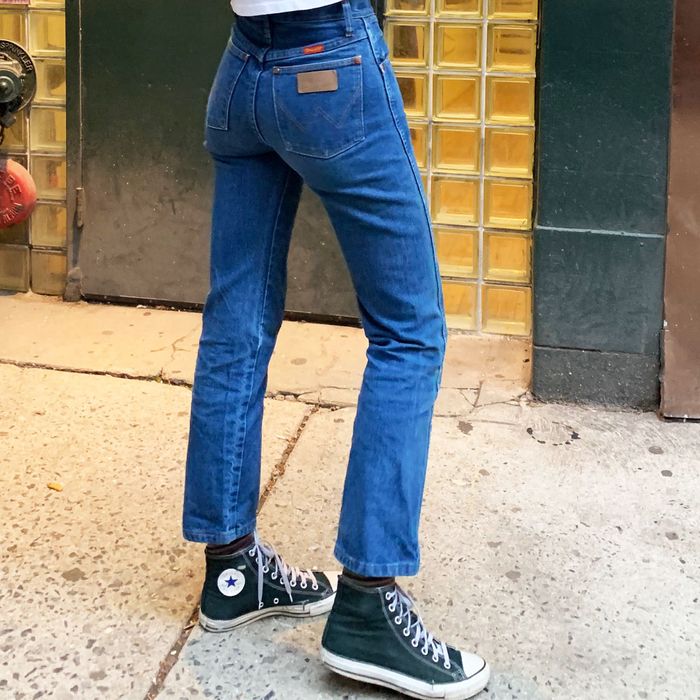 My old, faded Wranglers that aren't that old.
Photo: Courtesy of Simone Kitchens
Update: Since this story went up, four friends mentioned they bought a pair. Scroll down to see how they liked them.
In Oklahoma City, there's a strip of cowboy stores near the stockyards that locals call "Cowtown." It's a long block of low-rise brick buildings where guys in beige ten-gallon hats pull up in their Ford F-350s. And when I'm back home, it's where I like to shop for Carhartt carpenter pants and Round House overalls.
I usually check the guys' sections because workwear styles have remained pretty classic. The ladies' side in recent years has gone more low-rider, boot-cut, and, on occasion, bejeweled with overly decorative back pockets.
But nestled among the stacks of women's shredded and distressed jeans, a pair of "Cowboy Cut" Wranglers caught my eye. The stiff indigo denim, unaffected and unadorned, looked like something fresh out of A.P.C. I grabbed a pair and wiggled into them. The fit was incredible and did good things all around for my butt and my waist. It's a nice medium rise that nips in at the perfect height with a nice straight leg that's cropped at ankle length.
I buy a ton of vintage denim for the old-school fit but end up getting most of my jeans tailored around the waist. These were ready to go. New Levi's rarely look or feel like vintage Levi's, but these Wranglers could have passed for preserved '70s deadstock. At $40, the quality was stunning. Free People sells a $98 broken-in version, but save your money and buy them new. I have a perfectly faded and weathered pair I bought three years ago — and they look pretty much the same.
Some sizing info: The waist is odd-numbered, so if you're a 2, I'd suggest a 3; a 6, try the 7. (Because it's 100 percent cotton and will shrink just a teeny bit, round up.) Then just choose your pant length (I am five-foot-11 and went with a 30-inch inseam). This all makes for some very nice custom-sized "vintage" jeans. The denim is prewashed but still looks pretty raw. After a few washes, they'll ease into the comfortable, thrift-store-faded patina these jeans are known for. Or wash them a little less and prolong their A.P.C.-like stiffness.
Note: If you're buying these on Amazon, scroll past all the grayed-out sizes, there's actually a trove of sizes available.
And a few Wrangler testimonials from my friends…