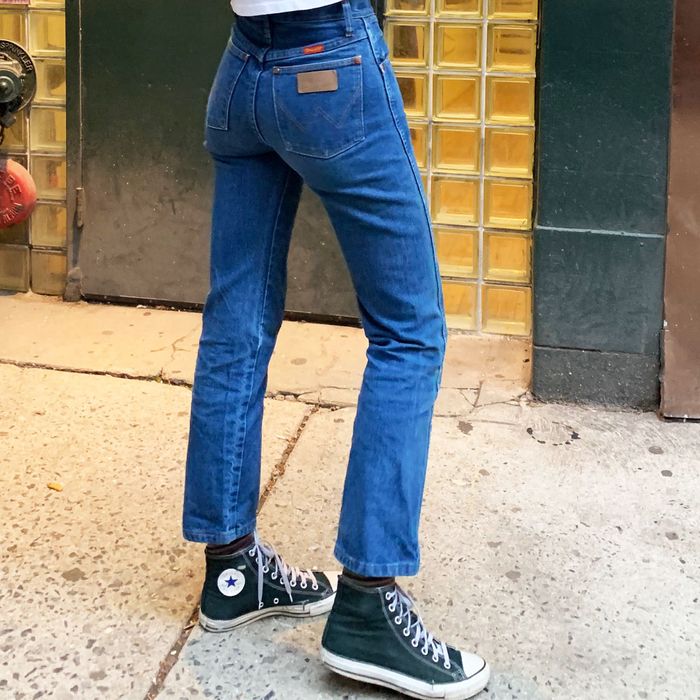 My old, faded Wranglers that aren't that old.
Photo: Courtesy of Simone Kitchens
Update: Since this story went up, four friends mentioned they bought a pair. Scroll down to see how they liked them.
In Oklahoma City, there's a strip of cowboy stores near the stockyards that locals call "Cowtown." It's a long block of low-rise brick buildings where guys in beige ten-gallon hats pull up in their Ford F-350s. And when I'm back home, it's where I like to shop for Carhartt carpenter pants and Round House overalls.
I usually check the guys' sections because workwear styles have remained pretty classic. The ladies' side in recent years has gone more low-rider, boot-cut, and, on occasion, bejeweled with overly decorative back pockets.
But nestled among the stacks of women's shredded and distressed jeans, a pair of "Cowboy Cut" Wranglers caught my eye. The stiff indigo denim, unaffected and unadorned, looked like something fresh out of A.P.C. I grabbed a pair and wiggled into them. The fit was incredible and did good things all around for my butt and my waist. It's a nice medium rise that nips in at the perfect height with a nice straight leg that's cropped at ankle length.
I buy a ton of vintage denim for the old-school fit but end up getting most of my jeans tailored around the waist. These were ready to go. New Levi's rarely look or feel like vintage Levi's, but these Wranglers could have passed for preserved '70s deadstock. At $40, the quality was stunning. Free People sells a $98 broken-in version, but save your money and buy them new. I have a perfectly faded and weathered pair I bought three years ago — and they look pretty much the same.
Some sizing info: The waist is odd-numbered, so if you're a 2, I'd suggest a 3; a 6, try the 7. (Because it's 100 percent cotton and will shrink just a teeny bit, round up.) Then just choose your pant length (I am five-foot-11 and went with a 30-inch inseam). This all makes for some very nice custom-sized "vintage" jeans. The denim is prewashed but still looks pretty raw. After a few washes, they'll ease into the comfortable, thrift-store-faded patina these jeans are known for. Or wash them a little less and prolong their A.P.C.-like stiffness.
And a few Wrangler testimonials from my friends…
"Every time I wear these, I get infinity compliments on them. The fit is perfect — I love how straight and rigid the legs are, and they make my nonexistent butt look a little more substantial. I love that the wash is solid dark blue, no distressing. I have to say, though, I wear them pretty infrequently because I don't want to wash them and ruin how stiff and pristine they are, but I imagine if I wore them more, they'd soften up and age really nicely." — Laurel Pantin 
"When Simone — whose vintage-denim collection is unmatched — told me about Wranglers Cowboy Cuts, which I can buy on Amazon instead of hunting down in vintage stores (only to try on 30-plus pairs and fall in love with and ultimately walk away from the $450 selvedge-denim option), I promptly opened my Amazon app, and added the $40 pants to my cart. Wranglers remind me of my Northern California roots, horse camp, and county fairs. I'm used to seeing broken-in pairs on cowgirls, but brand new they are shockingly blue, a little bit stiff, and the denim is nice and thick, making them feel super durable and way more expensive than their price tag. They do magic things to my butt in terms of lifting." —Katheryn Erickson
"These are a Boy's Cowboy Cut size 12, purchased at the Big R ranch store in Alamosa, Colorado while on a horseback-riding vacation this summer. I often buy boys-size pants because I have narrow hips and a lot of women's styles don't fit me. I initially bought them to ride in, but now I just wear them to work around the yard. They're really stiff and dark — very functional-seeming. Definitely a work pant. They're not overly fashionable which I think is the upstate fashion." —Alex
"Even though I read it quite often (and find no shortage of things I like on there), I hadn't actually bought anything on the Strategist until Simone's Wrangler post. A few things turned this browsing experience into a buying one: One, I happen to know Simone in real life, and to know Simone is to know that she always has the best jeans. (And the best turtleneck sweaters.) Two, Simone is tall, like me. What I'm saying is there is no person in the world more perfectly suited to sell me pants than Simone. But, if that wasn't enough to move the needle: As I was browsing this post — I remember this like it was yesterday even though it was months ago — I was also scrolling Instagram and kismet (or creepy big data!) made me come across a post in which Laurel Pantin had also bought the jeans on Simone's recommendation. I don't need to even dig up the post to tell you what Laurel was wearing in the picture, it's imprinted into my brain as the way I always want to look: a white T-shirt, a great black blazer, and the jeans — relaxed but not baggy, high waisted but in a subtle, non-statement kind of way. (It sounds so basic in my retelling but the whole thing was a real study in execution, especially proportion.)
So this is the part where I tell you that I bought the jeans and wear them everywhere and everyone gives me compliments. But that's not quite what happened: I bought them a size too small and you should not do that. But the situation wasn't dire enough to warrant a return; just off enough to save for a skinnier day. So far, I've worn them at home alone in my living room and I give them compliments. A few things: the wash is perfect. It's a rich-girl jean wash — a great vintage '70s-ish deep blue with no whiskering or cheesy distressing or any other bad-taste bells and whistles you'd expect from jeans at that price point. Second, and this part was a revelation — it has give. Which is something I honestly just didn't think was possible for jeans below 100 bucks: I thought it was all tacky distressing with jegging-level give or like, bare-bones sandpaper pants that make the wearer wince at the prospect of sitting down. One or the other. I never knew you could have both until these jeans." —Amanda Fitzsimons
The Strategist is designed to surface the most useful, expert recommendations for things to buy across the vast e-commerce landscape. Some of our latest conquests include the best acne treatments, rolling luggage, pillows for side sleepers, natural anxiety remedies, and bath towels. We update links when possible, but note that deals can expire and all prices are subject to change.