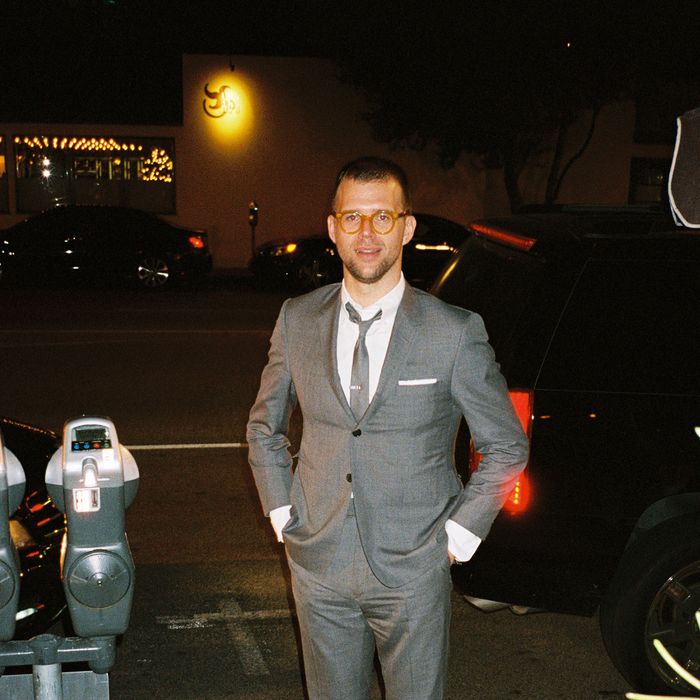 Chris Black in Thom Browne.
Photo: Daniel Hall
If you're looking for the most powerful hair dryer or handiest chef's knife, those things can be easy enough to find. Other objects of desire are a little more taste-based. What's the next status water bottle or hand wash, for instance? Regular readers of the Strategist will know that we've turned to resident Cool Guy Chris Black (he's a partner at brand consultancy Public Announcement) to help us answer both of those questions, and to get more of Chris's advice, he's now answering reader questions for us in a regular column. If you have a burning question about the next fanny pack or Noah rugby shirt, drop us an email with the subject line "Ask Chris" at strategist@nymag.com.
Question: What would you wear to a wedding (formal but not black tie)?
Funny you ask. I recently attended a very chic wedding on Harbour Island in the Bahamas. I caught a wild hair and decided to wear a Thom Browne shorts suit. (Full disclosure: I work with them at Thom Browne.) It got some interesting looks and inquiries, but overall it was a hit.
When I'm not going to a Bahamas wedding, I also have a comfortable navy wool Calm Twist suit from Ring Jacket. I would suggest J. Press or Sid Mashburn as well — two strong, timeless options.
The rest of the outfit I keep pretty classic: a fun tie from the masters at Drake's, a crisp white shirt from Sid Mashburn (or Charvet if you have it like that) and vintage Alden longwings.
As you can tell, I tend to stick to navy suits (black suits can feel a bit waiter-y), but I always add some ~cool~ accessories to make it fun. An indigo dyed pocket square from 45RPM, a colorful lapel pin from RTH (which of course you can't get online), or maybe just a vintage plain-Jane (plain Jack?) Cartier Tank