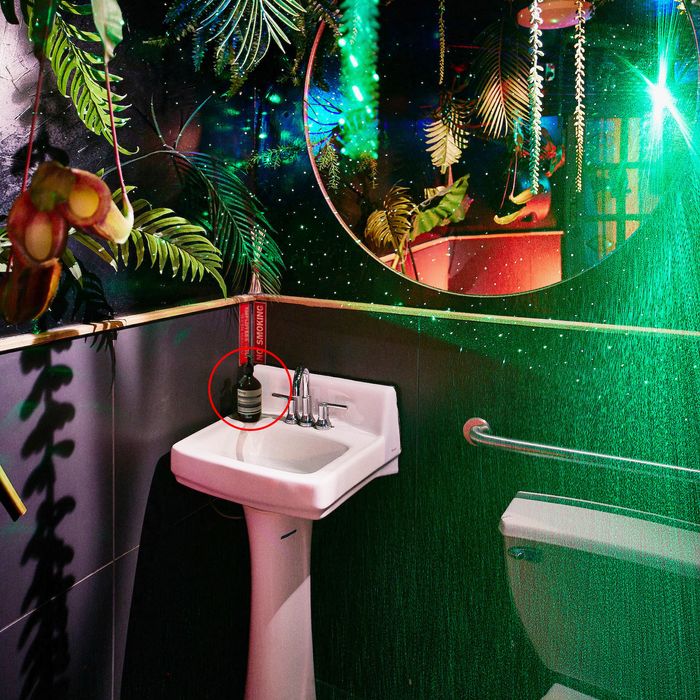 The award for the Best Semi-Public Bathroom in New York City goes to Lalito, the Mex-Californian restaurant tucked away on a side street in Chinatown. The room is inspired by a clip from Jennifer Lopez's "Waiting for Tonight" music video, so it's decked out with green strobe lights; fake jungle plants hang from the ceiling; and on the loudspeaker, the song plays over and over again. Tirelessly, beautifully, ecstatically.
And inside the J.Lo bathroom, people keep stealing one thing: the Aesop hand wash. "We're installing soap holders because people just keep walking away with them," said Ben Dos Remedios, one of the four partners behind the restaurant.
Dos Remedios says that he and his partners chose Aesop because it's Australian, like himself, and they've known about it forever. Sure, I believe him, but I'm also skeptical. Aesop soap is everywhere, and it doesn't matter if you're Australian or not. I spoke to an apartment stager in Florida who told me about how she just used Aesop in a $13 million listing in Coral Gables. I read an article that said the Gramercy Park Hotel uses 250,000 Aesop units a year. I overheard in the Strategist whisper network about the trick of buying only one $40 Aesop bottle and just refilling it with cheaper washes.
So Aesop's the perennial status soap, but now that it's everywhere from Lower East Side restaurants to apartments in Coral Gables, it's perhaps a bit overexposed. So I went in search for what's next, talking to culture soothsayers and placing odds on what'll replace Aesop as the next status hand wash.
Just this October, Le Labo, the 12-year-old New York–based perfume company, released its first line of body products. With that came a hand soap called Hinoki, which has the strongest fighting chance of defeating Aesop's reign, and is already bringing people into Le Labo stores looking to try it out. In just these few months, before Le Labo has even started pitching it to hotels and restaurants, it was picked up by Cafe Colette in the heart of Williamsburg's blossoming Wythe Avenue (and owned by the same people behind Union Pool and Hotel Delmano) and the Hotel Americano in Chelsea. SoulCycle partnered with Le Labo for their in-house line. They've been in contact with the Bowery Hotel. For everyone who can still sniff out Santal 33 when it's lingering behind in a conference room at work, this is the hand soap for you. And it's cheaper than Aesop.
Odds of becoming the next Aesop: 1 to 19
Le Labo reached ubiquity with Santal, and our bet is that they'll do it again here.
When Atla, the Noho Mexican restaurant, first opened last year, they were using soap by a brand called Te+Te (Hand+Hand in Japanese) that's made of Japanese essential oils and was started by a Japanese-born former sculptor. But a little while later, the restaurant struck up a deal with Aesop and the Te+Te disappeared. Aesop prevailed, for now, but Te emerged as a strong and worthy contender. Proof that something else is in the air. And note: This, like the Le Labo, is Hinoki-scented. If there's anything we can know for sure, it's that Hinoki is the fragrance of the future.
Odds of becoming the next Aesop: 1 to 17
With a little more name recognition, this is primed to take over.
Perhaps the most exciting new thing in hand soaps is the Jasper Morrison–designed bar, made possible by Good Thing. It came about like this: "A year-and-a-half ago, we started engaging with Jasper on Instagram," says Jamie Wolfond, founder of Good Thing. "After much thought, we decided to pitch him on the idea of designing a bar of soap." The British industrial designer said yes, and now a man who's been exhibited at the MoMA, designed glassware for Alessi, and built chairs for Herman Miller, has developed a bar of soap. It's not specifically hand soap, per se, but the transparent pigment- and fragrance-free bar is unfussed with, unadorned, and a statement of the essentialness of the product. Already, it's struck a chord. Although the product doesn't officially ship until April, Wolfond says that "it's accrued more preorders than any other item we've launched that way."
Odds of becoming the next Aesop: 1 to 3
Restaurants will probably never fully get behind a bar soap, but I wouldn't be surprised if you started seeing these in every design-obsessed minimalist's house.
The height of natural beauty is that it's multipurpose; your favorite hand soap might also be your shampoo, and your bodywash. Think of the people who also use Dr. Bronner's as toothpaste. "I love multiuse product because it feels less precious and far more appealing," says Cindy DiPrima Morisse, the owner of natural-beauty store Cap Beauty. But go far beyond Dr. Bronner's with La Tierra Sagrada's highly sought-after shampoo that just came out last spring. A quick Google search reveals people admitting that they've waited two years on the product, and according to DiPrima Morisse, "it's beautiful and smells amazing, and it's also a perfect hand soap." Just imagine how surprised your powder-room visitors will be when you say, "Yes, this shampoo is actually the next great hand soap."
Odds of becoming the next Aesop: 1 to 4
Just wait till Goop writes about it.