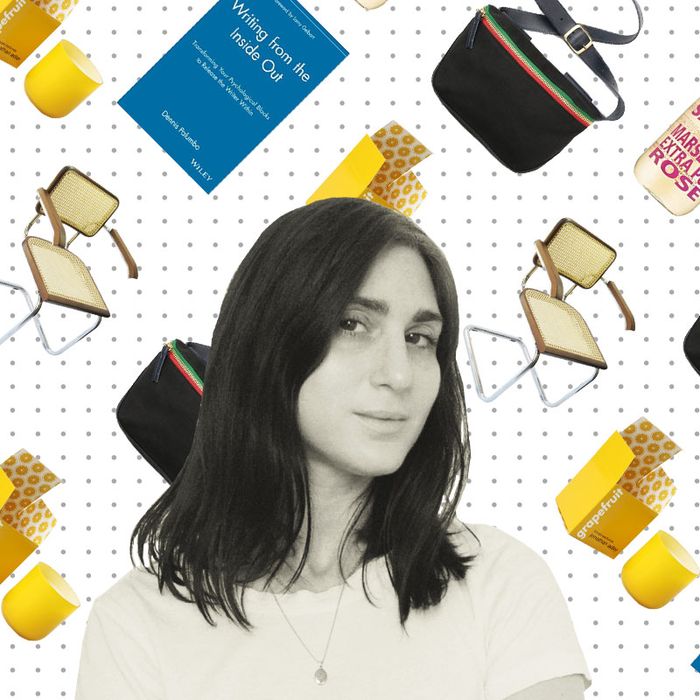 If you're like us, you've probably wondered what famous people add to their carts. Not the JAR brooch and Louis XV chair, but the hand sanitizer and the electric toothbrush. We asked Lesley Arfin, the writer of Netflix series Love, which items she can't live without.
I used to hate washing my hands — it's so boring! That all changed once I discovered this soap. Sometimes, I do a little bathroom drive-by, skip the toilet business altogether, and just let my hands live it up. The bottle is a sturdy glass, the graphic design is simple and pretty, and you can order refills.
Dennis Palumbo was a big-time Hollywood screenwriter who got his Ph.D. on weekends. He retired from TV and movies, became a shrink, and started writing mystery novels. This book has nothing to do with any of that. It's my bible for when I'm in a writing rut, and even for when I'm not. If you are a writer — not if you want to be one, but if you are one — this book belongs on your shelf next to Stephen King's On Writing and Anne Lamott's Bird by Bird.
This is the only concealer that matters.
This is the best candle that's ever lived. Jonathan Adler, if you're reading this, please make a perfume of this candle. I once tried by melting the old wax and … Whatever, it didn't work. (P.S.: yes, this is the SoulCycle candle.)
All the cool chicks in L.A. fuck with Clare V. For women who work on sets, the fanny pack is key. You're constantly moving around, and if I need my ChapStick, there's no time to dig through my purse — not to mention how noisy that can be. I've gotten too many dirty looks during "quiet on the set" time from digging around my big fancy bag looking for a pen (see below). Keep it tight, keep it professional, and keep it on your person. Goddamnit, I should be writing commercials.
I grew up with these chairs around my kitchen table, where I'd eat cut-up pieces of cantaloupe while my mom drank coffee and smoked Virginia Slims. I wanted my own kitchen to represent that same kind of familiarity, but whenever I saw these Breuer chairs at antique stores, they were always super expensive, with the caning in bad shape. Then the internet decided to rule once again, and I discovered the same chairs online. I love them so much.