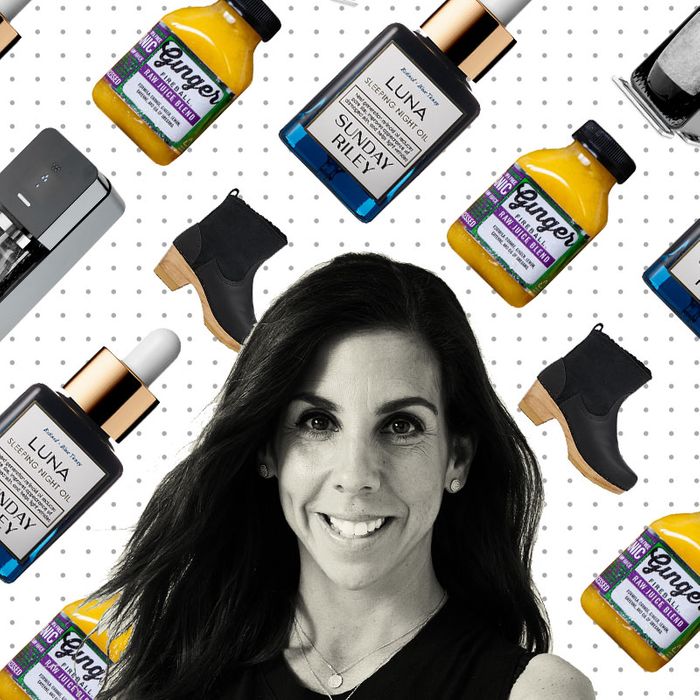 If you're like us, you've probably wondered what famous people add to their carts. Not the JAR brooch and Louis XV chair, but the hand sanitizer and the electric toothbrush. We asked SoulCycle CEO Melanie Whelan to tell us about the calming candle, face oil, and "Tribeca-mom shoes," she can't live without.
"Le Labo Santal 26 candles are everywhere. I first smelled it in the Gramercy Park Hotel; I remember being there in that hotel, and in and of itself, it's an escape in the city, so I bought the candle to remind me of that. Now, I have them everywhere: some on my desk, a huge one at home, at my beach house. I light it and it just makes me feel relaxed. Oh, and I keep a Jonathan Adler grapefruit candle in the bathroom."
Note: This is sold out from Orchard Mile, but it's available from Nordstrom.
"We drink a ton of sparkling water at home, and so I am constantly using my SodaStream, and we have four bottles ready in the fridge at all times. My family and I, we have this signature drink; we call it "the lemon popper," even though it's made from 90 percent seltzer water, 10 percent Simply Limeade. [Editors' note: Here's another lime juice we love.] The first thing I do when I get home is, I start chatting with the kids, and we make lemon poppers. Last night, I had a dinner and got home at 10:30, and I was like, 'I need a lemon popper.' In fact, I just had a pregnant friend over for dinner, and I said, 'oh, do I have a drink for you …'"

"Sunday Riley's Luna Sleeping Night Oil has changed my life. I have very dry skin, and when I get stressed, it manifests itself in my skin becoming drier. All you do is, you take two drops of this, put it in the palm of your hand, rub it on your face at night, and you can just feel the warmth and moisture on your cheeks. She makes a daytime oil as well, which I don't use as often, but I use the night oil every night."
"I call my No. 6 heeled clogs my 'Tribeca-mom shoes.' I wear them seven days a week in the winter. They are as comfortable as sneakers and as warm as slippers."
"My Yves Salomon fur vest goes with everything; I wear it way too much. I'm always a freezing-cold person; I have poor circulation, and this vest is soft and beautiful, and keeps me warm — and I can throw it over things and it just kind of makes an outfit. My life is very fluid; I'll be coming from SoulCycle to an event, and I can just throw it on, and it will work with any outfit."