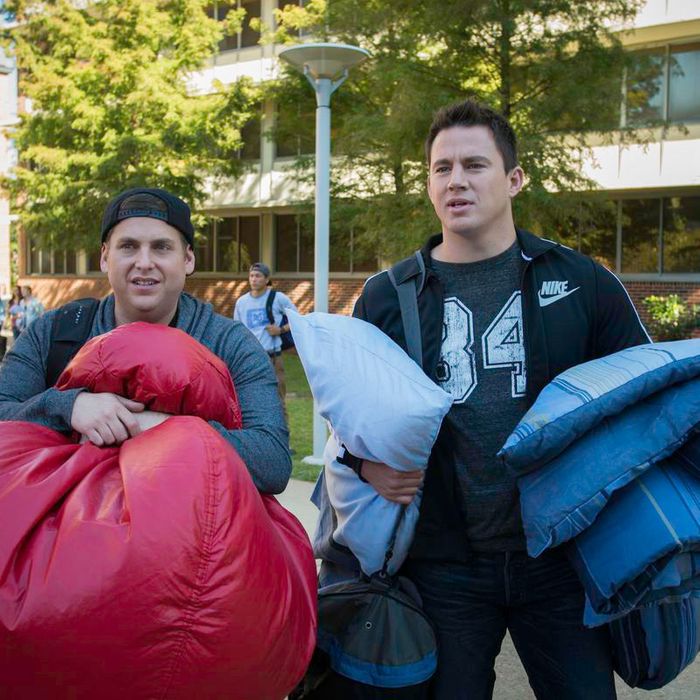 If you're heading off to college this fall, or are the parent of an incoming freshman, you're probably neck deep in packing lists full of dorm-room staples like twin extra-long sheets and bed risers — not to mention a whole slew of items you might not have packed in past years, like protective masks and hand sanitizer. While most of the back-to-school lists you'll find online or in big-box stores are fairly generic, we were curious about what actual students find most useful, and which things are truly functional on campuses. We were also curious to hear what items they're packing this fall to make college amidst COVID a bit more manageable. To find out, we consulted 17 resident assistants from eleven different colleges, who together have looked inside hundreds of dorm rooms. Our seasoned experts are so familiar with outfitting these spaces, they told us, that they're often the first source students consult when it comes to furnishing their rooms.
Interestingly, one common piece of advice from our RAs is to avoid overpacking. "Don't buy extra furniture until you've seen the room you're going to be in," says recent Barnard graduate Alice Min, who was an RA for three years. "On move-in day, there were so many fed-up parents lugging futons and nightstands home." Sabrinna Fabi, who graduated from Marymount Manhattan College in May and was an RA there for one year, agrees: "It's super important to only bring items you really need to get through the year. Saving space will not only create less roommate problems — it will also allow you to declutter your life." For what's actually essential, read on to discover the space-saving hangers, portable speakers, plush mattress toppers, and more that our panel of RAs recommend.
To make it even easier, we've organized the list into categories. Click here to jump to bedding, storage and organization tools, school supplies, décor, tech and appliances, kitchen supplies, bathroom supplies, or cleaning supplies.
Best Bedding
For many college kids in small dorm rooms, the bed is a kind of home base — not just for sleeping, but for studying, watching Netflix, or hanging out with friends. So it's not surprising that several of the RAs we spoke with stressed the importance of making sure your bed is comfortable. "The beds that most colleges provide don't tend to be that comfortable, so a lot of students buy mattress toppers," says Justin Feliciano, an RA at the University of Connecticut. Fellow University of Connecticut RA Klajdi Sosoli agrees that a mattress topper is "extremely important," and recommends amemory-foam option.
It's more expensive than the Lucid mattress topper, but Hannah Maier-Katkin, a former RA at Brown University, says this plush Tempur-Pedic one "will make your dorm mattress not only tolerable, but genuinely comfortable."
Since maximizing your bed's comfort is a priority, you'll likely want additional pillows for support. Sarah Rebarber, who's been an RA for two years at Columbia University, recommends an upright pillow that's perfect for reading or working on your laptop in bed. Plenty of her fellow RAs agree. "Almost everyone I lived with last year had a study pillow and we all got great use out of them," says Kynzie Clark, a first-year counselor at Yale (the school's equivalent to an RA). "If I want to study or watch a movie in bed it's super-convenient. I also use it when I have friends over in my suite and we run out of chairs so I can sit with something comfy and not just lean on the wall." Montana Love, also at Yale, says, "My backrest pillow has made it a lot easier for me to do readings for class in bed at night and on days when I didn't feel like walking to the library."
A classic body pillow works, too, especially for getting some much-needed rest. "College students love to nap and body pillows are popular because of how comfortable they are," says Feliciano, who often sees this style in his residents' rooms.
A few RAs talked about students buying blankets for staying cozy, and Feliciano says, "I have seen a lot of students get one with their school logo or mascot." This plush blanket, which he calls "perfect for my dorm room," can be ordered in dozens of different school colors. (If you don't see your school on Amazon, there are many more available here.)
With roommates who might leave the light on when they're up late studying, Love says a sleep mask "can be a huge help for anyone who likes to sleep in a dark room." This memory-foam mask that forms a comfortable seal around your eyes to block any light from getting in is a Strategist-writer favorite.
Best Storage and Organization Tools
"Under-the-bed storage is great because it doesn't take up any space but allows you to utilize what's already yours," says Fabi. Since most dorm-room beds are already lofted (or easily can be with a set of bed risers), she thinks stashing bins and boxes under your bed is a helpful way to add more room to a cramped space. Brittany Waugh, an RA at Michigan State University, turns to Target for affordable under-the-bed storage pieces, and Jolene Addi, who's starting her second semester as an RA at the University of Connecticut, agrees. "They have a whole brand [Room Essentials] tailored to college dorms," says Addi. This woven-style bin creates less visual clutter than your standard clear plastic one, and will only set you back $6.
For a workhorse storage piece, Rebarber likes this cart from the Room Essentials line, because it "moves easily, [isn't] heavy, and gives you easy access." Perfect for keeping snacks, school supplies, or accessories like scarves or belts visible and within reach, this piece is a good alternative to the "big drawers and bulky furniture" often provided by colleges.
Staying organized can be a struggle for lots of students, according to Addi, so she recommends a desk organizer for corralling pens, Post-its, and other school supplies. "It comes in handy because you can keep your most frequently used folders and notebooks accessible, and you can put other notebooks that you open less frequently in your drawers," she says. This organizer has spots for all your essentials, so you'll spend less time digging around for what you need, plus a spot for your phone and USB charging ports.
Both Addi and Feliciano say metal desk organizers are popular as well, and this one has a pull out drawer for some added organization.
Recent grad Kira Sommer spent two years as an RA at George Washington University, and says one of the best things residents can do to maximize space is use wall hooks for hanging towels, bags, coats, and more. But unlike hooks that stick to, or have to be nailed into, a wall, her preferred over-the-door ones "don't leave any marks on walls and won't get you in trouble with housing at the end of the year." Sommer adds that this gold-plated one "can honestly make cute décor."