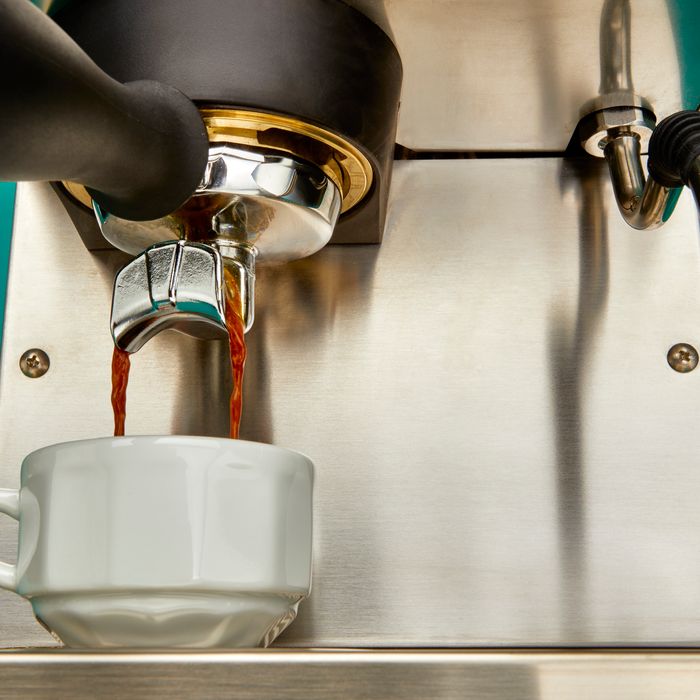 As I researched this article, one thing became crystal clear to me: Making quality espresso at home can be tough. It's not that it isn't worth doing; it's just that if you have enough of an espresso habit to warrant a home setup, you probably care about how good your espresso tastes. And if you care about how good your espresso tastes, you'll likely have to invest some real money into its production.
"My first question when people tell me they want to make espresso at home is 'Why?'," Kyle Ramage, co-owner of Black & White Coffee Roasters in Raleigh, North Carolina told me. "The most common answer I get is to save money. But the reality is, if you're not willing or able to spend a decent amount, you're not going to get equipment worth owning." The market for espresso equipment simply isn't the same widely populated and overall-impressive field as standard coffee makers, but while Ramage's view is, in my mind, too unconditional, it serves as a bit of a disclaimer for the list below. The most-lauded option — the one where you're truly going to get cafe-grade shots and beautifully frothed milk — is well over $5,000. That said, our best overall pick — which I tested myself with great results — comes in at under $1,000, and there are several options in the hundreds-of-dollars price range that pretty much all the pros I talked to said make for totally solid home setups. And finally, there are a couple of budget picks that were less talked about, but might be exactly what you're looking for.
There are two main components to consider when buying an espresso maker. The first is whether or not it comes with a milk frother. If it does come with one, it might have a "dual boiler," which means you can pull your espresso shot and froth your milk at the same time. This, as Jerad Morisson, co-founder and co-CEO of Sightglass Coffee in San Francisco, explains, "really helps temperature and pressure stabilization so that the machine is dependably at optimal brewing and steaming settings." If it doesn't, however, you have to make your coffee and your milk one after the other. The second component to consider is whether or not it comes with a grinder. Some machines have that mechanism built-in, while for others, you'll need to buy one separately.
Then there's size to consider, since creating a home espresso setup can take up considerable counter space. For this, I've simply listed the dimensions of each.
Espresso machines aren't cheap. But the cost is relative, denoted in this list by the number of dollar signs. $ means it costs less than $350, $$ means between $350 and $850, $$$ between $850 and $2000, and $$$$ above $2000.
Best overall espresso maker
Components: No dual boiler, no built-in grinder | Size: 9.2" x 11.4" x 13.3" | Price: $$
The Rancilio Silvia Espresso Machine comes enthusiastically recommended by Cary Wong, a member of the Partners Coffee education team, as well as Suyog Mody and James McCarthy, founder and coffee educator, respectively, at Brooklyn's Driftaway Coffee. "Rancilio used to make commercial machines," Mody says. "They created this one to send to their distributors and give away at trade fairs. But it ended up so popular that they decided to release it to the consumer market." Mody and McCarthy even go so far as to specifically say they prefer the Rancilio Silvia over Breville, the only other company that came up as making good at-home espresso makers at middle-of-the-road price points (much more on Breville below).
The machine is straightforward with three settings (for hot water, to pull shots, and to activate the steam wand). I watched an instructional video when I unpacked it and then understood how to use each one without needing to revisit any directions. While there was a bit of a learning curve for me (my first five or six tries yielded espresso that was too dark and bitter), I attribute that more to my inexperience and less to the machine itself. I finally nailed it by applying the right amount of pressure to my tamping and playing around with the angle and pressure of the steam wand to froth my oat milk. After a few days, I was able to consistently produce a smooth latte.
Even for a newbie like myself, there are some immediately noticeable appealing features. It has a flat tray at the very top to store mugs and glasses, and the bottom plate is very easy to slide off and clean thoroughly. Mody also says that while all espresso makers generate noise, this one is on the quieter side. And perhaps most notable of all, it's shorter than any of the other electric machines on this list — key if you have low cabinets.
Best less expensive espresso maker
Components: No dual boiler, no built-in grinder | Size: 12.3" x 10.1" x 13.1" | Price: $$
"Breville home machines are some of the best you can get in terms of user experience and customer service," says Ramage. Nearly every other expert I talked to seem to agree. While truly serious coffee people (like the experts themselves) might invest in the higher-end items on this list, the average person making espresso at home isn't likely to be so hyperaware of espresso nuances. So Breville it is: all-around well-performing espresso machines with a generally wide range of capabilities in a wide range of price points (that's why you'll see multiple Breville models on this list). The infuser is on the lower end of the spectrum for Breville, but not the absolute lowest. Both the Bambino and the Bambino Plus come in cheaper, with the former retailing at $300 and the latter at $500. But the Infuser was named specifically by Suarez, who calls it "a great entry model." As with the Rancilio Silvia, there aren't any bells and whistles here. You'll have to grind your beans separately, as well as brew your shot and froth your milk one after another. But if that doesn't bother you, you'll likely be very happy with this dependable, affordable model.
Best portable espresso maker
Components: No dual boiler, no built-in grinder | Size: 4.17" x 3.07" x 2.8" | Price: $
"We actually crowdsourced this one in our work Slack channel," Mody told me. "Several people on the team strongly endorse it. I feel like it's sort of an industry secret. I got so excited I actually ordered it myself like an hour ago." The Picopresso works with manual hand pressure, meaning one essential part of the espresso-making process is generated via the person brewing, instead of the machine. According to the company, you just have to dial in the correct grind size and tamping (something you have to do with electric models anyway) and then perfect your pulling technique — a skill that seems well worth the learning curve for an espresso maker that costs not much more than $100 and makes a stellar shot. This model is marketed as a portable espresso maker that's good for travel, but there's no reason it can't be employed at home. Its super-compact size may even be essential for people with small kitchens.
Best compact espresso maker
Components: No dual boiler, built-in grinder | Size: 7.09" x 16.1" x 12.48" | Price: $$
Strategist associate editor Jenna Milliner-Waddell says the Café Affetto is narrow and compact enough to sit on the small bit of counter space she has. Indeed, its width is only seven inches across, less than any other permanent setup on this list. (The portable and stovetop ones below are both smaller.) "It couldn't be easier to use thanks to the automatic grinder," Milliner-Waddell says. "You put whole espresso beans in, fill the reservoir with water, and it grinds and brews the perfect shot." It also features a steam wand, which Milliner-Waddell says heats all brands of oat and almond milk just the same. Perhaps most impressive of all, though, is the machine's smart capabilities: It prompts you to clean and descale it, so you never forget upkeep, and it has app compatibility that allows you to preprogram your preferred settings.
Best single-serve espresso maker
Components: No dual boiler, no built-in grinder | Size: 16.25" x 5.5" x 12.75" | Price: $
Textile designer Caroline Hurley and clothing designer Alex Crane keep a Nespresso VertuoPlus, a pod-based single-serve machine, on their kitchen counter "because it's just so easy," Hurley says. Unlike most of the models here where you have to learn how to pull a smooth shot, this one operates by placing a Nespresso pod into a slot (both Hurley and Crane use the espresso ones, but you can also buy them in coffee form) and clicking a button. The maker heats and brews in a matter of seconds, automatically depositing the used pod in a container at the back that you can empty and recycle (with some specific guidelines).
Hurley likes that you can buy a big variety of flavors that they'll send to you in a tester pack — "like jelly beans but for coffee," she says — so you can determine your preferences. "And honestly, they taste deep and flavorful," she says. "I don't think grinding whole beans makes much of a difference." Crane says he appreciates that the maker brews with what he calls "a gentle sound, unlike some others that sound so loud and sinister," as well as the fact that it only produces one cup at a time so he can watch his consumption. "If there was a full French press, I would drink all of it," he says.
If you're interested in a much less expensive (and portable) single-serve espresso maker, the $40 Aeropress comes recommended by two coffee pros who praise it for its low-acidity brew and durability.
Best stovetop espresso maker
Components: No dual boiler, no built-in grinder | Size: 7.5" x 8" x 4.5" | Price: $
"Although the result of the moka pot is concentrated and full-bodied, it is not espresso," explains Ken Nye, owner of Ninth Street Espresso. "Rather, it's a unique and classic brewing method unto itself." Still, moka pots are often described as "stovetop espresso makers" — and if you're simply looking for a way to make delicious espresso-like drinks at home without any fuss, they're a really good bet. I have used the Bialetti version many times and love it. It's a classic Italian model, though there are many out there to choose from. No matter the brand, moka pots take super-finely ground beans, just like espresso machines, and generate a liquid prime to be mixed with milk. Marco Suarez, one of the owners of Methodical Coffee in Greenville, South Carolina, endorses them too, saying, "I think they're really cool. They had a moment in America a while back and then so many other gadgets came on the scene. But I feel like they're about to have another moment." (For the record, he's not the only expert I talked to who anticipated this trend.) "I don't know if they can do the exact concentration of a machine," he says, "but they get pretty close if you're just trying to replicate a good cappuccino or latte at home." And one final endorsement: Isabella Rossellini makes two espressos a day with her Bialetti, an item she says she can't live without.
Best stovetop espresso maker for shots
Components: No dual boiler, no built-in grinder | Size: 5" x 6" x 3" | Price: $
For a Bialetti with slightly different functionality, Vox senior culture reporter and critic Alissa Wilkinson loves her Mini Express Moka Set. It still percolates from the heat underneath a burner but dispenses directly into two glasses instead of a larger compartment up top. "This one is great because it really does pull shots rather than feeling like a small cup of very strong coffee," she says. "Also, often my husband will make espresso and then just bring me the little cup, which is efficient and fun." Additionally, she points out that, just like the classic model above, no mechanical parts means it's "fairly indestructible," "simple to clean," and can be "squirreled away most anywhere or packed for Airbnb purposes."
Best espresso maker that also makes coffee
Components: No dual boiler, no built-in grinder | Size: 12" x 8.75" x 15.04" | Price: $
This machine bills itself as a coffee maker — but it has what the brand calls a "specialty" button to make coffee concentrate, similar to the full-bodied liquid the moka pot creates that's especially good for lattes and cappuccinos. (There's an attached milk frother for making those drinks, too.) Strategist writer Arielle Avila uses the setting regularly and says it "definitely tastes stronger than regular coffee and is thicker." It doesn't quite have the same creaminess as true espresso, she admits, "but I still think it's a win for the price point and convenience."
Best espresso maker with built-in grinder
Components: Grinder, no dual boiler | Size: 13.9" x 16.1" x 16" | Price: $$
The Breville Barista Pro is comparable to the Rancilio Silvia in price point, but it comes with a built-in grinder. For his part, Suarez says, "I don't necessarily think you need one. When you have less going on in one machine, you can kind of optimize for each thing. If the grinder breaks, you're screwed a little bit." But I think it's worth noting that a good espresso maker and a grinder for $800 is really quite affordable, as stand-alone grinders can also cost quite a bit.
Best less expensive espresso maker with built-in grinder
Components: Grinder, no dual boiler | Size: 14.25" x 11.25" x 15.75" | Price: $$
Hugo Murray, co-founder of New York City's Butler, is a pro who stands by the idea of a built-in grinder, especially for people who are short on space. He's used this machine — which comes in at $150 less than the similar Breville model above — at home for nearly a year. (Both the Breville and De'Longhi are the only picks on this list with a built-in grinder and no dual boiler.) "The grinder is easy to adjust, shots pull well, and the steam wand allows for good texturing," he says, referring to the high amount of pressure it emits to create "a silky thickness all the way through" the milk. He also points out that all the removable parts are dishwasher safe, so it's easy to keep clean.
Best espresso maker with dual boiler
Components: Dual boiler, no grinder | Size: 17.3" x 17.3" x 20.2" | Price: $$$
One thing the pros agree on: It's optimal to have a dual boiler. As explained above, a dual boiler lets you simultaneously brew your espresso and froth your milk, each function heating to the optimal degree. Not only this, but without a dual boiler, "there's a little bit of a time delay," McCarthy notes. "If you steam your milk first, you have to wait for the boiler to cool down so it doesn't burn your coffee. If you make your coffee first, you have to wait for it to heat up before you steam your milk." This machine goes up several inches in size from the other models, so you'll want to make sure you have the space for it.
Best espresso maker with built-in grinder and dual boiler
Components: Dual boiler, built-in grinder | Size: 14.5" x 14.7" x 17.6" | Price: $$$
If you really want an all-in-one machine — meaning it has a dual boiler and a built-in grinder — the Breville Oracle is the way to go and is called out specifically by Ramage and Wong. Surprisingly, it is slightly smaller than the Brand's Dual Boiler, so if space is an important consideration (especially since with the Dual Boiler you'll have to get an additional piece of equipment), it may be the perfect fit. Wong also says he wouldn't worry too much about getting a separate grinder: "If you're a regular consumer, it's really useful and convenient."
Best high-end espresso maker
Components: Dual boiler, no built-in grinder | Size: 6.7" x 5.6" x 4.0" | Price: $$$$
Far and away the espresso maker most recommended by the pros is the Linea Mini, which, as Wong puts it, is "literally a commercial machine at home." It's made of parts that go into La Marzocco's industry-standard café-grade machines — only smaller. And unlike the Rancilio Silvia (which, if you'll remember, is also made of super-high-quality parts), the Linea Mini has that dual boiler I've talked so much about, which really puts it over the top. It's also, we know, over the top in price, at several thousand dollars more than the top-of-the-line Breville. In other words, it's not so much for the casual (or even semi-casual) espresso drinkers among us. But it would have been a glaring omission in the world of espresso to leave it off this list. Not only is it "aesthetically beautiful," as Wong says, it's also quite customizable; you can choose the color of the feet, the style of the knobs, and more. "There is no other machine that is as durable and that can consistently make perfect coffee shot after shot," says Morrison.
La Marzocco recently released an even more compact model, the Linea Micra, which the brand calls a "true home espresso machine." It's still expensive at a couple thousand dollars less than the Mini, but its build and functionality are very similar. The most notable differences, aside from the placement of certain buttons and indicators, are the smaller steam boiler and water reservoir; you have to fill the reservoir more often, but the appliance heats up faster. (If you want to directly compare the features and specs of all La Marzocco's offerings, take a look here.)
If (for some reason) you want an even more professional setup than the Mini, you can buy La Marzocco's GS3 for an additional $2,000. Morrison explains the difference: "Whereas the Linea Mini is more analog, the GS3 has a full-feature electronic interface that allows the user to fine-tune and program coffee brewing settings to their preferences."
Some other espresso makers we've written about
• Arielle Avila, Strategist writer
• Alex Crane, clothing designer
• Caroline Hurley, textile designer
• James McCarthy, coffee educator at Driftaway Coffee
• Jenna Milliner-Waddell, Strategist associate editor
• Suyog Mody, founder of Driftaway Coffee
• Jerad Morisson, co-founder and co-CEO of Sightglass Coffee
• Hugo Murray, co-founder of Butler
• Ken Nye, owner of Ninth Street Espresso
• Kyle Ramage, co-owner of Black & White Coffee Roasters
• Marco Suarez, co-owner of Methodical Coffee
• Alissa Wilkinson, Vox senior culture reporter and critic
• Cary Wong, Partners Coffee education team
The Strategist is designed to surface the most useful, expert recommendations for things to buy across the vast e-commerce landscape. Some of our latest conquests include the best women's jeans, rolling luggage, pillows for side sleepers, ultra-flattering pants, and bath towels. We update links when possible, but note that deals can expire and all prices are subject to change.
Every editorial product is independently selected. If you buy something through our links, New York may earn an affiliate commission.