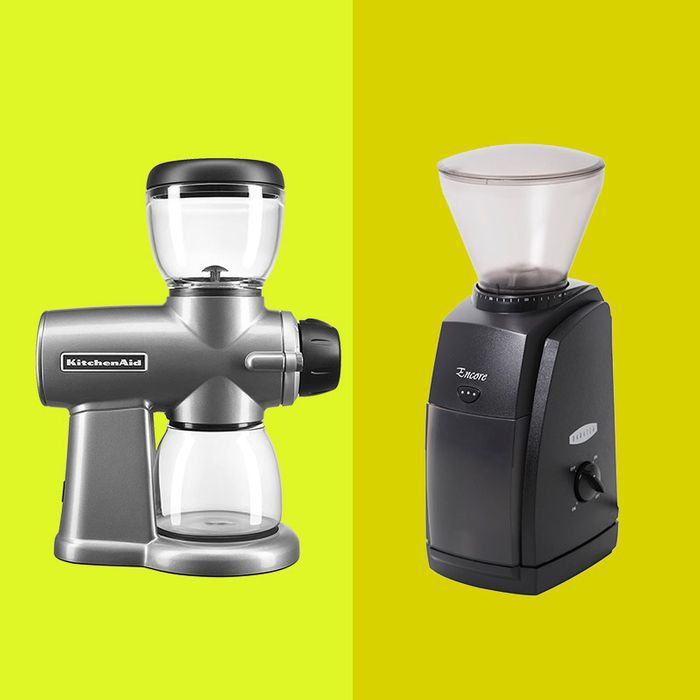 Photo-Illustration: retailers
Even if you've purchased the coffee maker of your dreams, your morning cup of coffee is only going to be as good as the beans you're using. And any coffee snob will tell you that you're going to get much better results — and fresher-tasting coffee — if you grind coffee beans yourself, just before you need them. Coffee beans can stay potent for a while if they're left whole, but the flavor starts to degrade once they're ground. So if you want good coffee in your kitchen, you're going to need a good coffee grinder.
To figure out which coffee grinders are worth the investment — and which give you the greatest bang for your buck — we asked baristas, roasters, and coffee-shop owners about the coffee grinders they keep on their own kitchen counters (and sometimes even in suitcases because good coffee never takes a vacation). All the experts we spoke with favor burr grinders over blade grinders. "Burrs give you a consistent grind size, which is the most important thing when it comes to brewing coffee," says Joanna Lareau, general manager at Blue Bottle Chelsea Market. "Blades just chop the coffee up into inconsistent sizes," which can leave some of the coffee "over-extracted" and some "under-extracted," she says. "Burrs give you more control over the extraction, so you can tinker with it until you find what tastes good." With that in mind, know that all the grinders below are burr grinders — but each has unique qualities, too, which we've pointed out as a way to help you find the best one for you.
Best overall coffee grinder
When we were talking to our experts, the Baratza brand came up more often than any other. Some favor its higher-end models, but ten of the coffee aficionados we spoke with recommended this more affordable option, highlighting its quality performance and solid build, especially for the price. Zachary Elbourne, general manager of Bedford-Stuyvesant's Burly Coffee, is one, telling us this is the grinder he buys for friends and family who want a better home setup. Yasmina Palumbo, a co-owner of New York City's Mud Coffee, says that "you can spend way more money on the higher-end Baratza models, but this one does the job for a fraction of the cost." Lareau likes it, too: "For home use, I 100 percent recommend the Encore. It's simple to use and super-consistent. I've had one for almost three years now, and it's still amazing." Barista Humberto Ricardo, the founder of Third Rail Coffee, adds that Baratza machines are "designed to be repaired instead of thrown away should something break, which is good for my wallet and for the planet."
Elliott Foos, director of Coffee at Daymoves café in Brooklyn, told us that he used the Encore at work when he previously ran the coffee shop attached to chef Flynn McGarry's Lower East Side restaurant, Gem. "It's intuitive and performs wonderfully," he says, "grinding from fine espresso to the most coarse setting for French press or cold brew." (The Encore, in fact, has 40 grind settings, so you can easily adjust to whatever coarseness or fineness you're looking for.) While he acknowledges it can be a little loud — a "touch chatty," in his words — Foos says that's to be expected for a grinder made of plastic and designed for the home.
Best (less expensive) coffee grinder
Photo: retailer
If you're looking to spend as little as possible on an expert-recommended grinder, Paul Schlader, co-founder and head roaster at New York City–based Birch Coffee, recommends this "more affordable alternative" to most burr grinders. With this, you're getting a burr grinder for about the same price you'd pay for a blade grinder, according to Schlader. While the Krups is pretty simple, he promises it has the essentials: 12 settings for selecting your preferred grind size and a "cup selector" dial to grind the exact amount of coffee you need for the number of coffees you're making.
Best programmable coffee grinder
Four of our baristas praised Baratza's Virtuoso grinder as a suitable step up from the Encore above. For Foos, the main reason to go for this instead of the Encore is that the Virtuoso lets you program your grind "by time." In other words, you can set this to grind for a specific time, turn it on, walk away, and return to beans that are never overground. (The Encore, by contrast, must be stopped and started manually.) Baratza's Virtuoso grinder is also Ricardo's "favorite grinder, and the one I use at home," he says. "It's rock-solid and technically superior in ways that get kind of geeky." He especially likes that it's "fast" and "relatively quiet," which makes a big difference, especially when compared to the Encore. "Grinding coffee is inherently noisy, so getting it done quickly is very much appreciated by your spouse when they're trying to sleep in," Ricardo adds. In addition to fine-tuned grind settings and premium components, the Virtuoso comes with a digital timer and display. Marcos Iglesias, an account manager and educator at Parlor Coffee in Brooklyn, agreed that the Virtuoso is the perfect upgrade from the Encore, telling us it's "really nice if you want a baller home grinder" from an established brand you can trust, with great customer service.
Best coffee grinder for pour-over
Although the majority of machines on the list are versatile enough to grind for every coffee-brewing method, this one came recommended to us for a very specific technique: pour-over. (It is, of course, capable of grinding for most any other brewing method as well.) Coffee consultant Mike Jones, the former director of retail at Variety Coffee Roasters, told us that using this grinder for a pour-over will lead to "better coffee than you'll find at the majority of coffee shops out there — no joke." Breville, he adds, "has consistently provided near-commercial-level quality at consumer-level costs," and its Smart Grinder Pro is no exception. "It's easy to use, easy to clean, and a worthwhile investment if you want to dramatically improve the quality of your coffee at home," he declares. This is also the favorite grinder of Strategist contributor Ashley Mason, who called it by another name — the "wonder machine" — in reviewing the device after she and her barista husband decided to splurge on it.
Best coffee grinder for espresso
Photo: retailer
Like the Breville Smart Grinder above, De'Longhi's Dedica was recommended to us for a very specific purpose: to grind espresso, something "not all coffee grinders do," according to Erika Vonie, a coffee consultant and "Q grader" (a.k.a. a coffee sommelier). But, she adds, you can "use it for literally every brewing method at home," which makes this grinder just as versatile as most of the others on our list. She likes how its digital LCD display "makes it easy to read how much coffee is being ground and at what grind size." And Vonie notes that it "also has grooves where you can slip a portafilter into, if you're making espresso at home, which cuts down on waste!"
Best coffee grinder with an integrated scale