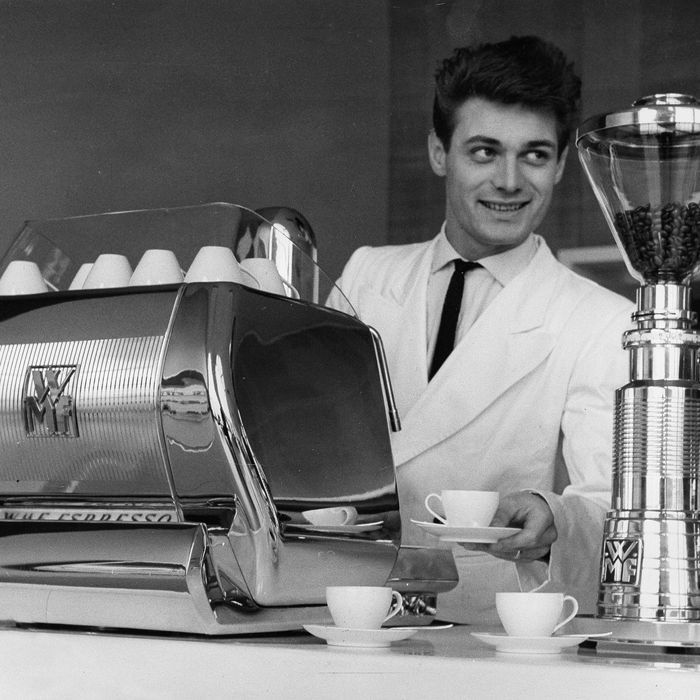 Photo: ullstein bild via Getty Images
Even if you've purchased the coffee maker of your dreams, your morning cup of coffee is only going to be as good as the beans you're using. And any coffee snob will tell you that you're going to get much better results — and fresher-tasting coffee — if you grind coffee beans yourself, just before you need them. Coffee beans can stay potent for a while if they're left whole, but the flavor starts to degrade once they're ground. So if you want good coffee in your kitchen, you're going to need a good coffee grinder.
All of the experts we spoke with favor burr grinders over blade grinders. "Burrs give you a consistent grind size, which is the most important thing when it comes to brewing coffee," says Joanna Lareau, general manager at Blue Bottle Chelsea Market. "Blades just chop the coffee up into inconsistent sizes," which can leave some of the coffee "over-extracted," and some "under-extracted," she says. "Burrs give you more control over the extraction, so you can tinker with it until you find what tastes good." To figure out which coffee grinders are worth the investment — and which give you the greatest bang for your buck— we asked baristas, roasters, and coffee-shop owners about the coffee grinders they keep on their own kitchen counters (and sometimes even in suitcases, because good coffee never takes a vacation).
Best overall coffee grinder
The Baratza brand came up more often than any other. Some experts favor its higher-end models, but nine of the coffee experts we spoke with recommended this more affordable option, highlighting its quality performance and solid build, especially for the price. "You can spend way more money on the higher-end Baratza models, but this one does the job for a fraction of the cost," says Yasmina Palumbo, co-owner of New York City's Mud Coffee. Lareau tells us, "For home use, I 100 percent recommend the Encore. It's simple to use and super-consistent. I've had one for almost three years now, and it's still amazing." Barista and founder of Third Rail Coffee Humberto Ricardo adds that Baratza machines are "designed to be repaired instead of thrown away should something break, which is good for my wallet and for the planet."
Elliott Foos, director of Coffee at Daymoves café in Brooklyn, told us that he even used the Encore at work when he previously ran the coffee shop attached to chef Flynn McGarry's Lower East Side restaurant, Gem. "It's intuitive and performs wonderfully," he says, "grinding from espresso fine to the most coarse setting for French press or cold brew." While he acknowledges it can be a little loud — or in his words, a "touch chatty" — Foos says that's to be expected for a grinder made of plastic and designed for the home. To top it off, the Encore has 40 grind settings, so you can easily adjust to whatever coarseness or fineness you're looking for.
Best (less expensive) coffee grinder
Paul Schlader, co-founder and head roaster at New York City–based Birch Coffee, calls this "a more affordable alternative" to most burr grinders. In fact, you're getting a burr grinder for about the same price you'd pay for a blade grinder, according to Schlader, who says the Krups GX5000 is pretty simple, but it has the essentials: nine settings for selecting your preferred grind size and a "cup selector" dial to grind the exact amount of coffee you need for the number of coffees you're making.
More expert-recommended electric burr coffee grinders
Three of our baristas also praised Baratza's Virtuoso grinder as a suitable step up from the company's popular Encore, above. Baratza's Virtuoso grinder is Ricardo's "favorite grinder, and the one I use at home," he says. "It's rock-solid and technically superior in ways that get kind of geeky." He especially likes that it's "fast" and "relatively quiet," which makes a big difference, especially when compared to the Encore. "Grinding coffee is inherently noisy, so getting it done quickly is very much appreciated by your spouse when they're trying to sleep in," Ricardo adds. In addition to fine-tuned grind settings and premium components, the Virtuoso comes with a digital timer and display. Marcos Iglesias, a roaster at Parlor in Brooklyn, agreed that the Virtuoso is the perfect upgrade from the Encore, telling us it's "really nice if you want a baller home grinder" from an established brand you can trust, with great customer service. Foos also likes the Virtuoso and told us that for him, the main advantage of it over the Encore is the fact that it "grinds by time," which means, according to him, that "once you find your magic number, it won't overgrind."
"Breville has consistently provided near-commercial-level quality with consumer-level costs," says Mike Jones, formerly director of retail at Variety Coffee Roasters. This is his favorite grinder for making coffee at home. "Obviously, there will be some quality differences between this and the best pro grinders, but considering it's over $2,000 cheaper, I'm not going to complain," he told us. Jones says it has a lot to offer anyone looking to seriously upgrade their coffee setup: "It's easy to use, easy to clean, and is a worthwhile investment if you want to dramatically improve the quality of your coffee at home. Just get a simple pour-over (Chemex, V60, whatever), use filtered water, buy this grinder, and some high-quality beans, and you'll already be making better coffee than the majority of coffee shops out there. No joke."
Schlader told us that he loves using this OXO Barista Brain burr grinder "for a number of reasons," but that chief among them is its "built-in intelligent scale." This feature simplifies "the process of grinding coffee for your average home-brewer and cuts down on the equipment you'd need," he says (i.e., you won't need to lose extra money and counter space for a weighing scale). Enter the number of cups you want and your preferred coarseness, and the grinder spits out exactly the amount of coffee you need for a perfect pour. Schlader also likes that the scale is "both preset and customizable." So if, for example, you prefer more or less coffee than might be traditionally recommended, you can adjust for that too. "You can really play with it depending on your brew method. It's an incredibly thoughtful product," he says. He also appreciates details like the UV-blocking plastic hopper that's designed to "protect the integrity of your beans."
Nina Schwarz, the founder of Brooklyn coffee shop and design store Relationships, told us that this extremely affordable grinder will satisfy someone looking to make the most basic drip coffee and nothing more. "You are not able to be as precise and consistent with your grind," Schwarz told us, "but I only use a dripper at home and am happy with the quality of the coffee." Schwarz adds that as she doesn't have a lot of counter space in her kitchen, the Bodum Bistro's small design is also practical for saving space.
Jamie McCormick, the co-owner of coffee shop Abraço in the East Village, swears by this KitchenAid grinder, which he uses to evaluate his roasts. "It grinds at an insanely consistent particle size, right up there with my shop's Mahlkonig EK," a commercial coffee grinder that costs over $2,500. In addition to the top-notch technicals, "it's also really classic-looking in the kitchen. Most other contenders look like they need to be hidden when not in use." He says it's "very sturdy," too, and still worked fine after being dropped on a concrete floor at the roastery. "It looks totaled and unusable, but it still purrs, no problem. It is loud and sounds like the machine it is."
Casey Jong, a Blue Bottle–trained barista now working at Brooklyn's Manhattanville Coffee, told us that when she's at home, she's using this stylish grinder designed by legendary industrial designer Dieter Rams for German home appliance brand Braun. Jong says its most helpful feature alongside its lightness — it weighs a sixth of what the Encore weighs — is that while it may not have multiple settings, you can still customize your grind size based on how long you turn it on for. "There's just one button, and the longer you hold it, the finer your grain will be," Jong told us, adding that she bought a used version for $40, having confidence that Braun's designs could last multiple users. She says her suspicions have been proved right.
Steven Sutton, CEO and founder of Brooklyn-based Devócion Coffee, describes the Baratza Vario burr grinder as "a great professional-grade grinder, but for the home." It's what he personally uses. "Grind setting is easy and consistent," he says, but it also has some higher-tech and more advanced capabilities. "It weighs out the coffee to stop at the exact amount you need for your drink. Of course, I prefer when people come into my shop, but with equipment like this, it certainly helps make a 'professional' coffee in your house."
Sam Schaefer, an award-winner barista turned founder of Mockingbird Coffee Roasters, told us that this premium Baratza grinder is his at-home go-to. Despite being marketed as an espresso grinder, Schaefer says that it's really "an all-purpose grinder," which he mostly uses to "make filter coffee with at home." He cites the built-in scale from Acaia (the only weighing scale specifically designed for coffee) as one of the grinder's main selling points, explaining that the scale's display "allows me to grind and dose my coffee very accurately and quickly." Schaefer adds that the Sette is also visually stunning as well as technically capable. "I love the geometry," he says, explaining that as the grinder "shoots out the ground coffee into a cyclone," there is "minimal static and almost zero mess." It's a little more expensive than the Vario, but Schaefer says that's because its burr technology is newer, and — again — because the Acaia scale has some of the "most accurate and sharpest tech" in the coffee world.
The Baratza Forte BG may be a commercial level grinder, intended for extensive daily use in restaurants and cafes, but barista and branding lead Reagan Petrehn of Felix Roasting Co. told us he couldn't resist picking one up for home use. "The grind by weight feature is incredible," he told us, adding that he also loves its capabilities across the board, which allow him to use it "both for espresso and pour-over," changing his grind settings as he goes. Petrehn adds that "cleaning it out with a coarse brush once a month or so helps a lot with cup quality" — something that will be applicable to most of the grinders on this list.
Sahra Nguyen, the founder of Nguyen Coffee Supply, mentioned having positive experiences with most of the above grinders, but says that as a "super-geek" about coffee, she also, like Petrehn, uses a professional-grade grinder, even at home. The Lux D, which she told us she uses daily, has "super-precise grind settings," adding that "just a hair of a nudge will produce various extraction levels through the espresso machine." For that reason, Nguyen advises that only those who are very particular about their grind size opt for this grinder, as she says "dialing it in can either be laborious or exciting" depending on the type of brewer you are.
This slightly less expensive professional-grade grinder from Mazzer, a brand that's "well known, high quality, and very well established" in the coffee world, according to Angery Mejia, a barista at Voyager Espresso, is the one she tells us she uses daily. "I started using Mazzer products in a professional capacity, but the reliability and results led me to purchase the Mini for my home." Mejia says that for "truly committed coffee enthusiasts with the budget to get it," the precision of the burrs on the Mini guarantee a "consistent, great extraction."
Best burr hand grinders for coffee
On the other end of the spectrum are manual hand grinders. The ones featured here employ the same burr grinding method as the electric models, but you have to do the work yourself. Although it might sound strange to take a technological step backward, grinders have plenty of fans. They're more compact, which makes them especially great for travel, and you never need to worry about finding an outlet. For a high-quality but still relatively affordable option, Foos told us he loves the recent innovations Handground have made to the hand-grinder genre, specifically that they've created the first manual grinder with a side-mounted handle. "The modified grinding arm has a vertical grinding mechanism," Foos explains, meaning you grind the coffee as if you were reeling in a fish, rather than, in Foos words, "grinding it across your body," a movement he feels is far more natural and efficient.
For a slightly less expensive design, Lareau uses this stainless-steel mini Porlex hand grinder when she's traveling, and while she admits it's sometimes "a pain" to do it by hand, "It's good at what it does." Which is the most important part.
The Strategist is designed to surface the most useful, expert recommendations for things to buy across the vast e-commerce landscape. Some of our latest conquests include the best dining-room décor items, coffee makers, knife sets, Japanese coffee brewer, charcoal water filter, drinking glasses for water, and more. We update links when possible, but note that deals can expire and all prices are subject to change.
Every editorial product is independently selected. If you buy something through our links, New York may earn an affiliate commission.