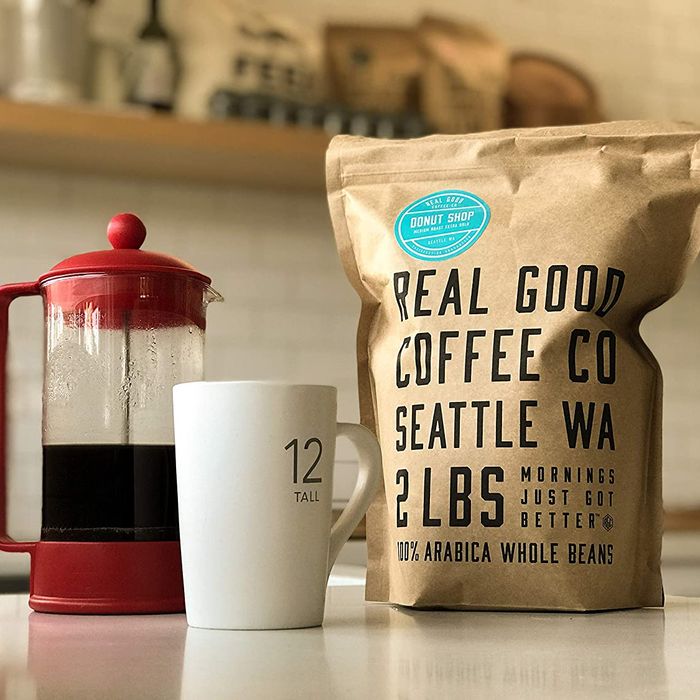 Here at the Strategist, we like to think of ourselves as crazy (in the good way) about the stuff we buy, but as much as we'd like to, we can't try everything. Which is why we have People's Choice, in which we find the best-reviewed products and single out the most convincing ones. (You can learn more about our rating system and how we pick each item here.)
And while we've written about lots of coffee-making items before — including the best coffee grinders, the best coffee-makers, and the best coffee beans, according to writers who drink lots of coffee — here, we've rounded up the best organic coffee beans, as praised by the most enthusiastic reviewers on Amazon.
Best-rated organic coffee beans
Nearly 3,000 five-star reviewers describe this coffee as "strong," including one "avid coffee drinker" who calls it "strong like a supportive friendly morning hug." Another reviewer warns that this blend is "not for the faint of heart," but it does have a great taste: "This coffee has a wonderful rich and smooth bulk, no acidic aftertaste, perfectly balanced." A third reviewer says they "freaking love this coffee more than life itself," explaining, "A single cup of this stuff that I lovingly make into cold brew every other night, and I feel like an actual real life human that is capable of doing things other than sleeping." One more admits that "working in EMS I rely heavily on the delicious nectar of the gods or what most people call coffee. It has the caffeine to keep you going with the flavor to keep you coming back for more." And dozens more actually refer to this coffee as the nectar of the gods, thanks to its incredibly high caffeine content, like this reviewer who concludes, "I was in awe by all of the different spectrums of light I have never witnessed before. My hearing became something to rival all of the hunters of the animal kingdom. This stuff is the nectar of the Gods. As I drink this miracle tonic my mind and body has found its nirvana." For those who prefer grinding their own beans, Death Wish also comes in a well-reviewed whole-bean form.
Best-rated (less expensive) organic coffee beans
More than 70 percent of reviewers give these coffee beans five stars. "It is smooth, nonacidic, mellow, and yet somehow still kicks you in the backside and gets you going in the morning," one writes. Many praise it for not having a bitter aftertaste and for living up to its claims of having a chocolaty flavor. "Grizzly Claw is a bold coffee with utterly no bitterness whatsoever," says a reviewer. "There are notes (more like symphonies) of coco milling throughout this strong, thick coffee with caramel hints coming from somewhere." Another says, "It is dark, rich, and has a very distinct chocolate flavor." They add, "It's great for brewing in a French press," but that's not the only type of brewing these beans are good for: "We've done hot (drip, press, and pour over) and cold (strong iced and cold brew), and it's a winner any way we drink it," says another reviewer. Many reviewers say they were worried about freshness, but also note that it wasn't an issue. That's possibly because, as another person writes, "it is the best vacuum packing I have experienced in coffee."
Best high-caffeine organic coffee beans
"This coffee is life changing," admits one very passionate customer. "I recommend this coffee to anyone that wants to unlock their inner badass. I now walk around with a Camelback filled with this magic juice. Everyone buy it right now." "Valhalla? More like Val-hell-yeah! This coffee is amazing," another reviewer writes, before adding, "In all seriousness, this is a smooth, full bodied, strong, and exceptionally delicious coffee." And this reviewer thinks you'll be hooked after the first cup, noting, "From the first sip, I became a lifelong believer. The caffeine gives you that jolt that you need, but the taste of this fabulous java is what sold me even more. I am a wussy coffee drinker, needing cream and sugar at least to drown out the bitterness of the taste, but this coffee is so surprisingly smooth and rich that even I can drink it straight, if I choose to."
Best low-acid organic coffee beans
Lots of customers appreciate how low in acid these coffee beans taste. One avid coffee-drinker tries to "stay away from coffees that are overly acidic or fruity," and this is the best one he's found so far, noting, "Waking up in the morning to a bad cup of coffee is just wrong. I am happy to say — simply — that this online purchase was a complete win, and I am seriously enjoying every cup of coffee I've had from it." Another reviewer is "absolutely loving this coffee" because it's "Super smooth, in flavor and with how the caffeine feels. Still feel awake, but calm. Nothing intense, but with lots of great flavor. And it really feels like it's been made with a lot of love." One more calls drinking this "coffee nirvana," explaining, "I bought this for my son who has trouble with very acidic coffee. You cannot make a bad pot of coffee with this coffee! We've tried it French press, drip, hot and cold. It's like drinking desert." And this reviewer gives this coffee the highest praise: It's "so good you can drink it black."
Best organic coffee beans for Keto diet
Dozens of reviewers who recently started on the Keto diet chose these coffee beans to reach the high amounts of fat needed during the diet. "I was looking for ways to supplement my diet and get the amount of fat needed. Bulletproof did not disappoint," one writes. "It tastes great and the butter (I used vanilla-bean grass-fed ghee) and Brain Octane works like creamer." Many more agree that the ghee and Brain Octane, also from the Bulletproof brand, combined with these beans actually was delicious, including one who's been doing Keto for "about a month" and has ordered all three products twice so far: "When I ran out of my first order I went back to my normal Folgers and boy, I could tell the difference. The taste just didn't compare to Bulletproof, so I knew I had to order it again." A few even feel more energized after drinking this. One agrees that this coffee "reduced my brain fog and gives me energy without feeling anxious or jittery." Plus people just enjoy the taste, like this reviewer who writes, "When I discovered Bulletproof it became such a treat for me to enjoy a cup of coffee again. Not only a cup of coffee, but the best I've ever had!"
Best Arabica organic coffee beans
"Have you ever drank a cup of coffee that begs you to say, 'That's a good cup of coffee.' That's how I feel every time I brew my cup," explains this "pretty particular" coffee drinking. "This 'Real Good Coffee' lives up to its name. What's even better yet, it's a fair price and you get a full pound, or two pounds in this case. I'm a coffee snob, and you can't get much better than this." Another thinks, "If you're looking for a solid, inexpensive Arabica, this is it." One reviewer who cites this coffee as their "new favorite" writes, " I was a Starbucks snob but I have switched to this brand and will never go back! The flavor, smoothness and aroma are perfect." And this reviewer admits that "for 20 years, I have been searching around the globe for the best coffee at an affordable price" and concludes, "This is the best coffee for the price I have ever drank."
Best organic French roast coffee beans
"These beans produce a beverage with an enjoyable, complicated flavor: rich, light, fruity, and tannic," writes one reviewer. "When you open the bag, you immediately know you are in for a treat," another says. "In addition to the rich smell, the beans are very dark and moist. You can tell they were roasted perfectly. They grind into espresso roast nicely with a good grinder. Finally, they come through the brew in an amazing blend of smooth and silky textures. The taste matches and surpasses the rich smell." According to one customer, who is "not a coffee snob" but does "have taste buds, so take it or leave it," this coffee has "strong, bold flavors and a nice kick." Another calls this "one of the best French roasts I have purchased … It's not bitter and is very smooth." Nothing else compares, says this happy (and repeat) customer: "We have been drinking this coffee for about two years, and every time I even try and buy something new, or I forget to order another bag, I'm disappointed."
Best Peruvian organic coffee beans