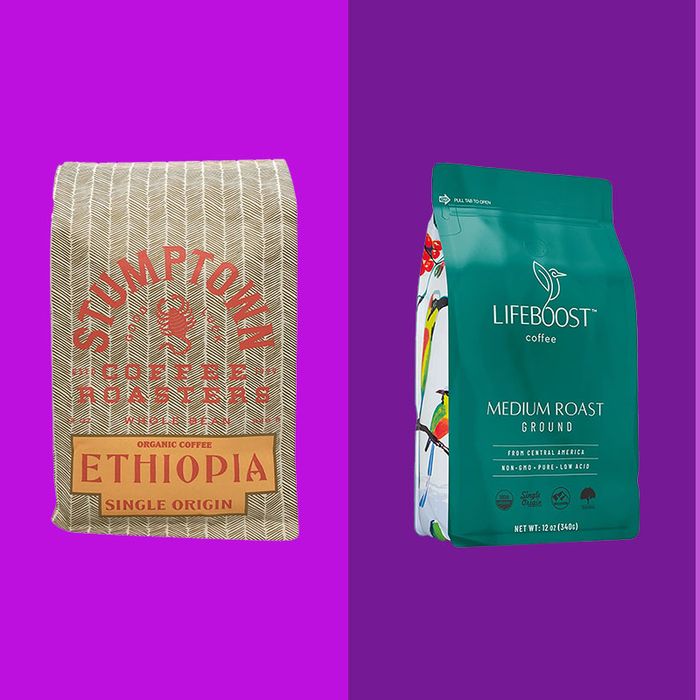 From third-wave shops to monthly subscription services to well-stocked supermarket shelves, it's never been easier to find a fresh cup of organic coffee. But what do you get when you pay for that certification? Katie Carguilo, coffee manager at Counter Culture Coffee, says buying organic means supporting the development of a more sustainable, petroleum-based-fertilizer-free growing environment where workers are exposed to less risk.
Choosing organic is not, however, a guarantee of a healthier or better-tasting cup of coffee. When synthetic pesticides are sprayed on the outside of a conventionally grown coffee tree, the bean, which is the seed of that tree's fruit, is protected from harmful chemical exposure by both the fruit and inner husk, says Shauna Alexander, vice-president of coffee and sustainability at Stumptown. Both of these are removed during processing, and any lingering chemicals are burned off through roasting. As for taste, it would be nearly impossible to discern the difference between a cup of conventionally grown coffee and organic.
Still, buying the latter can be worth it if you care about the health of the planet and that of the workers who bring coffee from the farm to your cup. To find the best organic coffees, we consulted a panel of experts, including roasters, subscription-service providers, and Strategist staffers. Note: While all of these coffees are organic, they don't all carry the commonly seen USDA seal. Some are certified by CCOF, others by OCIA. For each coffee, we've noted what the certification is.
The flavors of organic coffee are as wide-ranging as those of traditional coffee, from lightly roasted beans that are sweet, acidic, and fruity, to dark roasts with the rich flavor of chocolate and spices. We've described the type of roast (light to dark) and most prominent tasting notes of each coffee below.
While you might know the single easiest way to up the flavor of your coffee at home is to grind the beans just before brewing, for some, bagged ground coffee is just more realistic — especially during the week. We've noted what forms the coffees come in.
Most of these coffees come in the standard-issue 12-ounce size, which is enough to make about 16 cups of coffee at 12 fluid ounces each. For a cup-a-day drinker, that might be enough for about two weeks if you live alone. If you have multiple drinkers, you'll want to buy a bigger bag — some brands, like Real Good Coffee Co., ship two-pound bags. One thing to note here: Unlike buying bagged coffee in person at a café or from a subscription service, buying bags online might mean you won't always find a "roasted on" date (some buyers would rather know the roasted date as flavor tends to deteriorate the longer it sits).
Organic coffee doesn't necessarily mean better taste — but it sure means a higher cost. The price range in our list runs from about 91 cents to over $3 per ounce for whole beans. While that might not sound like a lot of money, it can add up quickly for a one- (or three-) cup-a-day coffee drinker. Here, we've included the price per ounce for each pick.
Best overall organic coffee
Flavor: Medium roast with bittersweet chocolate and caramel notes | Bean type: Ground and whole bean | Bag size: 12-ounce, 18-ounce, or 5-pound bags | Price: From $1.25 per ounce
Stumptown was the only roaster mentioned twice by our experts, with the Holler Mountain blend taking the win, as it's easier to find in stores and online. (Our other Stumptown pick, seen below, is only available at select Whole Foods.) But don't let the ubiquity of this OCIA-certified blend fool you into thinking it's a basic coffee. "It has some African coffee acidity and a caramelly base of a Central or South American coffee," says Suyog Mody, co-founder of Driftaway Coffee in Brooklyn. "It tastes like a perfectly balanced roast." And whether you like to switch between drip, pour-over, or espresso, the caramel and citrusy flavors come through with any method. Mody says he drinks this black most often to enjoy the sweet, almost berrylike notes, but "it would go well with some cream if needed, but it's sweet enough that it doesn't need sugar."
Best (less expensive) organic coffee
Flavor: Dark roast with a punchy, earthy flavor | Bean type: Ground, whole bean, and Keurig pods | Bag size: 2-pound bags | Price: From $0.91 per ounce
I brewed a few cups with these dark, oily beans using the pour-over method and found the flavor to be rich and woodsy, with a touch of an acidic finish. This is a solid cup of strong coffee, especially if you like it black, and works well as an espresso and bold cold brew, too. USDA-certified organic, Real Good Coffee's Arabica beans come in a two-pound bag, which is a plus if you have multiple drinkers in the house (though that might be a bit much for a single person to finish and still have fresh beans at the end). While dark roasted coffee can easily veer into burnt-tasting, Real Good's flavor is balanced and a bit spicy, which you can temper with a sweetener. Overall, I was surprised by the value of this coffee as it was about 20 cents less per ounce than the next least-expensive option on this list.
In a previous version of this story, Real Good's Organic Dark Roast was also named our best Arabica beans with a 4.5-star rating on Amazon and nearly 6,000 customer reviews, many of which call out that the blend doesn't have a bitter taste. "Unlike the strong, harsh flavor of some popular coffee chains, this coffee is aromatic and has a nice, smooth taste," one buyer says. "But it has enough caffeine to keep you going." Note that while I tested the whole beans, if you're not a fan of grinding at home, the Organic Dark Roast also comes ground or as a 36-pack of Keurig cups.
Best organic ground coffee
Flavor: Medium roast with citrus and caramel notes | Bean type: Ground and whole bean | Bag size: 12-ounce bags | Price: From $1.25 per ounce
For an option we do recommend ground, this fair-trade, USDA-certified Arabica blend is a mix of medium-roast and oilier Vienna roasted beans. "The beans are aromatic, rich, and flavorful with hints of bittersweet chocolate undertones and boasts a perfect blend of acidity," says Miles Butler, co-owner of Philadelphia's Many Hands Coffee Co. "It's great coffee at a good price and a great cause," Butler adds, citing that the company helps Mexican farmers deal with a coffee-leaf fungus, according to the roaster's website. Equal Exchange is one of the few options that is easy to find offered as ground and whole-bean.
Best organic coffee with citrusy flavor
Flavor: Medium-light roast with a smooth, bright citrus flavor | Bean type: Whole bean | Bag size: 12-ounce, 24-ounce, and 5-pound bags | Price: From $1.12 per ounce
The ratio and types of beans that go into a bag of Counter Culture Coffee Apollo change throughout the year, depending on availability, but the goal is always the same: a bright, citrusy, and sweet Ethiopian coffee. And that's exactly what Strategist senior editor Jen Trolio likes about it. "It's very smooth and very agreeable with no bitterness," she says. "I'd almost describe it as crisp." Certified by CCOF, the Arabica coffee is darker than most single-origin beans but still considered a medium-light roast. Counter Culture also offers this blend in a range of sizes, making it easier to dial in how much your household goes through.
Best organic coffee for versatile brewing methods
Flavor: Light roast with fruit-forward flavor | Bean type: Whole beans | Bag size: 12-ounce bags | Price: From $3.33 per ounce
This USDA-certified, whole-bean blend is a favorite of Tom Saxon, co-founder of Batch Coffee roasters in the U.K. "The Bright blend is a great coffee across the board because it's roasted to just short of medium, so it performs well in any brew method," says Saxon, who uses it for everything from espresso to a cup of pour-over. "It's a blend that still has the balance and depth to extract a delicious velvety espresso that cuts through milk while also producing a bright and complex cup of brewed as a pour-over." From East Africa, the coffee has a fruity taste, with what Blue Bottle identifies as hints of blueberry, lemon zest, and raisin.
Best organic coffee with medium roast
Flavor: Medium to dark roast with full-body flavor | Bean type: Whole bean | Bag size: 12-ounce bags | Price: From $1.33 per ounce
If you're a Whole Foods shopper, you might recognize this bag, which is usually on store shelves (though it's not as widely available as our best overall pick, Stumptown's Holler Mountain). "I would say it's a darker roast but still on the light-to-medium side," Trolio says. "And I usually avoid anything labeled 'dark roast' and stick to lighter ones whenever possible." Certified by OCIA, this coffee has a full-bodied taste that feels a little thicker when you drink it, Trolio says, which would be ideal for those who hate weak, watery coffee. The Ethiopian coffee is smooth, with an almost tea-like floral aroma and background notes of honey and citrus.
Best organic coffee with low acidity
Flavor: Medium roast with butterscotch flavor | Bean type: Ground, whole bean, and instant coffee | Bag size: 12-ounce bags | Price: From $2.33 per ounce
Lifeboost offers a bean with low acidity that doesn't skimp on complex flavor. "The coffee comes out tasting sweet — think caramelly, butterscotchy, and chocolaty," says Jordan Resenacker, co-founder of Atlas Coffee Club. "It has a little bit of roasted-nut and milk-chocolate notes to it, and if there's any acidity, it's a touch similar to what you'd find in a red apple or pear." The Arabica beans are grown in Nicaragua and are USDA-certified. [Editor's note: Lifeboost's instant-coffee Go Bags are out of stock.]
And as a less expensive option at just over $1 per ounce, try Subtle Earth Organic Gourmet Coffee's medium-dark roast, which took the title of best low-acid organic coffee beans in a previous version of this story, with many reviewers praising its smooth, flavorful taste. One avid coffee-drinker who tries to "stay away from coffees that are overly acidic or fruity" says this is the best one he's found so far, calling his purchase "a complete win, and I am seriously enjoying every cup of coffee I've had from it."
Best organic coffee beans with mushroom powder
Flavor: Dark roast with notes of dark chocolate and nuts | Bean type: Ground, whole bean, and coffee pods | Bag size: 12-ounce bags | Price: From $1.64 per ounce
"What I love about this coffee is the rich, not acidic flavor, that is almost chocolaty," says Strategist senior writer Liza Corsillo. "It doesn't give me the jitters like other drip coffees do." Four Sigmatic adds two mushroom powders — lion's mane and chaga — to its dark-roasted, USDA-certified organic Arabica beans. While the flavor tastes like traditional coffee, those two powders can help reduce stress, boost your immune system, support memory, and increase energy levels, according to the Cleveland Clinic. In a previous version of this story, one Amazon reviewer supports the claim of better focus, writing that they feel "more aware" and adding that "it tastes good and is easier on my stomach than normal coffee."
Some more coffee we've written about
The Strategist is designed to surface the most useful, expert recommendations for things to buy across the vast e-commerce landscape. Some of our latest conquests include the best acne treatments, rolling luggage, pillows for side sleepers, natural anxiety remedies, and bath towels. We update links when possible, but note that deals can expire and all prices are subject to change.
Every editorial product is independently selected. If you buy something through our links, New York may earn an affiliate commission.