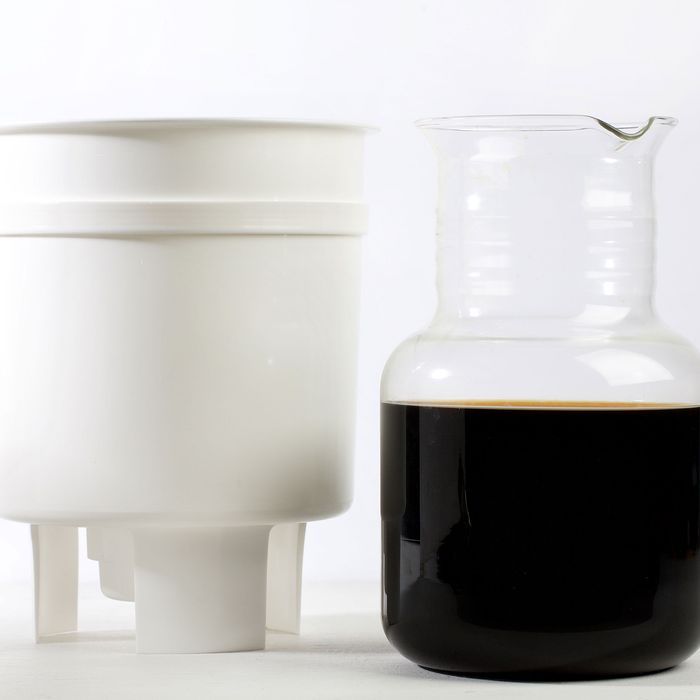 Photo: The Washington Post/2017 The Washington Post
The secret about cold brew is that it's actually not that complicated to make, even if a glass of it costs $5 at your favorite coffee shop. "It just takes time and the right tools," says Claire Chan, owner of the Elk in Manhattan's West Village. And as our colleagues at Grub Street have wisely pointed out, using a cold-brew coffee maker at home is the cheapest way to get your fix. To help you master the art of making your own at home (and maybe save some cash while it's still iced-coffee season), we talked with eight New York City baristas, roasters, and coffee-shop owners about their favorite cold brew–makers and iced-coffee-making methods. These are the best ones for home brewers of any level.
The Best Cold Brew–Maker
Shaak Shatursun, general manager of retail at Café Grumpy, likes the Filtron brewer. "I personally own one and use it to make cold brew in the summer, especially just before going on a road trip," he says, adding that you can spot Filtron brewers in Café Grumpy itself. It's how they make decaf cold brew. Mike Jones, owner of Barbara Coffee in Detroit, also recommends the Filtron. "The Filtron is very easy and very consistent, which are key factors in brewing good coffee at home."
Plus, you don't need all that much gear to make it work. "There are measuring lines for how much water to add based on how much coffee you are using (12 ounces or one pound)," Shatursun explains, "which means you don't have to use a scale." The glass carafe in which you brew also serves as a storage container.
The Best-Looking Cold Brew–Maker
Jonathan Withers, the green-coffee buyer at Partners Coffee, is a fan of KitchenAid's brushed, stainless-steel cold-brew coffee maker, which features a tap for picture-perfect pouring. "It's compact enough that you can store it in the fridge to keep your finished brew ice-cold," Withers says. "And it's solidly built and has a nice heft that keeps it from capsizing in the fridge or on your counter." He admits that it isn't great if you want to make big batches of cold brew at a time, but it makes up for that by being easy to clean.
The Best Cold Brew–Maker for Beginners
Another popular, and cost-effective, cold-brew coffee maker is the Toddy. At the Elk, "it is our preferred method because we make such large quantities, and the Toddy container and filters not only make our lives easier, but it also produces a very consistent product," explains Chan. Steven Sutton, CEO of Devoción in Williamsburg, likes this method for round, balanced coffees. "It will extract for hours (depending on the size of the batch, anywhere from 7 to 16 hours) and is probably your most common method out there."
Just be sure to get filters for your Toddy as well.
The Best Big-Batch Cold Brew–Maker
The brewers at Sweatshop in Williamsburg use the Brewista system, says co-owner Luke Woodard. "It's great because it has a stainless-steel filtration system, which reduce waste, and also has an extra filter built into the spigot that provides a second filtration process to give the cleanest cold brew we can produce." The one downside of the Brewista Cold Pro for home brewers is that it's large and makes several gallons at a time. But then again, for some people, that might actually be a good thing.
[Editor's note: This cold brew system is currently sold out. We'll update this post when it's back in stock.]
The Best Super-Fancy Cold Brew–Maker