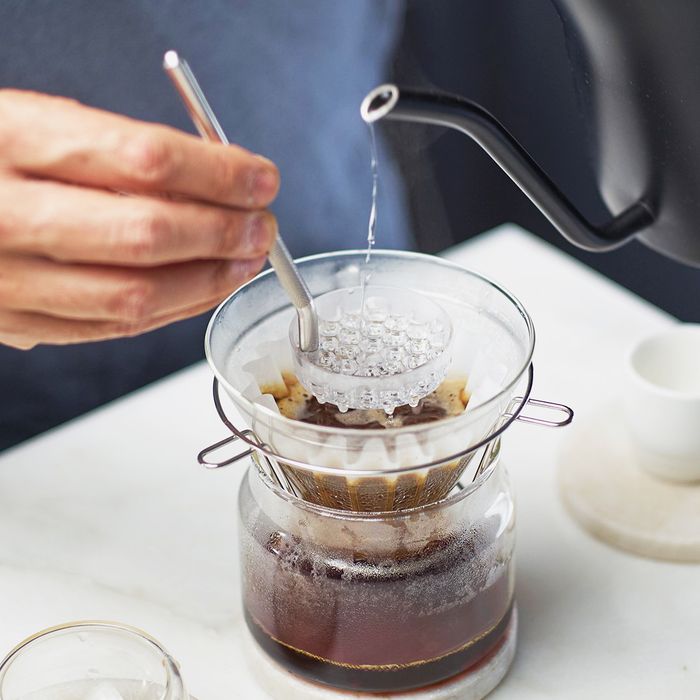 It can be tricky to find the best gift for a coffee lover, even if you do consider yourself a serious coffee snob. You don't want to accidentally give them a different version of a coffee maker that they already own, or a version of a pour-over dripper or French press that's so last season. But you also want to make sure your present is actually useful, something that will make their coffee-making routine a little easier.
To help you find the right gift for the coffee-obsessed person in your life, we talked with 17 baristas, coffee roasters, and other coffee nerds about their go-to gift ideas for coffee lovers and the best coffee gifts they've ever given or received, from grinders to measuring spoons to body scrubs made with coffee grounds.
We've written before about the Stagg EKG kettle; it continues to be one of our favorite gift recommendations, so we were happy — but not surprised — to hear that Noah Goodman, a barista turned industry consultant, feels the same way. "It's the ideal brewing kettle for any coffee enthusiast," he says. "With its temperature stability and variable settings, it allows you to hold the water at 200 degrees for up to an hour." The gooseneck spout and precise temperature control make this kettle the ultimate tool for pour-over brewing, something both coffee nerds and novices will appreciate.
For a simpler, more affordable, but just as neat-looking kettle to gift, Yasmina Palumbo, a co-owner of Mud Coffee in New York City, recommends this stainless-steel stove-top kettle from Hario. Like the Stagg EKG, it has a narrow gooseneck spout, so it's especially great for pour-over, and it should appeal to anyone who prefers things a bit more analog.
In our roundup of the best coffee grinders, coffee professionals told us that if you're serious about your coffee, you should buy your beans whole and grind them at home with a burr grinder to ensure an even brew and fresh taste. Burr grinders essentially work by passing the coffee beans through two cutting surfaces, whereas a blade grinder works more like a food processor or blender with a spinning blade. Burr grinders can get quite expensive, but thankfully our experts' favorite, the Baratza Encore, while still not cheap, is actually one of the least pricey of the bunch. Its affordability is why it's so appealing as a first "serious" coffee grinder, and also why it makes such a great gift. "It's just the right price to probably be a bit of a splurge for most people, without being over the top. It would be great for someone who loves coffee, but who hasn't yet considered spending money on a grinder for themselves — they'd thank you for life," says Palumbo. The president and co-founder of La Colombe, JP Iberti, echoes her praise for the Baratza Encore. "It allows for an impeccable grind, really bringing the coffee to its full potential," he says.
If you really love the coffee drinker in your life and want to impress them by gifting a grinder that's a little more advanced, Paul Schlader, a co-founder of New York City–based Birch Coffee (where he's also the head roaster), recommends this OXO burr grinder "for serious home brewers." It features an integrated scale (something the Baratza does not have), which takes a lot of the guesswork out of portioning beans, making this an especially great idea for someone who is still learning the ropes or who lacks the counter space for a separate scale and grinder.
Photo: Retailer
Erika Vonie, an award-winning barista, told us one gift that will continue to surprise even the most jaded of coffee drinkers is a subscription to a service like Trade, which "allows you to customize the kind of beans that will arrive" based on the general category of coffee they like, whether light, dark, nutty, or fruity. Monthly subscriptions start at $40 for two bags a month. Vonie, we should note, used to work with Trade, but that partnership ended by the time we spoke to her. ("Even though I no longer work there, I still recommend Trade," is what she told us.) Should you need a second opinion, our friends at Grub Street also say a Trade subscription makes for a terrific gift (and to our knowledge, they have never worked with the company).
For a slightly less expensive coffee subscription, Vonie suggests gifting Atlas's, which starts at $55 for three months' worth of beans (you only get one bag a month, but even so, you're paying around $18 per bag as opposed to $20 per bag with Trade). Atlas, according to Vonie, will deliver "coffee from a different growing region" like Africa, South America, or Asia, each month.
C

o

f

f

e

e

a

n

d

e

s

p

r

e

s

s

o

m

a

k

e

r

s
The original eight-cup glass Chemex is a classic, and Palumbo says it would make a nice gift for anyone who is into the "process" of making pour-over coffee. "My partner swears by the glass Chemex," she says. "It's quite fancy-looking and was designed by a chemist. He loves the process of boiling the water and pouring it over, as well as the smooth flavor that it renders." John Bettencourt, the head roaster at Oslo Roasters, is also a fan, telling us that you don't need to be a barista or coffee nerd to make delicious coffee with a Chemex. "It's simple to use, elegant, and the specially made paper filters contribute to a very clean cup of coffee."
Even though it doesn't look like much, this dripper comes with plenty of coffee cred. Palumbo swears by it for keeping pour-over as simple and minimalist as possible: Her favorite brewing method is to place this ceramic dripper directly over her mug. "That's what's so great about it. [It goes] straight into your mug, so you're brewing cup by cup," and everything stays "super-fresh and hot." Since you can just place it right over a mug with a filter, it's also a really simple and approachable way for someone to experiment with making pour-over. If the dripper on its own is not substantial enough to gift, Palumbo adds that it would pair really well with the Hario stove-top kettle above for a fully streamlined "stove to cup" pour-over.
Connie Blumhardt, the publisher of Roast magazine, recommends Hay's Sowden Coffee Pot, which is made of colorful porcelain and features a "micro-thin" stainless-steel filter to infuse coffee grounds into hot water, similar to how you would make tea in a teapot. According to Blumhardt, "It's simple to use and produces a balanced brew (assuming that you use specialty coffee). I love the sleek design and neutral color schemes. Makes me feel like I'm in Europe." Joe Palozzi of City of Saints Roasters is another fan of this coffee pot, and not just because of its brew quality. "While it's similar in mouthfeel to a French press, it's vastly easier to clean with its removable micro-filter," he told us, adding that the pot "looks pretty good on the counter with tulips in it, too, just in case you ever stop making coffee at home."
According to Brooklyn Roasting Company's Jim Munson, this "tried and truly excellent brewer" is "commonly found in most coffee professionals' cupboards." While neither new nor trendy, if your coffee lover doesn't have one, gifting it would be an inexpensive way to elevate their home-brewing routine. The Bodum French press, Munson adds, is "simple, easy to clean, and well-made" (three more reasons it makes for a thoughtful gift).
A designier French press option is this eye-catching one from Yield, which comes recommended by Strategist columnist and coffee lover, Chris Black. "A classic French press is a kitchen staple," says Black, adding that this "handmade glass version in an alluring shade of amber would look good in use or just sitting out on the counter."
According to Colby Barr, a co-founder of Santa Cruz–based Verve Coffee Roasters, this drip machine is another great coffee maker to gift for its simplicity. "It's extremely easy to use and loved by all who own one, including my mom," says Barr, adding, "unlike most coffee makers out there (including many expensive, 'fancy' machines), this brewer actually heats water to the correct temperature." While some coffee lovers might scoff at using an auto-drip machine, there's something to be said for ease of use: This "one-touch" brewer will take out all the guesswork, so your recipient can just focus on enjoying their coffee.
According to Elisa Marshall, a founding partner at Maman, having a professional-grade espresso machine might be a bit of a splurge, but it's also a special treat. "Perfectly pulled shots and frothy foam from your very own home will have you skipping your morning coffee run." She uses a pricey KitchenAid espresso machine at home, but we think this all-in-one model from Breville, from our roundup of the best espresso machines on Amazon, would make a nice alternative. It's still quite pricey, but reviewers say it delivers high-quality espresso, and it would certainly look great in any kitchen. It would make for a very generous gift that would surely be appreciated.
Photo: Retailer
A coffee scale is a must for serious coffee drinkers, according to Selina Ullrich, the director of coffee at East One Coffee. It is "essential to achieving consistent success with your brewing," she says. Both she and Bettencourt told us this Acaia scale is their favorite, as it's nice to look at when not in use, and incredibly functional when it is. "Its minimalist simplicity also has a lot of hidden functionality," Bettencourt explains. "Useful features include a timer, dual timer, weight displays, and even Bluetooth capabilities (for obsessives who like to keep track of their brews on their smartphone through the brand's accompanying app)." Ullrich adds that on top of being precise, this scale is "durable and water- and heat-proof if you use the rubber mat it comes with." It's a bit pricey, but she promises that "it is a fantastic tool for anyone trying to progress as a home coffee brewer."
Jordan Sanchez, a barista at Blue Bottle SoHo, told us he would love to receive this Nespresso milk frother, so he can make drinks like cortados at home. "One of these would be perfect for the apartment," he says. "The quality is top-notch and it looks good on the counter."
Photo: Retailer
Before coffee beans and makers reach consumers, they go through a testing process called "cupping," where the coffee they produce is sipped from special spoons for quality control. Serious coffee drinkers such as Vonie like to practice cupping at home as they perfect their brews and grinds, and if you're shopping for someone who cups, or wants to start cupping, she recommends gifting them a cupping spoon from Umeko Motoyoshi. "These spoons are staples throughout the entire coffee world, and come in various sizes and colors to suit your personality and cupping style," Vonie explains, telling us her favorite is the Little Dipper in goth black.
If your coffee lover is obsessive over the water they use, indulge their neurosis with this cult-y tool recommended by Elika Liftee, a trainer at Onyx Coffee Lab and the 2020 U.S. Brewer's Cup champion. The Melodrip, which is compatible with brew methods like pour-over, Chemex, and French press, "changes how your water flows, radically altering your drinking experience by virtually eliminating particle discharge." In layman's terms, that means it essentially eases the way water lands on grinds, resulting in less bitterness and a sweeter, brighter cup. To use it, hold the Melodrip above coffee grinds and pour hot water from a kettle directly onto the tool's head, which will "gently shower" your grinds, according to Liftee.
Photo: Retailer
While the niche tools on this list are sure to delight those with the time to perfect their brewing methods, not everyone has ability or patience to tinker so precisely with each cup. Which is why, "for those brewing coffee in their trusty Mr. Coffee, the best companion gift is a basic measuring spoon, because the proper coffee dose (with filtered water) will always produce a superior cup regardless of brewing equipment," according to Craig Farrelly of BKG Coffee Roasters. His favorite measuring spoon is this one from Crate & Barrel, because "it gives the user two size options: one or two tablespoons. We recommend using roughly two tablespoons of coffee per six ounces of water." For more coffee spoons, check out the unusual styles that coffee-loving contributor Dinah Lenney can't stop buying.
Photo: Retailer
Should your recipient have all the gear they need, Liftee says this "must-read" book will enlighten them about the chemistry behind their favorite cup. "Jessica Easto wants to help people figure out what they like and how to make it," he told us, adding that "this book makes the science of coffee engaging and accessible," whether you're an enthusiast or just coffee curious.