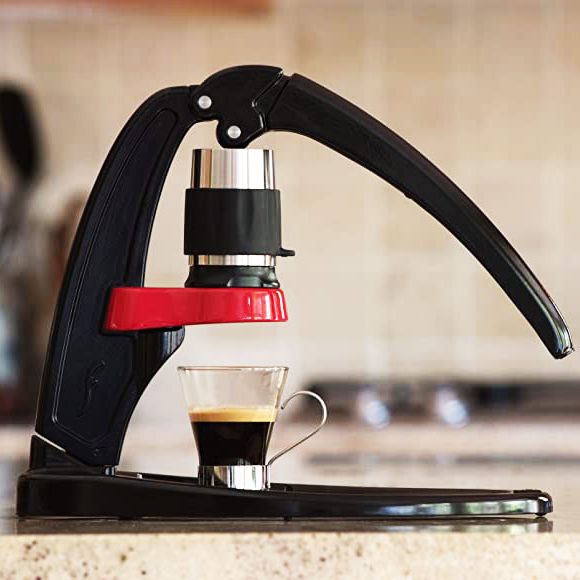 It can be tricky to find the best gift for a coffee lover, even if you do consider yourself a serious coffee snob. You don't want to accidentally give them a different version of a coffee maker that they already own, or a version of a pour-over dripper or French press that's so last season. But you do want to give a gift that's still a useful, thoughtful contribution to their hobby, and something that will make their coffee-making routine easier, tastier and more rewarding.
To help you find the right gift for the coffee-obsessed person in your life, we talked with 27 baristas, coffee roasters, and other coffee nerds about their go-to gift ideas for coffee lovers and the best coffee gifts they've ever given or received, from kettles to grinders to coffee-makers to coffee accessories to mugs to books and magazines and to coffee itself. If you like the sound of any of those categories and want to jump straight to it, just click the link in the previous sentence.
We've written before about the Stagg EKG kettle; it continues to be one of our favorite gift recommendations, so we were happy — but not surprised — to hear that Noah Goodman, a barista turned industry consultant, feels the same way. "It's the ideal brewing kettle for any coffee enthusiast," he says. "With its temperature stability and variable settings, it allows you to hold the water at 200 degrees for up to an hour." The gooseneck spout and precise temperature control make this kettle the ultimate tool for pour-over brewing, something both coffee nerds and novices will appreciate.
For a simpler, more affordable, but just as neat-looking kettle to gift, Yasmina Palumbo, a co-owner of Mud Coffee in New York City, recommends this stainless-steel stove-top kettle from Hario. Like the Stagg EKG, it has a narrow gooseneck spout, so it's especially great for pour-over, and it should appeal to anyone who prefers things a bit more analog.
In our roundup of the best coffee grinders, coffee professionals told us that if you're serious about your coffee, you should buy your beans whole and grind them at home with a burr grinder to ensure an even brew and fresh taste. Burr grinders essentially work by passing the coffee beans through two cutting surfaces, whereas a blade grinder works more like a food processor or blender with a spinning blade. Burr grinders can get quite expensive, but thankfully our experts' favorite, the Baratza Encore, while still not cheap, is actually one of the least pricey of the bunch. Its affordability is why it's so appealing as a first "serious" coffee grinder, and also why it makes such a great gift. "It's just the right price to probably be a bit of a splurge for most people, without being over the top. It would be great for someone who loves coffee, but who hasn't yet considered spending money on a grinder for themselves — they'd thank you for life," says Palumbo. The president and co-founder of La Colombe, JP Iberti, echoes her praise for the Baratza Encore. "It allows for an impeccable grind, really bringing the coffee to its full potential," he says.
Photo: retailer
If you really want to impress the coffee drinker in your life, this grinder from Fellow is a little more advanced and of the moment, with baristas across the country talking about it. The Ode, according to professionals, offers flat-burr grind technology (the most precise) for hundreds of dollars less than other grinders offering the same precision. We got our hands on one shortly after it came out this fall and, after using it for several weeks, found that whether we were making French press, pour-over, or AeroPress coffee, "every cup tasted smooth." The Ode was also a lot quieter than our Baratza Encore. Beyond being useful, the grinder has a sleek design that makes it even more giftable.