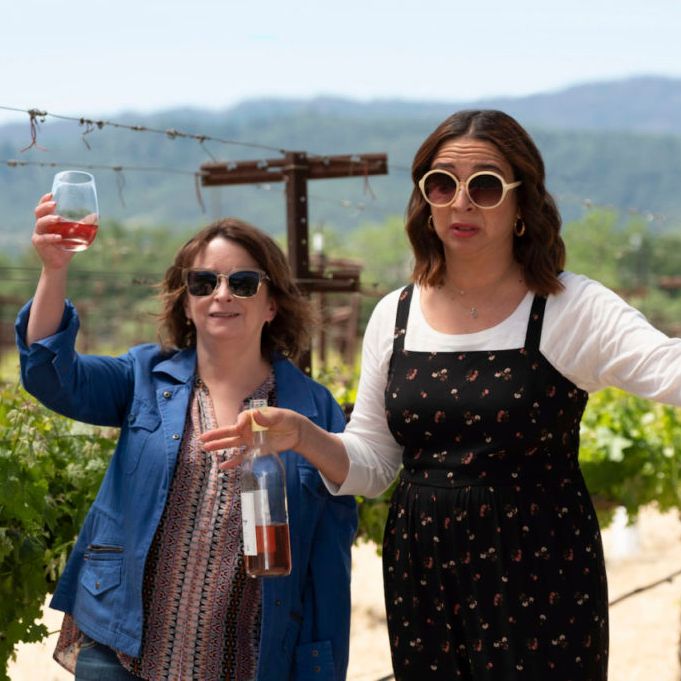 Photo: Colleen Hayes/Netflix
It can be intimidating to find the right gift for a wine lover, especially if you don't think of yourself as a "wine person." But you don't have to be able to tell the difference between a Beaujolais and a Lambrusco to give a wine gift that's more elegant than an oversize wineglass and more thoughtful than whatever you first see at the corner store. To track down the best gifts for wine drinkers, we asked sommeliers, winemakers, and people who love wine to share their go-to wine gift ideas. Below, 42 of their favorite books, wine accessories, and popcorns (we'll let them tell you why) to wrap up and give to the wine lover in your life.
Glassware
Best overall gift for wine lovers
Unlike a bottle of wine, which you enjoy and then it's gone, great glassware can be used over and over again. "I was given a two-pack of Zalto Universal glasses as a Christmas gift from a distributor while working at the Breslin," says Carla Rza Betts, certified sommelier and co-founder of An Approach to Relaxation. "It changed my glassware game forevermore. Zalto Universals are simply the best glass to get a clear look at both reds and whites. They allow you to get lost in the aromas within the glass while exhibiting the wine in an almost artlike way." Betts isn't the one person who loves Zaltos. Most of the sommeliers and wine experts we spoke to rave about these wineglasses, which they consider the gold standard. Wine trader Cameron Hughes, of CH Wine Co., calls them "beautifully executed and able to relay subtle nuance and mouthfeel impression." He does warn, however, that the glasses are fragile and need to be gently handwashed. Brittany Villafañe, head sommelier at DB Bistro Moderne in NYC says, "I always appreciate glassware, and having sets of grape varietal-focused glassware is a real treat for entertaining and enjoying wine. Zalto is, for me, the best glassware on the market."
The best (less expensive) overall gift for wine lovers
For the friends and family you love — but not quite enough to spend $59 a glass — there are these budget-friendly, yet elegant glasses from Libbey. Sommelier John Condon of French Louie in Brooklyn says Libbey's wine goblets are great because "a glass needs to be functional first and everything else next," adding, "Libbey's Vina line of wineglasses is very classically shaped and elegant, but also reassuringly sturdy."
Best Champagne glass
For the wine lover who drinks Champagne year-round (and not just on New Year's Eve), it might be worth investing in a specialized Champagne glass. "Riedel's Champagne glass is shaped more like a traditional wineglass, which lets you incorporate more air and smell," says writer and self-described "wine unprofessional" Tammie Teclemariam. "It's better than a stereotypical flute, and it enhances the minerality of all sorts of sparkling wines from Vouvray to Vilmart."
Best wine glass with aeration
Master sommelier and CEO of Heitz Cellar Carlton McCoy is also a fan on Zalto glasses — they are "the ones featured at Heitz Cellar's tasting room" — but they are very delicate. "The Zaltos need to be handled with care, so when I'm hosting large dinner parties (pre-COVID), I prefer to use Riedel's Burgundy Grand Cru," he says — which means they'll also make a great gift for your friend who can't wait to get back to entertaining. "It is a sturdy glass but feels elegant in your hand." Carlton McCoy also notes how wide the glass is, which is perfect for aeration. "Most wines need a lot of air, and narrow glasses do not provide that," he says. "The 'bowl' of the Burgundy glasses allow you in some cases to skip decanting and you can then just focus on an aggressive swirl."
Best wine decanter
Both Roman Roth, winemaker and partner at Wölffer Estate Vineyard and Villafañe recommended gifting a high-quality wine decanter from the centuries old brand Riedel. One of the best wine-related gifts that Roth remembers receiving is the Swan decanter from Riedel. "It is a showstopper. Your dinner guests will be in awe. The most elegant decanter in the world," he says. Villafañe's choice, the Riedel O decanter, is a touch less extravagant but equally as effective. "It's not only sleek, it is practical and easy to use when pouring wine for your guests," Villafañe says.
Best (less expensive) wine decanter
Marissa Copeland, head sommelier at Junoon, suggests a much less expensive decanter, which also happens to be her personal favorite. For those on the hunt for a Riedel dupe, this one costs a fourth of the price of Villafañe's preferred Riedel O decanter and looks nearly identical.
Best vintage decanter
Carlton McCoy prefers shopping for vintage decanters on Etsy. Beyond aesthetics, he says, it's important to look for one with a good surface area. "The decanter shouldn't be just a vessel," he says. "You want it to provide good aeration, so I look for a decanter with a wide neck." This glass carafe with a wood stopper is bulbous right around the neck and more than a foot tall. While this particular piece looks relatively modern, if you are seeking something a touch more old-school, Carlton McCoy is also a fan of this pair from the 1960s, as well as this silver option.
Best wine carafe
Betts prefers Zalto carafes to the more decorative decanters above. "They're very simple in terms of style, but have the cleanest pour out there: no drips. This one is slick and efficient, which is what I want out of a decanter. Nothing fancy, just efficiency," she says.
Best (less expensive) wine carafe
This handblown glass wine decanter also works perfectly as a carafe. It is on minimalist side, but its round oak stopper makes it look more expensive than it actually is. (It's also a perennial Strategist-editor favorite).
Best tumbler for wine lovers
Not all wine drinkers are fans of stemless glassware, but these short, less traditional (and less expensive) glasses from Bormioli give a dinner party a European feel. Hannah and Marian Cheng of Mimi Cheng's use them while hosting dinner parties because they "remind us of drinking and eating tapas in Madrid. They're elegant and simple." Joanna Goddard of the blog Cup of Jo feels similarly: "Whenever my husband and I drink wine from these glasses at home, I feel like we're transported to a little bar in Barcelona. They're charming, light, and just feel good in your hand."
Coolers
Best wine cooler
Hughes keeps this marble-and-wood wine cooler chilled at all times and mostly uses it for dining and sipping en plein air in his backyard. It's also very similar to the beloved and very functional soapstone wine cooler Peter Mondavi Jr., co-proprietor of Charles Krug Winery, received as a gift decades ago. According to Mondavi, wine coolers like this and the one he has at home "do a great job at keeping white wine chilled throughout dinner." He uses it every night he's serving white wine.
Best wine cooler sleeve
If your wine enthusiast is more of a picnicking type, this Le Creuset wine-cooler sleeve, which Hughes gives a thumbs up, uses two removable gel packs to chill a bottle of wine in 30 minutes — and keep it cold for another 90 minutes.
Best insulated wine bottle
Sommelier and Cherry Bombe beverage director Cha McCoy says if you're sneaking an entire bottle of wine onto a beach or just want to pour ice-cold white wine in the park, look no further than the BrüMate. "My outdoor meetups have increased due to quarantine and the BrüMate keeps the wine cool for up to 24 hours and holds up to one full bottle," she says. "There are tons of insulators on the market, but I became a believer in the BrüMate after a friend brought it with her to the beach and I was able to witness its magic."
Best giant icicle that chills wine fast
You could also gift them the Corkcicle, a little gadget that chills white wine fast. All you have to do is store it in the freezer and then pop it into an open, unchilled bottle of wine when you need it. According to writer Leah Bhabha, "It'll begin cooling down the wine immediately, chilling from top to bottom, and keeping it icy for up to an hour without watering it down." Hughes is also a fan.
Best wine bucket