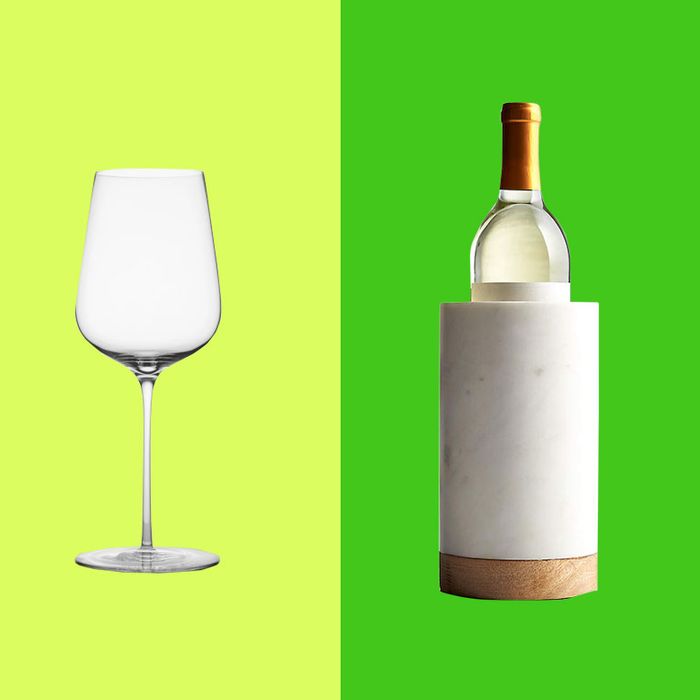 Photo-Illustration: The Strategist; Photos: Retailers
Serious wine drinkers tend to be picky, with fierce opinions about the best bottles. So if you're searching for a gift for such a person — for upcoming Valentine's Day, of course, but also for any other occasion — consider something that is wine adjacent. You can veer toward the practical, like a new set of deeply coveted, expert-approved wineglasses. Or maybe something beautiful, like a wine stopper that looks like a piece of art. Or maybe something unexpected, like a salty snack to pair with their favorite bottle. To track down the best gifts for wine drinkers just in time for all your celebrations, we asked sommeliers, winemakers, and people who simply love wine to share their go-to ideas, which you can find below.
Glassware and decanters
The best glass for wine lovers
The super-beloved (but super-expensive) wine glasses from Zalto happen to be sold out everywhere right now. Instead, consider these from Glasvin, which have a slightly lower price tag, but certainly don't disappoint in terms of their delicate structure. "They're still handblown," explains Lily Peachin, owner of Dandelion Wine in Brooklyn, who sells them at her own shop. "They feel good, and a nice stem is crucial for someone who loves wine."
The best (less-expensive) glass for wine lovers
For the friends and family you love — but not quite enough to spend quite so much — there are these budget-friendly, yet elegant glasses from Libbey. Sommelier John Condon of French Louie in Brooklyn says Libbey's wine goblets are great because "a glass needs to be functional first and everything else next," adding, "Libbey's Vina line of wineglasses is very classically shaped and elegant, but also reassuringly sturdy."
The best Champagne glass
For the wine lover who drinks Champagne year-round (and not just on New Year's Eve), it might be worth investing in a specialized Champagne glass. "Riedel's Champagne glass is shaped more like a traditional wineglass, which lets you incorporate more air and smell," says writer and self-described "wine unprofessional" Tammie Teclemariam. "It's better than a stereotypical flute, and it enhances the minerality of all sorts of sparkling wines from Vouvray to Vilmart."
The best wineglass with aeration
Master sommelier and CEO of Heitz Cellar Carlton McCoy is also a fan of Zalto glasses — they are "the ones featured at Heitz Cellar's tasting room" — but they are very delicate. "The Zaltos need to be handled with care, so when I'm hosting large dinner parties (pre-COVID), I prefer to use Riedel's Burgundy Grand Cru," he says — which means they'll also make a great gift for your friend who can't wait to get back to entertaining. "It is a sturdy glass but feels elegant in your hand." Carlton McCoy also notes how wide the glass is, which is perfect for aeration. "Most wines need a lot of air, and narrow glasses do not provide that," he says. "The 'bowl' of the Burgundy glasses allow you in some cases to skip decanting and you can then just focus on an aggressive swirl."
The best wine decanter
Both Roman Roth, winemaker and partner at Wölffer Estate Vineyard and Villafañe recommended gifting a high-quality wine decanter from the centuries old brand Riedel. One of the best wine-related gifts that Roth remembers receiving is the Swan decanter from Riedel. "It is a showstopper. Your dinner guests will be in awe. The most elegant decanter in the world," he says. Villafañe's choice, the Riedel O decanter, is a touch less extravagant but equally as effective. "It's not only sleek, it is practical and easy to use when pouring wine for your guests," Villafañe says.
The best (less-expensive) wine decanter
Marissa Copeland, head sommelier at Junoon, suggests a much less expensive decanter, which also happens to be her personal favorite. For those on the hunt for a Riedel dupe, this one costs a fourth of the price of Villafañe's preferred Riedel O decanter and looks nearly identical.
The best porrón wine pitcher
Zwann Grays, the wine director at Brooklyn's Olmsted and founder of Zwann's Wine Club, thinks a porrón is a super-fun alternative to a more traditional decanter. It serves a similar function — letting your wine aerate — but the spout gives it a little something different. "It's just a fun thing to pull out with friends at dinner. There are always people who haven't seen one before," she says. "You can pass it around; people can pour the wine straight into their mouths. Just about every wine bar in the city and abroad will have one of these somewhere in their reach."
The best tumbler for wine lovers
Not all wine drinkers are fans of stemless glassware, but these short, less traditional (and less expensive) glasses from Bormioli give a dinner party a European feel. Hannah and Marian Cheng of Mimi Cheng's use them while hosting dinner parties because they "remind us of drinking and eating tapas in Madrid. They're elegant and simple." Joanna Goddard of the blog Cup of Jo feels similarly: "Whenever my husband and I drink wine from these glasses at home, I feel like we're transported to a little bar in Barcelona. They're charming, light, and just feel good in your hand." Jill Bernheimer, owner of Domaine in Los Angeles, advises that people save them for less-complicated wines, like chilled reds and pet nats — but if you're gifting them to a wine lover, they probably already know that.