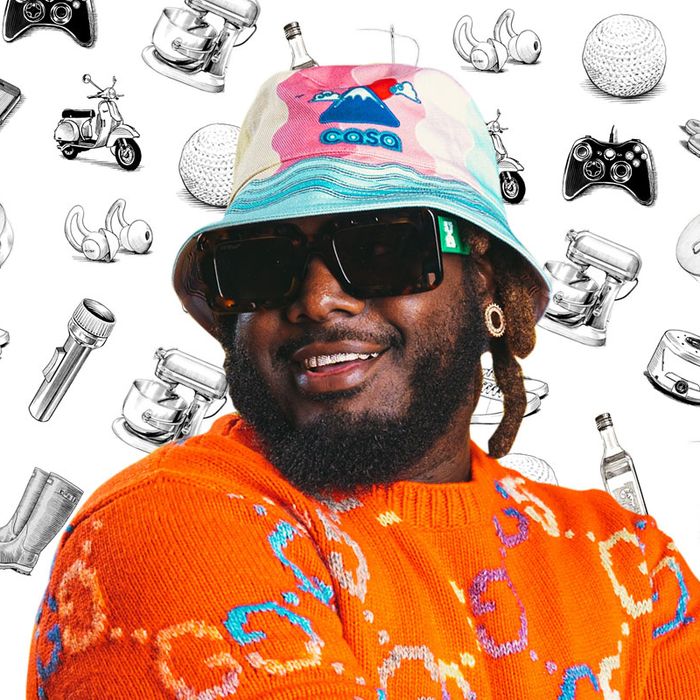 Photo-Illustration: The Strategist. Photo: SoSoulProductions
If you're like us, you've probably wondered what famous people add to their carts. Not the JAR brooch and Louis XV chair but the hair spray and the electric toothbrush. We spoke with T-Pain — who recently partnered with Alka-Seltzer on its new hangover medication — about his super thin gaming laptop, sneakers that he can't walk down the stairs in, and the control panels he has all over his house.
So I do this thing every month where I see what's going on at Walmart and Target. I go down every aisle and buy the most ridiculous stuff. Most of it just stays in the box in a closet somewhere in my house. But one time I was in the wine section at Target — I was on a heavy wine kick at the time — and I'm so bad at getting cork out of wine. I don't know how it works. I can't grasp the concept of it. The Houdini thing said it was an electric wine opener, and it actually works. You get your wine open in about ten seconds, and you don't have all the pieces of cork in the wine bottle like when I do it. My favorite wine right now is Chateau Ste. Michelle. Supercheap, $9 a bottle, in and out. Three bottles, and you'll have yourself a pretty good time at night, or any time. You can do stupid shit at a reasonable hour.
A MacBook isn't ideal for gaming. It's super great for music, graphic design, video editing, and production, not so dope with gaming. I used to carry a MacBook and my gaming laptop, but that got superheavy in one bag. So I figured, How about I make music on my gaming PC — and boom, we're down to one laptop again. Most gaming laptops are superthick, but they call this one the Blade because it's pretty thin and doesn't take up a lot of real estate in a backpack and this comes everywhere with me. I can't leave it at home even if I'm just leaving for 20 minutes. I gotta have it with me. My schedule is pretty hectic, so things can change at a moment's notice and then the 20-minute thing turns into a three-hour thing and next thing you know you left your laptop and now you're bored. It varies, but on average, I'm gaming anywhere from four to ten hours a day.
I have the iPad for when my laptop dies so I can still game and make music. I'm very awkward, so I always need a screen. I don't like talking to people in person, so I look for other things to do. If I'm in a crowded room or something, and people see me on the laptop or iPad, they just won't talk to me. That's my socially awkward hack.
I think they're called Triple S because they're made up of three shoes. They're big as hell, but man, they are comfortable as shit. I can't really walk downstairs with them because they're too big to fit on one step, but if I'm on level ground and I can just walk around, they are the most comfortable shoes I've ever had. I don't know how many I have, but I got a whole Triple S section in the closet. I'm trying to get every color that they drop.
Champion makes these slippers that look like little hoodies. They're so dope. They've got a little pocket on the front of it: You know, the hoodie pocket where you put your hands in, and the drawstring coming from the open part of the shoe. It's just a dope-ass shoe. Just something to slip on real quick when you're not trying to be super-fashionable. You can look like you gave up on life in sweatpants and slippers when you're hopping on a private jet. It's pretty cool. The contrast throws people off.
I have ten of these in my house right now. It's the only microphone I use, so I just put it everywhere that I would need one. I got two mics on each of my Twitch-stream setups — one for me and one for my wife because she also streams with me. They're in the studio, I got four for my podcast, the talkback mic in the production room, just all over the place. It's really balanced, I think that's why people like it so much. Because usually, when you go looking for a microphone, you have to find one that fits your voice, but this one can actually make do out of anyone's voice. On an SM7B, there's no adjustment, just a really nice big full sound.
Once I started streaming, it became very apparent very quickly that I needed a bunch of buttons. This served that purpose real quick. It's pretty much a control panel for anything you need. You can assign different actions to the buttons. Like on my podcast, I have two and when I hit one button, it plays all the sounds, it switches the theme for me, and it controls the lighting system I have in my room. Stuff like that. I got them all over my house as well. I think I have about 20.
These really help me out. When I'm doing a fast and I just need something with some taste in it: Bam, Life Saver mint. It's not gonna break my fast, it's just quick relief, with the added bonus of getting rid of hot mouth.
When you party so hard one night you forget the next day, that's pretty bad. When I'm hung-over, I get dry eyes. I don't know what happens there, but my contacts don't like it. And I'm super-dehydrated when I wake up. This definitely gets me going. It helps my brain function quicker than it would just by drinking water or anything like that. At first I was using too much water, I was diluting it a little too much, but once I learned that you only need four ounces of water, it worked perfectly. It just gets me back together. Otherwise I'd be like a zombie roaming around trying to get things done.
The Strategist is designed to surface the most useful, expert recommendations for things to buy across the vast e-commerce landscape. Some of our latest conquests include the best acne treatments, rolling luggage, pillows for side sleepers, natural anxiety remedies, and bath towels. We update links when possible, but note that deals can expire and all prices are subject to change.