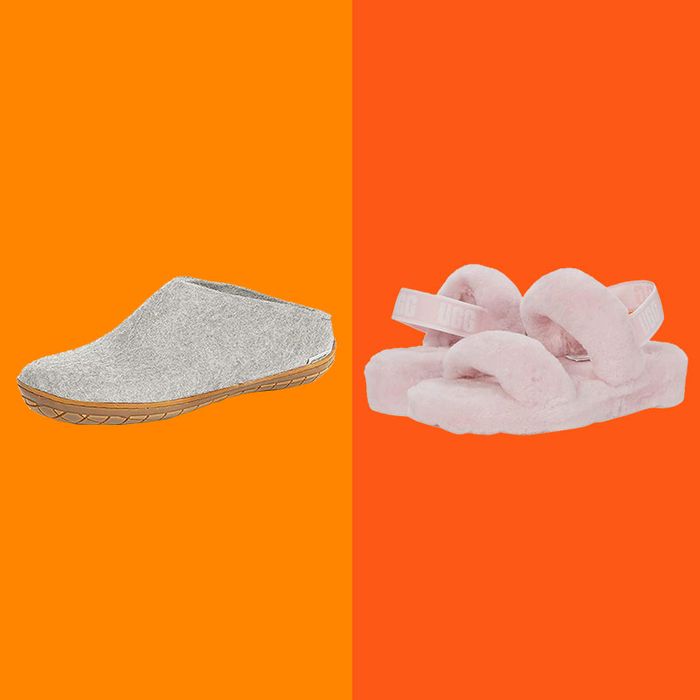 This year, slippers have gone from being a comfortable shoe to wear on lazy Sunday mornings to many people's everyday footwear of choice. But with so many slipper options out there — from shearling lined, to hand-knit — it can be hard to figure out which pair to get, which is why we went through our archives and made a list of our all-time favorites. There are insulated slippers from Tokyo that one writer wears during L.A. winters, a bunch of stylish people's favorite UGGs, and a pair of feather-topped slippers-slash-sandals that Brie Larson told us she can't live without.
With the holidays right around the corner, we've included lots of soft and cozy options we think would make good gifts for stressed-out parents and TikTok teens alike. One note: Many slippers on this list are designed to be unisex, but we've included separate options for men and women when necessary.
Best wool slippers
Designed in the home of all things hygge, these unisex, Danish-made slippers have been a Strategist favorite since 2017, when our then-writer Lauren Levy named them as the best wool slippers on the market. Since then, everyone from a lead buyer at Zappos to National Book Foundation executive director Lisa Lucas has vouched for Glerups's comfort and durability while lounging inside or walking to the bodega. As Strategist senior writer Karen Iorio Adelson puts it, the wool feels "warm, soft, and not at all itchy," and the rubber sole "offers more grip and protection for heading out."
Best classic UGG slippers for women
Unlike many fugly brands that didn't survive the early aughts, UGGs have continued to prosper, even among some of the most stylish, trend-conscious consumers — namely Gen-Zers like TikTok stars and teen-drama actors. The brand's Coquette slipper was specifically recommended during lockdown by models-slash-writers, stylists, and Vogue market editor Naomi Elizée, who says they feel "like a hug but for my feet" and are just as suitable for snuggling as for milling about the house. Plus, we've said they would make a good gift for any mom whose feet could use some rest right about now.
Best 2020 UGG slippers for women
As Strategist writer Tembe Denton-Hurst pointed out in her roundup of all the best slippers, these UGGs with a strap offer extra support for the clumsy homebodies among us. They're also a favorite among celebrities like Cardi B, Bella Hadid, and TikTok star Addison Rae, who says the strap allows her to "seriously wear them all the time" — in and out of the house — except while dancing ("because they have a little bit of a platform").
Best UGG slippers for men
These loafer-style slippers are a favorite among reviewers on Amazon, including one who says they're (abstractly) akin to "an old best friend and a childhood pet rolled into one well-crafted piece of footwear." As for their actual feel, the slipper's genuine-shearling lining is described as comfortable and "well worth the splurge" by thousands of pleased customers. We've also said they'd make a good gift for your tween nephew.
Best women's slippers (according to Amazon reviewers)