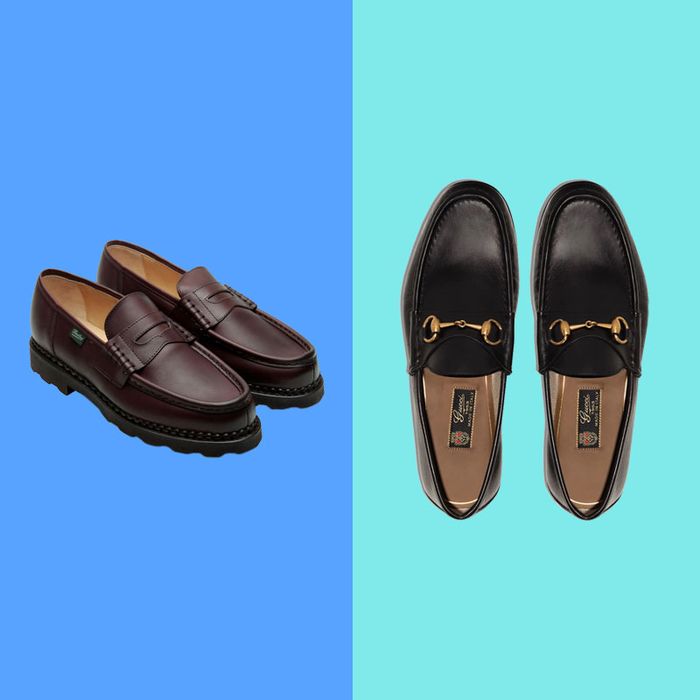 Photo: Photo-Illustration: The Strategist; Photos: Retailers
Footwear has been in a sneaker-dominated choke hold for a long time, but that is changing. Instead of being scoffed at as an uptight Sunday church shoe, loafers have once again become a go-to style reference point. They don't have to be new, either. The experts we consulted said you can often find gems by reaching back into your dad's (or even your grandpa's) closet. Knock the dust off, and you just might have your new favorite shoe.
"I see loafers as a slipper that you wear outside," says Kevin Kafesu, a buyer at Norse Store in Copenhagen. "You can dress it up or dress it down, almost like a pair of white Chucks," he says, adding that they go with everything. Instead of thinking about them like dress shoes or shoes reserved for a special occasion, he suggests men think about loafers like a casual shoe. You can still wear them to church, but you can just as easily wear them to the movies or to the corner store — and look great doing it.
Another benefit of loafers, says Jeremy Kirkland, the creator and host of the menswear podcast Blamo!, is that they slowly shift and mold to your feet. Once you break them in, the fit can feel perfect. His biggest suggestion is to pick a pair of loafers that begin in a shape that's close to that of your foot. "Different companies have adjusted their lasts (the mold a shoe is made on) over the years to accommodate a wide range of feet," he explains. So when you find one you like, stick with it. For example, Christopher Echevarria, the creator of the footwear brand Blackstock and Weber, says his loafers were inspired by the shape of sneakers. "I thought about making a loafer that feels like a Nike Air Force One. It has a very wide base and a double-stacked leather sole."
We spoke to Echevarria, Kirkland, Kafesu, and several other stylish men to discover the best loafers at every price point. Here are their picks.
Best loafers under $200
"The thing about penny loafers is you don't need to spend a ton on a reliable pair you can wear for years to come," says Jian DeLeon, Nordstrom Men's fashion and editorial director. "Florsheim's Berkley offers the classic apron-toe aesthetic, along with a cushioned footbed and flexible sole, which means you can wear them sockless without having to worry about breaking them in."
Chris Black recommends the Dr. Martens Adrian for its chunky sole, tassels, and kiltie (a fringed leather tongue). "The big sole also has a little more height to it," he says. "Go ahead, give yourself a boost."
Black is also a fan of the classic Bass Tassel Loafer Weejuns. "This some real Take Ivy shit, but I am here for it," Black says. "These have moc stitching, which I love, and the price is RIGHT. Affordable stunting: You love to see it."
"I've been wearing loafers for as long as I can remember," says Strategist contributor Chadner Navarro. "I own over two dozen pairs," he says, and "the ones I've been living in for nearly a year are Wolf & Shepherd's Monaco Loafers in cognac." Navarro says the unlined soft Italian suede is perfect for traveling. "You really can flatten them down without feeling like you're going to destroy them. I enjoy how the shape is narrower, giving it a slightly dressier silhouette without being witchy-pointy." Plus, the back part of the shoe that covers your heels folds down, so you can also rock them as mules.
Best loafers under $400
Blackstock and Weber were recommended by four stylish men we consulted, including Strategist associate editor Louis Cheslaw. "When I want to wear a pair of loafers more casually, I'm wearing my Blackstock and Webers," he says. "While my other dress shoes only really work with more formal outfits, B&W's chunkier, more modern, almost sneakerlike shape slots in easily with wide jeans, shorts, and gym socks, as well as suits." Jordan Bunker, a menswear writer and blogger, says, "You can easily see how a pair of Blackstock & Webers could be worn 24/7. You don't call yourself 'The Best F*****g Loafers in the World' without being multifunctional." These loafers took design elements, like a more rounded toe and chunkier sole, from classic sneakers. They also use pebble-grain leathers, vibrant colors, and premium suedes that turn loafers into a shoe for a more modern era of dressing. "It's putting a playful spin to loafers," says Kafesu. "And thankfully, the company still acts like a classic shoemaker. The designs are timeless, the materials are the highest quality, and there's experts on hand to help with any questions you might have before purchasing," says Cheslaw.
Vinny's is a shoe brand based out of Copenhagen that Kafesu recommends for its sleek, slimmed-down shape. "It's very Scandinavian in its thinking and design because it has a much more refined silhouette," he says. "There are little functional details, like the rear stitching that allows you to put them on and take them off easily without scratching the back." For added durability, Vinny's is also introducing Vibram commando soles. As Kafesu says, "The company is really blending both durability and elegance into one."