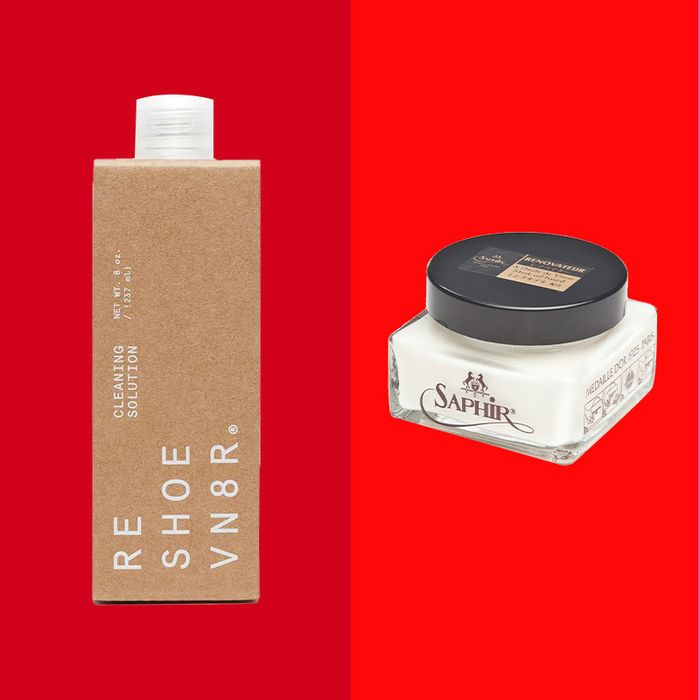 Photo-Illustration: The Strategist; Photos: Retailers
Whether they're a prized pair of Margielas or the beaten-up New Balances you wear to run errands, all sneakers get dirty. And there's no miracle product to prevent that, says Eduard Shimunov of Financial District shoe-repair store Cobbler Express — "unless you put a bag over them," he says. "Dirt is dirt. If you walk on the street, you're going to get it onto your shoes." At a certain point, you'll need to do a cleaning to get rid of that dirt.
For more serious damage like discoloration, take your sneakers to a pro, who can mix a custom dye to disguise it. For daily-wear scuffs, grit, and stains, there are a ton of effective cleaning products for all types of kicks, at every level of complexity — from applying tinted leather cream with a toothbrush to tossing canvas sneakers in a tub with OxiClean and soaking overnight. (And if you want to avoid stains in the future, you can take the extra step of waterproofing your sneakers after cleaning them.)
Ingredients and materials
"The materials of sneaker uppers are all very soft and delicate," says Raheem Rademaker, the founder of sneaker-cleaning company Weekend Ritual. Especially with high-end sneakers, he prefers "light and natural" ingredients instead of harsh chemicals, which "can either discolor it or really mess up the material."
Shoe cleaning products aren't required to provide a full list of their ingredients, so it's difficult to compare formulas based on what they include or exclude. Still, the information some brands provide about their makeup — whether a product is natural or synthetic, wax based or oil based — can be helpful if you have a sensitivity to a certain ingredient, or if you're partial to a specific type of solvent or wax that has worked well for you before.
Even the most basic sneakers are made of several different materials, from textiles and leathers to metal eyelets and rubber. A good sneaker cleaner can handle most of them: We're favoring formulas that are equally effective on leather uppers, mesh paneling, rubber toe caps, and suede accents. The biggest division in intended use is between products designed for general use and those calibrated specifically for suede and nubuck, which are susceptible to water damage — "like having a shoe that's a sponge," per Edward Andrade of Cesar's Shoe Repair. We've noted suede-appropriate picks below.
Choosing the right cleaner is half the battle; you'll also need to apply it effectively to clean your upper, brighten your midsole, and remove grime from nooks and crannies in the stitching. "The important step in cleaning sneakers is, while brushing in a circular motion, letting the solution and brush work up a lather to break down the dirt and stains," says Steven Tran, a cleaning expert at Jersey City, New Jersey, sneaker cleaning-and-restoration shop Sole Fresh. Liquid solutions, foams, and creams all appear on this list, and we've also researched the best brushes and microfiber cloths for lifting dirt and debris.
Best overall
Ingredients: Coconut and jojoba oil–derived soaps | Intended use: All-purpose, works on suede | Medium: Liquid solution
Several of the sneaker-cleaning experts we spoke to cited Reshoevn8r as their favorite all-purpose cleaner, good for cleaning most parts of a shoe with a natural formula that won't cause damage or discoloration. "This solution works well on most materials — leather, suede, nubuck — and gets the job done," says Tran. Waleed Cope, the founder of Soap Box, a Brooklyn laundry and sneaker-cleaning store, says the product can work miracles on retro Jordans, Adidas Ultraboosts, Yeezy Boost 350s, Balenciagas, and Nike Air Force 1s.
The naturally derived formula is mild and won't leave behind much soapy residue, according to Richard Brown, the founder of sneaker-restoration company Proof Culture. He adds that, when "combined with a medium-bristle shoe brush or toothbrush," the solution "allows for a clean wash and maximum dirt removal." "It has the least harsh chemicals," says Rademaker. "In my experience, it gets out stains and stubborn dirt a lot better than the other sneaker cleaners out there," and the oil-derived soaps also help to condition leather.
Best less expensive shoe-cleaning solution
Photo: Retailer
Ingredients: Coconut and jojoba oil–derived soaps | Intended use: All-purpose, works on suede | Medium: Liquid solution
Daryll Blanding, one of the co-founders of Clean Sneaker Care in Detroit, contends that Jason Markk's all-purpose cleaner has a "slight edge" over Reshoevn8r's. "It has really good conditioning properties" on leather, he notes. "It brings out the color and gives it a nice sheen."
Tran also likes this cleaner for leather shoes, and says it "has a nice smell to it." Blanding says the formula works well for suede too: "We get all types of dirt levels in the shop, and we've been using it consistently for the past two weeks, and it has been handling everything," he says, including a pair of suede Yeezys.
Best sneaker-cleaning kit
Ingredients: Oil-derived soaps, doesn't contain harsh chemicals or abrasives | Intended use: All-purpose | Medium: Foam
The Jason Markk starter kit is "the most complete care system as far as consumers taking care of their sneakers at home," says Blanding. Although there are several kits from sneaker care brands, we like the Essentials kit for its versatility and long-term usefulness. It comes with our favorite brush and microfiber cloth, plus the brand's foaming cleanser, which works on suede as well as other materials.
Best shoe-cleaning kit for suede and nubuck
Ingredients: Unlisted | Intended use: All-purpose; works well on suede and nubuck | Medium: Foam
For a suede-specific product, Tran suggests using the Foam Tex kit from sneaker customization company Angelus. "We like to use Foam Tex on delicate materials that should not be heavily saturated," he says. (Tran also notes that the product works well on UGGs.)
Best cleaner for high-end leather
Ingredients: Contains beeswax and mink oil | Intended use: Leather | Medium: Cream
Saphir is the "the crème de la crème of shoe care," according to shoemaker Lauren Brinkers, and the brand's Renovateur leather cream has a cult following among cobblers and footwear experts. (According to Joe Rocco of Jim's Shoe Repair in midtown, it's the product Hermès uses on bags.) Rocco uses a rag or an old shirt to apply the cream to sneakers, and then rubs the sneakers with the cloth until the dirt is lifted.
Best less expensive leather cleaner
Ingredients: Contains beeswax and calendula wax | Intended use: Leather | Medium: Cream
Rocco also uses this cream by Spanish brand Tarrago, the maker of our best-in-class waterproofing spray, and says that it "does the trick." The cream also comes in an impressively wide color range, which you can find on the brand's website — from melon green to fire-truck red — which can help tailor your shoe-cleaning routine more closely to a pair of brightly colored sneakers.
Best for cleaning canvas and shoelaces
Photo: Retailer
Ingredients: Sodium percarbonate, sodium carbonate, surfactants and polymer; chlorine bleach-free | Intended use: Textiles | Medium: Powder
To clean canvas sneakers like Vans or Keds, Strategist senior editor Jen Trolio recommends soaking them in a basin with a scoop of OxiClean "for at least a few hours ideally overnight," then rinsing well. The method "completely revitalized a mud-covered pair of slip-ons for one of my kids," she says, and even for shoes that see less heavy-duty use, "it's a really nice brightener" and gets sneakers close to new. (One caveat: The soaking method will damage any material that can't get wet, so check if your shoes have leather or suede accents.)
Both Trolio and Brown also recommend OxiClean for cleaning removable insoles, which can be as simple as adding them to a load of laundry in a garment bag, and the detergent is also Rademaker's go-to for cleaning shoelaces. He soaks in a bowl of water with half a scoop of OxiClean and says "it gets the white laces so bright white."
Best sneaker-cleaning wipes
Ingredients: Not listed; biodegradable with no harsh chemicals | Intended use: All-purpose | Medium: Single-use wipe
The longer you go without cleaning your sneakers, the harder it is to get the dirt out — so for true sneakerheads, Rocco recommends using wipes to do a minor cleaning every day. "They're almost like baby wipes, but for sneakers," he explains. "A lot of times the dirt stays on too long. If you have leather shoes and the wipes, you could just wipe the shoes every time you wear them." Blanding is also a big believer in sneaker wipes. "I've been carrying some form of a wipe for the past 15 years," he says.
Best sneaker cleaning brush
Photo: Retailer
Materials: Walnut handle, hog's-hair bristle | Intended use: Cotton mesh, suede, premium leather
"Aside from the solutions, using the proper brush is key to cleaning sneakers," says Tran. "Hard brushes should only be used on the undersole and some midsoles. A medium brush can be used all around the sneaker but should not be used on delicate materials such as suede, nubuck, or satin. A soft-bristle brush is key when dealing with delicate materials."
If you're investing in sneaker care, it's a good idea to have both a soft-bristle brush and a hard-bristle brush at your disposal. For softer bristles, social-media specialist and sneaker enthusiast Zach Higgins, the fiancé of former Strategist staffer Chloe Anello, says the Jason Markk brush is his "one brush to rule them all." (The brand also makes a stiff-bristle brush, below.) He has had problems with the wood handles of similar Reshoevn8r brushes splitting due to moisture, but he says the Jason Markk version is sturdy and, although designed for lighter-duty tasks, is "perfect to clean a whole shoe."
Best microfiber cloth for cleaning sneakers
Material: Microfiber | Intended use: All-purpose
Jason Markk also makes "hands down the best microfiber towel," according to Blanding, an essential tool for cleaning all parts of a sneaker that offers finer control than a brush. Although a less expensive option will also work, Blanding says that a higher-quality towel makes a difference in sneaker-cleaning because it's less likely to leave lint and small fibers behind.
Best (less expensive) microfiber cloth
Best spot cleaner
Ingredients: Hydrogen peroxide–based; bleach-free | Good for: Textiles, stitching | Medium: Pen
If you're doing a quick spot cleaning on a textile like canvas or mesh on your way out the door, or trying to lift stains on some of the smaller nooks and crannies of your sneakers — like the stitching along the sole — Brown suggests a Tide detergent pen.
Best for cleaning midsoles
Photo: Retailer
Material: Melamine foam | Good for: Soles and midsoles | Medium: Sponge
A sneaker-cleaning hack I learned from a former roommate: Magic Erasers. The melamine sponges work wonders on a dingy white midsole or rubber toe cap. One caveat: Avoid using them on delicate, scratch-prone materials like leather or suede, since they are abrasive. "Magic Erasers are good for midsoles or soles, not for the uppers of the sneakers," says Rademaker.
Best tool for cleaning soles
Material: Stainless steel | Good for: Soles
Rademaker tested out several other tools before he discovered that a cuticle pusher is ideal for digging stubborn pebbles and grime out of sneaker soles. "It's perfect," he says. He uses "a gentle scrape" to dig grit out of ridges and crevices, then dry-brushes the sole and cleans with the Reshoevn8r solution.
Some more shoe care products we've written about
Our experts
• Edward Andrade, owner of Cesar's Shoe Repair
• Daryll Blanding, co-founder of Clean Sneaker Care
• Lauren Brinkers, shoemaker
• Richard Brown, founder of Proof Culture
• Waleed Cope, founder of Soap Box
• Zach Higgins, social-media strategist and sneaker enthusiast
• Raheem Rademaker, founder of Weekend Ritual
• Joe Rocco, owner of Jim's Shoe Repair
• Steven Tran, cleaning expert at Sole Fresh
• Jen Trolio, Strategist senior editor
Additional reporting by Hilary Reid and Jenna Milliner-Waddell
The Strategist is designed to surface the most useful, expert recommendations for things to buy across the vast e-commerce landscape. Some of our latest conquests include the best acne treatments, rolling luggage, pillows for side sleepers, natural anxiety remedies, and bath towels. We update links when possible, but note that deals can expire and all prices are subject to change.