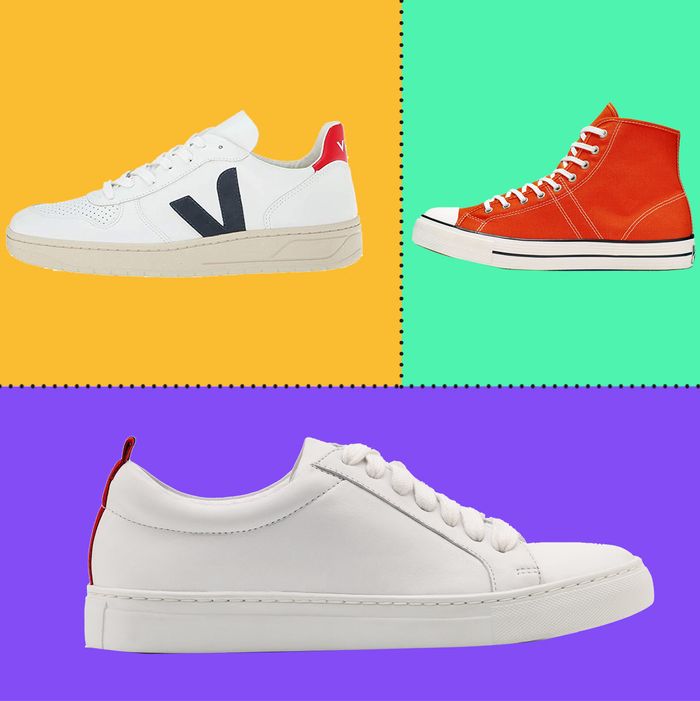 Some of our favorites.
Photo: Courtesy of retailers
If you follow our monthly Strategist Haul, you're familiar with the idiosyncrasies of our editors' and writers' shopping habits. While we think of those as the highlights, there are plenty of other, less glamorous things we buy — and love — on the regular, too. So whether you've wondered about the work bags we tote around or the underwear we're most loyal to, this is the Stuff We Buy Ourselves. In this edition, the sneakers that our editors wear daily for walking around town.
Simone Kitchens, senior editor
It's an off-day when at least three of my co-workers aren't also wearing Converse. I have tried to wear sneakers that are more dad-like, more now-feeling, but every time, I end up taking those off and slipping back into one of my four pairs of Converse. They just agree better with all the short pants I wear.
Karen Iorio Adelson, writer
While I would love to be the kind of lady who looks effortlessly cool wearing a pair of white canvas sneakers with a summer dress, something about them always makes my short and stumpy legs look, well, shorter and stumpier. These are the closest I'll come to embracing the non-workout-sneaker look. They're a slightly cheaper dupe of the Vince Blair sneakers, and since the platform is thinner, they end up looking a little sleeker and less clunky. I like that I can slip them on barefoot or with no-show socks.
Lori Keong, writer
My thoughts on white sneakers are very similar to Chris Black's: never look like you're trying too hard. I'm not into overly branded sneakers or hypebeast-y Air Maxes, and have been wearing the same pair of cheap but beautiful leather sneakers from Boden for close to two years. They now look loved and worn-in, with some wrinkling around the laces — but surprisingly not much grit and dirt, despite how much play they have gotten in the subway. The red tab at the back really adds something — it's a little less self-serious than a Common Project shoe.
Liza Corsillo, writer
Full disclosure, this is not the color combination I wear. I bought my pair of Drift sneakers about a year ago and they're a combo of navy blue, electric blue, black, and coral. But I'd gladly add these in desert browns to my collection. I searched for a pair of dressed-up but still sporty sneakers for a long time and got very close to buying some all black Nikes or Adidas but didn't want to have the same sneakers as every other woman on the train. Campers have held a special place in my heart since I was a study-abroad student in Paris. But now, instead of finding their shoes kind of dorky-cool, I think they're just straight-up cool, and really, really comfortable.
I love a little sneaker and alternate between these Superga low-tops in navy and a pair of Feiyue white sneakers with Snoopy on the side (they're sold out). In the summertime, when I don't want to wear sandals but also don't want to wear socks, these are my go-to. They look nice with skirts and dresses as well as beat-up denim, and they feel like slippers you can wear outside.
Katy Schneider, associate editor
Most days I'm a sneaker dullard: I either wear super-filthy off-white high-tops, or a pair of slightly cleaner, slightly neater-looking black Air Force 1s. Then there are my (comparatively wild) Halloween-y orange high-tops, which I tend to pull out of my closet when my outfit is a little boring. Those three pairs comprise my small but dependable sneaker family.