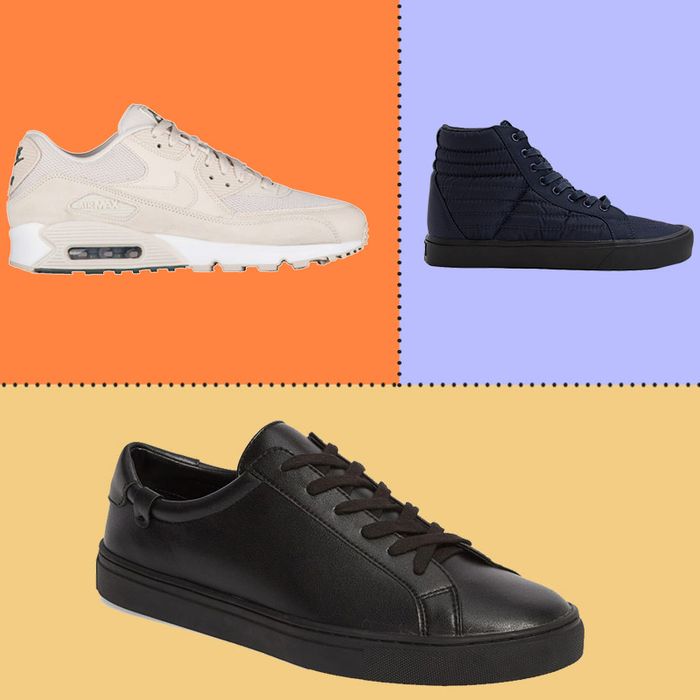 Photo: Courtesy of the retailers.
Wearing sneakers every day (even to work) is normal for many guys by now. But not every guy is ready or willing to dip into the latest sneaker trends: fashionably ugly silhouettes, chunky soles and lots of color and pattern mixing. Monochrome sneakers, however (those with matching soles as well as those with classic white, black, or gum soles), go with everything you already own, making getting dressed everyday quick and easy.
But because they're so minimal — like a simple white T-shirt or pair of chinos — the design has to be on point. That's why we talked to a couple stylish experts about their favorite monochromatic shoes (and added a few of our own favorites).
The Best Monochrome Black Sneakers
Men's Stylist Donnell Baldwin of Mr. Baldwin Style swears by classic Chuck Taylors for their versatility and for how they look better with wear. "I have all-black Chuck Taylors and they go with everything in my wardrobe. They're one of the only sneakers that have remained relevant throughout the years, have never gone out of style, still go with everything and even when they get beat to hell, they're even more amazing."
For something a little sleeker these pale aqua leather low tops do the job of a traditional lace up derby shoe just much lighter and more comfortable.
For something that walks the line between a sleek dress sneaker, a nostalgic nod to the '90s, and a chunky-soled pair of fashion kicks, these from Eytys are a great bet.
For something a little less chunky and less expensive too, pick up a pair of Reebok classics.
The Best Monochrome Gray Sneakers
Jake Woolf, partner at Shop Seam (a new retail phone app) and former men's style writer, prefers gray when it comes to buying monochrome sneakers. "Buy gray. Whether that's light or dark gray, it's a subtle difference that doesn't put so much pressure on you to keep the shoes pristine."
Woolf is also a longtime fan of all-gray Common Projects. "I own a gray pair of Common Projects Achilles sneakers that I've had for three years and will never get rid of. I wear them on every single first date. It's only later I introduce weirder kicks into the mix."
When we asked what Woolf recommends for guys who use standing desks at work, he suggested a cushy yet stylish pair of Adidas. "Probably Ultra Boosts because they have that little bounce you need if you're gonna be standing all day."