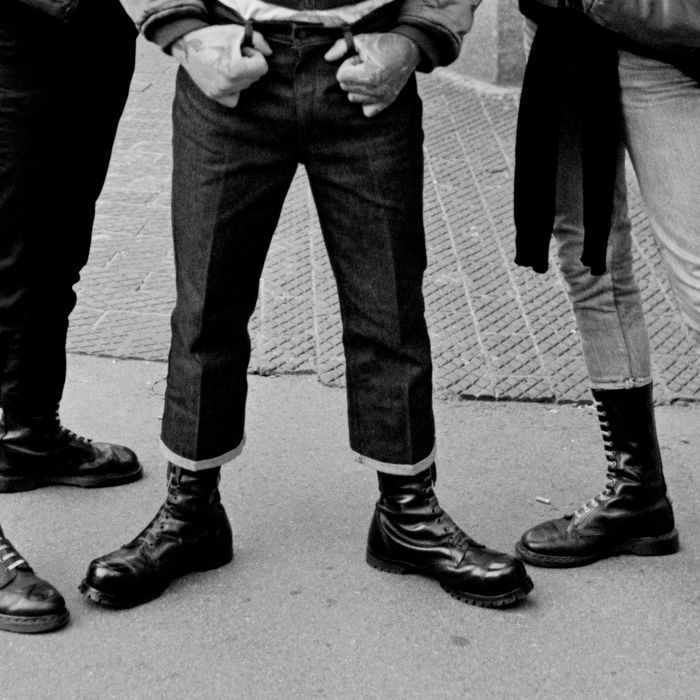 Dr. Martens in the '60s.
Photo: This content is subject to copyright.
There was a time when combat boots — adopted by punk and grunge subcultures — were reserved for those who wanted to signal a certain rebellious streak. Now, though, the shoes are pretty much a men's staple, made by everyone from Forever 21 to Balenciaga. To find the versions most worth buying, we talked to seven people who work in fashion — editors, shop owners, stylists — to identify the most stylish combat boots. And since taste is so subjective, we also made a few suggestions of our own to round out the best of the best.
Dr. Martens are the classics, thanks to the British footwear brand's legit beginnings during World War II and enduring connection to British skinheads in the 1960s. Esquire style director Matthew Marden recommends the 1460 in the black smooth leather because they're "affordable, durable, and get better with age and wear." They're the ones he wore to endure winter when he was in college in Maine.
For something a bit more punk that runs higher on the ankle, J. Errico, fashion director of Marie Claire and a self-described "combat-boot purist," suggests the ten-eyed (meaning it has ten pairs of lace eyes) steel-toe 1490 Docs that he's worn since elementary school.
Though the contrast yellow stitching is a Doc trademark, sometimes you want a bit more refinement and versatility. Cut senior market editor Diana Tsui likes the brand's all-black boots. "The black-on-black version forever. They match any outfit you're wearing and won't call attention to themselves. I own them myself." Strategist deputy editor Jason Chen agrees: "I've had them for nearly a decade and they're still my favorite."
This similar all-black pair has the profile of a sneaker, thanks to the smooth flatness of the rubber sole.
The nicest part about these elegant black leather combat boots is that there's a zipper down the back for easy entry and removal.