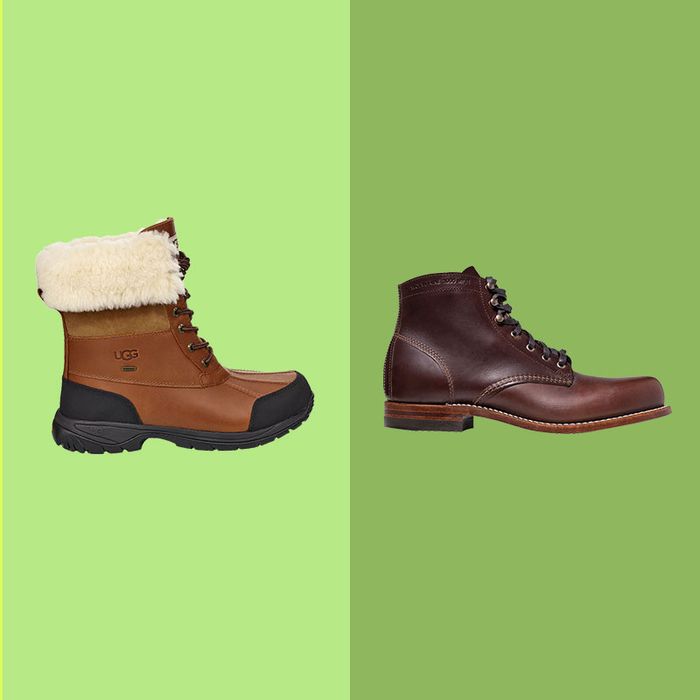 Photo-Illustration: Courtesy of the vendors
Whether for slushy commutes or just shoveling snow, a durable and stylish pair of winter boots is essential. And while we've written about the best rain boots and hiking boots for men (and even a guide on how to weatherproof your shoes), here, we've gone deep on the best men's winter, rain, and snow boots, as recommended by people with serious experience in both designing and wearing cold-weather footwear.
Best overall | Best lace-up | Best (less expensive) lace-up | Best moccasin-toe boots | Best snow boots | Best (less expensive) snow boots | Best rain boots | Best duck boots | Best hiking | Best luxury
Waterproofing: The gold standard for waterproof shoes and clothing is Gore-Tex, a finely woven waterproof membrane that locks out moisture while remaining breathable. But the majority of winter boots are simply treated with a durable-water-repellent (DWR) coating that can be perfectly adequate for milder climates. "If you live in Portland and it's pouring 200 days a year, DWR is going to do nothing," explains footwear designer and lecturer Igor Burt. "But if you live in California, you shouldn't be buying Gore-Tex shoes." For extra puddle protection, Burt suggests looking for boots made from leather (a material that is a "breathable natural protectant from water") with minimal seams and stitching. "The more stitches on the outside of the boot, the less waterproof it is," he advises. A vulcanized rubber outsole will give an additional rainbootlike effect.
Insulation: "If you have multiple boots and you're going to use only one boot when temperatures are below freezing, look for insulation," advises Burt. "You should be able to feel it with your fingers on the inside of the boot. If it's the same material inside and outside, you know there's no insulation." He points out that if you're spending less time in extreme conditions, there's an easy hack for warming up a winter boot — and preventing blisters in the process: "Build insulation yourself in the form of moisture-wicking wool socks. You can choose when you want to use it and customize according to conditions."
Traction: If you're encountering ice and snow, traction is even more important than waterproofing. "The reason you slip is because the top layer of ice melts and you have a layer of water between your shoe and the ice," explains footwear and product designer Mark Britton. In order to increase flexibility and control in such conditions, he recommends laced boots, which will have a tighter, more customized fit. Grip is also key, Burt says: "Walking on ice, you can't get a shoe that has no studs or no lugs on the bottom. You're going to be slipping all over the place."
Best overall winter boots
Water-resistant leather | Uninsulated | Pull tabs, elastic gusset, lugged rubber sole
For non-extreme winter conditions — puddly commutes, wet park walks, and the occasional snow day — it's hard to go past a pair of classic Blundstones. Our top pick for both men and women, these boots are a longtime Strategist favorite for a reason: They're comfortable, reasonably waterproof (being made of leather, with minimal seams), and neutral enough to style with almost any outfit. They work well across seasons, develop an attractive patina over time, and get comfier with wear. They also seem to mold to most people's feet with ease. "A Chelsea boot is actually difficult to get right," says Britton. "The fit has to be spot on because there's no lacing — so I give Blundstones extra kudos." If you know you'll be walking in freezing temperatures more often than not, the brand offers an insulated version of the same style.
Best lace-up winter boots
Waterproof membrane | Uninsulated | Laces, no tread or lugs
Strategist writer Jeremy Rellosa has been wearing these vintage-looking USA-made winter boots for three winters now and says they have "aged beautifully." Their Gore-Tex lining, he says, "really works" and even kept his feet nice and dry on a trip to Iceland. The leather will develop an attractive patina over time, and that very slight rubber heel means these boots can be dressed up for more formal winter occasions.
Best (less expensive) lace-up winter boots
Waterproof membrane | Uninsulated | Laces, lugged rubber sole
These discreet but utilitarian winter boots come recommended to us by Strategist advice columnist Chris Black, who "swears by" them for both form and function. He cites their "simple, classic design" as well as the fact that they're fully waterproof thanks to a Gore-Tex membrane. "For the price, you really can't beat them," he adds, advising that the boots can be styled with baggy Levi's 501s and a