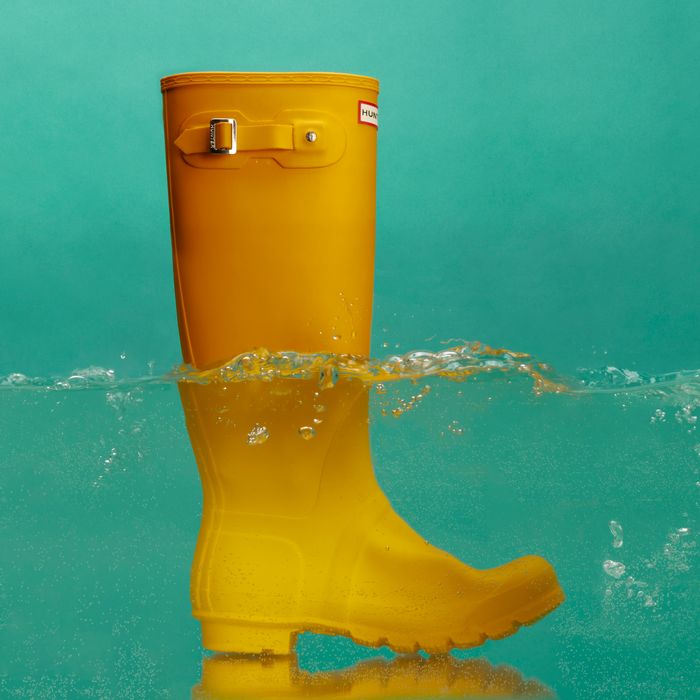 Puddles are inevitable, but getting your socks wet doesn't have to be. The right pair of rain boots will keep your feet warm and dry, and they'll look pretty cute too. Unlike a hiking or snow boot that has been treated with a durable water-repellent finish, rain boots are made from fully waterproof materials like plastic or vulcanized rubber. They tend to lack shoelaces, zippers, or any other points where water might leak in. "The less seams and stitches, the more a boot can be water-resistant," explains Igor Burt, a footwear designer and lecturer at Otis College of Art and Design. The trade-off is that rain boots can be rather sweaty, and aren't great for more athletic activities. What they do is keep your feet clean while you garden, fish, or venture to the bodega during surprise summer storms. Below, I found the best options for every kind of rainy day, from classic Wellingtons to cool Maine-mom-approved clogs.
While the classic Wellington is close to knee-height, I found a range of boots with different height profiles that'll still keep your feet dry when faced with shallower puddles. For gardening, experts I spoke with advised that short and mid-calf boots are easier to slip on and off than taller ones. I also like this more discreet style of rain boot for conquering city slush.
Because a totally utilitarian rain boot won't be for everyone, I looked for a range of wet-season shoes that don't sacrifice style for function. Some of those include a caramel-toned boot made from hemp plastic, a designer boot that'll match your vintage waxed raincoat, and a couple of sleek and subtle styles that resemble ordinary Chelsea boots — except with extra water protection.
While it's always a good idea to wear socks with rain boots in order to avoid blisters, I favored lined boots that offer a little added comfort. I looked for boots with add traction and grip as well as those that offer a little arch support and taper somewhat to the foot's natural shape.
Best overall rain boots
Profile: Tall | Design details: Iconic buckle and silhouette | Comfort: Fitted shape, polyester lining
Professional gardeners and festival-going celebrities alike swear by British Wellington boots, the very best of which come from heritage brand Hunter. Available in a spectrum of bright colors that'll cheer you up on overcast days, Hunter's boots are made to last and wipe down easily to retain their good looks. "No worries if they get muddy or dirty — a quick spray with a hose cleans them up in a snap," says Southern California organic gardener and YouTuber CaliKim. Blogger Heidi Grey adds that they have a solid rubber construction, "so you don't get any leakage at all." These boots, while practical, are also very stylish. Karrie Meiklereid, creative director of The Style Room, calls Hunter "the go-to brand for rain boots." CaliKim says, "Pulling them on always puts a smile on my face." I tried a pair for myself and found them to be surprisingly lightweight and flexible, yet very waterproof due to their seamless rubber construction. The soles are bouncy and grippy, with a slight heel, and the profile sits very high — you could plunge literally knee-deep in mud while wearing these and come away from it with a clean pair of jeans. They fit true to size.
Best less expensive rain boots
Photo: retailer
Profile: Tall | Design details: Classic silhouette, burnt-caramel color | Comfort: Tapered and supportive fit
If Hunter boots aren't quite in the budget, our next-best pick is this delightful pair of Plasticana Wellies that are constructed from recycled vinyl and hemp. Strategist contributor Chantel Tattoli has "trotted all over rainy Paris, in the muddy countryside, and along Norman seashores" in hers, maintaining their sheen every now and then with a little linseed oil. She says the boots are comfortably fitted to the ankle, lightweight yet waterproof, and truly beautiful to look at. The hemp plastic they're made from is "caramel-toned, like the fired sugar on crème brûlée — which tracks, because Plasticana's color comes from the cooking of the sugar in the hemp fiber." We're also fans of the brand's similarly hued clogs.
Best gardening rain boots
Profile: Mid-calf | Design details: Roll-top | Comfort: Breathable lining, high-traction outsole
With a high-traction sole and comfortable lining, these boots are a reliable favorite of gardeners everywhere. "I'm a huge fan of Muck Boots," says ecologist and botanist Becky Searle, adding that the Muckster II is "light, flexible and very comfortable," with a mid-rise profile, excellent grip, breathable lining, and superior debris-shedding capability in the garden and beyond. These rain boots even have a roll-down top that turns them into an ankle-height waterproof shoe. Searle wears hers while in the garden, walking her dog, or picking up her kids from school.
Best heavy-duty rain boots
Profile: Tall | Design details: Minimalist | Comfort: -10 degrees Fahrenheit temperature rating
When considering heavy-duty winter boots that are fully waterproof, I turned to to Ben Shryock, chief ranger of the Alaska State Parks Kodiak region. He told me that Xtratufs are his only choice and daily go-to: "They are the most comfortable and durable rubber boots I've found. You can find them for sale in almost any coastal Alaskan town." He says that if you do happen to step in some water that goes over the 15-inch mark, they'll air out fast — "much faster than leather boots."
Best deck shoes
Profile: Short | Design details: Multiple colors | Comfort: Waterproof rubber, antimicrobial neoprene liner
Xtratuf's lower-profile deck shoes are as waterproof as the pair above yet a little more practical for everyday life. Maine–based photographer Bea Helman (whose husband happens to be an oyster farmer) loves hers, saying that she wears them every single day ("rain or no rain") and they're perfect for both mud and snow. Beloved by deckhands, these ankle boots have slip-resistant soles that'll come in handy whether you're trawling for shellfish or not. I tried a pair for myself and love the neoprene gusset and pull tabs around the ankle, which makes them easy to put on and take off. They're lightweight yet have a flat, solid sole. And to battle that sweaty rain-boot feeling, they have an antimicrobial liner that helps regulate foot temperature.
Best designer rain boots
Profile: Short | Design details: Burberry check, front zipper | Comfort: Neoprene collar, cotton lining
Here are some rain boots that I wouldn't recommend for wilderness conditions so much as for cafés and cobbled streets. They're on the pricier side, but if you're after for a dapper rainy-day look, you might as well go all in with these boots — and a matching Burberry trench and cane-handle umbrella. Meiklereid tells me that these "investment pieces with elegant details will make you stand out in the crowd."
Best Chelsea rain boots
Profile: Short | Design details: Discreet Chelsea style | Comfort: Neoprene lining
These stealthy Chelsea boots from Merry People are actually fully waterproof. They're favorites of stylish gardening types, like Amber Grossman, North Carolina gardener and creator of BlackGirlsGardening. "They're just so comfortable and easy to clean," she says of her pair. Katie Parks, who grows her own food on one acre in the Sierra Nevada Mountains in Northern California and is known in the gardening world as Freckles and Sprouts, likes the brand. Her Bobbi Rain Boots "hold up well to our heavy clay soil that clumps to your boots in wet weather, and they have a nice grip so I never slip." She points out that ankle boots are easier to get off than knee-highs, plus, "they are cute enough to wear out as well," she says. "I get compliments on them all the time!" Trying them out for myself, I have to agree that Merry People's Chelseas are both comfortable and stylish, with their neoprene lining making them much softer and cozier than other options on this list. They have a slightly wider fit and higher profile than the Xtratuf deck shoes, and are obviously much more city-friendly.
Best less expensive Chelsea rain boots
Profile: Short | Design details: Multiple colors | Comfort: Waterproof PVC
These sleek and surprisingly affordable Chelsea rain boots could easily be mistaken for their (less waterproof and pricier) leather counterparts. Made from lightweight PVC, with a pull tab and flexible elastic that makes them easy to put on and take off, these shoes are practical yet stylish enough to be worn out on rainy evenings. "They're my best work-to-dinner boot," says Helman. I like that they're available in classic black as well as a number of more cheerful colors.
Best Chelsea rain boots with heels
Profile: Short | Design details: Platform, heel | Comfort: Synthetic lining
Here's another stealth rain boot, but with a flattering heel. According to Grey, "you can put it on and it literally looks like a normal Chelsea boot." These boots are made from waterproof PVC, but due to their elastic gusset, won't fully protect your feet from puddle splashes. Still, they're a great option if you like a bit of height and aren't into the classic Glastonbury-style Wellington look.
Best low-profile Chelsea rain boots
Profile: Very short | Design details: Slip on, pull tab | Comfort: Cushioned sole
Tall, rubbery rain boots can be annoying to pull on and off for quick trips to the store or when taking the dog out, which is why I decided to try this pair of not-quite-clogs from Strategist-favorite brand Bogs, which makes some of our preferred rain boots for kids. These minimal boots provide enough ankle coverage to avoid minor splashes, and the cushioned platform footbed lends additional elevation. Yet unlike a knee-high pair of Hunters or even the slightly taller Chelseas above, these are super-easy to keep by the door and slip on and off while standing. If you do need to use your hands, the heavy-duty pull tabs and (highly waterproof) elastic gussets will help.
Best lace-up rain boots
Profile: Short | Design details: Lacing, visible stitching | Comfort: Cozy lining
Grey says that these handmade boots, from Danish line Ilse Jacobsen, offer a fun contrast to the standard Hunter silhouette. She calls the minimal, lace-up style "super-Scandinavian." Meiklereid agrees: "I love the lace-up as an alternative to the typical pull-on rain boot." These boots have cozy faux-Sherpa lining, come in an adorable array of colors, and are made from sustainably sourced natural rubber (be sure to oil them from time to time). The visible stitching on their soles recalls Doc Martens.
Best duck boots
Profile: Short | Design details: Preppy, classic silhouette | Comfort: High-traction, supportive shape
Made-in-Maine L.L.Bean duck boots are just as iconic as Hunter's contribution to the rain boot canon, albeit polar opposite in their preppy vintage aesthetic. Originally designed for wet-weather hunting trips, these leather and rubber boots are highly durable and undeniably waterproof. Dana Landon of It's My Darlin' says she's "been wearing these for rain, slush, and mud since high school. I never get sick of them and they last forever." They're a favorite of Strategist editor Maxine Builder, who has had her pair for more than a decade: "They're going strong, even after ski trips out west, brutal New England winters, and New York City's black holes of slush."
Best rain clogs
Profile: Low | Design details: Multiple colors | Comfort: Waterproof leather and membrane layer, lugged sole
Helman is an L.L.Bean fan — it's compulsory when living in Maine — but she prefers these discreet and highly durable slip-ons to the classic duck shoe. Called "storm chasers" for a reason, these clogs are "absolutely waterproof" despite their low profile, she says. And because they lack the bulk of boots, you can easily wear them all year long across different weather conditions. These highly utilitarian shoes are perfect for winter. They even have traction on their thick rubber soles that can hold its own against ice and snow.
Some more women's rain gear we've written about
• Maxine Builder, Strategist editor
• Igor Burt, footwear designer and lecturer at Otis College of Art and Design
• CaliKim, organic gardener and YouTuber
• Heidi Grey, style blogger for The Rogue Essentials
• Amber Grossman, creator of BlackGirlsGardening
• Bea Helman, photographer
• Dana Landon, style blogger for It's My Darlin'
• Karrie Meiklereid, creative director of The Style Room
• Katie Parks, a.k.a. Freckles and Sprouts
• Becky Searle, ecologist and botanist
• Ben Shryock, chief ranger of the Alaska State Parks Kodiak region
• Chantel Tattoli, Strategist contributor
The Strategist is designed to surface the most useful, expert recommendations for things to buy across the vast e-commerce landscape. Some of our latest conquests include the best women's jeans, rolling luggage, pillows for side sleepers, ultraflattering pants, and bath towels. We update links when possible, but note that deals can expire and all prices are subject to change.
Every editorial product is independently selected. If you buy something through our links, New York may earn an affiliate commission.